Our Choice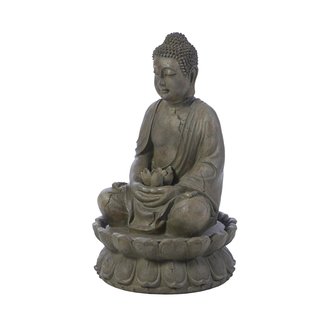 Donellan Fiberglass Outdoor Meditating Buddha Fountain with Light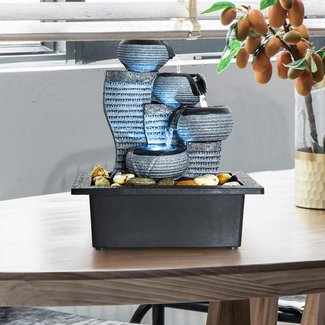 Resin Desktop Waterfall Fountain Decor Indoor Portable Tabletop Fountain with Light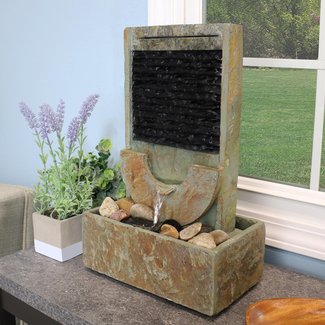 Yingling Natural Stone Fountain
Add an element of tranquillity to your home with this organic-looking tabletop fountain. It's created from authentic stone to make you truly connected with the outside world while ensuring a long livelihood. It operates seamlessly using a submersible TP-200 electric pump with 0.5-inch diameter hose. With no plumbing required, all you have to do is plug it into a standard electrical outlet in the desired location.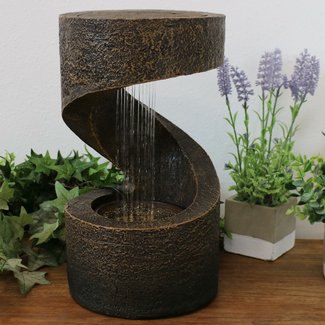 Stonehaven Resin Winding Showers Tabletop Water Fountain with LED Light
This highly unique fountain will be a centrepiece in your room, a true epitome of art. Its charming multi-stream waterfall effect will captivate your attention and promote calming your busy thoughts in the evening. Being only 13.75'' high and 7.75" wide, it will fit perfectly on your nightstand or dresser to prepare you for serene dreams whilst clearing your subconscious mind from daily distress.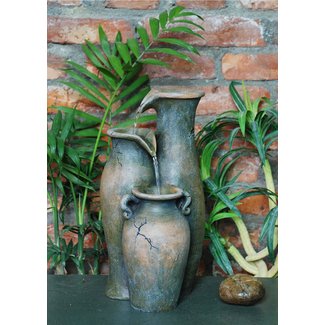 Fiber and Resin Pouring Jugs Fountain
Create a feeling of water abundance in your surroundings using this historical-looking jugs fountain. Its primary material is lasting copper with a multi-colour finish further enhanced with decorative aged cracks. The fountain will complement a home filled with chronicled artefacts or rusty antiques. Its natural muted hues will perfectly blend in with live plants in your living room or an indoor greenery patio.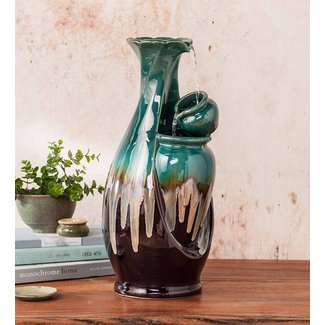 Ceramic Indoor Vase Fountain
If you're an admirer of hand-crafted ceramics, this vase-like fountain with an artsy twist will capture your heart. It's meticulously designed to ensure there's no water splashing so you can rest assured the water will not damage your furniture. It has a very gentle water flow which creates a superb ambient atmosphere so you can fully focus on your quiet time and daily retrospection.
Triston Fiberglass/Resin Tiered Rock and Log Tabletop Fountain with Light
Strengthen your emotional core in the presence of this rock-solid indoor fountain. Its pristine appearance will bring an element of nature to your home. Staring at the subtle LED light illuminating the water path can literally enlighten you spiritually as you stop your mind from wandering and fully surrender to the present moment. If you happen to wake up at night, its delicate light stream will guide your way around the room.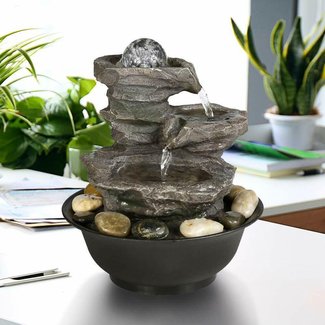 Resin 4-Tier Cascading Rock Falls Tabletop Water Relaxation Fountain with Light
If you are a fan of miniature decorations, this earthly fountain will softly accent your desk, nightstand or a balcony table, as it is also suited for the outdoors. It's light-weight and extremely durable due to the polyresin construction. The quiet pump is cleverly camouflaged in the back and doesn't require assembling. Just plug it into a standard electrical outlet to instantly transcend yourself into the serenity realm.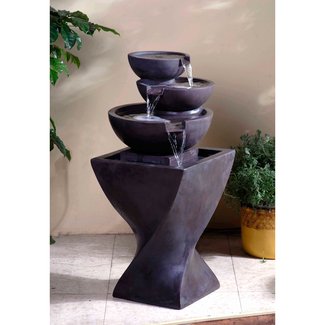 Resin/Fiberglass Tiered Modern Bowls Fountain
This heavy-duty resin/fiberglass fountain is designed specifically for the floor surfaces. It comes with a strong recirculating pump that produces a 171 gallons per hour flow rate. Weighing 21.56 lbs, it's heavy enough to avoid flipping over but light enough if you want to move it around. Just plug it into a 110 Volts electricity outlet to enjoy a constant gentle movement of water traveling through 3 cascading bowls and into a spiralling column.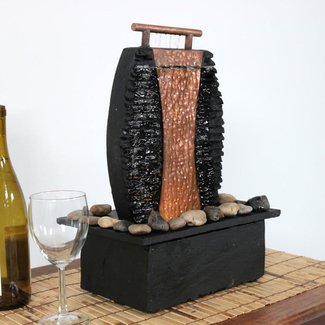 Youngblood Natural Stone Slate Flowing Falls Indoor Water Fountain with Light
Instantly add genuine charm and audible tranquillity to your living space with this unconventionally-looking water fountain. It features a stunning slate construction with authentic copper accents. It will complement real-wood furniture and dark marble countertops The contrast between copper and black creates an interesting colour dynamic while covered in a flickering water stream. The gentle LED light enhances further this artistic effect. The decorative rocks are also included.