Our Choice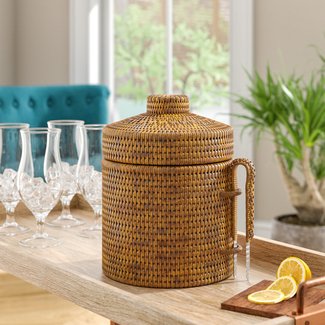 Telford Rattan Ice Bucket
Take a trip to the tropics with this brown rattan ice holder. At 10.5'' H x 8'' W x 8'' D, it can accommodate 2.5 quarts of ice.
The insulated pail comes with a matching set of tongs and a convenient loop holder on the side so they will never get lost.
Suitable for indoor and outdoor use, round out your pool bar tiki décor with this matching lid and stand.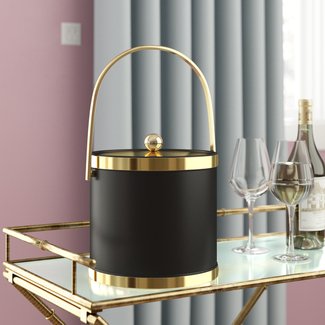 Gilchrist 3 Qt Ice Bucket in Black
Sophisticated and glamorous, this black, retro-style leatherette bucket with polished gold trim is a stunning addition to your home or office bar.
Lightweight at just 3 lbs., it keeps beverages cold and can be moved easily around your home with its matching lid and handle.
The dimensions of the canister are 9'' H x 9'' W x 9'' D, so it easily holds 3 quarts of ice.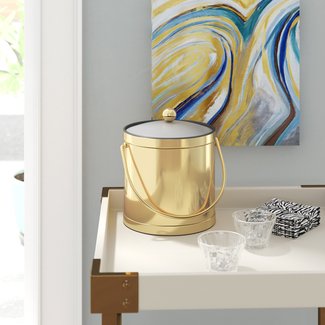 Whobrey 3 Qt Ice Bucket with Lucite Cover in Polished Brass
The perfect complement to a Hollywood Regency home bar or mid-century modern entertaining area, your bar cart will get a touch of metallic gold elegance with this unique accessory.
The dome lid features a lucite knob and will cover up to 3 quarts of ice in its 9'' H x 9'' W x 9'' D bale handled bucket. At only 3 lbs., it is portable enough to carry anywhere you need to relax with a chilled beverage.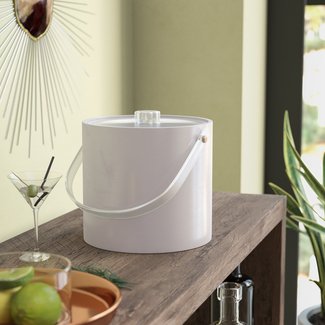 Soloman Ice Bucket
You can match this double-walled, condensation-free pail with any décor scheme as it is available in a variety of colors. The insulated interior can keep ice cool up to 5 hours, and it is easy to clean and sanitize by hand washing.
The plastic and vinyl bar accessory is hand made in the USA. This portable and durable bucket is an ideal ice solution for tailgates and pool parties.
Ernie Dark Marble Curved Beverage Tub & Wine Chiller
Keep your drinks cold by the pool or at a BBQ with this dark marble cooler. Made of hard plastic, it can easily hold 8 quarts of ice and up to 10 bottles of beer or 6 bottles of wine within its 14'' H x 10'' W x 10'' D dimensions.
The convenient cut-out handles allow for easy transport while still providing a sleek, streamlined design that is compact enough to fit anywhere from the kitchen to your patio.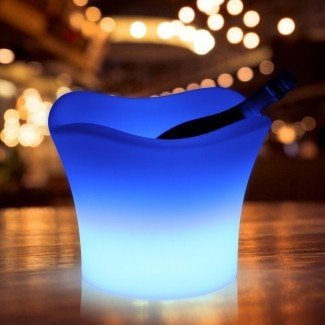 Kaas Led Light Up Ice Bucket
This white, high-tech accessory will light up your night with its LED color changing effects. The included charger gives you up to 8 hours of power to ensure that you never have to find batteries to keep the party going at your night club or back yard.
The overall dimensions of this light-up canister are 10.6'' H x 14'' W x 14'' D so it can fit anywhere at your bar or restaurant, one full charge takes 3 hours, so charge during the day to keep your guests impressed all night.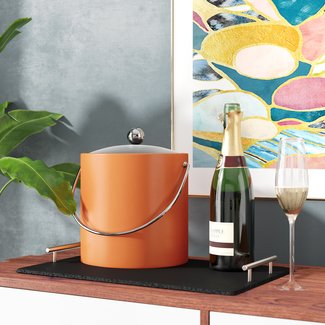 Binegar 3 Qt Ice Bucket in Spicy Orange
The spicy orange color of this 3-quart ice holder will catch your guest's eye the second they walk into your bar.
Made in the USA, the vinyl beverage cooler features a frosted lid with chrome finish flat knob and bale handle, which round out the contemporary style. At just 3 lbs. and 9'' H x 9'' W x 9'' D, it's portability enables it to be used inside and outside the home.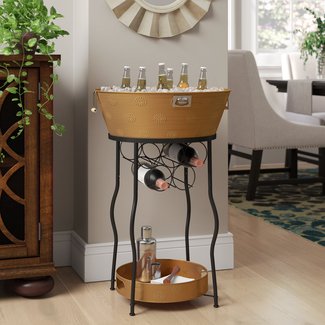 Reimels Party Station Beverage Tub
This 30-gallon, 32'' H x 21'' W x 21'' D standing ice tub will be the center of attention at your summer pool and birthday parties and not just because of the 20 bottles of soda and water it can hold.
The copper color and curved black metal frame make this a unique and beautiful accent for your home bar. Store wine bottles under the tub to replace the cold ones as they are consumed. Bar accessories can be placed on the lower shelf, so they do not get misplaced, or remove it and use it as a serving tray.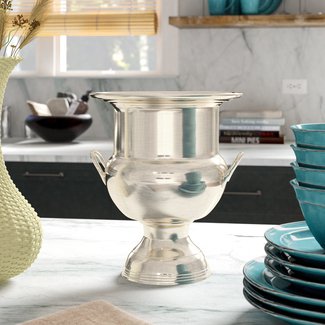 Lange Brass Champagne Bucket
Add a touch of elegance to your formal affairs or holidays with this silver polished metal champagne holder.
Weighing under 3 lbs., you can use this 10'' H x 9'' W x 9'' D of interior space to hold common kitchen utensils like slotted spoons or spatulas. Or fill it with ice to impress a loved one with their favorite bottle of champagne during a romantic evening.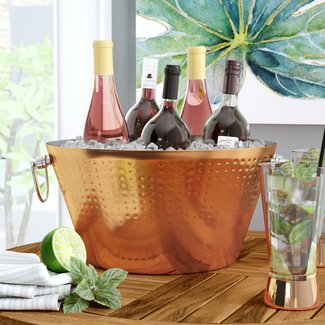 Hardcastle Double Walled Hammered 100% Insulated Steel Luxury Beverage Tub
Bob for apples at your Halloween party in this stainless-steel cooler with a copper-colored hammered finish.
The tub is leak-proof, rust-resistant, and lead-free, making it ideal for family gatherings. Able to hold up to 17 quarts of beer, wine, soda, or water, the interior is insulated, so you do not have to worry about water damage from condensation.
It is sturdy at 6.5 lbs. and the 7'' H x 15'' W x 15'' D size makes it difficult to knock over.