The kitchen is typically one of the most used spaces in a home, often being used to prepare meals, enjoy family dinners, or simply just hang out with a coffee and a magazine. Because of this, there are usually plenty of things that need to be considered when it comes to storage and organization.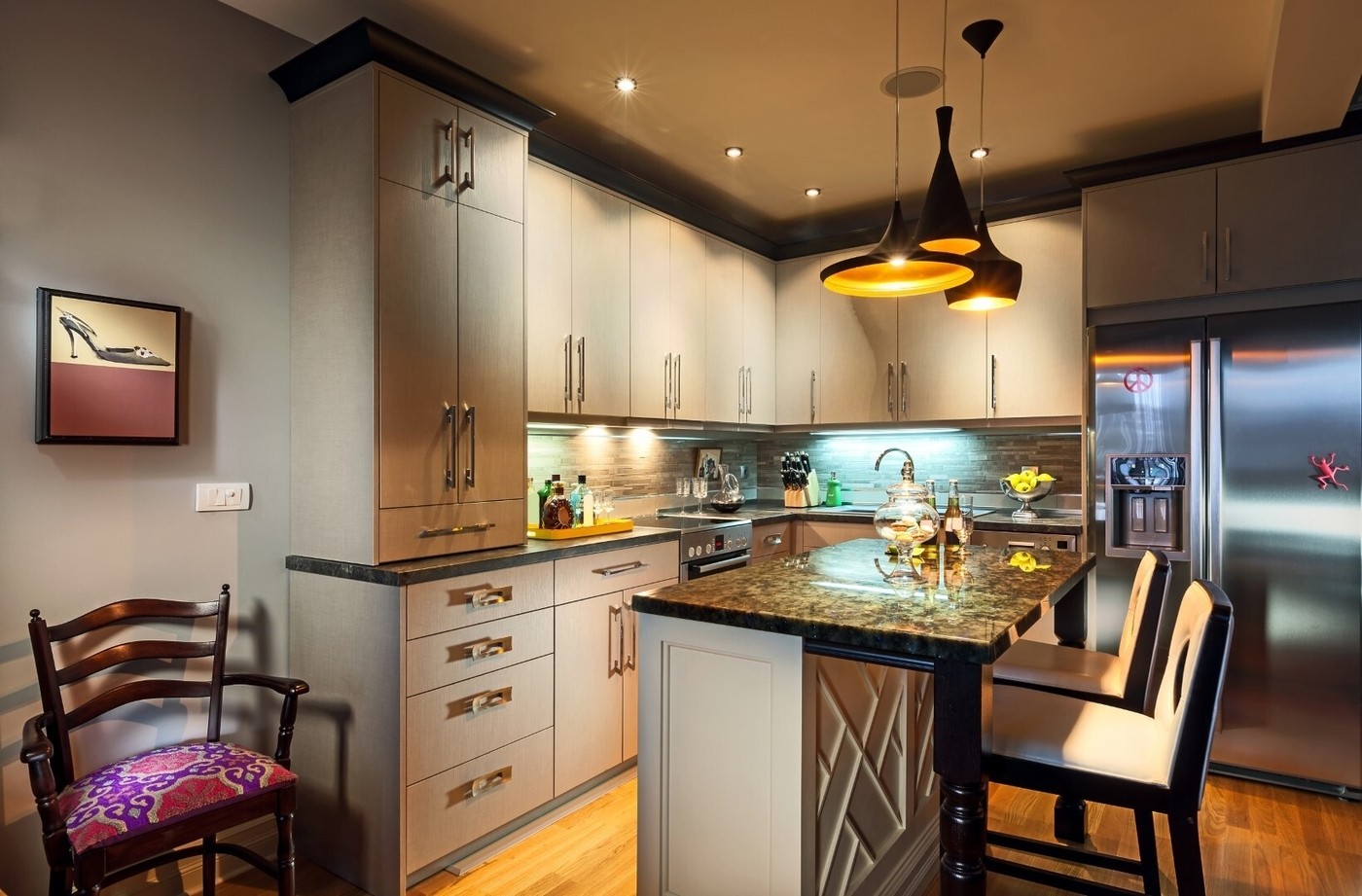 If your kitchen is on the smaller side you are probably already aware of the challenges that come with finding a place to put everything. If you don't have enough storage space your kitchen counters can quickly become cluttered, creating a stressful and unproductive space.
Whether you have a small kitchen that needs more storage space, or you're just looking for new ways to organize your kitchen, these tips will help you to make the most of the space you've got.
Add a Freestanding Pantry Cupboard
A freestanding kitchen pantry cupboard can be a sanity-saver when you have maxed out your existing cupboard space. Pantry cupboards are available in a wide variety of sizes and styles, so whether you're looking to fill an empty wall, or you just have a slim space available behind a door, you can make the most of it with a freestanding pantry cupboard.
Freestanding pantry cupboards are the perfect solution for storing bulky appliances that you don't want out on your kitchen counters. They can also be used to store plates, glassware, dried and canned foods, and more, freeing up valuable counter space and helping to keep your kitchen organized and clutter-free.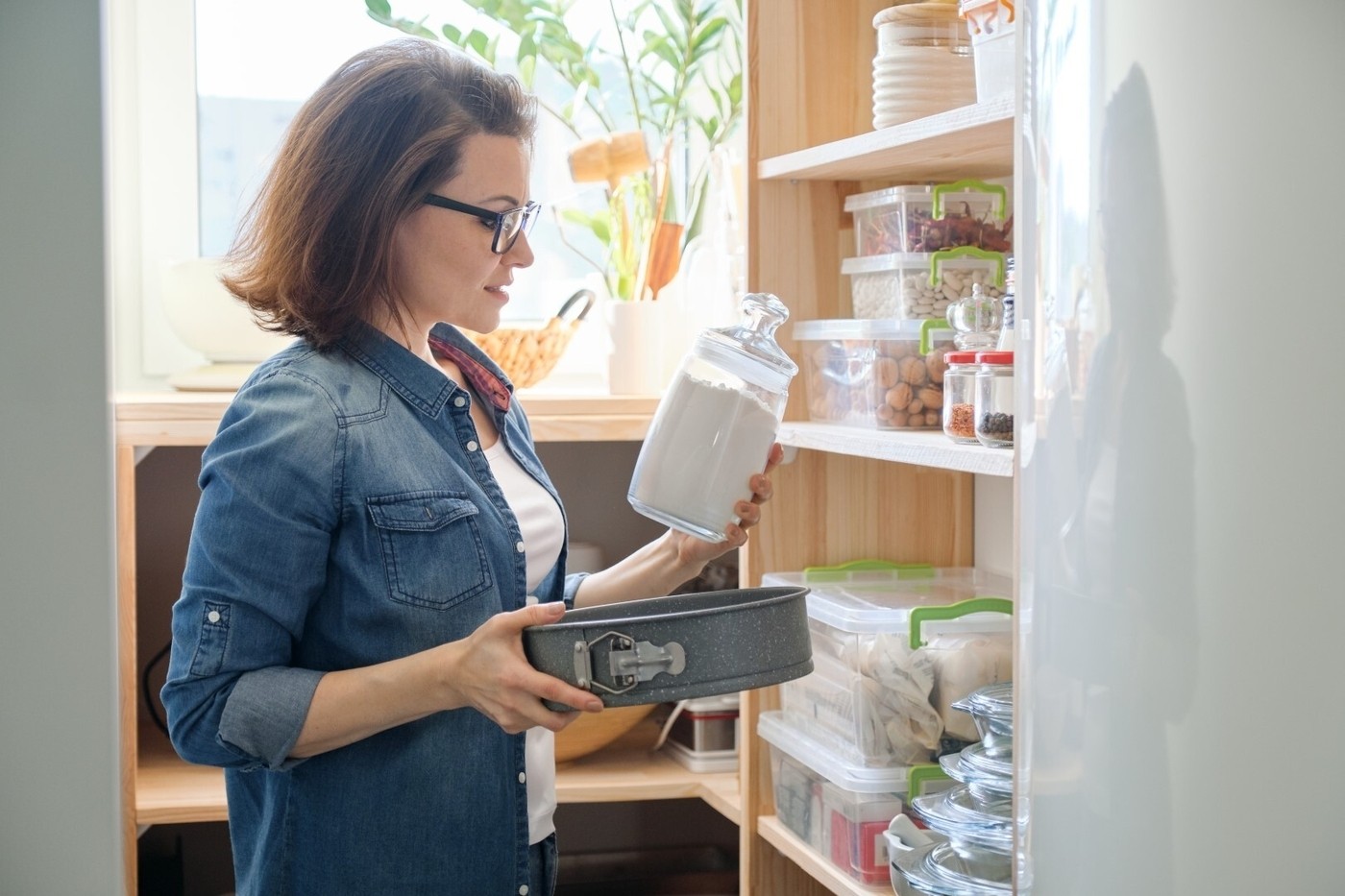 Use a Hanging Pot Rack
Pots and pans can take up a lot of space in your kitchen cupboards. A hanging pot rack is a perfect solution for keeping all of your pots and pans organized, whilst freeing up valuable cupboard space in your kitchen.
Pot racks work really well hung over a kitchen island or peninsula, this enables you to easily reach your pots and pans without running the risk of bumping your head on the rack! Alternatively, you could consider a wall-mounted pot rack, which can be hung on almost any available wall in your kitchen.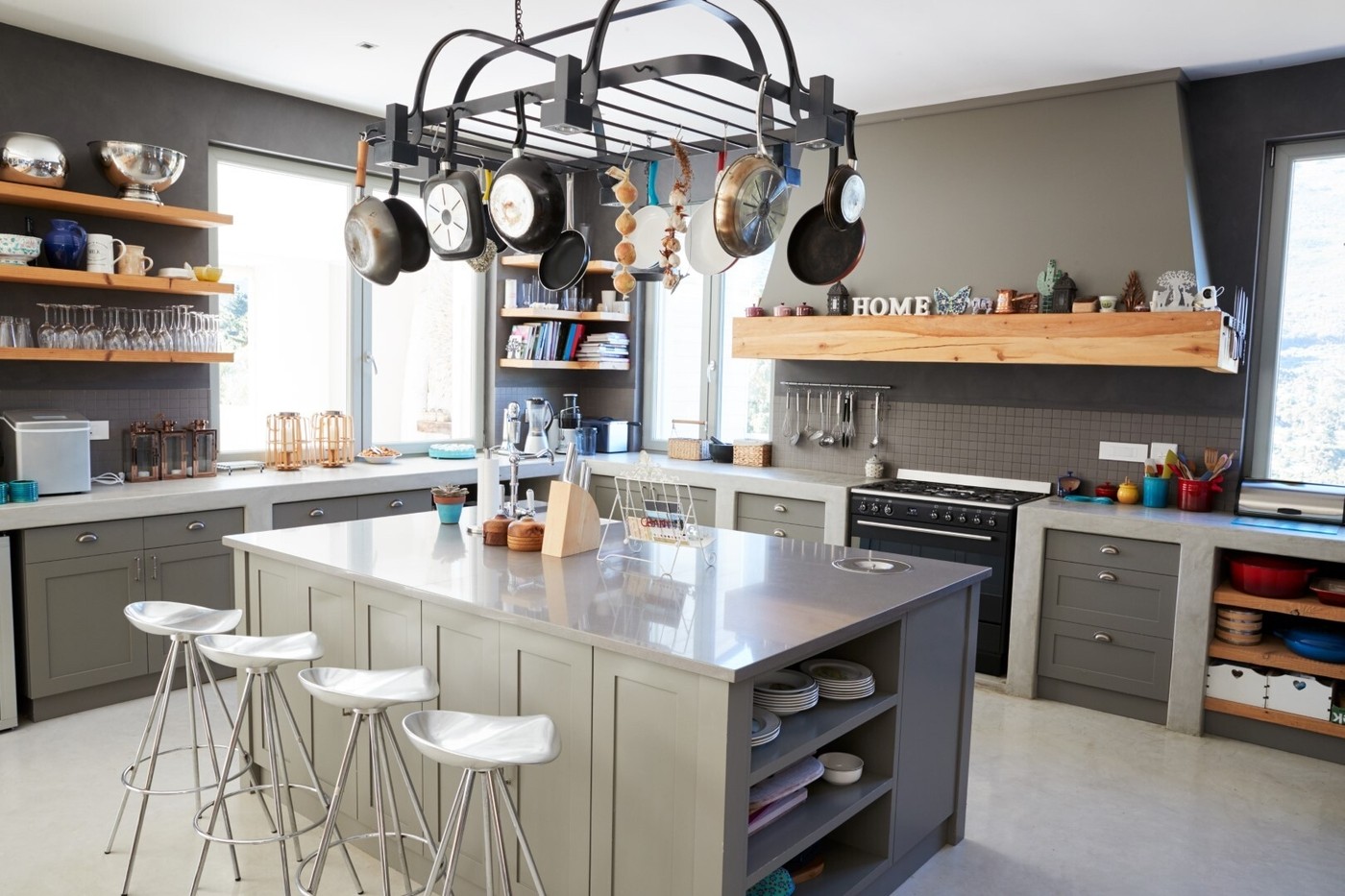 A Space Saving Kitchen Table
Using a space-saving kitchen table will help you get the most from your space, and thankfully there are a lot of options available, depending on the size of your kitchen.
For really tiny kitchens, a wall-mounted drop-down table is usually the best option. These will normally seat two or three people and will fold up flat against the wall when not in use, giving you more space to move around your kitchen.
If you have a little more space then a folding dining table is a great option. Choose one with one or two drop-leaf extensions which you can extend depending on how many people you need to seat. When the table is not being used, the drop leaf can be folded down and the table can be pushed against the wall.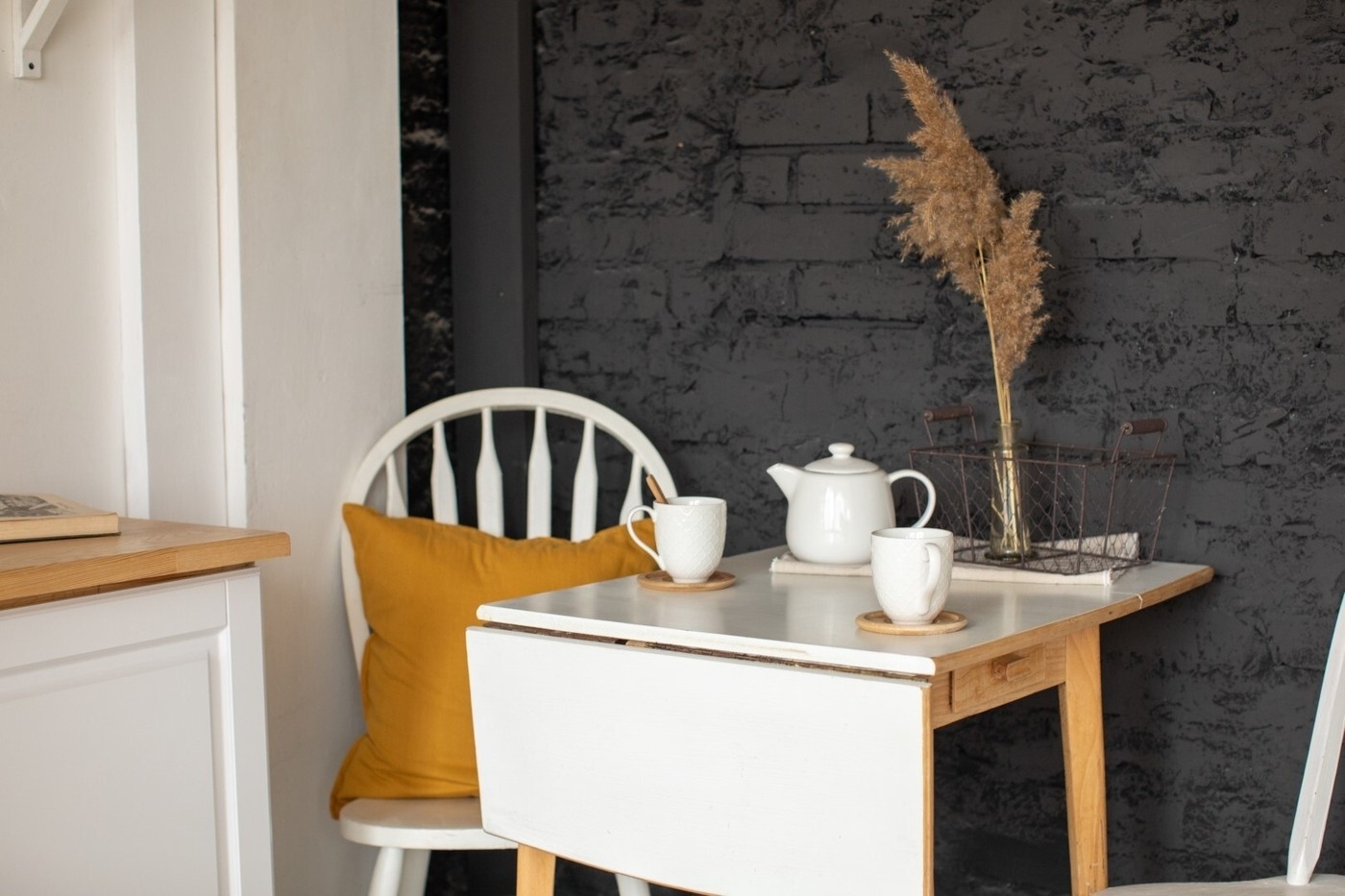 Add a Kitchen Island
Kitchen islands are a useful addition to most kitchens, providing you with an additional food preparation area, as well as some handy extra storage space underneath. If you don't have the space for a fixed island, you can use a rolling kitchen island cart, which is on castors so it can easily be moved around the kitchen as needed.
For traditional kitchens, a wooden kitchen island will work well, adding a rustic charm to your space. For modern kitchens a simple stainless steel island cart can look very chic, or if you want to add a splash of color to your space choose a painted wooden kitchen island with a simple design.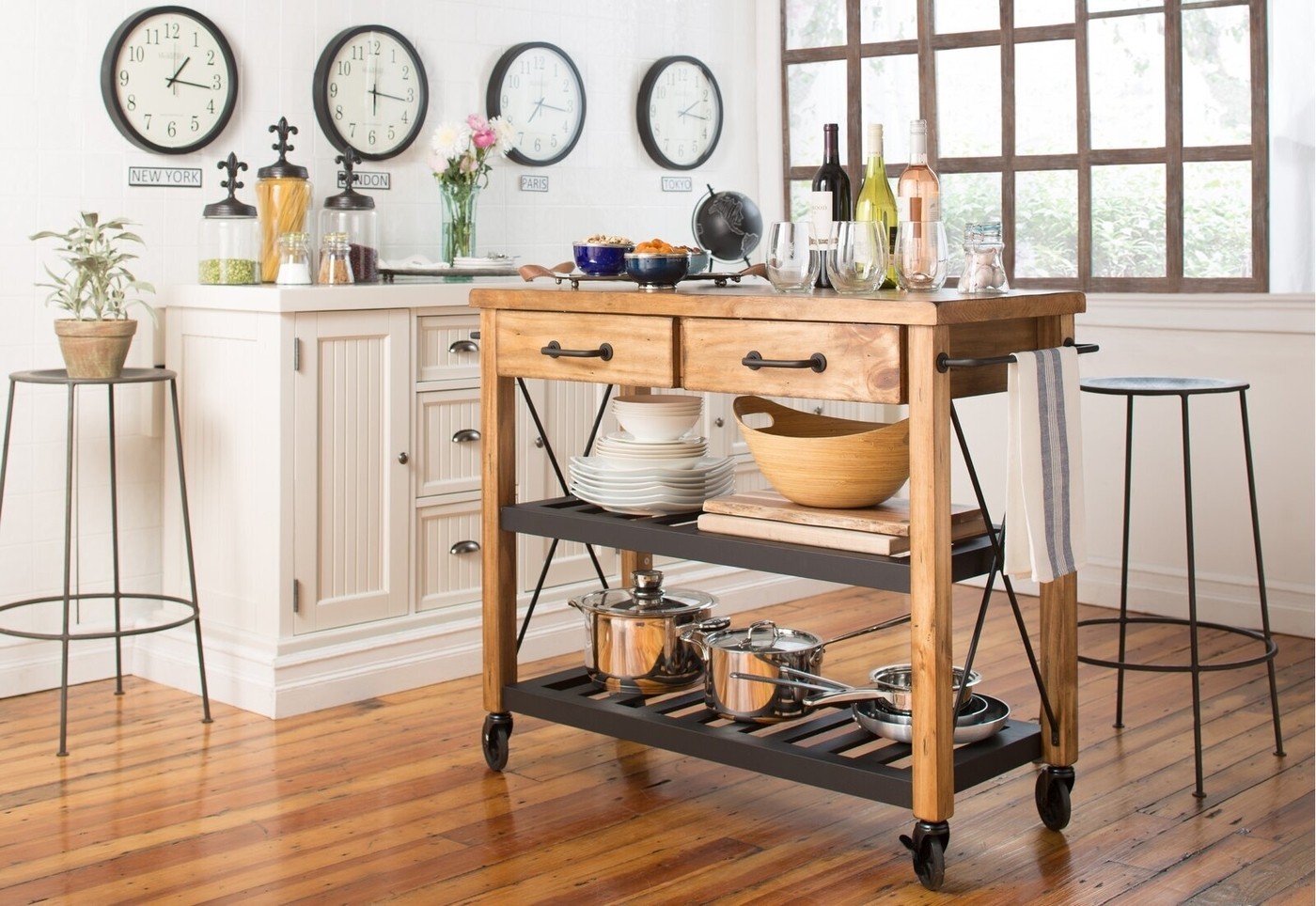 Make Use of Every Gap
If you've got a small kitchen, it's important to make use of all the space available. That means the gaps between cupboards, behind doors, and even the space above your fridge and wall cabinets. Perhaps you could place a wine rack, spice rack, or slim rolling pantry into a small gap at the end of your cupboard, or hang a rack on the back of your kitchen door to create extra storage space.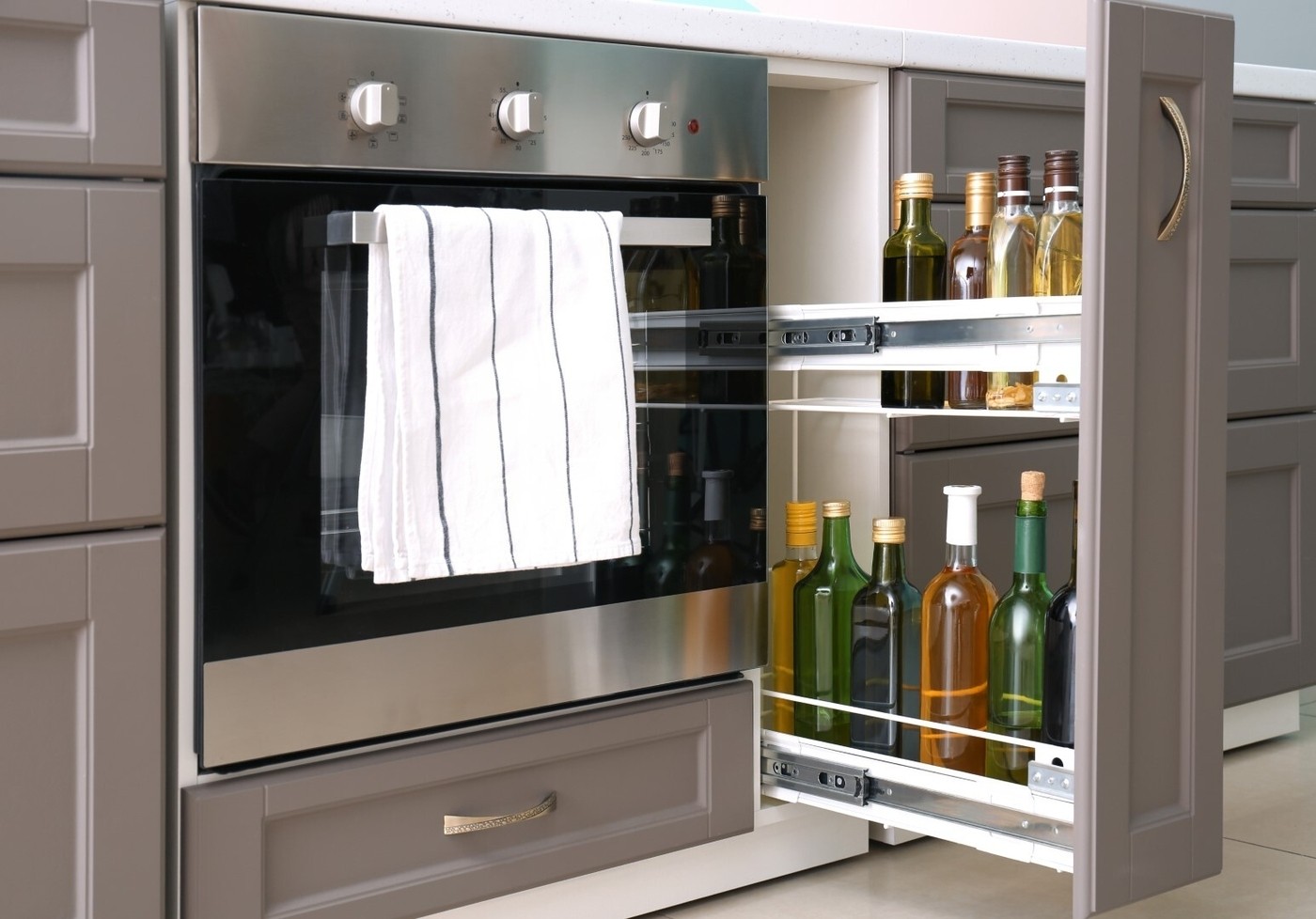 Add Some Open Shelving
If you have some empty wall space in your kitchen, installing some open shelving is a stylish and practical way to create additional storage space in your kitchen. Open shelving is fairly easy to install, but if you're not confident doing this on your own, ask a handyman to install them for you.
To keep your kitchen looking chic, use your shelves to display your favorite items while leaving unmatching or unattractive items hidden away in your cupboards. If you want to use your open shelving for food storage, try decanting dried foods into glass jars rather than putting them straight on the shelves.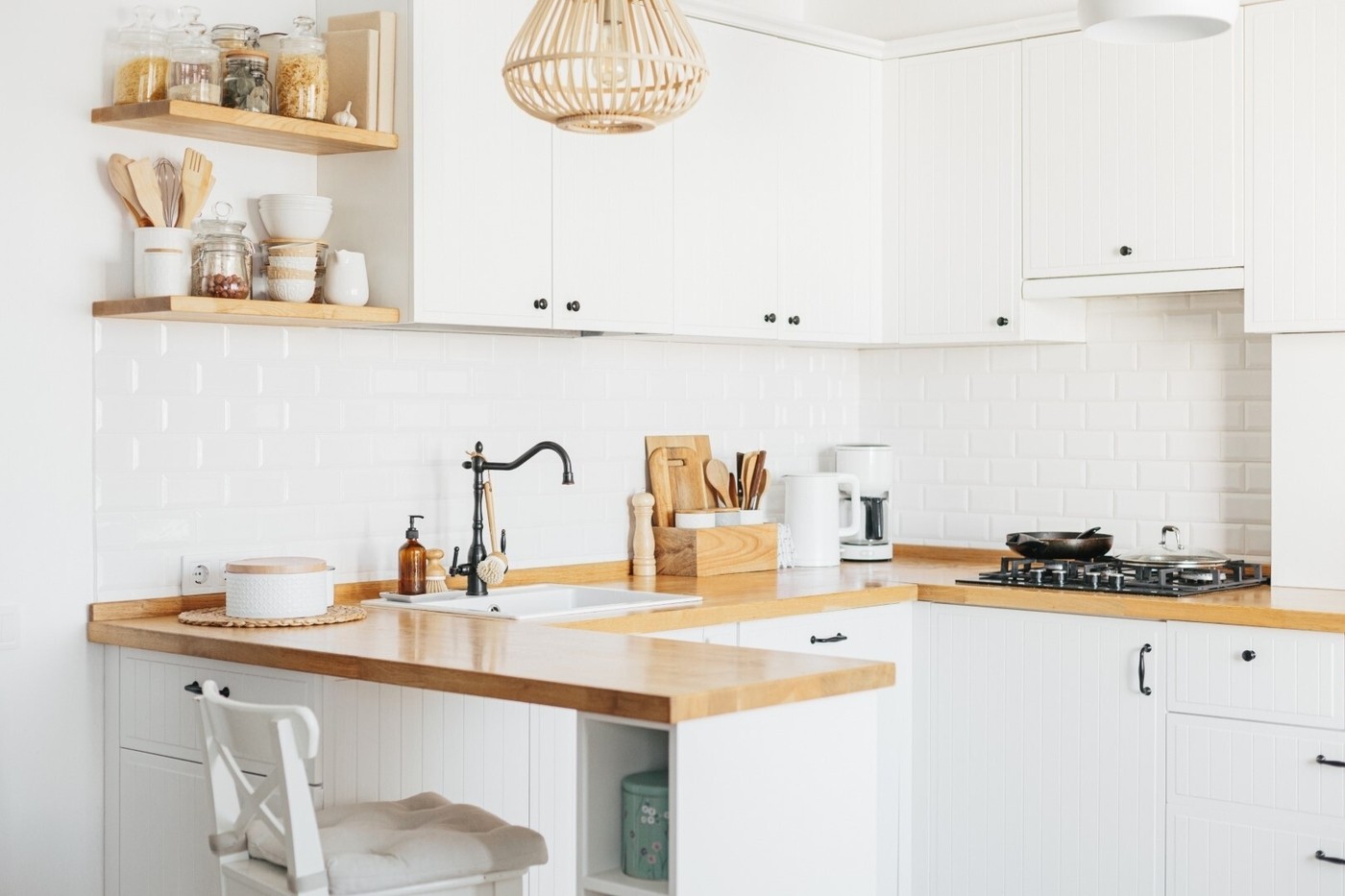 Create a Nook Seating Area
A nook seating area is perfect for small kitchens, providing you with a cozy area to enjoy breakfast and other meals with your family. Bay windows are the perfect place for a nook seating area, but if you don't have a window, you can still build your nook against any wall in your kitchen.
If you are unable to build a custom bench for your breakfast nook, you can buy a ready-made bench seat with a back, which you can place against one of your kitchen walls. Bench seating can also serve as extra storage space, as items can usually be stored inside the bench.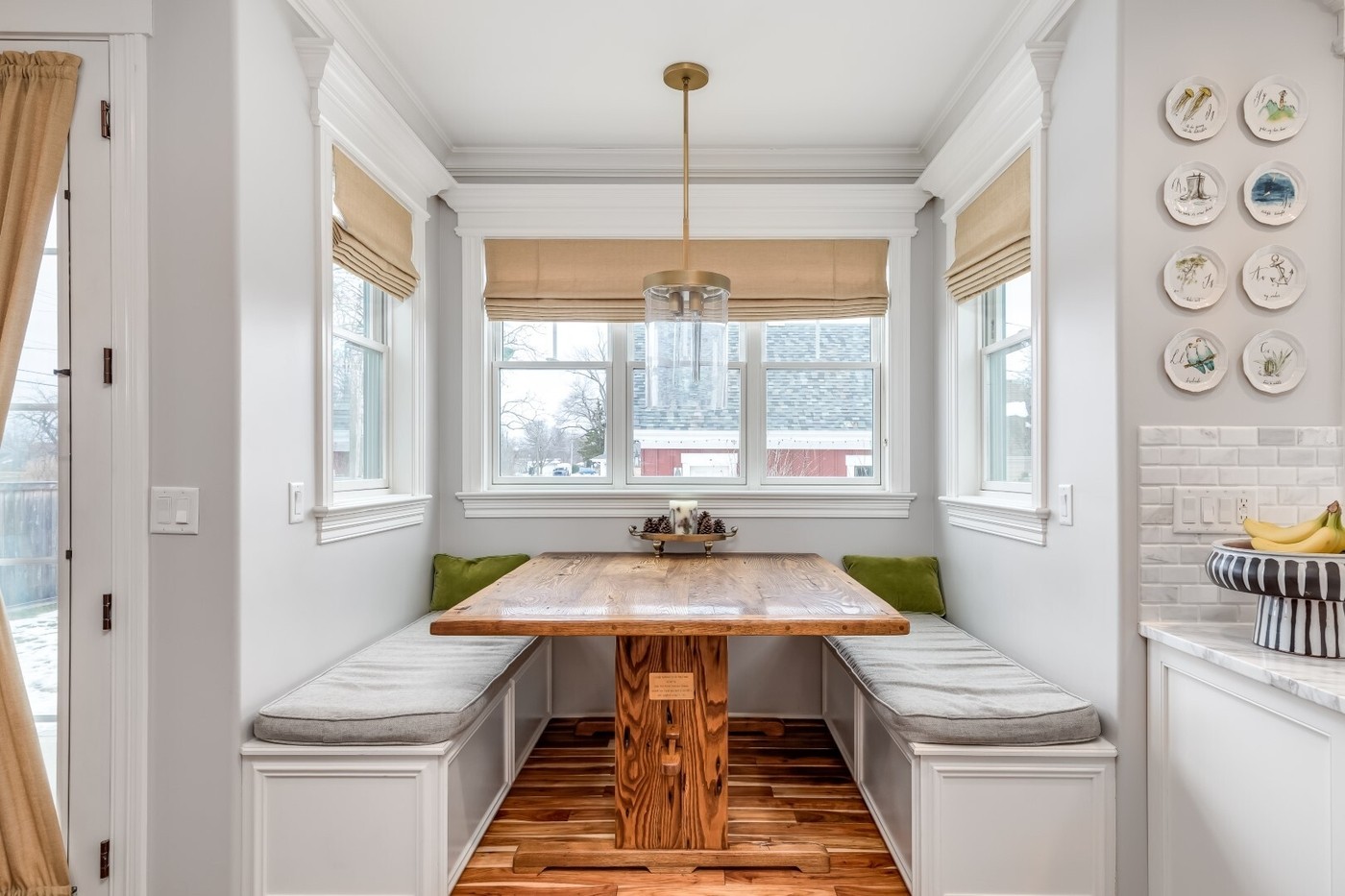 Use the Inside of Cabinet Doors
The inside of kitchen cabinet doors is often overlooked as a storage space. Add some hooks or a door storage rack to create a useful storage space for small items such as herbs and spices. In your base and under-sink cabinets, the space behind the door is perfect for storing tea towels, bin bags, and other lightweight items.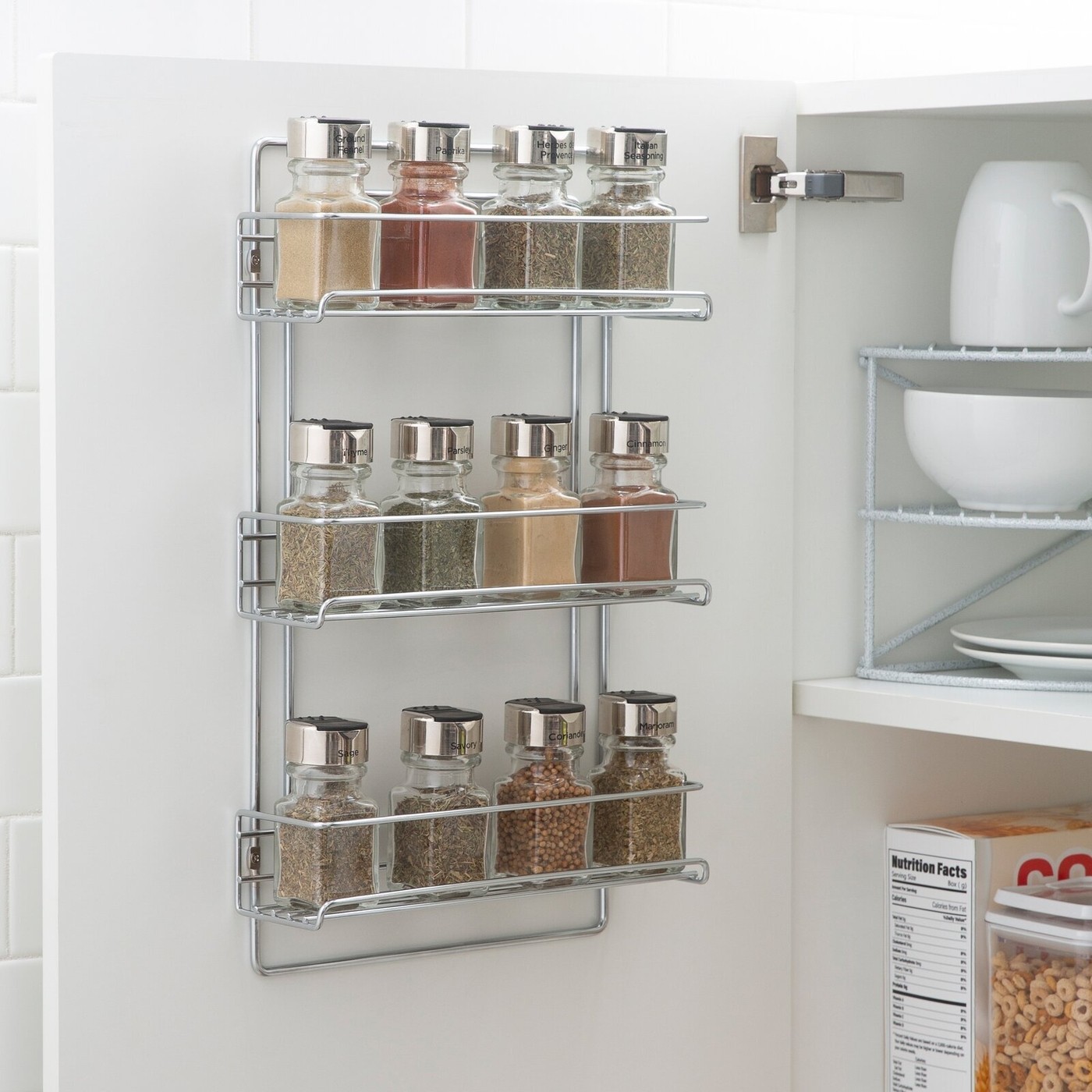 Place a Storage Rack Under Your Sink
If the space under your sink doesn't already have built-in shelves, buy a small wire shelving unit that you can place inside the cupboard to store your cleaning products and other items that you normally store under your sink. Keeping these items organized will not only make it easier for you to find what you are looking for, but it will also help prevent accidents and spills by making sure everything is stored correctly and the right way up.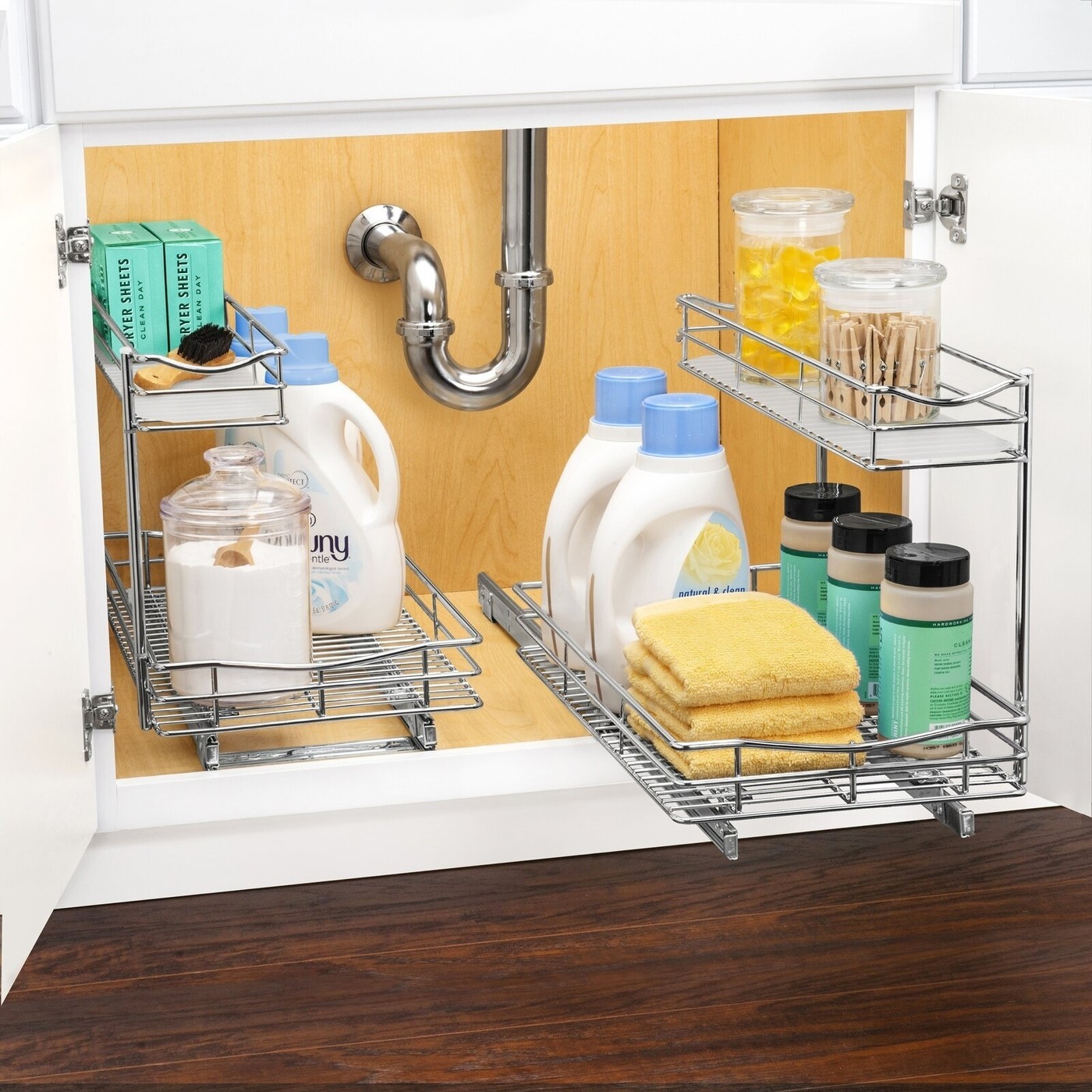 Consider What You Really Need
A key part of maximizing the space available in your kitchen is thinking about what you really need. If you have two of the same item, try to find another home for one of them with a friend or family member. Sorting out what you already have and taking away what you don't need is the easiest way to gain extra storage space in your kitchen for the items you really do need.
One of the easiest ways to do this is to consider whether you have used the item in question in the last two years. If not, it should go as it's clearly not something that is useful to you personally, however, it could be very useful to a friend or family member - ask around!