Whether you're expecting a new addition to the family, your toddler is starting to explore, or you're hosting the next family gathering, you might be considering ways to make your living room kid-friendly.
While kids are notorious mess-makers, the good news is many living-room sets are easily child-proofed. You can also make it easier by choosing easily washable fabric, robustly designed tables, and dark colors to ensure your furniture lasts. Here are some great ways to create a living room that both kids and adults will love.
Kid-Resistant Color Schemes
One of the most important considerations when designing a kid-friendly living room is your color scheme. Kids love to explore, paint, and be creative, and more often than not, that creativity happens on your walls or carpet. To give your kids space to be kids and provide you with peace of mind, you'll want to pick a color scheme that will hide any leftover stains or scribbles.
Although there are some great easy-to-clean fabrics available, lighter colors are more likely to show stains and wear and tear. When designing your kid-friendly living room, try to choose a darker color scheme. However, that doesn't mean every piece of furniture needs to be black or grey. Look at schemes that center around dark blue, dark rose, purple, or forest green.
To make your room even more kid-friendly, choose washable paint for your walls. You can use soap and water to wash off nearly any smudge, stain, or crayon. Instead of spending hours scrubbing or having to repaint the whole room, you can rest easy even if your kids get extra-creative on the living room walls.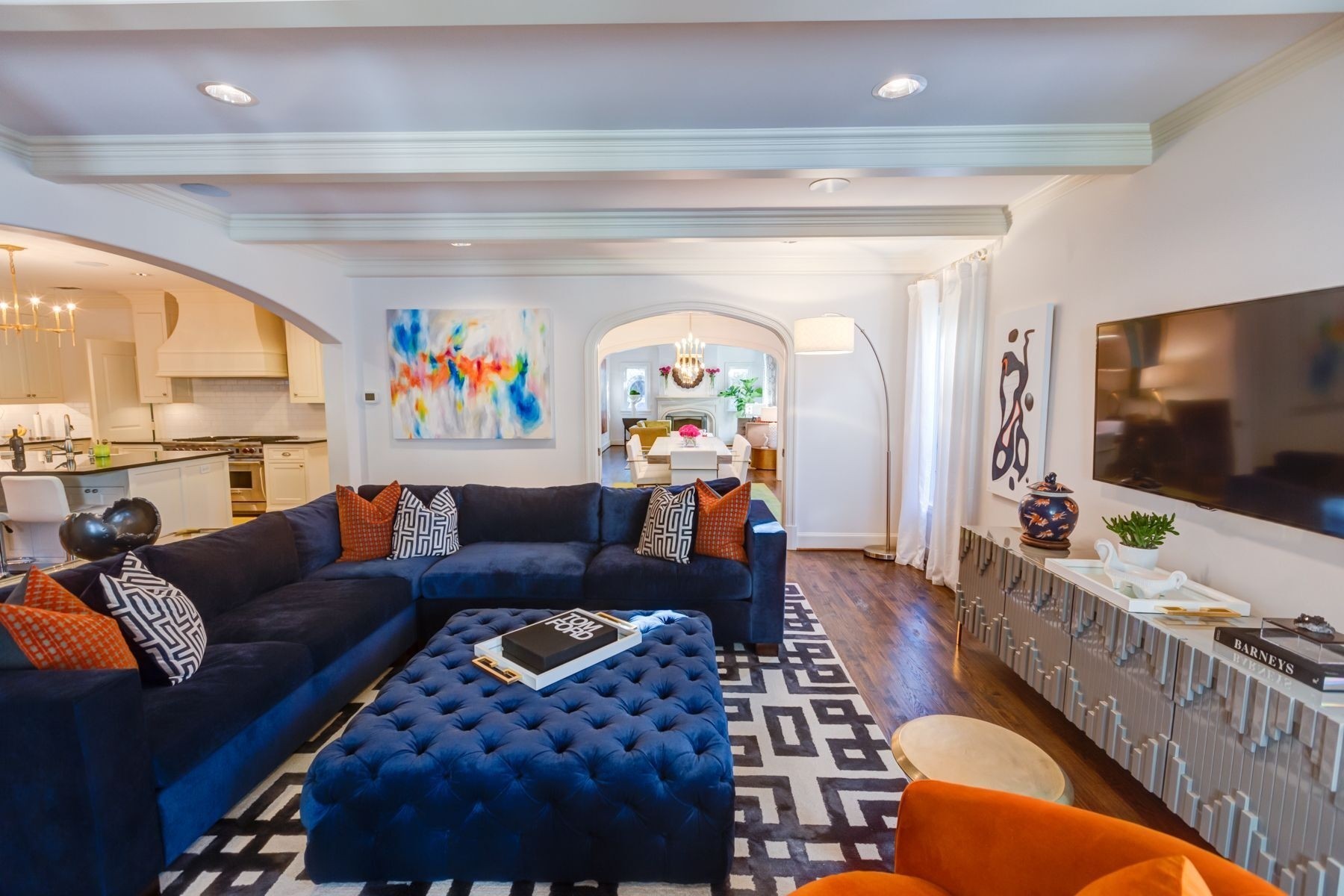 Choosing the Best Fabric
Choosing the right fabric for your living room sets can make all the difference after a spill. Before buying your sofa, look at the washing requirements for the material. Some require dry-cleaning. Other fabrics are machine washable or easily cleaned with a spray.
When you're looking at furniture, you should focus on leather, microfiber, and wool. Leather, although expensive, is almost indestructible with the right care and adds a classy tone to any room. Leather furniture also tends to be comfortable, and your kids will love curling up on the couch with you to watch TV, read or play board games. You can wipe off most sticky substances easily, and you'll just need to use a leather conditioner twice a year to keep the fabric soft.
Microfiber is also fantastic for kids. It's stain-resistant and super easy to clean. Just check your couch's cleaning instructions to see if you can use water or need a solvent. Microfiber also comes in various textures and colors, so you can choose something that's not only functional but attractive.
Unlike some other fabrics, wool is durable and less susceptible to pulls and tears, making it an excellent choice for kids who love to climb. You can also spot clean stains and vacuum up any crumbs.
This fabric choice doesn't just apply to your couch. Recliners, rocking chairs, and ottomans all come in a wide variety of fabrics. If you have throws or blankets out for when the kids fall asleep during family movie night, you should also check to make sure they're machine washable and dryable.
Picking a Table
In many families, the coffee table is the centerpiece of the living room. If you're designing your space with kids in mind, you don't need to sacrifice looks for safety.
Especially for kids just learning to walk, rounded edge tables are a life-saver. There is no need to childproof these tables as the soft, rounded corners won't cause damage if your kid runs headfirst into one.
Some coffee tables also come with shelves or drawers that are right at kid-height. By storing your kid's favorite toys where they can reach them, you can teach them to clean up after themselves at a young age.
Opt for a table made from tough, easy-to-maintain materials such as MDF. If you prefer the appearance of solid wood, ensure that it is treated, sealed, and stained for easy cleaning.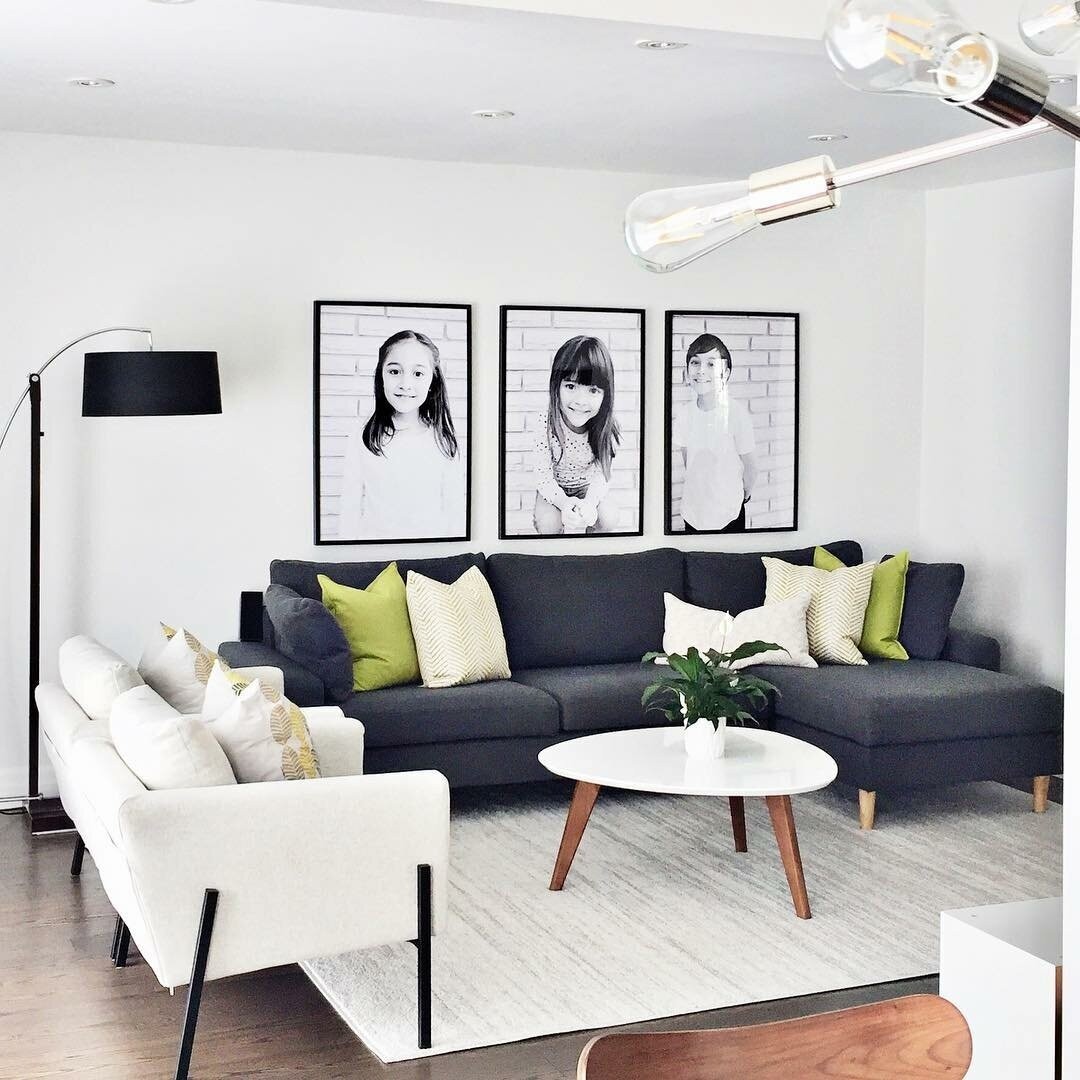 Organization Is Key
Clutter can make people feel overwhelmed, and kids come with a lot of things. Instead of having to drag their favorite toys and books upstairs every night, invest in a few kid-level organizers. If you have multiple kids, assign each one their very own cubby hole. You can make a game of cleaning up their toys and putting them in the right place.
You can also find fantastic organizers for the adults in your family so you can store things like liquor, DVDs, and breakables out of reach of curious hands. Some storage units have lockable glass or wooden doors that keep your valuables safe.
Another focal point of many living rooms is the TV and entertainment system. When choosing your TV stand, there are a few options to make it kid-safe. First, find something that has a lot of storage. If your kids have gaming systems, a sliding cabinet can keep unsightly consoles hidden when not in use.
You should also find one that allows for wire organization. Some TV stands have a grommet in the back that enables you to keep all your cables together and away from tiny running legs.
Find an entertainment system or storage unit that has rounded corners or apply protective bumpers. TV stands are often at forehead height for toddlers, and a knock on the head can have devastating consequences.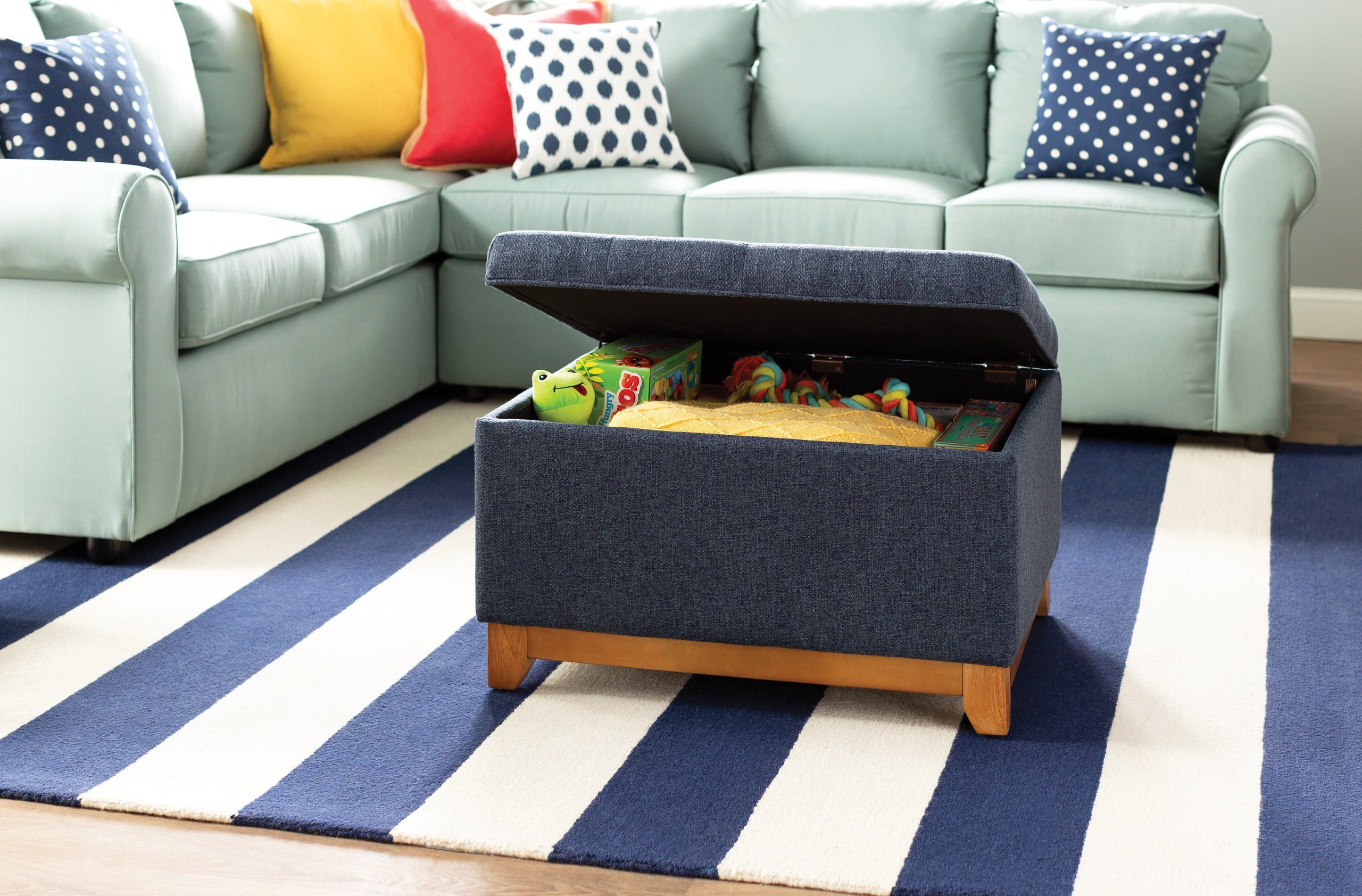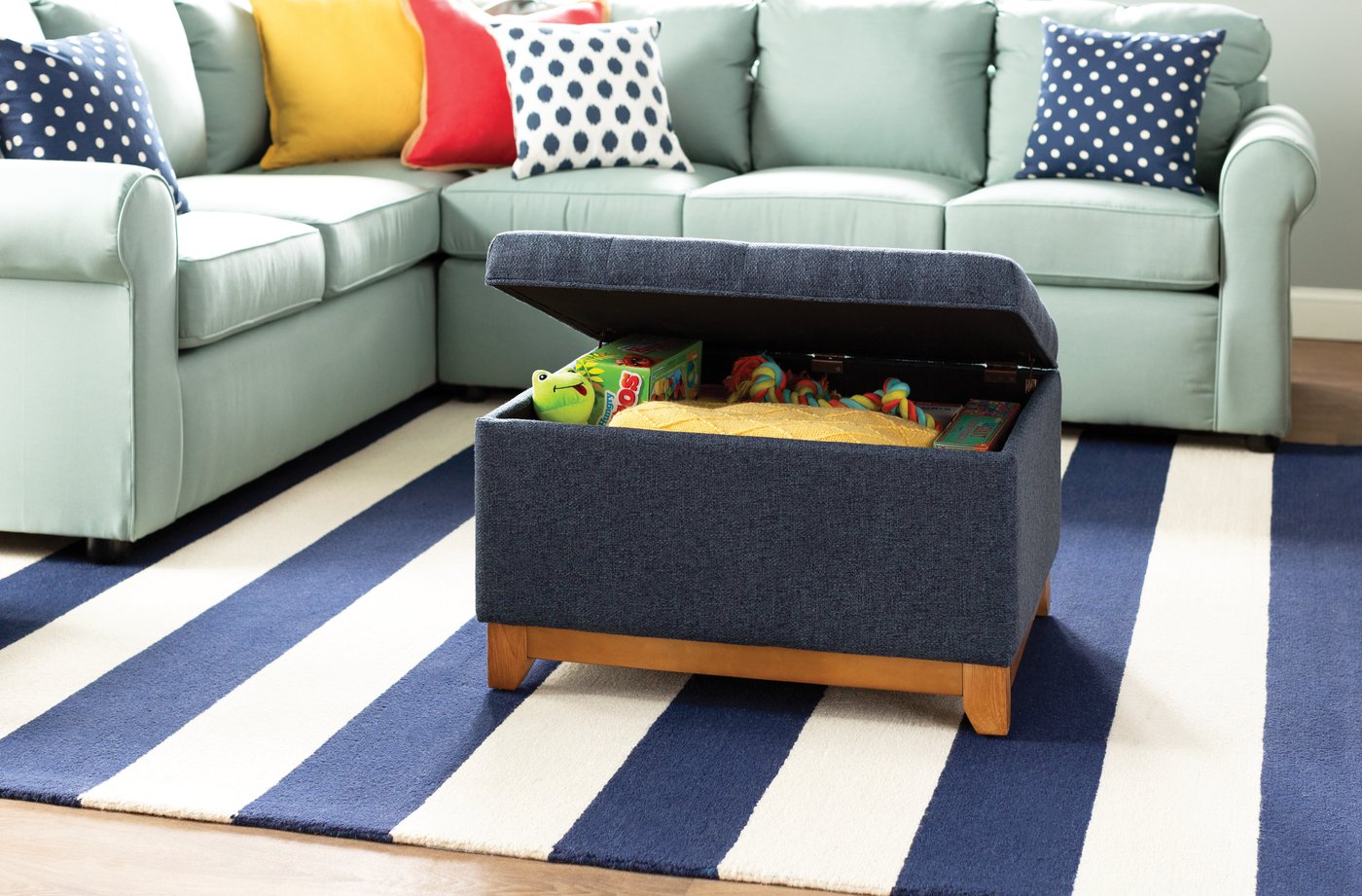 Ottomans are another space-saving storage option. Kids can sit on them, use them as a table, and many of them are hollow, allowing for additional storage. They're also great for playing "The Floor is Lava."
Kid-Friendly Designs
Think about your kids when choosing your designs. Kids love bright colors and exciting shapes. You can also look for carpets and throws with kid-friendly designs. Rugs with hop-scotch drawn on, a race track, or shapes and colors are all a great way to keep your kids' imaginations active.
Kid-sized furniture is another excellent way to activate your kid's imagination. They can use a tiny table and chairs to have high tea, draw, paint, or build legos. Plus, kid furniture tends to be made from durable materials like high-density plastic or solid wood designed for rough-housing.
A Living Room for the Whole Family
Your kid-friendly living room doesn't have to be unsophisticated. As long as you choose easy-to-clean materials and watch out for sharp edges, you can have a warm, comforting room that's great for the whole family.