Hockey Tables
Hockey tables provide a surface and playing field for simulating competitive play between two people. The game is played with round "paddles" that move smoothly on the table surface and are used to bat a puck back and forth between players. This is usually a standing game. Tables range from a simple table-topper box to an elaborate set up that has a plastic dome over the playing surface. This last can be useful if you have youthful players who are likely to bat the puck off the table. A few tables can be flipped over to reveal a different game.
Our choice Best Hockey Tables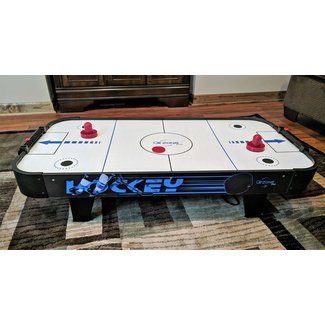 40" Air Hockey Tabletop Game
This air hockey table features rounded corners and a low-profile making it kid-friendly yet large enough for adults to enjoy. It is designed for use on a dining table, but also has short legs bringing its total height to just 20" so you can use it while seated on the floor. It's easy to store when not in use, so it's ideal for families with smaller living rooms or children's bedrooms. It comes with 2 strikers, 2 pucks, and scorekeeping built into the goals.

7' Two Player Air Hockey Table with Digital Scoreboard
This full-size air hockey machine has faux wood panels and sleek chrome-finish accents, making it the perfect companion for modern or retro-influenced dens or recreation rooms. It features a large arched digital scoreboard with sound effects and a timer, as well as a manual score counter that's perfect for tracking games. It also includes 4 goalie mallets so the whole family can join in on a game.

Adona 84" Air Hockey Game Table with Scorer
With its faux cherry wood base, this full-size air hockey table is a stunning focal point for your recreation room or den and coordinates seamlessly with your home's traditional décor. Its simple design makes it quick and easy to assemble. The timekeeper and scoreboard are offset to the side, giving the table a low profile, which prevents it from blocking your TV. You also have the choice between plugging it into the outlet or using batteries to power the air fan to keep your room clear of unsightly cables.

Orbit 55" Four Player Air Hockey Table with Digital Scoreboard and Lights
Challenge your friends with this fun and stylish addition to your home. This unique 4-player air hockey table is an excellent solution for families with multiple children. LED bulbs light up every time you allow a goal, and if you get 3 lights you are eliminated from the game. It has a smaller footprint than standard 7' length hockey tables, so it's ideal for use in rooms with limited space, and the round shape and black faux wood works well in sleek contemporary dens and entertainment rooms.

Phoenix 84" Air Hockey Table with Manual Scoreboard
Your modern den won't feel complete without this stunning full-size air hockey table. Its curved and modern design, high gloss black finish, and chrome details fit well with sleek, simple décor. The regulation size table features manual score counters built into the top help to maintain its streamlined look. It comes with 4 pucks and 2 strikers and a powerful electric air blower to keep the puck gliding across the surface for hours of fun.

Signature Dome 58" Hockey Table
This compact 54" hockey table can be placed and used anywhere in the house. Unlike traditional air hockey tables, it has a small rubber puck that does not rely on airflow to move. The large plastic dome keeps the puck from flying out during play. The scoreboard is battery-powered, making it easier for young players to track their points. Bright blue melamine finish makes this hockey table perfect for dens and children's playrooms.

Excalibur 6' Two Player Air Hockey Table with Digital Scoreboard
This versatile convertible air hockey and table tennis set can provide hundreds of hours of extra entertainment for your family. Although it's slightly less than full size, the 6-ft table can still provide ample playing space for family members of all ages. The set comes with ergonomic strikers to minimize hand fatigue, and the commercial high-output blower creates a high-speed playing surface. The rustic melamine-coated manufactured wood will last for decades and coordinates well with a nautical or country-themed rooms for added rustic charm.

Triple Threat 3-in-1 72" Multi Game Table
Table tennis, pool, and air hockey combine in this rotating 3-in-1 table. Flip the table for a game of pool or install the included tabletop for a fast-paced game of table tennis. You can also keep all of your play equipment organized in the integrated storage rack. The large contemporary design will make it the centerpiece of any den or man cave. Pair it with sports memorabilia to create a championship-worthy atmosphere.

Mainstreet Classics Sinister Table Top Air Hockey
For on-the-go fun, get this lightweight tabletop air hockey set. It weighs under 5 lbs. and measures less than 2' long so that it will fit in the car on any vacation, or you can bring it to family reunions or friends' homes for parties. The beautiful wood finish allows it to blend in with your décor. Try it in dens and children's' playrooms, or even at the kitchen counter after school.

84" Two Player Air Hockey Table with Digital Scoreboard and Lights
This professional-grade air hockey table has 5" leg levelers to create a level playing surface in almost any living room. The goalie mallets are ergonomic for wrist and arm support, providing a more comfortable playing experience for players young and old. A digital inlaid scorekeeper keeps the table look sleek and stylish, while the scratch-resistant surface ensures your table will look pristine for years to come. Pair the rustic faux wood design with dark gray walls and floors to help it stand out as a centerpiece in any room in your home.