Our Choice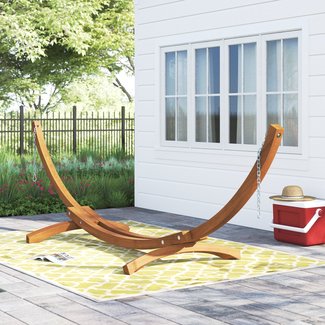 Angela Curved Arc Wood Hammock Stand
This curved wood hammock is the epitome of rest and relaxation. With its unique shape and design, you can unwind from a busy day and chill. Made of beautifully finished hardwood, it's the perfect addition to your outdoor decor. Feel free to soak up the sun and kick up your feet while getting some much-needed recharge time with this sleek hammock stand.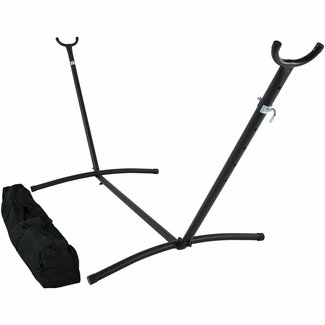 Alberto Steel Standard Hammock Stand
If you would like to get some much-needed rest and unwind as you please, then this sturdy hammock stand will do the trick. Feel free to soak up the sun, enjoy a catnap or read your favorite novel with this hammock stand at your disposal. With no hassle of installation, it is ready to use immediately. The stand accommodates non-spreader bar hammocks and the powder-coated steel tubing assembly packs neatly into a duffel bag to be transported to any location you prefer.
Wincanton Trailer Hitch Steel Hammock Chair Stand
Looking for a unique way of relaxing in your hanging chair? Then you're in luck. This trailer hitch hammock stand is constructed from steel that makes it strong and durable. The black finish simply enhances the overall look while the compact design of the stand allows it to be attached to most 2-inch standard hitch receivers. It's compatible with most chairs and holds them comfortably. This hammock stand has a capacity of 500 pounds with 250 pounds to each arm and is also easy to assemble.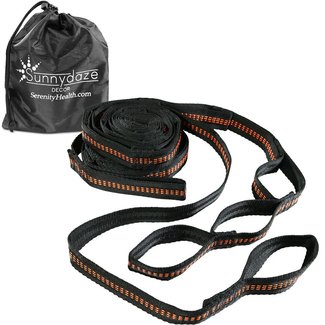 Mattie Adjustable Hammock Tree Strap
This adjustable hammock tree strap would allow you to hang your hammock from trees with ease. It features two 9 inch long straps with 14 loops each. Avoid tying complicated knots thanks to the easy-to-use chain loop system. Each strap is lightweight and compact and comes packed in a black carry bag to easily toss it in with your supplies while on the go.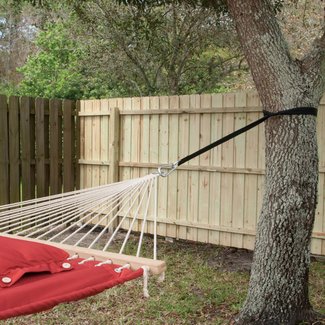 Aliyah Hammock Tree Straps
These hammock straps are made from premium heavy-duty polyester making them rugged and long-lasting. They will replace your typical hammock gear as they attach conveniently and sturdily to trees using tree hooks. It's also portable and weather resistant with an adjustable strap size that fits even larger trees. Available in a set of two polyester straps, they also contain two heavy gauge steel carabiners designed to hold up to 450 pounds.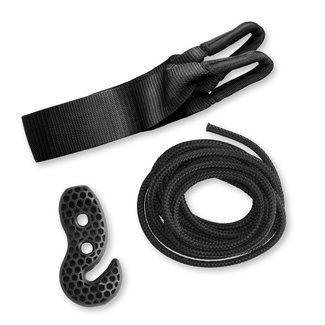 Calkins Multipurpose Suspension Tree Strap
The multi-purpose suspension tree strap lets you quickly and easily install your hanging chair from beams, posts, and trees. Thanks to the smart hook, the length and height can also be adjusted without any knots. This suspension tree strap is the smart solution to your hammock requirements. With a weight capacity of 355 pounds, it's ideal for both adults and kids. The black color also blends in with any hammock fabric color.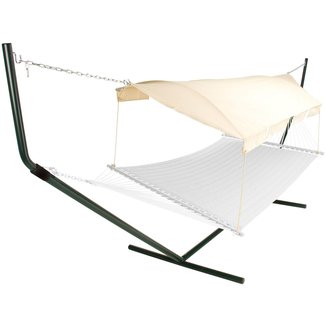 Edford Hammock Canopy
This easy fabric canopy offers instant sun protection. The canopy delivers stylish convenience while you enjoy the breeze that's passing right over you. This cover allows you to pick a spot in a sun-drenched spot and still enjoy the cool shade. Designed for the tri-beam stand, it is easy to set up as there are no tools required. The all-weather fabric also features fade-resistant capabilities, and to keep it clean, simply use oxyclean and water.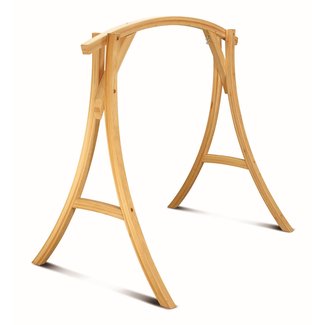 Dungonnell Wood Standard Hammock Stand
If you're looking for a wooden hammock stand that combines elegance and practicality, then this is the one. The cypress swing stand is designed for indoor and outdoor use. Occasional cleaning with mild soapy water will help to remove surface dirt and keep stains at bay. Over the years, the wood will age to an elegant muted silver-gray which will simply add to its character.