Our Choice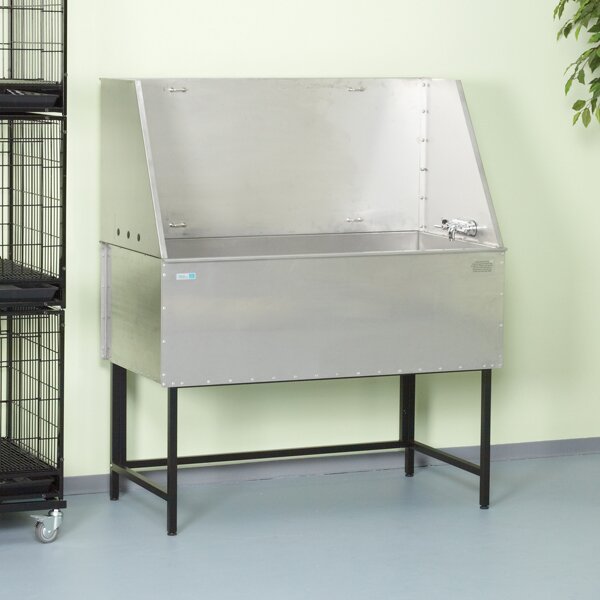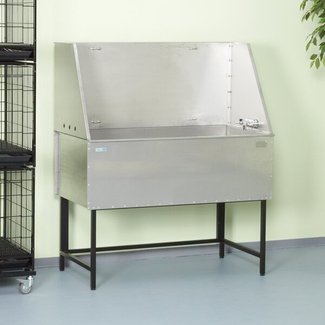 Everyday Pro Deluxe Grooming Tub
Featuring a quintessential dog spa design, this grooming tub will make the pets in your care feel especially pampered during each grooming session.
Crafted from stainless steel with a capacity of 440lbs, this pet hygiene amenity is especially robust and ideal for grooming a large number of pets at once.
The presence of additional rivets means it is also suitable for larger pets since it is particularly durable, while its mold resistant silicon caulking ensures the grooming tub is impressively watertight.
Take advantage of its sturdy construction to keep large canines pristine and perfectly groomed.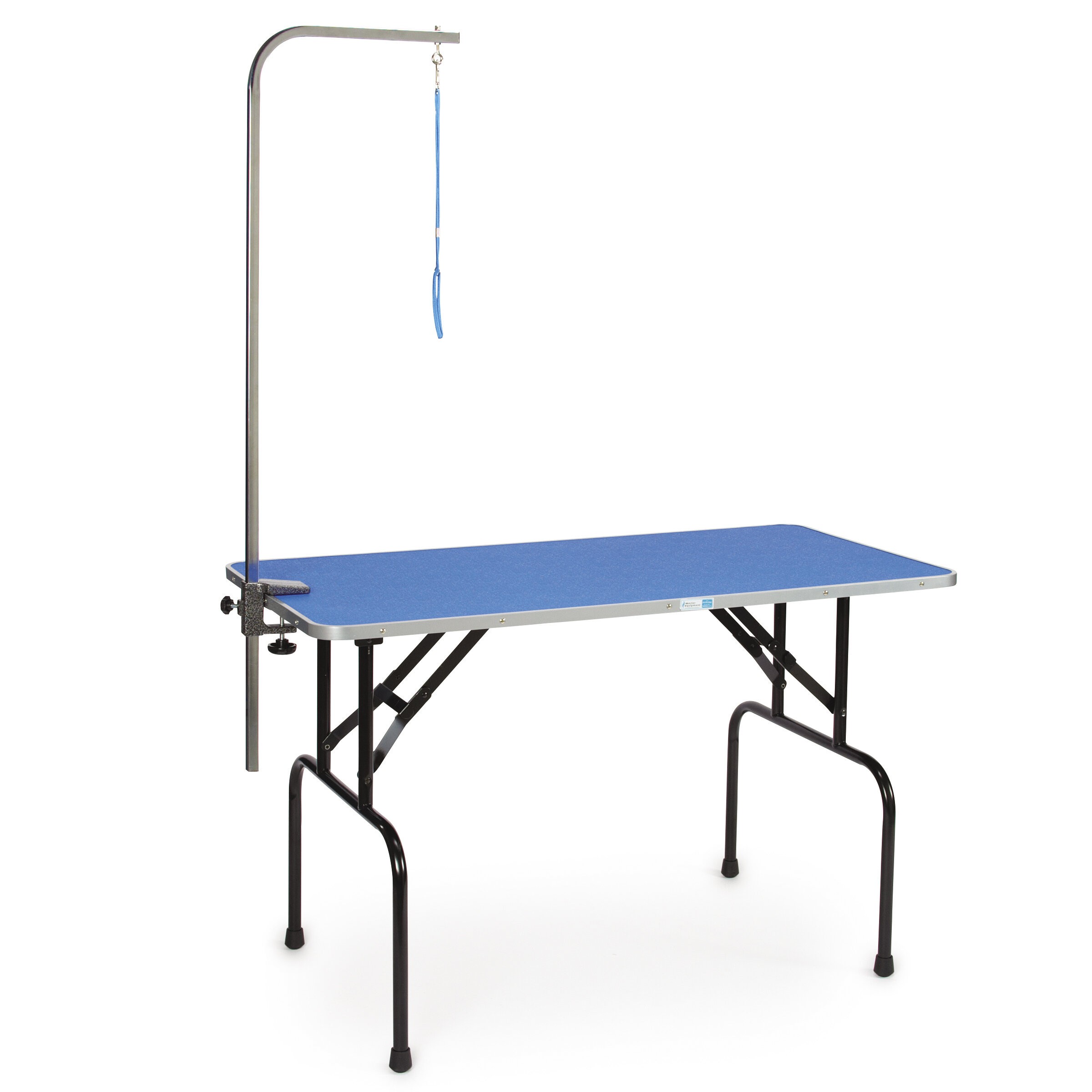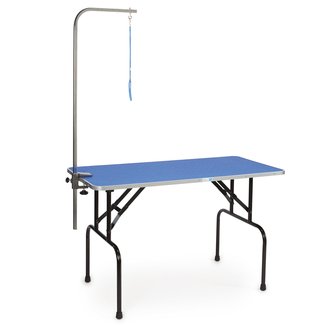 Grooming Table
Designed to enable you to keep your canine and feline charges safe while you brush their coats or trim their nails, this foldable grooming table features a non-slip, pebbled top.
The pet hygiene item which has a capacity of 375lbs, also comes with thick rubber leg caps to prevent movement while also protecting your floors.
Its foldable legs which have been made from powder coated, tubular steel, make it the ideal option for grooming your pets at shows since it is also easy to transport.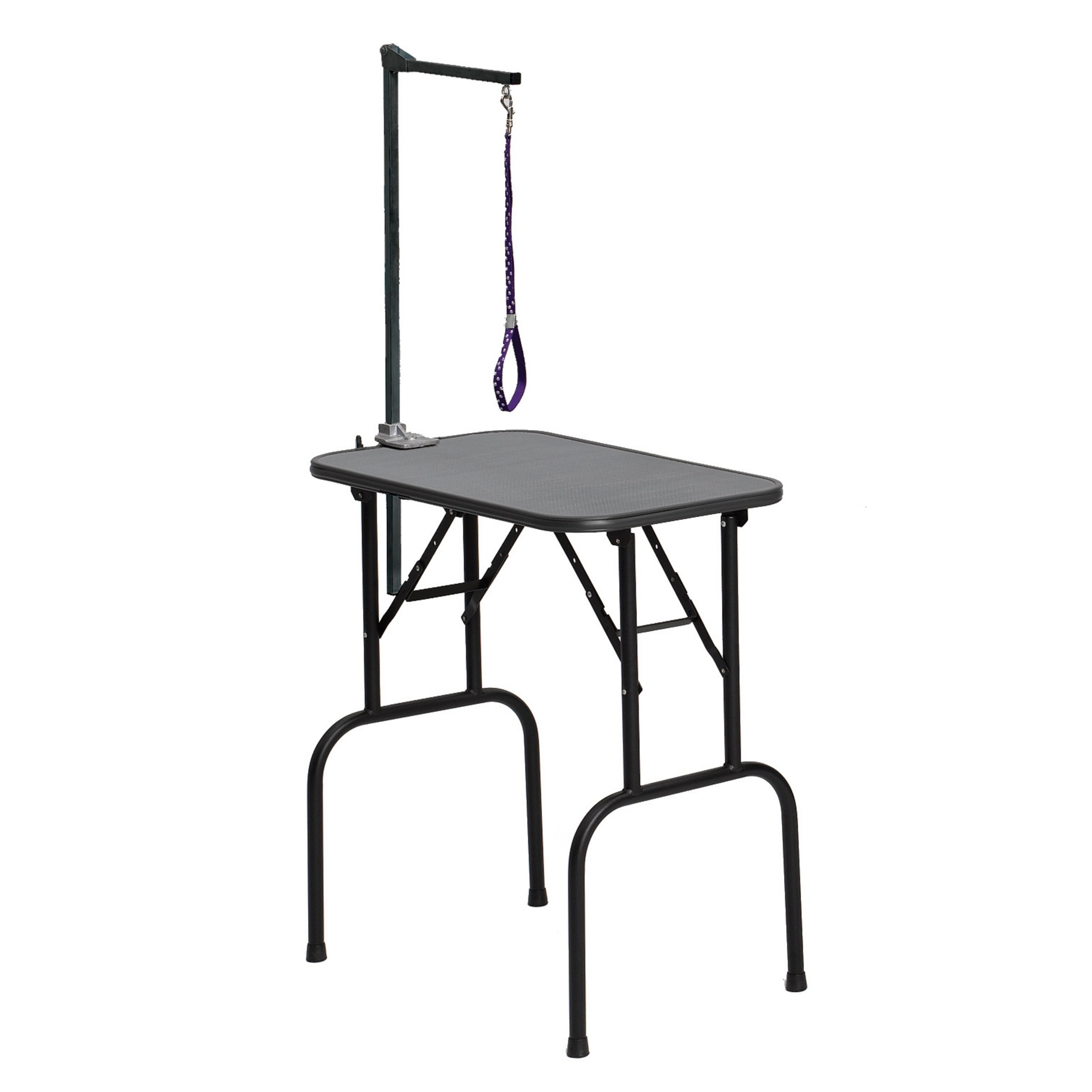 Johson Grooming Table with Arm
Crafted from white pine wood with a birch plywood top, this grooming table also comes with a powder-coated finish ensuring it is especially robust and durable.
Also designed for convenience, this pet hygiene item which features a standard grooming arm, comes with a cast aluminum clamp so it can be moved easily as well as one-inch of charcoal gray vinyl to protect your clothing.
In addition to its impressive functionality, this grooming table also comes in grey and black tones which can serve to enhance the sophistication of your grooming room.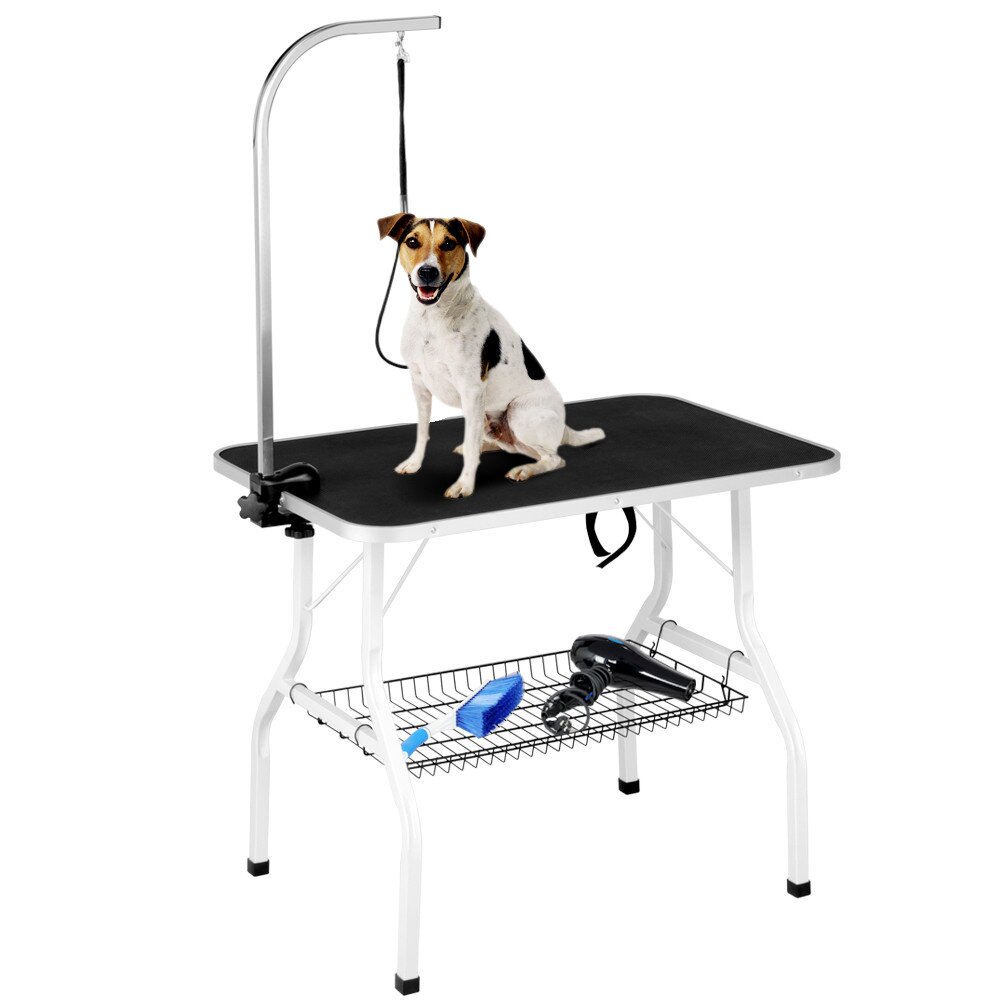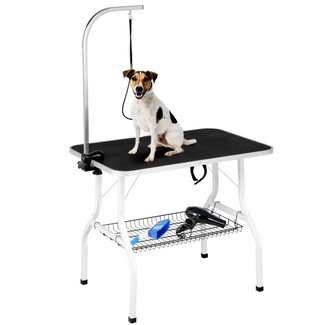 Pet Grooming Table
Especially versatile, this dog grooming table is suitable for small to medium canines.
It is also foldable making it easy to transport while its removable and adjustable grooming arm can also be used with other matching tables.
There is also its anti-skid table top to ensure the safety of pets in your care and a metal grid tray with a capacity of 10 to 22lbs which can be used to keep your tools close by.
Take advantage of its especially robust structure to groom pets within its recommended size range such as Bearded Collies, Beagles and Corgis.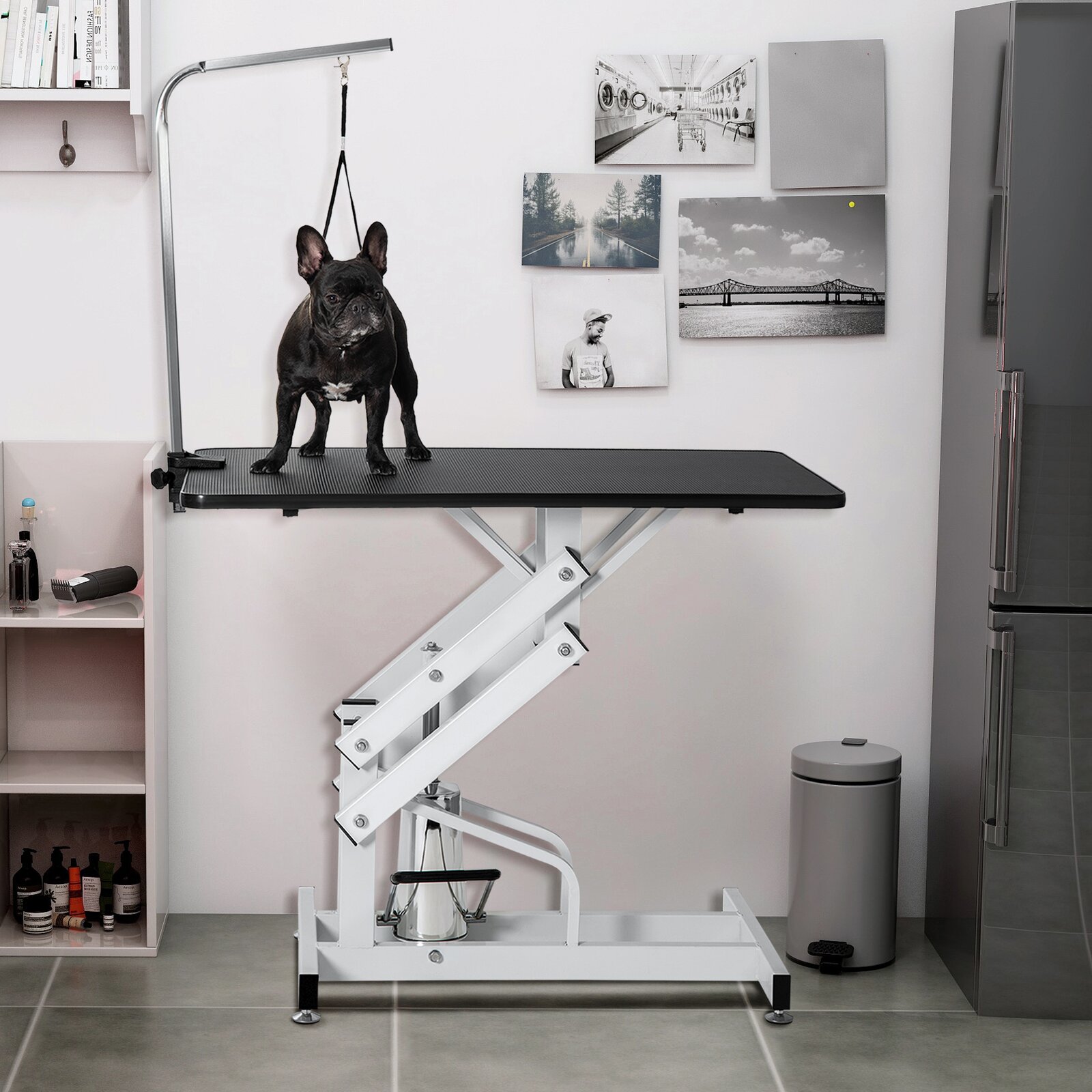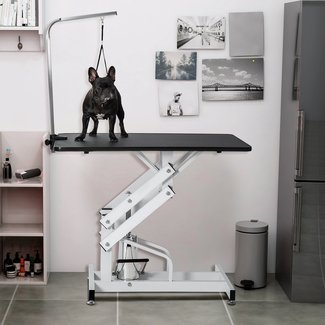 Dog Grooming Table with Arm
Manufactured to provide personal care with a professional touch, this grooming table has been specially designed for domestic use.
This pet hygiene unit which comes with a powder-coated finish is both corrosion and mold resistant. It is also remarkably stable owing to its chrome-plated, tubular steel legs.
Easy to clean, it is also collapsible and can be folded and stored to create extra space following a grooming session.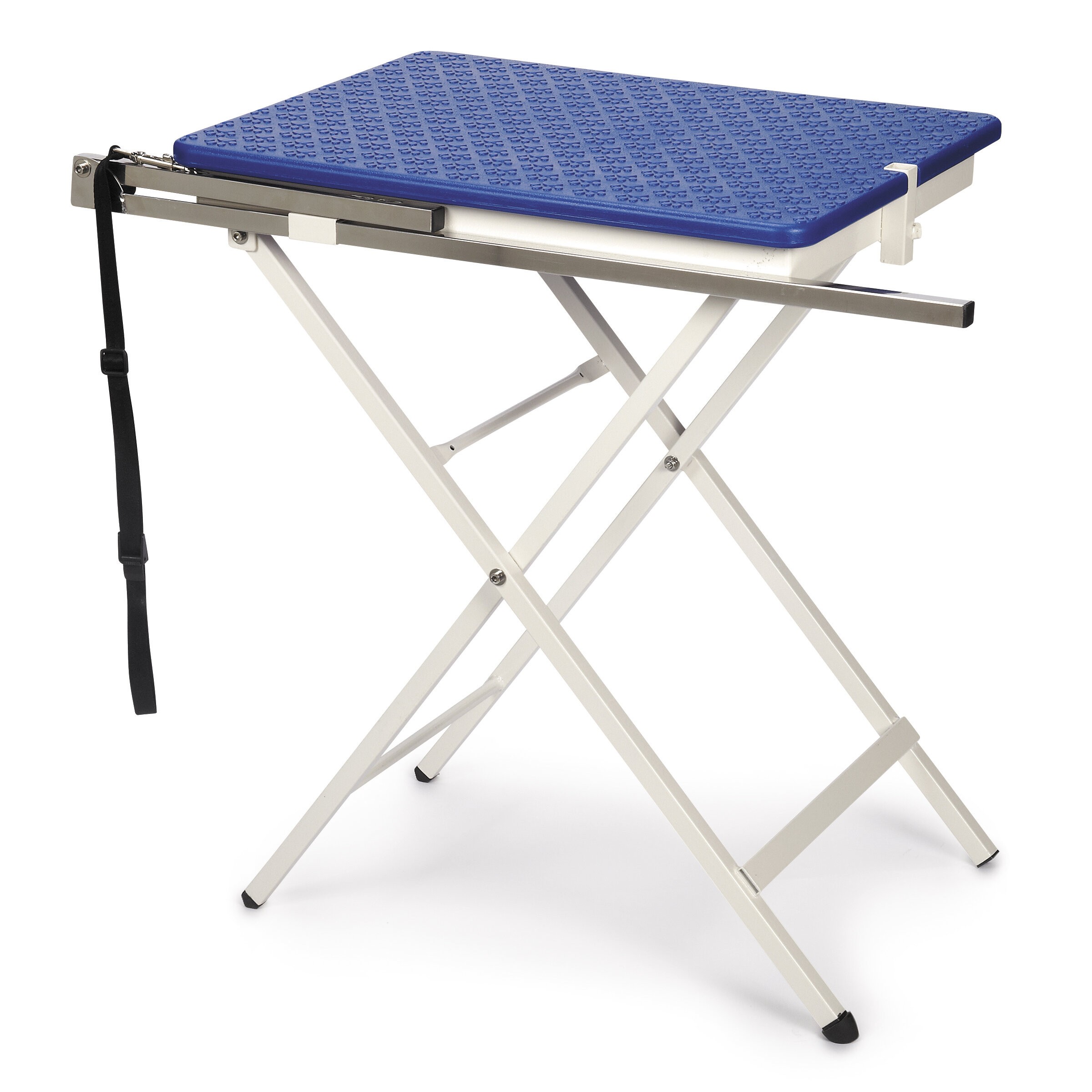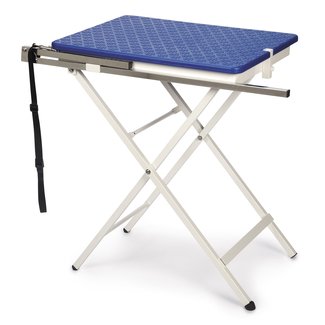 Versa Competition Table
Foldable, compact and robust, this grooming table is easy to transport, and will take up minimal space.
The item which features a powder-coated steel frame, has also been designed to ensure the safety of your canine or feline charges. A non-slip, paw print surface adds a quaint touch while non-skid feet maintain its stability.
Make use of its 50lbs weight capacity to groom small dogs and cats such as Bichon Frises, Pomeranians and Munchkins.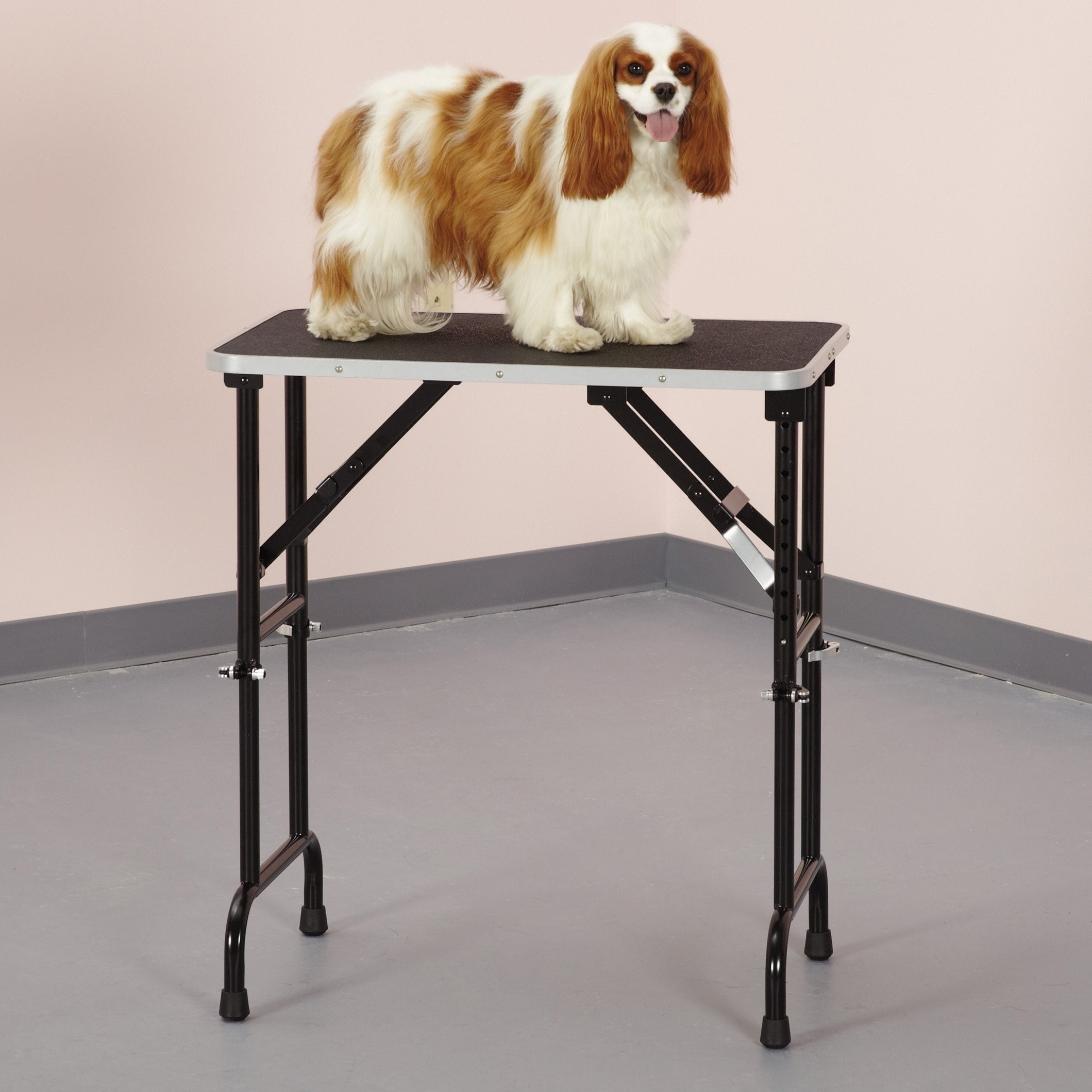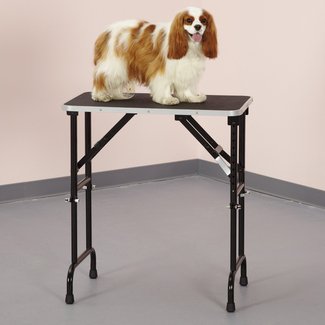 Adjustable Grooming Table
Possessing an impressive weight limit of 200 lbs, this versatile grooming table is ideal for both mobile and sedentary pet groomers.
This pet hygiene item features a non-slip, pebbled black, vinyl table top trimmed with aluminum edging. It also comes with chrome and electroplated legs with locking pins to enable even, gradual one-inch adjustments.
This sturdy pet hygiene unit is ideal for both felines and canines and can be folded to provide extra space in a room.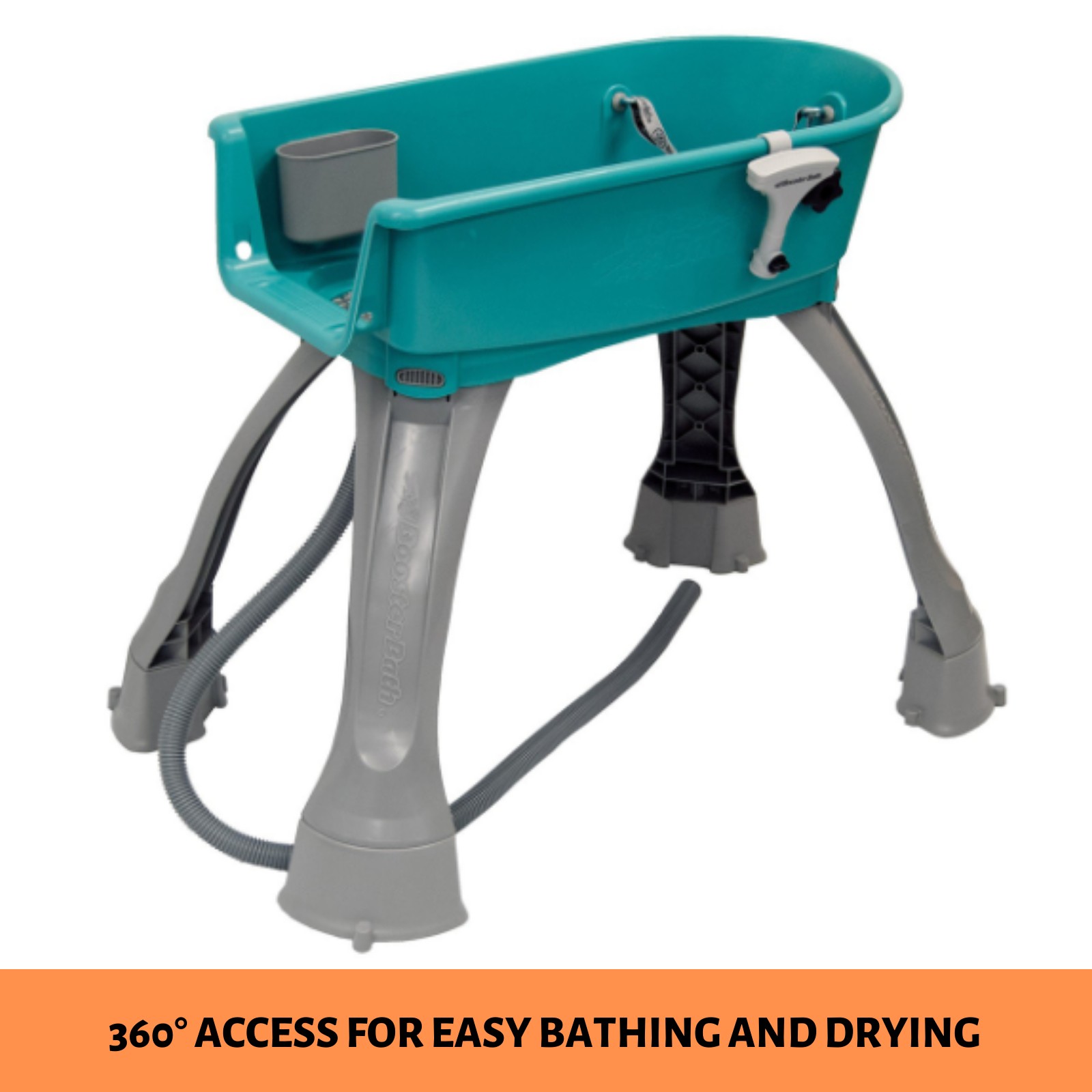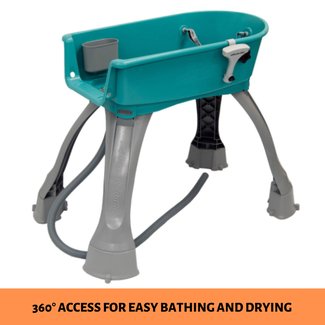 Booster Bath for Dogs
Ideal for indoor and outdoor use, this pet bathtub has been designed to make bath time safe and enjoyable for you and your pet.
In addition to its ergonomic design, this durable pet grooming product also comes with rubber bumpers to provide stability as your pet enters or climbs out of it.
Make use of its three-point adjustable restraint to keep energetic and excitable pets safe and comfortable while they enjoy a shower and you remain dry thanks to the tub's drain hose.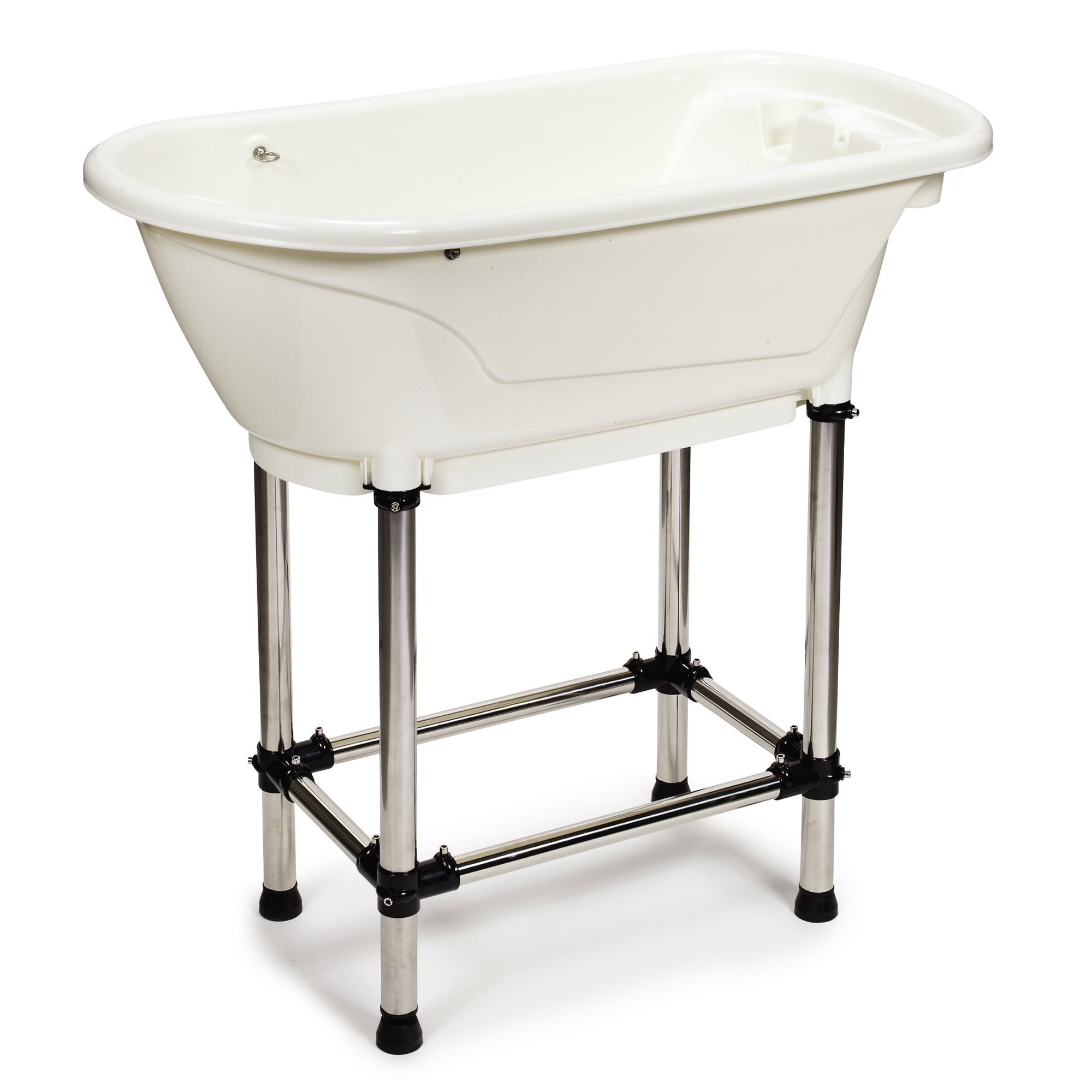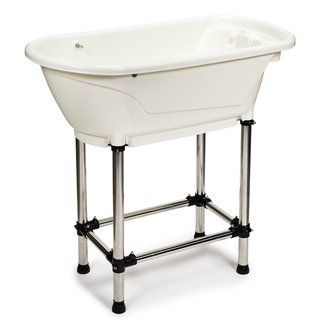 Bathe and Go Grooming Tub
Brought to you in a chrome and white finish, this durable plastic tub also features an embossed paw print design on its floor which provides an extra hint of individuality and style.
The product which features an open design is also especially convenient for pets and particularly lightweight, ensuring you will be able to move it with ease.
Owing to its neutral tones, it can be used to create a grooming corner for your pet which will complement any color scheme you choose.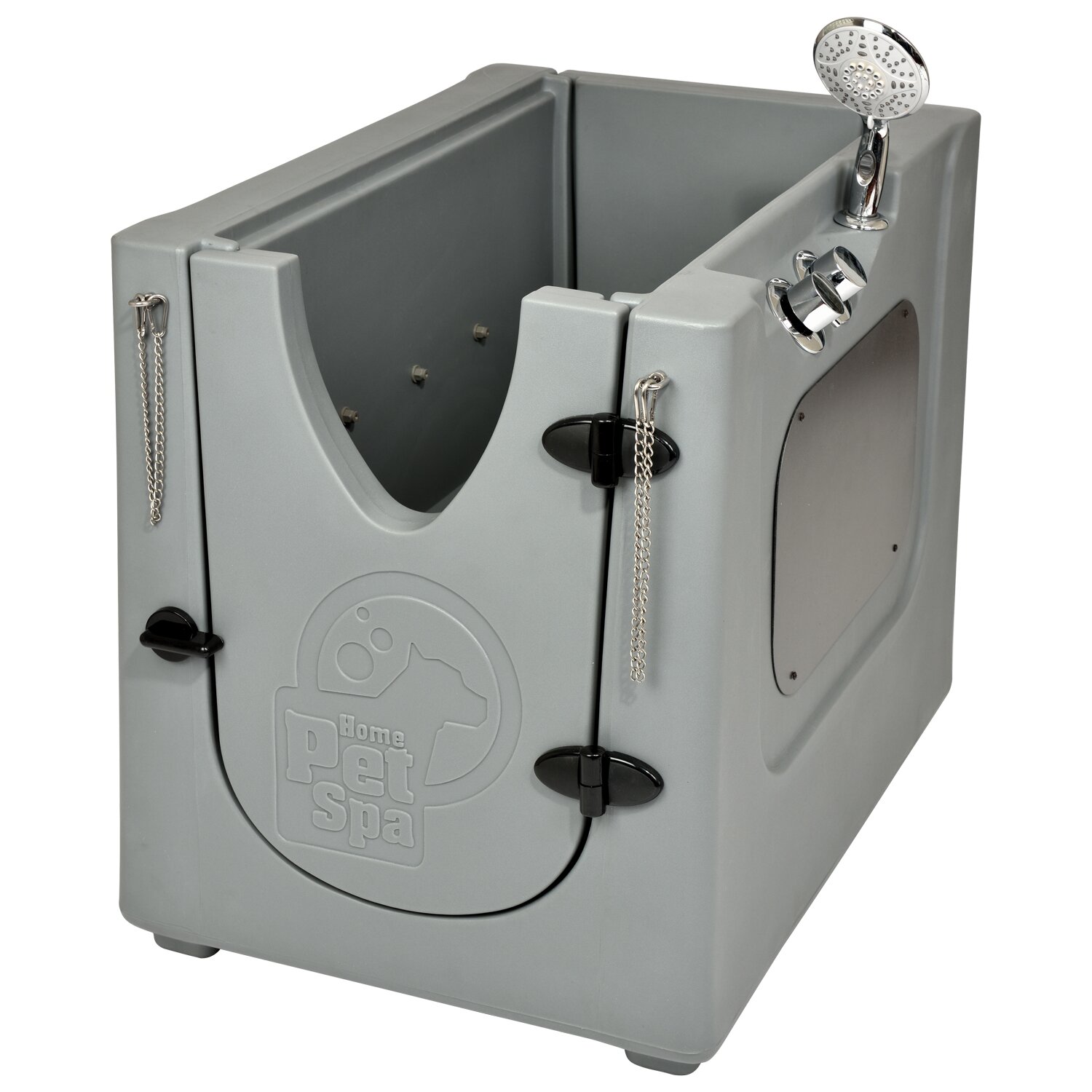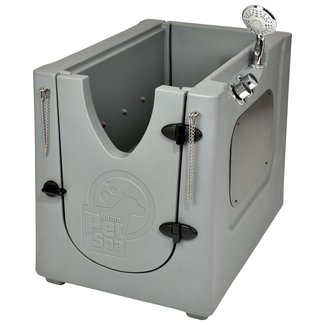 Dina Pet Wash
Designed to add an extra element of convenience to bath times, this rectangular basin is also particularly versatile and can be connected to any faucet in your home.
It has also been designed to provide a luxuriant experience and features nine mist jets for soaking and a shower wand which can be switched on and off. The pet bathtub also features entry and exit doors.
Take advantage of its easy storage to free up space once each bathing session is over, by placing it in your garage or basement.