Our Choice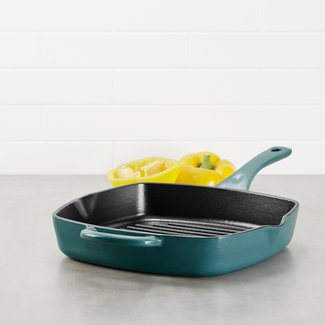 Ayesha Curry Cast Iron Grill Pan
When you want the smoky flavor of grilled food, but you can't head outdoors, use this square cast-iron grill pan. Available in two finishes - French vanilla and twilight teal - the piece is oven-safe and PFOA-free, searing meat, and grilling vegetables to perfection and is also ideal for salmon and chicken.
This 10" pan is suitable for all stovetops, including induction, and can transfer directly to an oven up to 500℉. It features double pouring spouts for managing juices and sauces, and the raised sides allow you to braise and stew dishes in addition to grilling.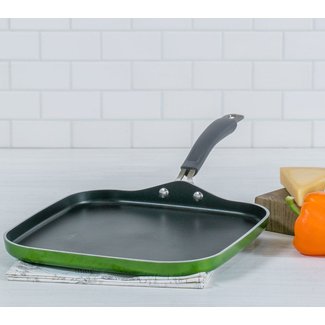 Epicurious Aluminum Non-Stick Griddle
Sleek and functional, this slim nonstick griddle is crafted from heavy-gauge aluminum and is ideal for frying eggs and cooking pancakes. Budget-friendly, oven and dishwasher-safe, it's compatible with gas and electric stoves.
Its nonstick surface helps you ensure your food comes out easily, and the cleanup is simple. The handle features an ergonomic grip and an eye in case you want to hang it from a pot rack.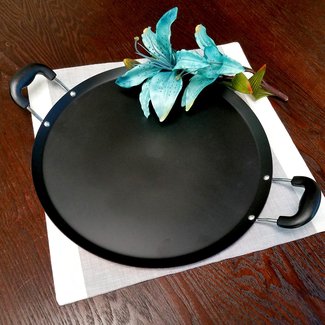 Oster Non-Stick Griddle
Forged from solid steel, this griddle is non-toxic and nonstick and provides even heat distribution for perfectly cooked meals. It features a slim handle on either side, making it easy for you to take the pan from the stove to the table. It's also dishwasher safe and can function as a lid to cover large cooking pots.
Your journey to healthy, tasty cooking and an easy after-dinner cleanup starts with this affordable griddle. Make homemade tortillas, sauté vegetables, or give as a thoughtful housewarming gift.
Fox Run Brands Cast iron Griddle
Built for pressing tortillas, this stunning kitchen essential features a heavy-duty, cast iron construction, which helps distribute pressure evenly to ensure your signature tortillas and wraps are perfect every time.
Ideal as a wedding or graduation gift for the culinary connoisseur in your life, this durable tortilla press is 8.25" in diameter and oven-safe, making it suitable for small kitchen spaces where storage is limited.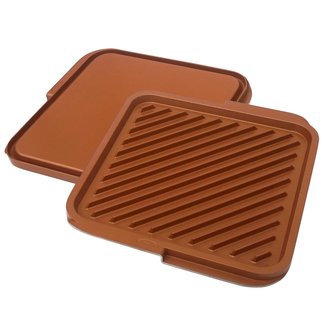 Gotham Steel Aluminum Non-Stick Reversible Grill and Griddle Pan
An extreme nonstick surface eliminates the need for butter or oil, making for a healthier, cleaner cooking experience. One side is smooth, and the other is ridged, allowing you to save space in your kitchen and easily switch between the grill and griddle.
PFOA-free, dishwasher safe, and constructed from smooth aluminum, this 11.5'' x 2'' pan sports a copper finish and is compatible with electric coil and smooth electric stovetops.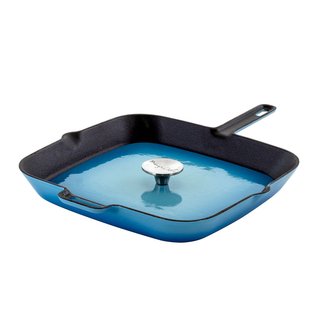 Mega Chef 17.5 in Cast Iron Non-Stick Grill Pan
Complete with a matching grill press, this solid cast-iron pan is oven-safe and induction-compatible. Available in two beautiful glazes--an electric sea-blue and a shining red--it's sure to catch eyes and win compliments.
The dual pouring spout allows you to serve delicious pan juices, sauces, and gravy to put the finishing touches on your delicious grilled meals. It is ideal for apartment dwellers who don't always have access to a grill but still want to enjoy the flavor of grilling out.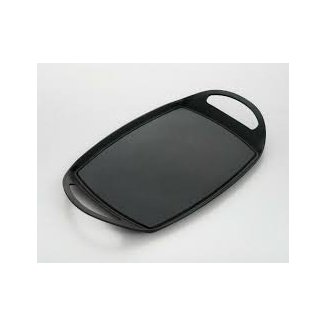 Cook Pro Non-Stick Griddle
This rectangular, lightweight, nonstick griddle boasts a generous surface area of 13" x 8.5". Two durable Bakelite handles--one on each side of the griddle--allow for easy turning and transfer of cooked foods.
With an induction base, it's compatible with all types of stovetops as well as outdoor grills. Sturdy aluminum construction provides years of use. It heats evenly and is very easy to clean.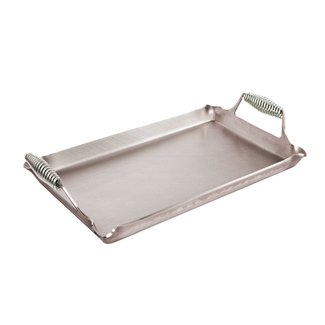 RockyMountainCookware Carbon Steel Griddle
Take your culinary skills to the next level with this carbon steel griddle pan. Wire-wrapped, heat-resistant handles provide a stylish and secure grip when transporting this griddle, which is available in 20" and 23" wide sizes.
Suitable for any cooking environment--from induction stoves to camping--this griddle is perfect for pancakes, sandwiches, and eggs. When cooking bacon, use the pour spouts at each of the four corners to drain away excess fat for a lighter way to cook.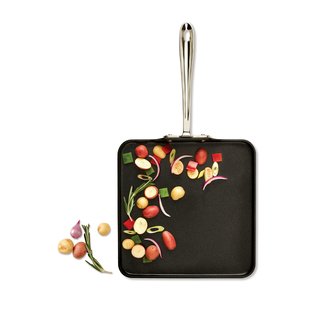 All-Clad Ha1™ 21 in. Aluminum Non-Stick Griddle
Ideal for the home chef that wants a simpler, safer way to cook, this square griddle provides high-end quality at an affordable price. Sturdy and easy to clean, it will last through years of delicious meals.
Whether you want to grill up ribeye steak, make a quick egg breakfast, or fry up pancakes, this griddle has a PFOA-free coating. Dishwasher-safe and oven-safe, it is 11" across and features high, straight sides and a flat bottom for a stress-free cooking experience.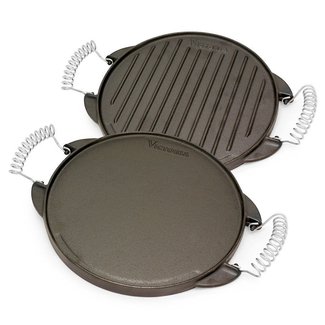 Victoria Non-Stick Reversible Grill Pan & Griddle
Crafted from cast iron, this reversible pan features a smooth, pancake-friendly griddle on one side and a grill on the other.
The solid cast iron provides even heat distribution and excellent temperature retention. It is suitable for use on induction, electric and gas stoves, and can be placed in a 500℉ oven.
Pre-seasoned with flaxseed oil in the casting process, this pan arrives ready to use. The handles flip easily for use with both surfaces and can be removed.