Our Choice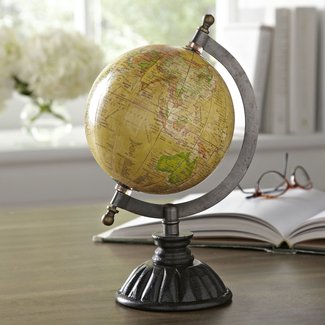 Globe
Classic globe displaying a sepia tone political map can become an instant conversation piece or an interesting way to keep track of what is going on in the world. Held at just the right tilt by a semi-circular metal arm, it can be a way to show a child things like why the sun never sets on the Arctic regions during the summer months. It is the perfect companion for a ship in a bottle or even a square-rigger model.
World Globe
Enjoy this beautiful brown and cream raised relief geographical/political globe map. The base is faux walnut, while the di-cast semi meridian is antique bronze. The combination creates a charming effect, perfect for topping a bookshelf or holding down a corner of a large desk. The globe itself is made of cardboard. It is an excellent choice for a child's room, a classroom or a small office. It is more of a statement than a reference.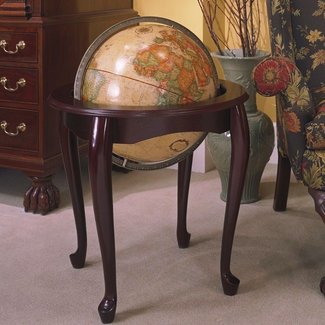 Queen Anne Antique World Globe
A truly amazing geographical tool, this touch illuminated globe has ten-color cartography and displays more than 20,000 place names. The hand-crafted brass meridian is mounted on a solid mahogany frame, rubbed to a walnut finish. The globe has a 32" diameter, and is rated as the world's most detailed globe. A superb buy for a library or museum or other institutional settings. This beautiful globe is made in the United States.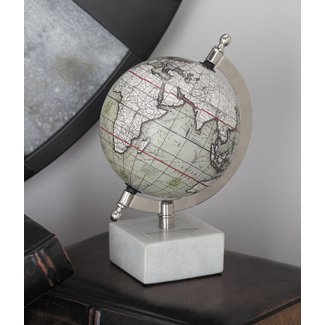 Globe
Here is a vintage-styled decorative globe that gives you a perfect combination of great looks, size, quality, and color. It is designed to suit every type of home office desk, entry table, or children's study room. It comes in a reasonable height of 8 inches, 5 inches width, and a 5-inch diameter. It is made of metal, ceramic, and polyurethane materials with a silver iron axis, and a stable stoneware base. It is a pretty decorative item for your TV stand too.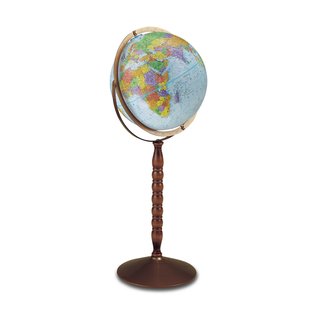 World Globe
A more modestly priced version of the illuminated floor globe, this globe will still make an impressive floor decoration in any room in which it is placed. It can be used as a classroom accessory or decoration in a library. The 16" globe is held in place by a metal diecast meridian, supported by a warmly colored cherry wood base. An enjoyable addition to a living room, family room, or library.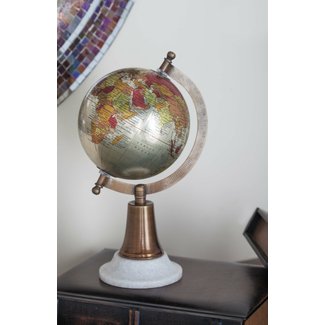 Cyan Marble and Plastic Globe
Beautiful marble based decorative globe with polished metal semi-meridian with tidy decorative end posts. Beige in color, the labels for countries and locations are clearly displayed. Although not fully intended as a reference, it could be used for a child's first geography lessons, or even to illustrate certain principles of astronomy. An intellectually erudite decoration for a middle schooler or teen's room, as well as having potential as a homework helper.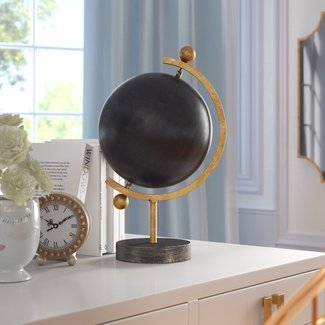 Contemporary Globe
This contemporary globe is a trendy item to have on your home office desk. It looks great on your entry table too. The globe rests on a beautiful and sturdy circular base. It is made from 100% iron with a matte-gold finish. The globe is painted black with accurate political boundaries design. With a height of 16 inches, 8 inches width, and a diameter of 9 inches, this is a perfect addition to your desktop display items.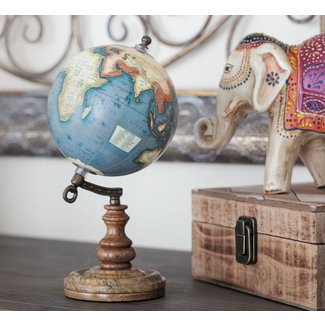 Decorative Globe
This is a decorative globe designed to enhance the look or style of your home office or study room. Some of its key features include a round marble base, multiple colors intricately painted on a blue background, and a trendy distressed finish. It looks great in any office or a modern-themed setting. If you are looking for a perfect item to enhance the style of your office or study room, get this decorative globe.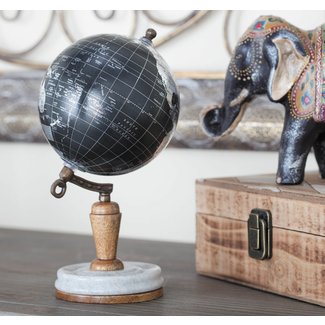 Marble and Resin Globe
Create an appealing and professional look on your office or bookshelf with this compact black marble and resin world globe. It features an attractive metallic brown axis and is held together by a wooden brown post. The globe has a sleek modern theme designed to match any table, shelf, or desk at home or office. It has a professional high-quality and durable design. It will definitely create a great first-impression for your clients or visitors.
Globe
Do you have a white and black style of décor in your home or office? If so, you can add a touch of elegance and professional appeal with this modern styled world globe on your desk, bookshelf, or study. The globe is made of aluminum, marble, and PVC with polished silver and black finish. It has a square aluminum frame with a tapered stand and a rectangular white marble base. It is a gorgeous desk accessory.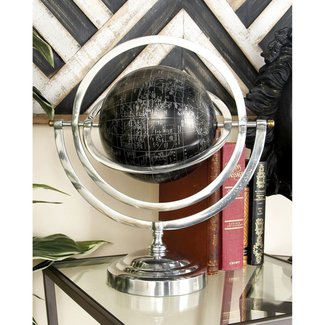 Aluminum Globe
This beautifully designed world globe provides a perfect decorative piece for your desk, bookcase, or top-shelf. It is made of high-quality lightweight aluminum. Designed for residential use, this tabletop or desk globe features accurately defined political boundaries and countries with sky blue oceans in the background. The globe has a height of 16 inches, 16 inches width, and a diameter of 12 inches. It is a decorative, well labeled, piece for your home office desk.