Our Choice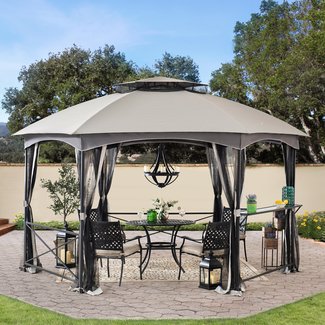 15 Ft. W x 11 Ft. D Steel Patio Gazebo
Summertime just got a bit cooler with this hexagon shaped 14' 7 19/32'' W x 11' 5 13/32'' D x 9' 6 5/32'' H mesh screened tent. Enjoy your patio or backyard bug-free by closing the screens or open them up for an inviting evening with friends.
The powder-coated steel frame is adjustable and weather-resistant, holding up to one pound of snow in the winter so you don't have to remove the polyester roof in colder months. It also features a two-tiered roof design that optimizes airflow for a cool space to relax in the summer.
10 Ft. W x 10 Ft. D Steel Patio Gazebo
The gray metal frame of this 10' four-post summer tent blends perfectly with stone patios or wooden decks.
The built-in shelf on each post adds storage space for drinks or suntan lotion while mesh drapes close on all sides add privacy to your outdoor relaxation area.
You won't feel the need to break down the tent in cooler months because the strong steel framing can hold up to 17 pounds of snow and 8 grommets built into the roof maximize water drainage.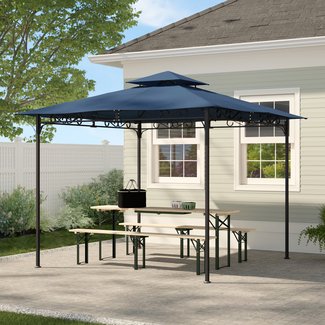 Devansh 9.8 Ft. W x 9.8 Ft. D Steel Patio Gazebo
Enjoy your lemonade in the shade of this easy-to-install sun protection tent. The slip-on polyester roof of this 9' 10'' W x 9' 10'' D x 8' 9'' H piece is available in an assortment of colors. Perfect for hanging bulb lights for late-night entertaining, the steel frame is powder-coated and available in 2 finishes: bronze or dark gray.
The frame is weather and rust-resistant which allows you to leave it up all year long. The anchor installation makes it perfect for grass, patios, and wooden decks.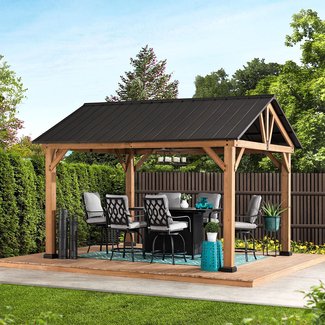 12 Ft. W x 10 Ft. D Solid Wood Patio Gazebo
Build a tranquil outdoor oasis with this sturdy wooden-framed sunshade. The powder-coated steel roof material is finished in faux copper or black to reflect the sun's rays, protecting you while you dine outside, enjoy your pool, or relax in your hot tub.
The solid cedar wood frame stands at 12' 5/16'' W x 10' 1 1/2'' D x 9' 6 13/16'' H and it is finished with brown stain and rust- and weather-resistant so you won't have to worry about the snow in the winter.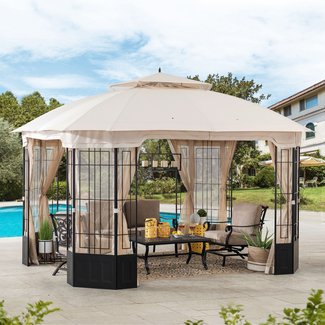 Swifton 12 Ft. W x 10 Ft. D Steel Patio Gazebo
Enjoy your morning coffee or evening margaritas safely inside this steel-framed deck tent with 100% polyester canopy. The side panels contain a mesh screen and mosquito netting that hang from the frame rods and securely tuck into the corners.
Hang bulb strand lights to light up your evenings during summer months. The canopy is fire, water, and weather-resistant so you can enjoy the warmth and ambiance of your fire pit.
The 11' 9 3/4'' W x 9' 10 1/8'' D x 9' 6 3/16'' H steel frame is available in black or dark brown and you can customize your roof in either light beige or light tan.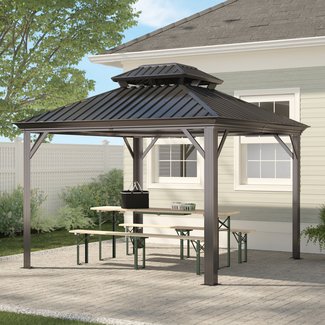 Messina Aluminum Patio Gazebo
Anchor this metal canopy tent to your pool deck or patio foundation to enjoy year-round use. Available in 3 sizes, the tiered roof is made of galvanized steel supported by a powder-coated aluminum frame.
Mesh screens are included to offer privacy and insect free dinners and the structure is resistant to numerous outdoor elements such as weather, UV rays, fire, rust, and mildew.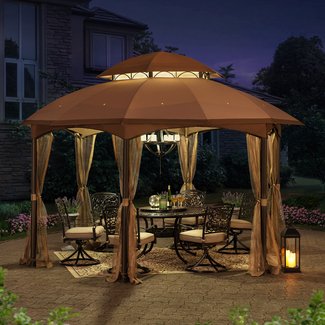 12 Ft. W x 12 Ft. D Steel Patio Gazebo
Complement your outdoor décor with this black steel-framed tent with tan polyester canopy. Hang bulb lighting or a chandelier from the ceiling hook of the 13' 6 3/16'' W x 13' 6 3/16'' D x 10' 15/32'' H powder-coated steel frame.
Ideal for the center of your yard, the weather, and rust-resistant roof can handle up to one pound of snow per square foot in the winter. The mesh screens provide privacy while still allowing you to enjoy the natural light of the great outdoors.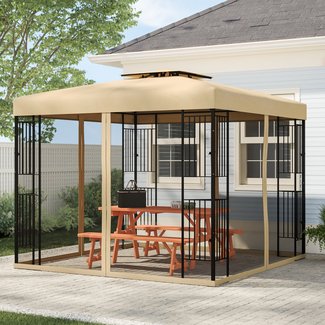 Double Roof 10 Ft. W x 10 Ft. D Steel Patio Gazebo
Summertime BBQ nights just got more relaxed with this portable deck tent with hook and loop fasteners. The steel frame is powder-coated and painted dark brown to complement the tan 100% polyester canopy.
Hang a light from the ceiling hook to enjoy the summer season into the night. The mesh side panels will ensure pest-free entertainment. Weather, UV, and rust-resistant, the durability of this 9' 10'' W x 9' 10'' D x 8' 10'' H shelter can't be beaten.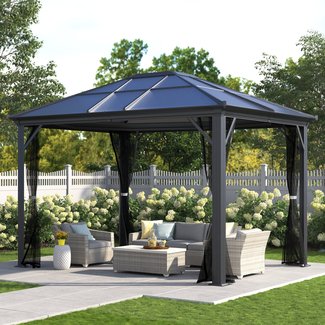 Wilmslow Aluminum Patio Gazebo
Upgrade your outdated backyard lean-to with this aluminum-framed tent. The polycarbonate plastic roof can easily hold a capacity of up to 20 lbs. so hang a lightweight ceiling fan to keep the air circulating year-round or remove the roofing to store in the winter months.
The mesh side panels enclose a 9' 9 5/16'' powder-coated frame, giving you 803.6 sq. ft. of space. A foundation is required for anchoring, so this unit is best on wood decking or patio cement.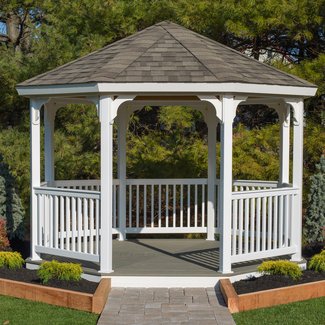 12 Ft. W x 12 Ft. D Solid Wood Patio Gazebo
Enjoy your morning coffee, afternoon cocktails, and nightly gatherings with family and friends in style with this 12' W x 12' D traditional pinewood rotunda. The solid wood frame is weather-resistant and can handle wind speeds up to 75 mph so summer rainstorms won't be a worry.
The sidewalls are slatted so your outdoor space remains breezy and airy. Screens can be installed to enjoy your evenings pest free. Complete with compatible shingles and flooring for a classic addition to your yard.