Our Choice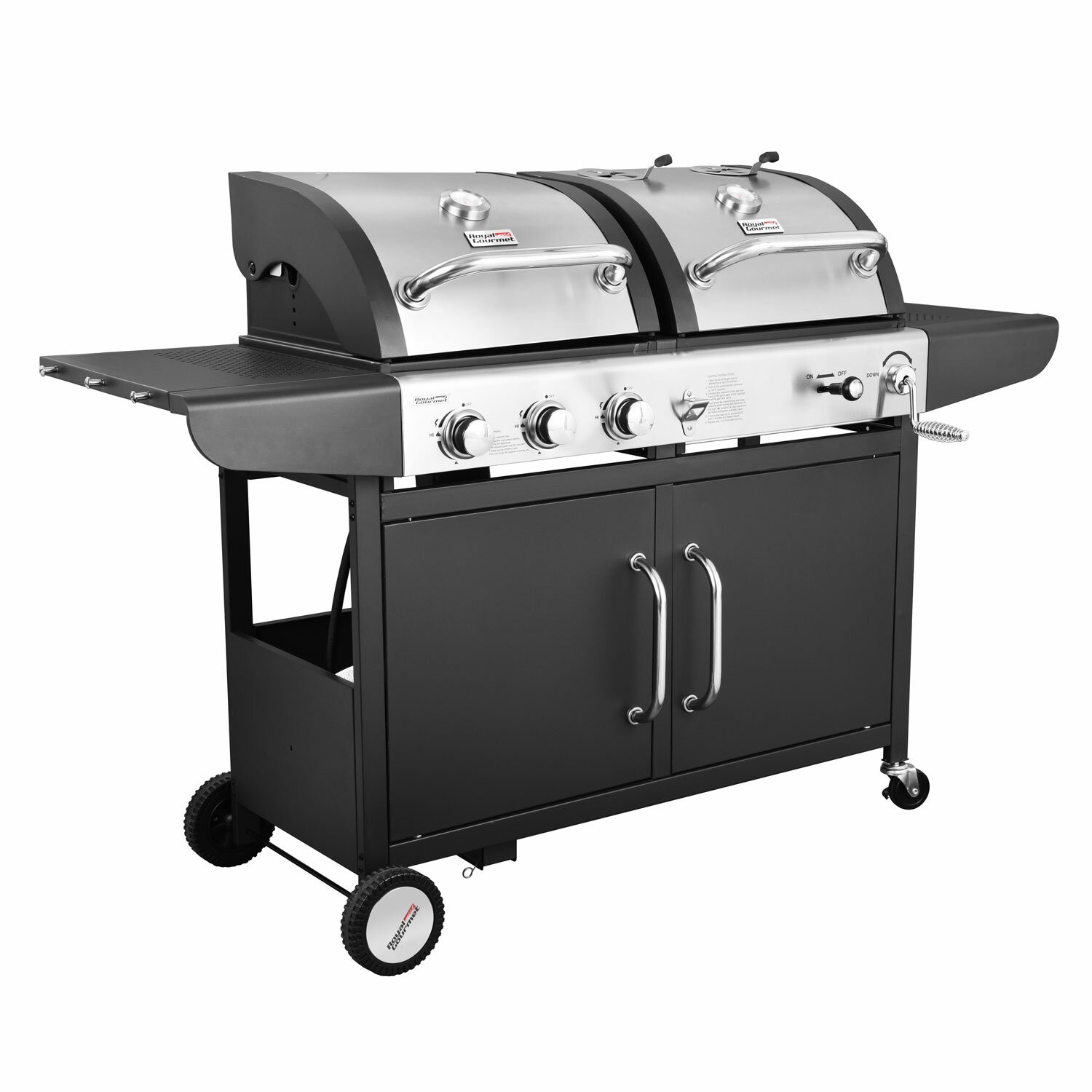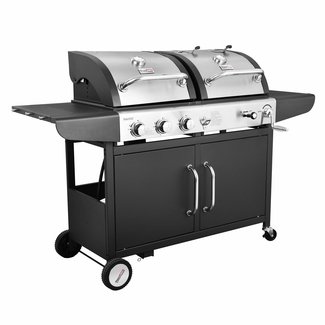 Performance 3-Burner Liquid Propane Gas and Charcoal Grill
Take your backyard cookouts to another level with this propane and charcoal grill. It comes equipped with a heat-resistant firebox, porcelain cast iron grates, and a stainless steel warming rack.
The wheels on the bottom of this grill allow you to move it with ease. More advanced features on this grill include a built-in thermometer and a built-in bottle opener so you can enjoy an ice-cold beverage while you cook.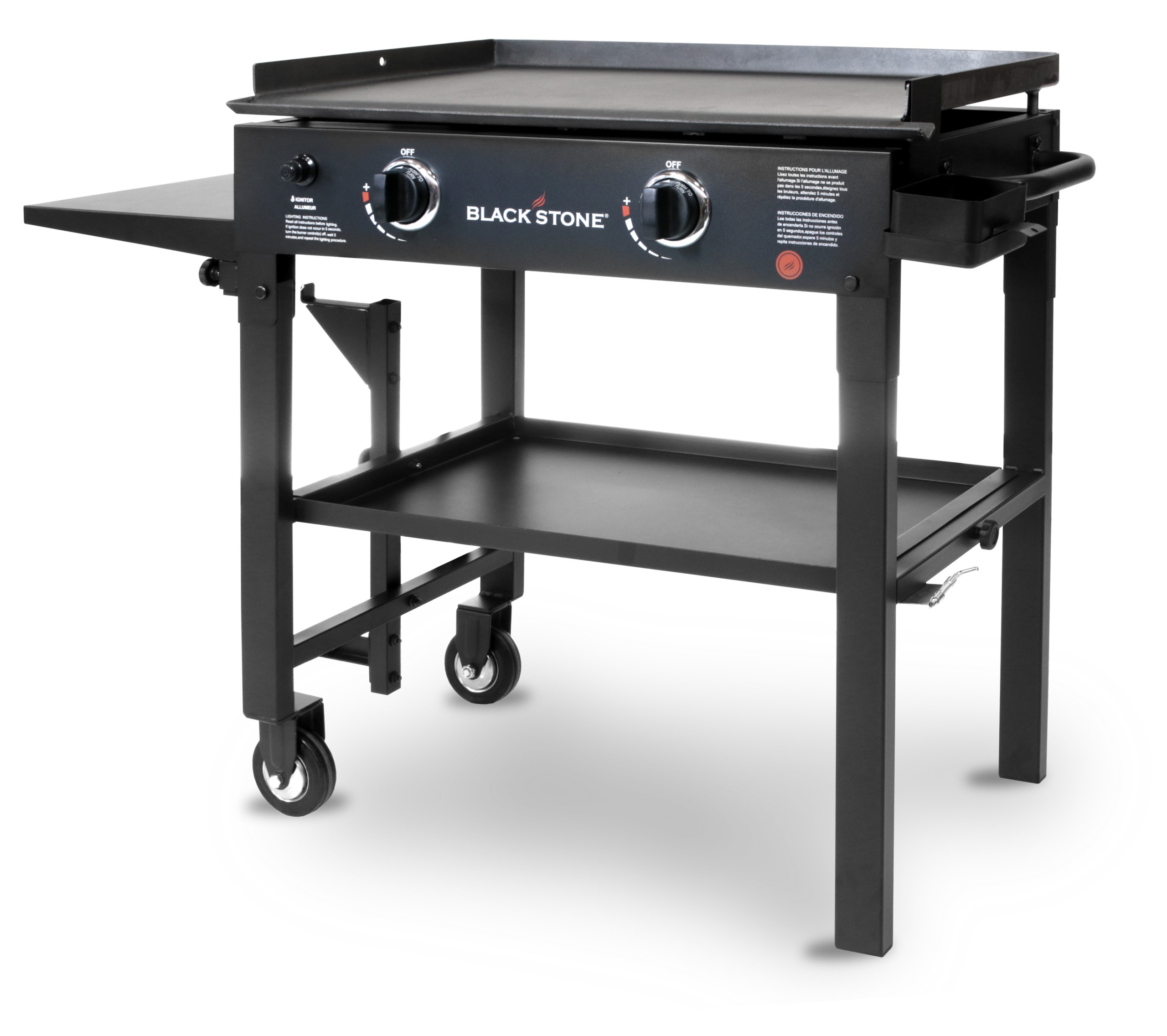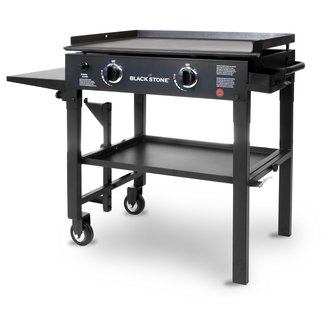 Blackstone 2-Burner Flat Top Propane Gas Griddle with Side Shelves
The matte black finish and rear grease management system on this grill makes cleaning a breeze. Thanks to its generous cooking area, you will always have enough room for your favorite dishes.
It operates on liquid propane and features 2 separately controlled burners and an easy-to-use push-button ignition. The cooking surface is made of thick cold rolled steel for even heat distribution. With its two locking wheels and strong handle, you can take this grill anywhere in your yard.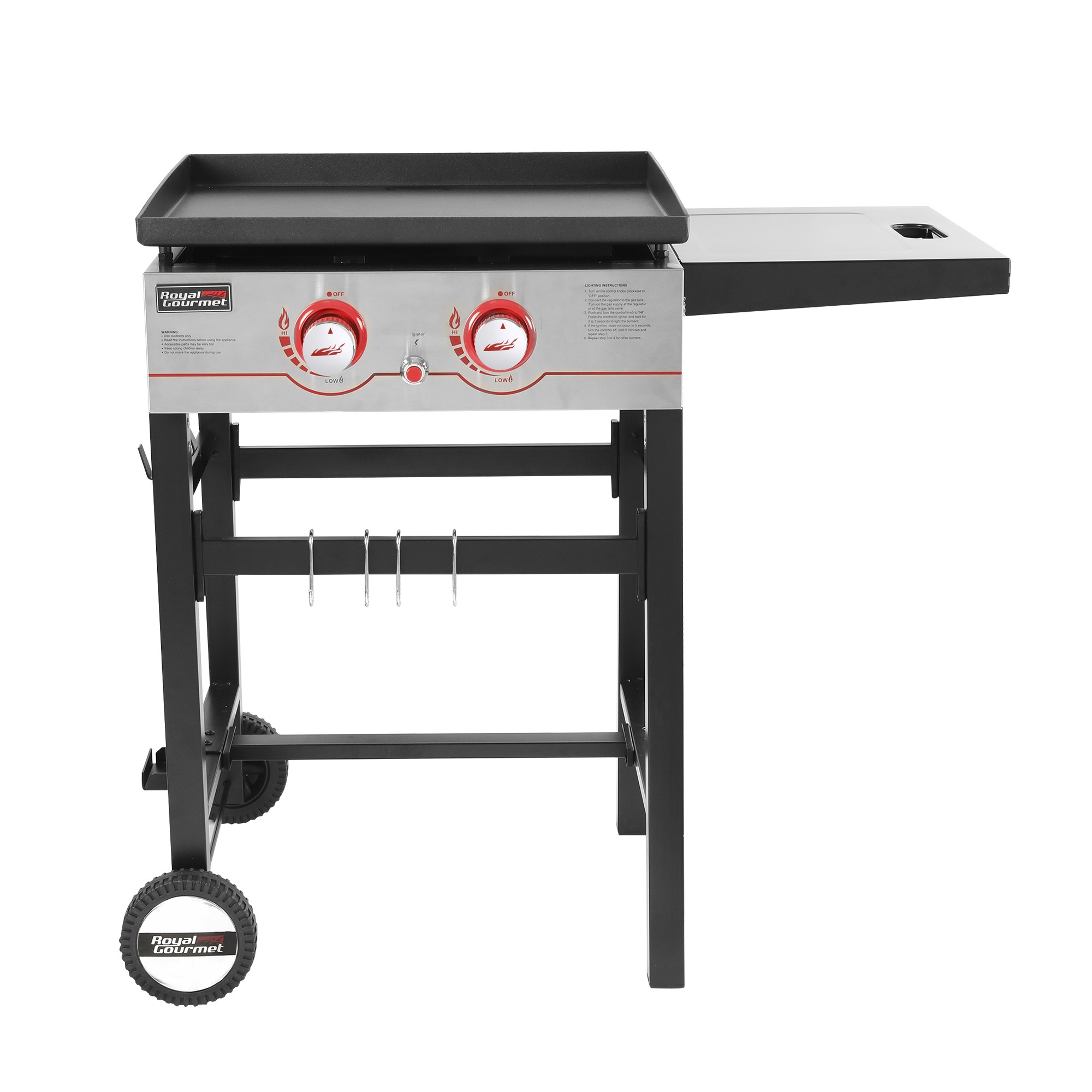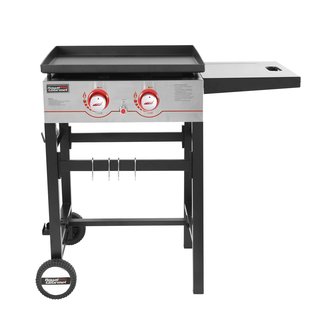 2-Burner Flat Top Propane Gas Grill with Side Table
Despite its compact footprint, this grill provides you with 486 sq. in. of cooking space. It also comes with a folding side table that can easily hold 25 lbs of condiments and marinades and a griddle plate made of ceramic-coated steel.
The stainless-steel control panel offers a quick-start ignition system that ensures a strong spark each time you use it. There is no need to worry about accessory management with the hanging bar underneath the grill with 4 adjustable hooks.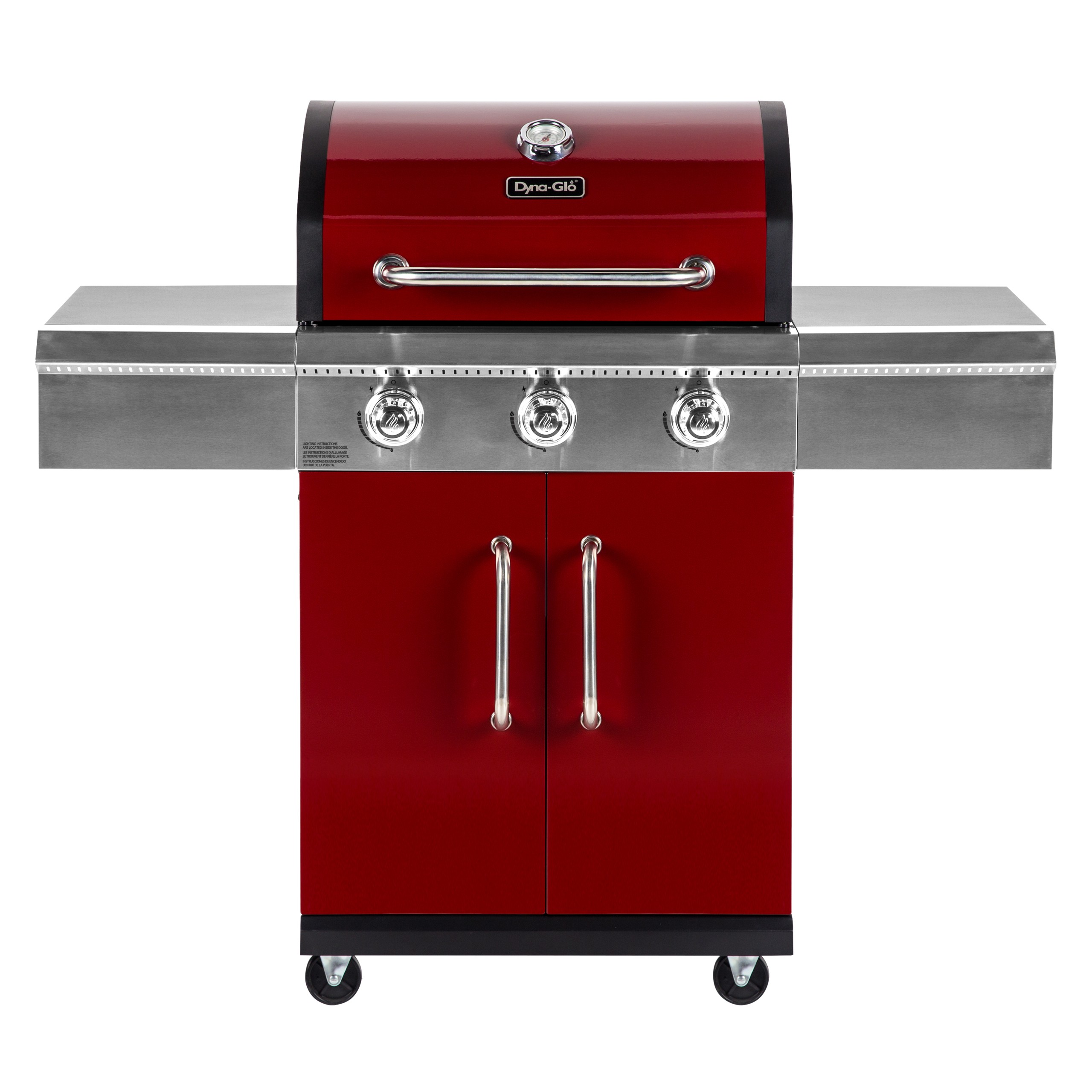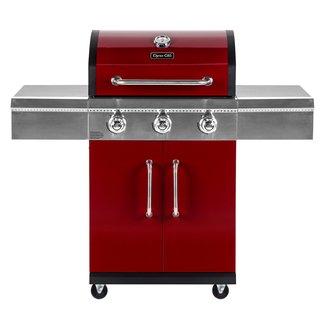 3-Burner Propane Gas Grill with Cabinet
Finished in a beautiful glossy red, the body and lid of this grill are made from tough porcelain-coated steel. With three main burners that put out 60000 BTUs of heat and a hassle-free ignition system, it makes grilling easy.
Your food will always be cooked evenly due to its unique EquiHeat technology that guarantees consistent heat distribution, while a porcelain-enameled wire cooking grate ensures minimal heat loss.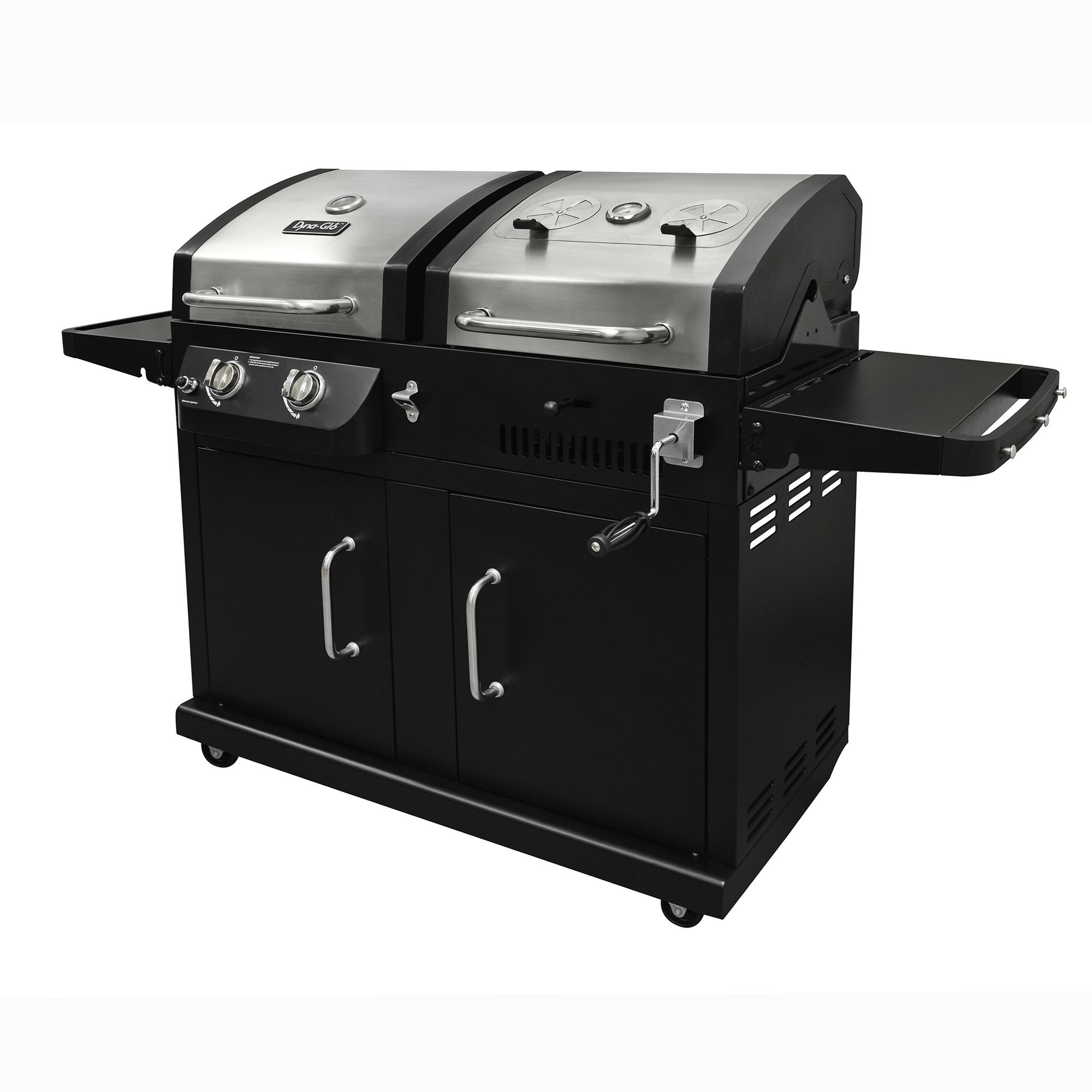 2-Burner Propane Gas Grill with Side Shelves
With its adjustable charcoal tray, you will have enough space to cook 38 hamburgers making it great for family gatherings. It has a unique dual fuel construction that allows you to use either propane or gas and charcoal, and multiple heat zones so you can cook everyones meat just how they like it.
The hood is lined with a double-wall stainless steel sleeve to secure the heat within the cooking space and it comes with a temperature gauge for easy heat management. Although it looks heavy, there are two wheels on the bottom for easy maneuverability.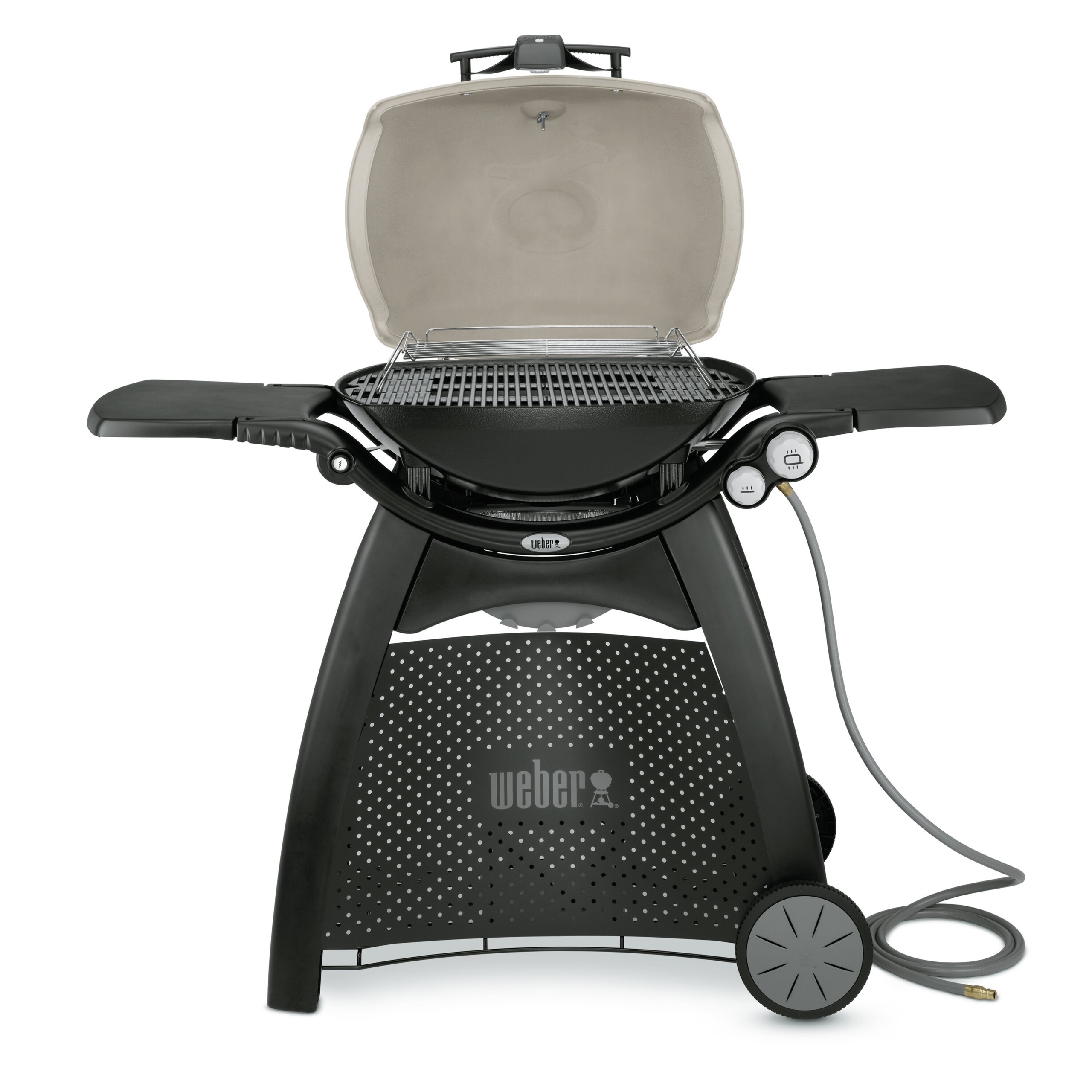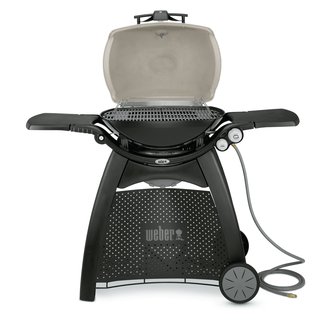 Weber® Q® 3200 Gas Grill
This flexible compact grilling system is available with a liquid propane or natural gas fuel option. The lid and body are made out of cast aluminum with a glass-reinforced nylon frame, making it strong, sturdy, and weather resistant.
It is versatile with its two folding side tables which can be removed with ease. It has a two burner and two non-stick grate, as well as a built-in thermometer, removable catch pan, and an electronic ignition system for complete grilling system to cook a variety of dishes.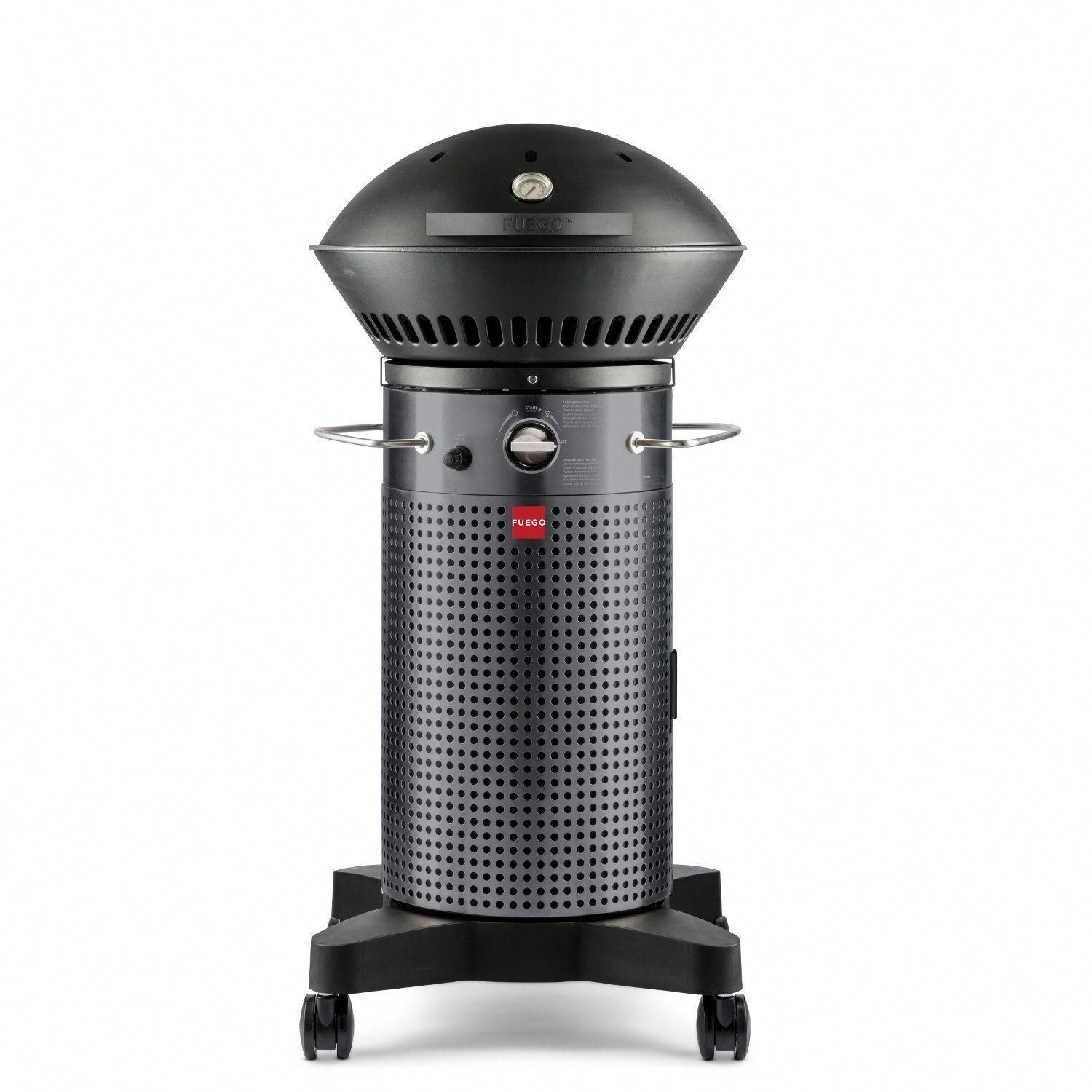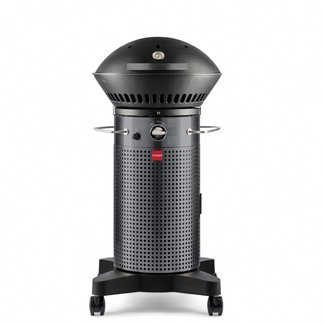 Element 2-Burner Propane Gas Grill
The unique hinged lid with a 45-degree angle protects you from reaching over the hot fire for enhanced grilling safety. Internally, there are two burners with a zone system that allows you to grill either directly or indirectly.
A key feature is its size. At only 21" x 21", it will easily fit on your patio or balcony. It runs off of liquid propane and comes with an exclusive residue removal system for quick and easy cleanup.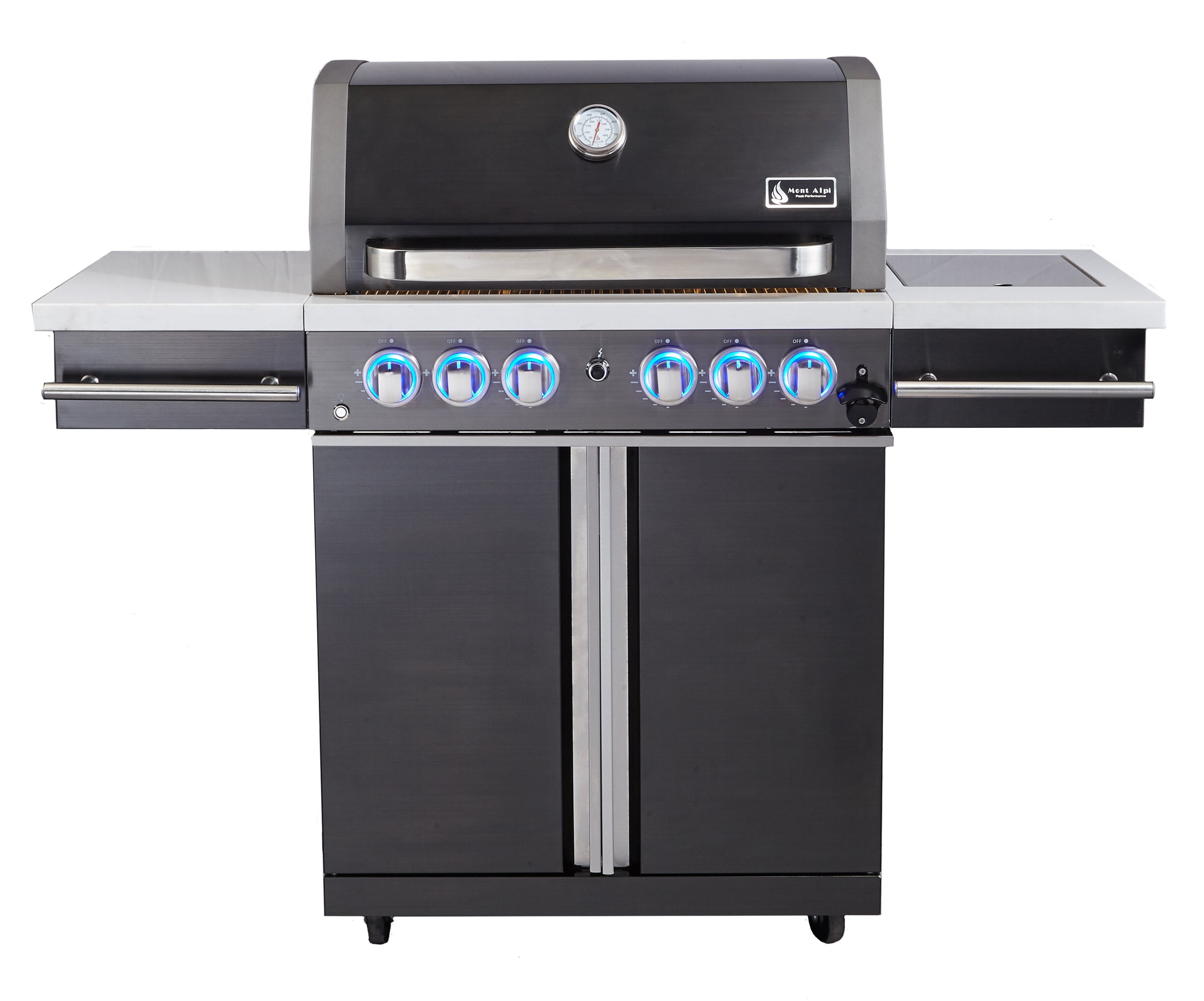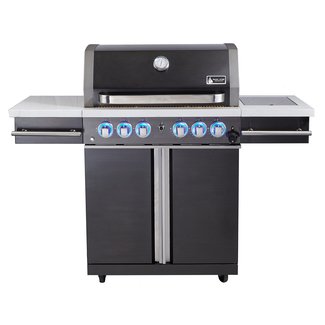 4-Burner Propane Gas Grill with Cabinet
Carefully crafted with white granite side shelves, this is a stylish grilling option while also providing you with ample space to prepare your food. Offering 4 class-leading stainless steel burners with hybrid infrared and standard heating technology, this grill makes any cooking task simple.
Detailed features like halogen lights in the cooking area allow for optimal visbility even when the sun goes down. One special component is its Heat Wave double layer sear plates which reduce grease flare-ups and locks in flavor.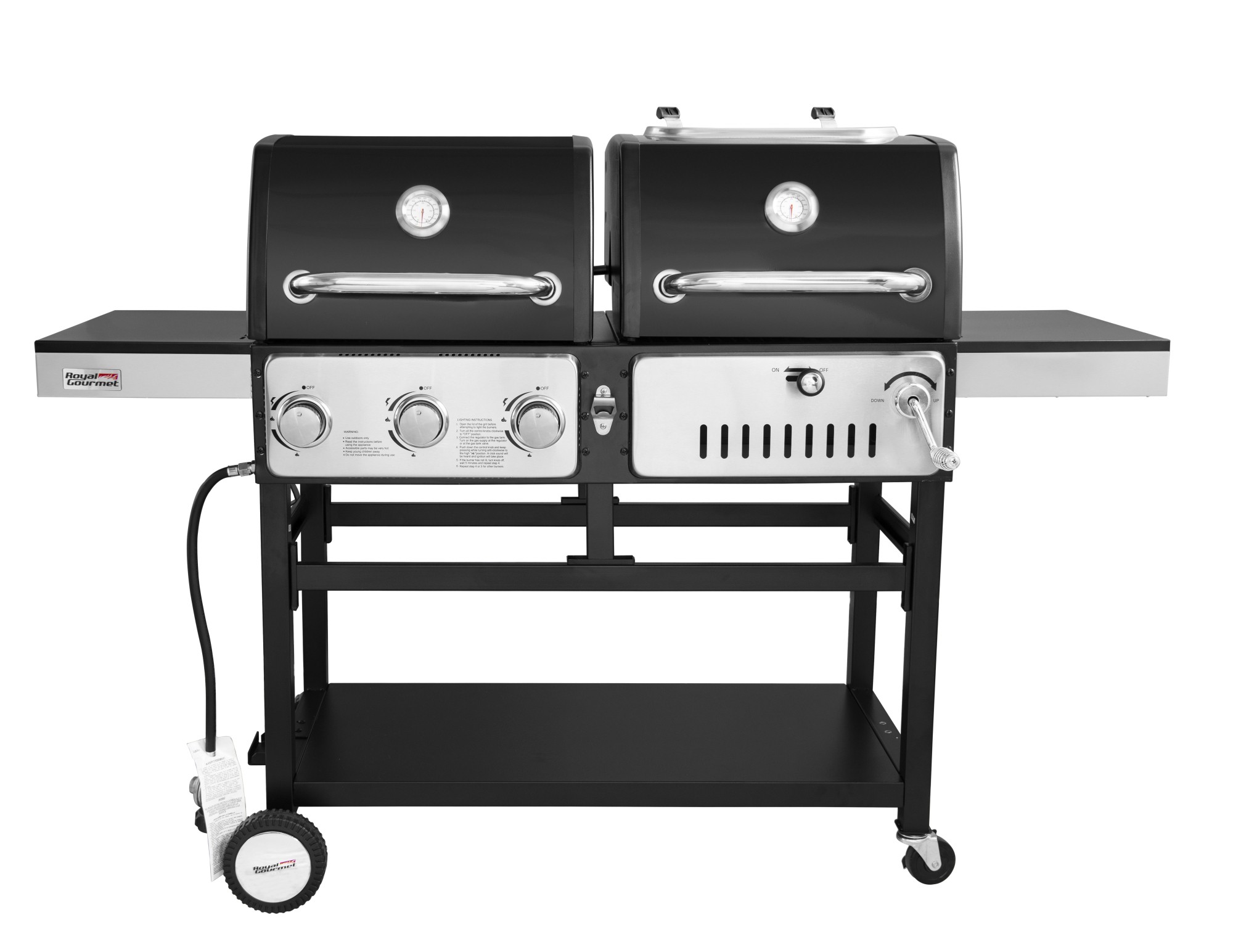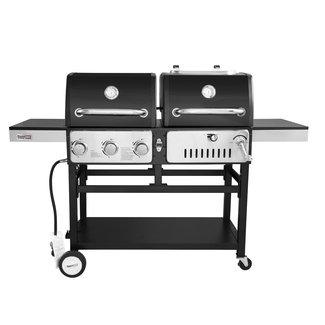 Durable 3-Burner Propane Gas and Charcoal Grill
Choose between the stainless steel or black option to match your backyard aesthetic. This double grill combines gas and charcoal fuel to give you an efficient and flavorful grilling experience.
With over 500 sq. in. of cooking space, you have plenty of room to cook your favorite dishes for friends and family. This model comes with three stainless steel burners to ensure that your food gets cooked evenly. Easy cleanup is provided by the slide-out ash pan and a removable grease tray.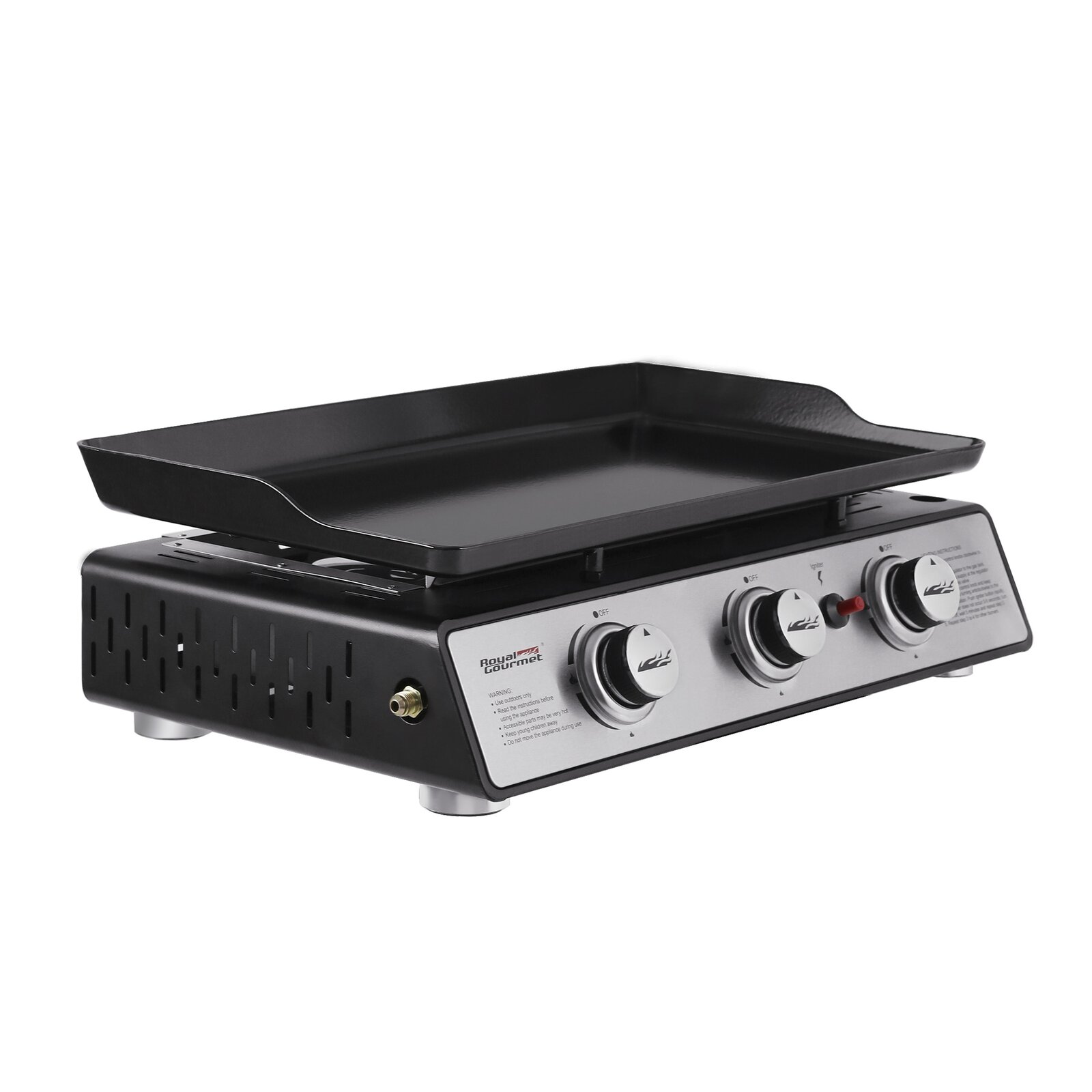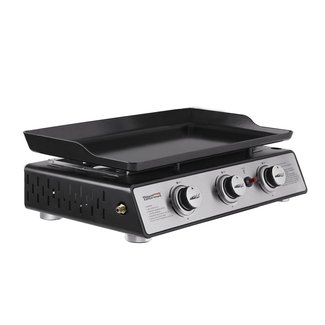 3-Burner Flat Top Propane Gas Grill
Whether you enjoy camping or tailgating, the portable design allows you to take your grill anywhere you need to go. It comes with a grill cover that is layered with an extra thick PVC coating to protect it from water.
Running on propane, this 3-burner portable gas griddle is ideal for any type of gathering and puts out 25500 BTUs of heat. It offers over 300 sq. in. of cooking space, a piezo ignition system, and a large grease cup to ensure an easy cleanup.