Our Choice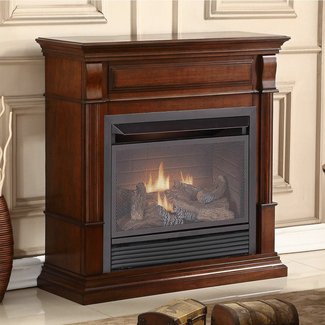 Vent Free Freestanding 40"H x 40"W Propane/Natural Gas Fireplace with Remote
Add a touch of opulence to small homes, apartments, or condos with this vent free 40'' x 40'' x 14.5'' D gas-operated hearth that is available in antique white or auburn cherry.
A natural gas line or propane tank is needed to operate this beautiful solid wood fireplace. The artificial logs work as a glowing filler behind the safety screen, and an automatic shut off and oxygen depletion sensor round out the safety features.
For a boost of warmth in the wintertime, this unit emits 26,000 BTUs of heat, but it also makes a stunning way to anchor your living area in the warmer months, offering a generous top surface for keepsakes and photographs.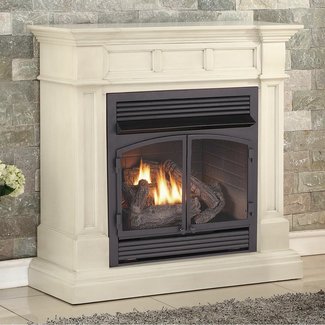 Vent Free Freestanding Natural Gas/Propane Fireplace
Perfect for smaller bedrooms or large open floor plans that need a touch of coziness, this vent free natural gas space heater is available in two sizes to suit your available space.
Working conveniently by remote control, this traditional-style unit is available in antique white or auburn cherry to match the existing décor of your restored historical home.
The adjustable thermostat will warm your home with 32,000 BTUs and includes safety features such as an Oxygen Depletion Sensor and an Automatic Safety Shutoff.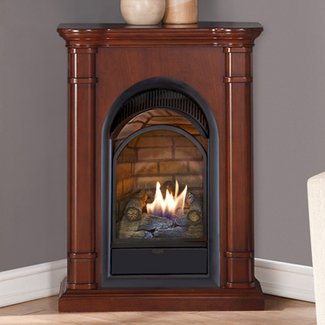 Vent-Free Freestanding Corner 37"H x 28"W Natural Gas/Propane Fireplace
Keep your compact country cottage or condo toasty warm with this 36.5'' x 28'' x 12.5'' D corner hearth. The small footprint makes it ideal for placing in wasted corners spaces in your living room, office, or bedroom.
This unique, vent free solid wood model is available in a vibrant walnut color and features hand-painted ceramic fiber logs for a realistic glow. The integrated blower warms up 800 square feet with an adjustable thermostat that can emit a maximum of 15,000 BTUs.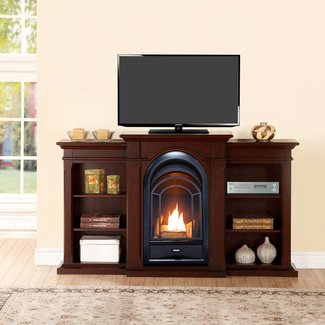 Heating Vent Free Propane/Natural Gas Fireplace
This beautiful piece of acacia MDF furniture features a rich chocolate brown finish and a compact gas-powered fireplace to keep classically decorated home offices or living rooms feeling warm and comfortable.
The vent free mantel features open shelving for use as a TV stand or credenza to store books or electronics for your media center. The heating unit uses dual-fuel technology, so it is 99% efficient, making it kinder to your wallet and the environment. It produces 10,000 BTUs of energy to heat a 300 sq. ft. area.
Vent Free Natural Gas Stove
Ideal for an industrial or country home, this compact steel gas-operated heating unit produces an astonishing 30,000 BTUs of warmth, which can heat 1,000 sq. ft.
The 28.3'' x 31.9'' x 14.4'' D heater is finished in black and features a zero-clearance design, which allows you to install the piece almost anywhere and display items on the top surface.
Fueled by natural gas, this unit requires professional installation and a direct gas line.
Direct Vent Natural Gas/Propane Fireplace Insert
Perfect for restored historical homes that have had their fireplaces covered or removed, this direct vent firebox insert is only 37'' x 41.88'' x 16.44'' D.
Professional installation is recommended due to the propane or natural gas fuel. It includes a glowing log filler, a burner, and a blower to ensure the heat transfers efficiently into your family room. The insert is available with multiple ignition types to customize your experience.
It features a mini volt system with high and low heat settings and flame adjustment, which lets you operate the insert even during a power outage so your home will always be cozy.
Direct Vent Natural Gas/Propane Fireplace Insert
Create a warm, inviting space in your home with this sleek metal fireplace insert. Designed to fit a mantel 31" H x 34" W x 19" D, this direct vent propane or natural gas insert puts out 18,000 BTUs of heat via a variable-speed blower.
The filler consists of artificial logs, embers, sand, and vermiculite, and the safety features include a screen and an automatic safety shutoff so you can relax in your living room or bedroom with peace of mind.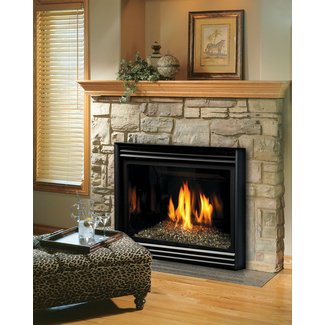 Direct Vent Natural Gas/Propane Fireplace Insert
Insert this 25.63'' x 30.75'' x 14.75'' D natural gas or propane-fueled unit directly into your closed or covered fireplace to give it new life. Select from four ignition types to ensure your comfort and relaxation in colder weather.
The unit features adjustable flames and thermostat, and a variable-speed blower so you can control the level of warmth. Also included are artificial logs, sand, vermiculite as filler to ensure your hearth feels comfy, cozy, and realistic.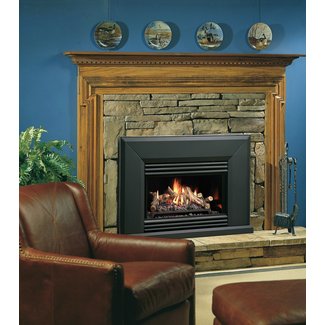 Direct Vent Natural Gas/Propane Fireplace Insert
Select from two sizes, four ignition types, and two fuel types to make this black, direct vent firebox insert fully customized to your home. The unit has a maximum BTUs of 25000, venting directly from the top.
A variable-speed dual blower system will keep your entire room warm and can be controlled via remote control. The insert comes complete with trim and venting kits ready for professional installation with an NFI-certified installer.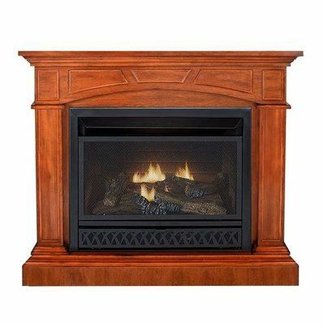 Zellmer Vent Free Freestanding 44"H x 44"W Natural Gas/Propane Fireplace
Add warmth and coziness to small bedrooms, guest room, or living areas with this vent-free, freestanding fireplace.
The adjustable thermostat is controllable with a convenient remote. The solid wood mantel is available in three finishes: apple spice, cherry, or walnut. With 26,000 BTUs and 1,350 sq. ft. heating coverage, your basement, or open plan living area will still feel warm in winter months.
Artificial logs fill the hearth for a realistic appearance while the oxygen depletion sensor and automatic safety shutoff keep you safe.