Our Choice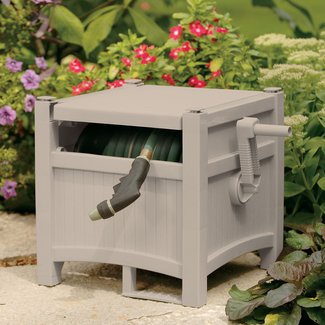 Hideaway Resin Hose Reel
When it comes to garden hose storage, this resin garden hose reel is the answer. A great solution for small spaces, it contains a 100 feet capacity ideal for small lawns and gardens. It quickly and effortlessly connects the reel to your garden hose with no need for tools as it comes fully assembled. The attractive design fully conceals the hose and the reel and is a strong reinforced system which ensures a watertight connection between the reel and hose.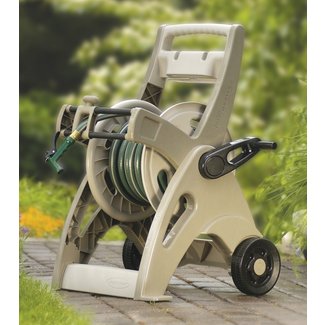 Plastic Hose Reel Cart
This hose reel comes with two locking wheels to easily move it around the lawn and garden and organize your outdoor space. Winding and unwinding are made easy thanks to the slide track with the manual crank, and the reel comes fully assembled, including the hose. Give your lawn and garden and instant facelift with this smart and efficient design. Intended for residential use, the elegant tan color is neutral enough to blend in with any outdoor decor.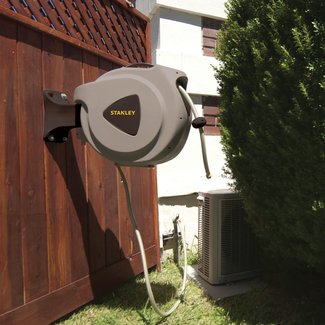 Stanley Plastic Wall Mounted Hose Reel
This plastic wall-mounted hose reel with automatic rewind is a smart and functional solution to your outdoor space. If you're tired of the tangled mess of a hose that sticks out like a sore thumb, then this is your solution. The 65-inch rechargeable hose reel stores your hose while making light work of cleaning and watering tasks. Made from plastic and aluminum, it's lightweight while the taupe color blends effortlessly with your outdoor surroundings.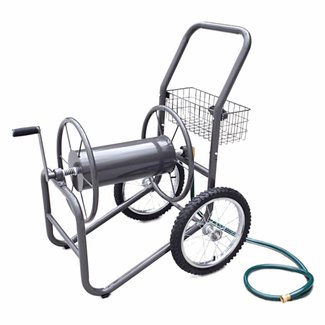 Industrial 2 Wheel Steel Hose Reel Cart
This two-wheel steel hose will bring an industrial presence into your garden area. Made from premium quality material, ensuring strength and durability, it's designed to last for years to come. The powder-coated finish also ensures that it withstands the elements while it provides compact storage for 300 feet of hose. It features a 5 feet leader hose, and an ergonomically designed crank arm for compact storage and convenient use. The pneumatic tires provide a sturdy support base for the cart as well as extended manoeuvrability. It's the perfect mixture of form and function for any outdoor lawn or garden.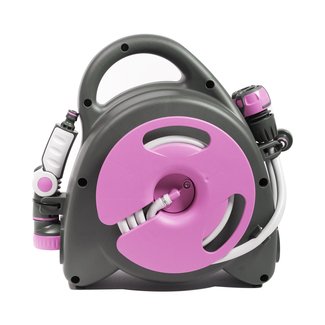 Aquabag Maxi Portable Plastic Hose Reel
When it comes to ease-of-use, this portable plastic hose reel is the answer. Perfect for watering plants and flowers in your garden, patio, or balcony, it is also designed to be both floor-standing and portable when you need it. The hose reel is flexible enough to work in a variety of spaces thanks to its compact and lightweight design. It's also easy to get going with this hose and pack it up and transport when you're done. The 54 foot braided flexible hose line contains an ergonomic eight jet nozzle with an adjustable water flow to increase durability and performance.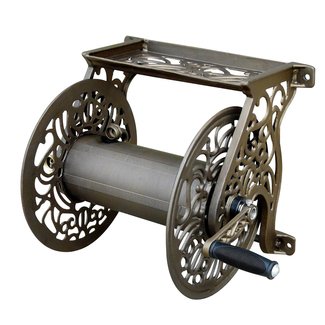 Aluminum Wall Mounted Hose Reel
This aluminum wall-mounted hose steel has a hose capacity of 125 feet. It contains a manual hand crank mechanism for convenient usage and an included leader hose for maximum performance. When it comes to withstanding the outdoor elements, the powder-coated finish gives it the edge it needs. The aluminum material makes the unit lightweight and easy to maneuver while the bronze finish adds a touch of charm to your outdoor patio or garden area.
Plastic Wall-Mounted Hose Reel
Looking for an effective, neat, and practical solution to your garden hose? Well, you're in luck, because this resin wall-mounted hose reel is an attractive solution to garden hose use and storage. Containing a 100 ft capacity, it is a great solution for small outdoor spaces while the water hose reel mounts securely to any wall for convenient usage. There is no need for tools as the hose reel is fully assembled, and the attractive design conceals the hose and reel when not in use. The system is sturdy and reinforced, ensuring a watertight connection between hose reel and hose, giving you years of competent and functional use.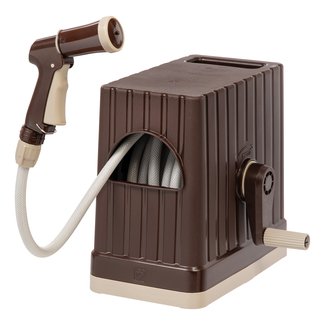 Plastic Hose Reel with Nozzle
Say goodbye to tangle hose messes with this retractable hose reel. The rectangular garden hose storage is available in three sizes allowing you to easily reach where ever you need to. So whether you are washing a car rinsing off a sidewalk or watering your plants, the adjustable hose nozzle settings will make choosing the perfect water flow effortless. When you need to lock the stream in on a position, the metal latch on the hose nozzle will allow you to do so. When you're done, simply use the hose winder to reel the hose back into the caddy and store away neatly. Thanks to the flat base, this hose reel stacks neatly against other items for compact and efficient storage.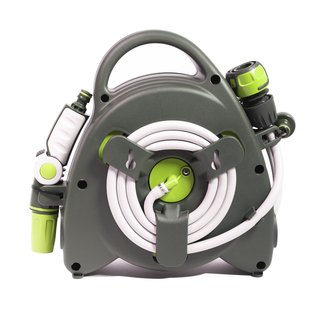 Aquabag Portable Plastic Hose Reel
Make light of washing your car, rinsing off your sidewalk, or watering your plants with this portable plastic hose reel. Designed to stand on the floor, it is also portable enough to transport and function ideally in a variety of spaces. It's compact, and lightweight design construction ensures that you can use it for hours on end while the 38 foot braided flexible hose line and the ergonomic jet nozzle with adjustable water flow will make light of any water work.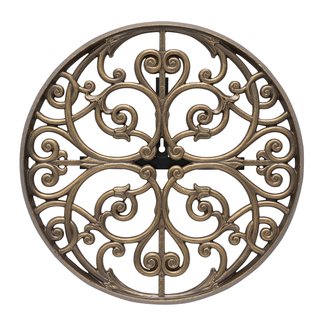 Aluminum Wall Mounted Hose Holder
This aluminum wall-mounted hose holder is the perfect combination of outdoor decor and functionality. With a hose capacity of 50 feet, it is suited to smaller patios and decks, while the aluminum material is also fade-resistant, making it withstand the elements. There is no winding mechanism and installation is required, however, once it is installed on your patio or deck, you will enjoy years of good use.