Our Choice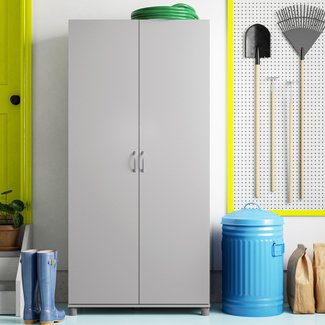 Springboro 74" H x 36" W x 15" D Storage Cabinet
Organizing your garage or basement is now much easier with this sleek garage storage cabinet. Available in black, gray, and white, you can easily coordinate this storage cabinet with its surroundings.
The cabinet includes 5 spacious shelves, 3 adjustable shelves, and legs to keep it stable. It's silver-finished handles offer an elegant look and can match other furniture with silver accents. Place next to a washing machine with silver features for a harmonious layout.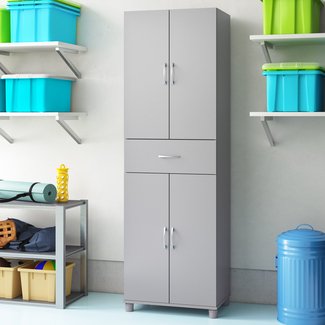 Springboro 75" H x 23" W x 15" D Storage Cabinet
Step up your garage's organization with this modern yet functional garage storage cabinet. Its classy and streamlined design ideally suits contemporary basements, garages, and storage areas.
Featuring 4 shelves with 2 adjustable ones, wheels for easy mobility and a center drawer for extra storage, this storage cabinet made from engineered wood offers a practical and fancy way to keep your tools and supplies in order. Place smaller household items in the drawer for a neater arrangement.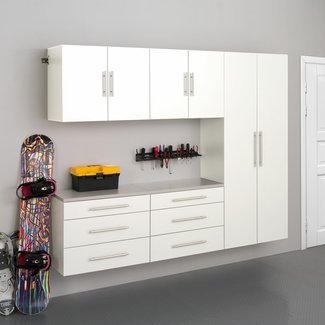 HangUps 5 Piece Storage Cabinet Set
This 5 piece storage cabinet is the perfect addition if you want to keep your garage chic and well organized. Its U-shaped design with a neutral finish comes with stylish satin nickel finished handles that add sophistication to any contemporary or transitional space.
This wall-mounted garage storage cabinet features 6 shelves in which 5 are adjustable, a work surface, wall mount hardware, and a weight capacity of 560lbs. Add decor pieces on the work surface for a relaxed look.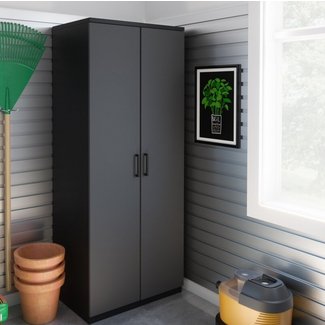 Chavez 72.4" H x 29.5" W x 19.5" D Armoire
If you're looking for a simple yet functional storage cabinet, this garage storage cabinet is perfect for maximizing your storage space. It can be used to store a wide range of items from gardening tools to sports equipment.
Made from manufactured wood, this storage cabinet is sturdy, comes with 12 shelves in which 8 are adjustable and removable, and two doors for easy access. Adjust or remove certain shelves if you need to store longer items.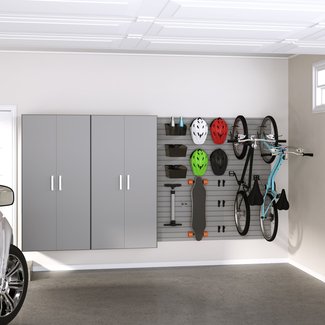 Jumbo Locker and Bike Storage Cabinet Set
This jumbo locker and bike storage cabinet set is ideal for those with a lot of gear and equipment but want to keep them organized and tidy. This garage storage cabinet is easy to install, move, and adjust according to your preferences.
Including mounted cabinets with adjustable shelves, a work surface, wall mount hardware, and metal door handles with soft hinges, you can now store your gear with ease. Pair with wall art for a lively setting.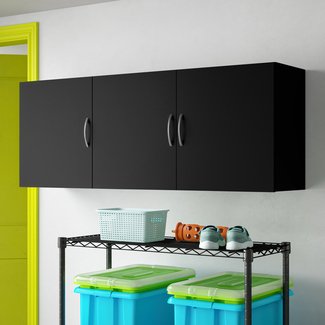 Springboro 20" H x 54" W x 12" D Wall Storage Cabinet
This wall storage cabinet is favorable if you want a simple yet elegant cabinet in your garage, laundry room, or office to store garbage bags, tools, and cleaning supplies. It's heavy-duty, easy to assemble with clearly marked parts, and features three doors with lots of storage space inside.
It includes multiple shelves and adjustable ones, sturdy metal handles and hinges, and has a shelf weight capacity of 30 pounds. Place above your washing machine for a sophisticated and convenient arrangement.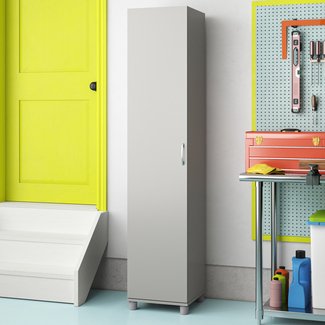 Springboro 74" H x 16" W x 15" D Storage Cabinet
This garage storage cabinet with a width of 15.5" is a great option for those with limited space. Its slim design perfectly fits tight areas. Made of laminated particleboard, its finish can easily blend with other decors and color palettes in the laundry room, garage, and kitchen.
This sleek storage cabinet includes a wall anchor kit with legs for stability, 5 shelves with 3 adjustable ones, and a door with a silver-finished handle to keep your tools out of sight.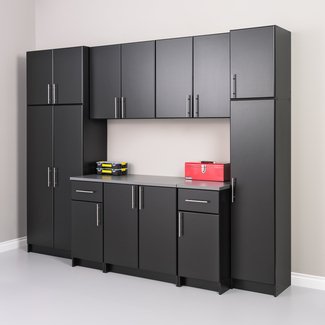 Elite Storage 36" H x 32" W x 24" D Base Cabinet
Modern and functional, this freestanding garage storage cabinet is the perfect addition for storing your supplies in style. It fits perfectly in laundry rooms and garages, and adds a level of sophistication to ordinary spaces with its brushed metal handles and doors with profiled edges.
This utilitarian base cabinet features an adjustable shelf, a counter space, and is easy to clean. You can easily match the durable melamine surface with your washers for a cohesive look.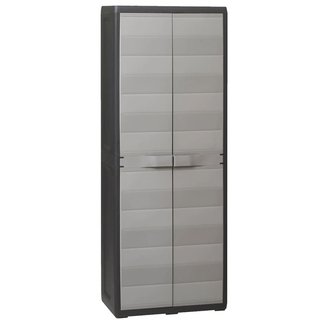 67" H x 26" W x 15" D Garden Storage Cabinet
Keep your garage, garden, or storage area clutter-free with this storage cabinet. You can store your household supplies, garden equipment, and other tools in this storage cabinet with 3 spacious adjustable shelves for items in different sizes. Made of durable polypropylene, this cabinet is sturdy and features ventilated shelves and a locking system for added safety.
Its compact and timeless design fits well in various settings. Place next to a large houseplant for a charming atmosphere.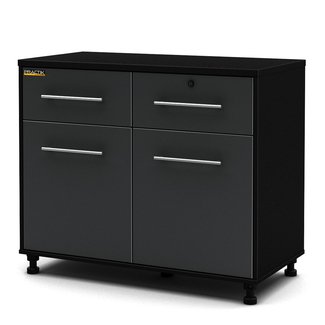 Karbon 35" H x 38" W x 19" D Storage Cabinet
Your garage will remain clutter-free, well organized, and elegant with this modern garage storage cabinet. Its pure black and charcoal finish suits contemporary and transitional areas best.
This storage cabinet includes 2 drawers in which one has a locking system to keep precious items safe, a scratch-resistant top surface, adjustable legs for uneven floors, and adjustable shelves for items in different sizes. Step up your organization by pairing it with its matching storage cabinet sets.