Our Choice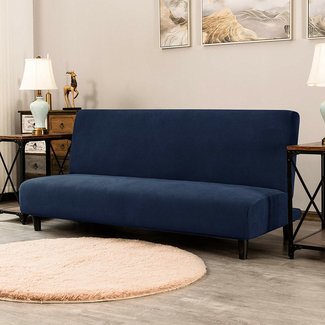 Stretch Jacquard Box Cushion Futon Slipcover
Stretch Box Cushion Futon Slipcover
Protect your furniture in style with this extra-soft slipcover available in 10 muted hues. You can easily refresh your room's look and match one of the colours to your existing decor. It fits most armless futons due to its highly-flexible fabric consisting of 15% spandex. The elastic edges prevent wrinkling and slipping. Enjoy its cozy feel, and if a spilling accident happens, just throw it into a washing machine for headache-free maintenance.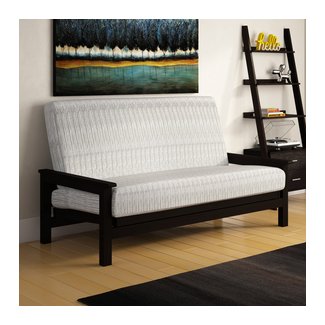 Box Cushion Futon Slipcover
Don't throw out your damaged futon—revive it with a new vivid solid color! This washable/dryable slipcover will add a touch of excitement to your living room or bedroom. The saturated colours are fade-resistant and proven to energise dull or sombre decor. Pair it with matching pillows or showcase your creativity adding pillows of different shades or patterns. This product will rejuvenate your stained futon in a matter of seconds—just zip it up and kick back to enjoy your favourite show.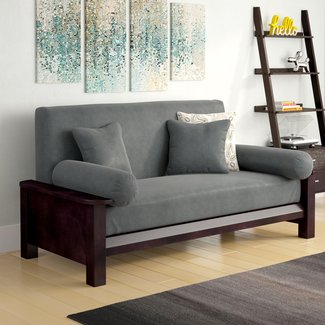 Simoes Solid Box Cushion Futon Slipcover
Designed with pets in mind, this superior-quality cover will shield your precious seating from your furry friends while providing high resistance to wear and tear. The 80% polyester/20% cotton blend is extremely durable and soft. The all-around heavy-duty zipper is designed to withstand daily fractions. Grab your favourite book and enjoy the cozy finish of this slipcover. Not enough room for you and your loved ones or pets? Open the futon flat—you can be sure the cover will adjust perfectly.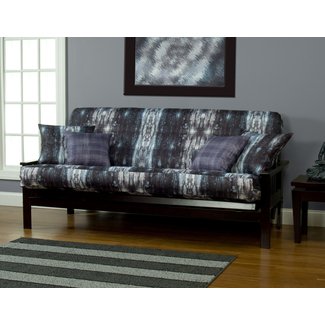 Madalyn Zipper Box Cushion Futon Slipcover
Rediscover your playful side with this creative kaleidoscopic pattern. This product will surely make a bold statement in your room. It will match perfectly with black, white or metal frames, and it will look best against solid wall and rug colours like grey, orange, yellow, or teal blue. The mind-expanding design will capture your attention pulling you away from daily stresses and rushing thoughts, therefore inducing a state of deep relaxation. It can also awaken your creative thinking.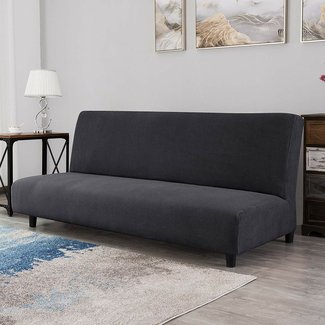 Ilsswe Elastic Armless Box Cushion Futon Slipcover
If you're looking for a simple futon protector, this slipcover offers high quality at an affordable price. It provides 100% coverage to your beloved futon so you can enjoy your family time without stressing about food crumbs, spills or creative toddlers with crayons. Its polyester/spandex blend makes it very resistant to stains, giving you extra peace of mind entertaining your wine-loving guests.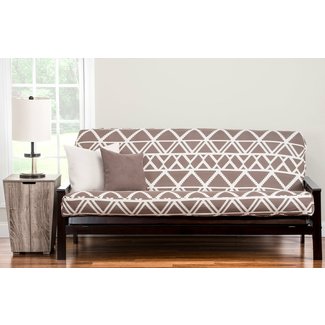 Geo Tribe Box Cushion Futon Slipcover
Escape the rush of civilisation and tap into your primal side with this geometric beige/cream futon cover. The simple, yet intricate design will become a visual centrepiece in your room, creating a modern tribal vibe. Pair it with natural wood or raw metal for an authentic look. Its organic colours will synchronise best with hues of brown, grey, burnt orange, military green or dirty blue. Pairing it with solid slabs of colour will create the best results.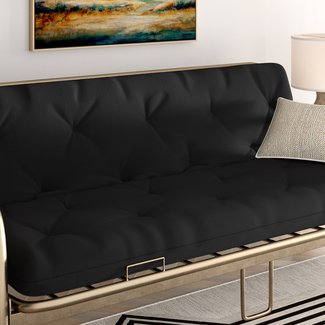 Box Cushion Futon Slipcover
Safeguard your furniture with this tight-fitting full-size futon cover. It comes with a 3-side zipper for an easy on and off application. It's machine-washable so you can keep it clean and pristine while your cushions are protected from permanent damage around your kids, four-legged pets, and guests. The semi-thick canvas-like texture ensures comfort and longevity, while the flexible fabric assures a perfect wrinkle-free fit.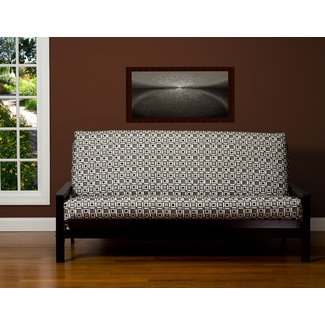 Box Cushion Futon Slipcover
Perfect for a contemporary home, this checkered cover will create a visual interest in your living room or guest room. The universal black&white combination allows seamless matching with virtually any colour. It will look best combined with minimalistic wood or metal futons. Surround it with white decoration elements for a sublime look or bright accent colours for a brave and dynamic look.
Zipper Box Cushion Futon Slipcover
This high-quality polyester slipcover is soft, durable, and fits perfectly on an 8" queen futon mattress. The delicate pattern is appealing but not overwhelming, and its white colour combined with irregular grey stripes will brighten your room. Perfect for light furniture lovers—enjoy the bright look without the fear of irreversible stains. Pre-soak it in gentle soap and wash it in cold water on a delicate setting to keep it ultra-clean and strong.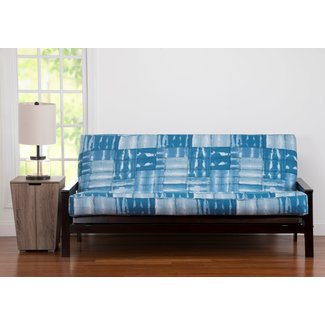 Vintage Box Cushion Futon Slipcover
This playful distressed denim cover will be ideal in your teenager's room or spare bedroom. The soft 100% polyester brushed microfiber provides extraordinary comfort plus it's resistant to fading so you can wash it repeatedly without losing colour saturation. The busy pattern will also disguise stains between the washes giving you the peace of mind around your messy kids. It's proudly made in the USA from imported materials.