Our Choice
Troyer Fruit Basket
This fruit bowl doubles as a modern decorative accent for your kitchen counter or dining room table. Crafted from PTFE-free solid stainless steel, it blends in seamlessly with kitchens featuring chrome or silver-hued appliances.
Fill it with fresh fruit or vegetables for a beautiful pop of color to juxtapose the metallic finish. Or leave the 12" diameter bowl empty and let the eye-catching openwork design speak for itself.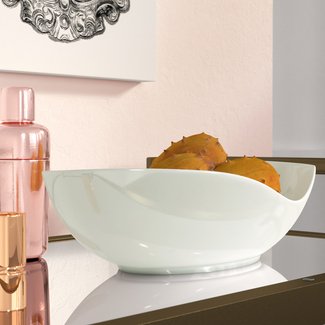 Whittier Canoe Fruit Bowl
Bring a Zen note to your kitchen with this produce bowl, which features a soft, flowing oval design.
Made of white porcelain, this piece blends in with a variety of kitchen styles and appliances.
Microwave, freezer, dishwasher, and oven safe up to 500℉, you can store and prepare
almost any dish – from apples and oranges to your favorite potluck entree or a refreshing salad.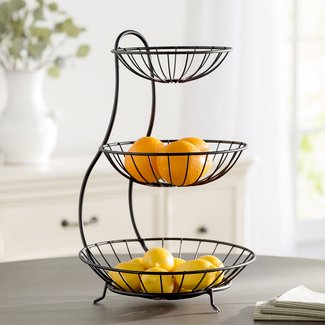 Taounate Fruit Bowl
This three-tiered storage option, crafted from stainless steel, offers ample room for fresh fruit and veggies of all sizes.
Complete with gripped feet and three stacked baskets of varying sizes, this piece will optimize airflow to keep your produce fresher for longer while protecting them from surface-level damage. The dark, powdered black finish is rust-free, food-safe, and works with a range of kitchen aesthetics.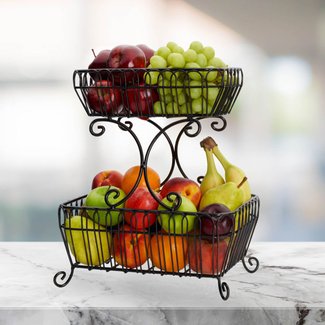 Basics French Countryside Fruit Basket
This 14.50'' H x 8.50'' W x 5'' D flatback fruit basket can be placed flush against the kitchen wall, so it doesn't take up valuable counter space. Its ornate design, inspired by Parisian-style architecture, will become one of your kitchen's main focal points.
Constructed of wrought iron, it has two wireframe baskets that allow the fruit to breathe and can withstand rigorous daily use. While unsuitable for refrigerators or dishwashers, you can easily maintain your basket by hand washing and airdrying.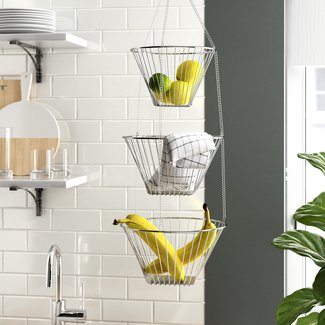 Clive Hanging Fruit Basket
If your kitchen is lacking counter space, this hanging fruit basket is the storage solution you need. Three baskets, ranging from 9.75" to 11.75" in diameter, can help you store your fresh produce and other kitchen staples while keeping your countertops free for food preparation.
Their functionality isn't limited to the kitchen. The stainless-steel construction means you can improve the organization in the bathroom or bedroom without worrying about corrosion.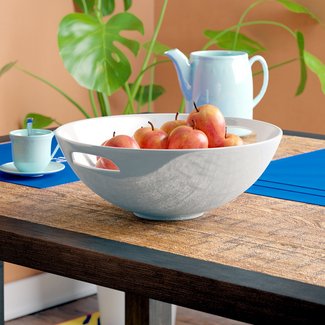 Whittier Fruit Bowl
This extra-large fruit bowl measuring 4.75'' high offers functional beauty for your kitchen, dining table, or buffet. Its clean flowing shapes and white porcelain ensure this bowl can stand out in a sea of granite or marble.
Integrated handles on each side of the bowl make it easy to transport from room to room while entertaining guests, so you don't have to worry about it slipping through your hands.
Microwave ad dishwasher-safe makes it is suitable for a range of culinary uses, from serving salads and snacks to preparing your favorite comfort foods.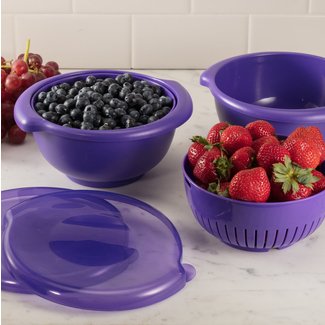 Berry 32 fl oz Fruit Bowl (Set of 2)
Combat food waste and save money with this 32 fl. oz. fruit bowl. Each bowl has three pieces: a colander to wash and drain your favorite berries, a serving bowl that perfectly accommodates the colander, and a lid that maintains a consistent vapor pressure proven to extend berry freshness.
The dishwasher-safe BPA-free material allows for easy cleaning, and the fun purple plastic adds a bold pop of color to your refrigerator.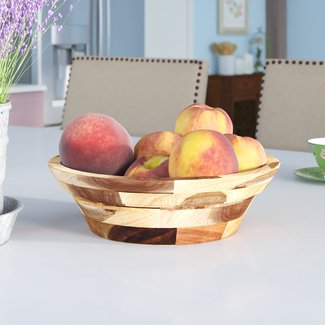 Clavene Rubberwood 145 fl oz Fruit Bowl
Incorporate nature into your kitchen with this Acacia and Rubberwood fruit bowl. Rubberwood is extremely lightweight, durable, and each piece is unique due to varying grain patterns.
Each 145 oz. bowl is handcrafted and finished with a food-safe lacquer that provides an elegant sheen as well as increased durability for daily use.
Hand wash this bowl with gentle dish detergent to prolong the longevity of the bowl's lacquer. Make sure to dry it completely before placing fruit or any other items into the bowl.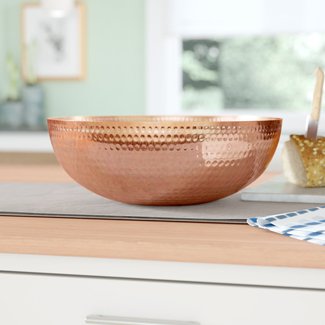 Trevor Fruit Bowl
Add this hammered copper-colored bowl to your kitchen for an on-trend accent that is also functional. The stainless-steel bowl has a diameter of 5" providing ample space for storing produce or serving salads, pasta and chips to hungry guests.
Use it as a stylish catchall to hold keys, phone, and wallets on your entryway console, or place it on your dining room table as a stunning centerpiece.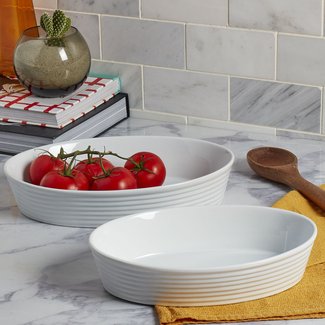 Rotherham Oval 2-Piece Fruit Bowl Set
Enhance your serving ware collection with this two-piece porcelain set of fruit bowls.
Extremely versatile, these handcrafted bowls are made from durable high-fired porcelain, making them chip and heat resistant and suitable for the microwave and dishwasher. The ridged feature on the exterior adds a subtle style accent to the minimal oval design and offers added grip.
Fill the bowl with a single type of fruit for a beautiful display for your kitchen counter or use the set for serving piping hot dishes to friends and family.