Our Choice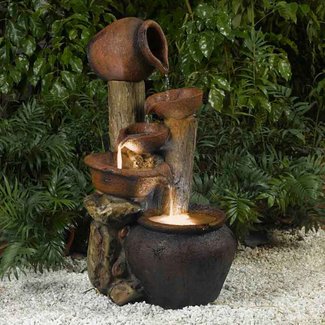 Resin/Fiberglass Pentole Pot Fountain with Light
Bring tranquil sounds to your garden with this five-tier fountain. Distressed brown finish and elaborate sculpturing gives off the warm, inviting traditional style vibes perfect for rustic country theme. Lower basin holds tons of water sufficient to cover the recirculating pump, hence, preventing burn out. LED bulbs add perfect drama for night-time enjoyment. Clean, dry, and store inside during the winter to avoid potential damage.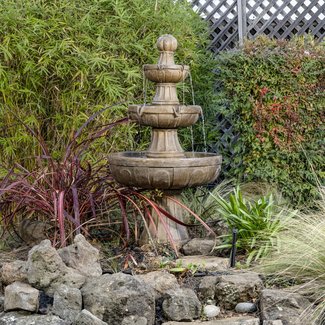 Fiberglass Napa Valley Fountain
Crafted with fiberglass and a brown finish, this traditional-style floor fountain features three tiers and a stone-like appearance. Adjustable flow rate regulates its flow to fit your needs, while the fiberglass material is strong and durable to last you years of use. This electric-powered fountain is water, UV, and rust-resistant to withstand harsh environmental conditions without losing its original luster. Avoid using water chemicals as it may strip off the paint.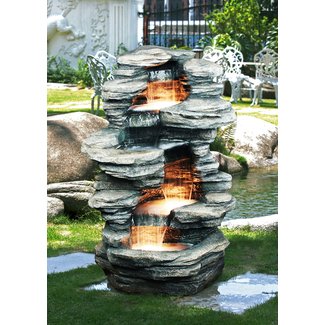 Resin Rock 4 Level Fountain with Light
Add the soothing sense of nature to your lawn with this multi-leveled floor fountain. Sheets of water cascading down the natural-looking gray stones give an impression of a real waterfall and produce serene, relaxing sounds when it hits the rocks. Yellow LED lights offer a mesmerizing view at night. Measures 38.5" H which is not too small or large. This attractive fountain is meant to be used outdoors only and not indoors.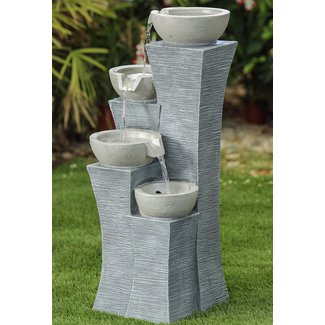 Fiberglass/Resin Four-Tiered Modern-Style Water Fountain
Sleek and elegant, this contemporary styled floor fountain bequeaths grace to any space. Concave design and the smooth faux stone in neutral grey tone infuses some modernity and sophistication. Overall dimensions are 28.1" H * 11.8" W * 11.6" D, which is small in size, making it easier to refill. It's water, UV, rust, fade, and weather-resistant to prevent corrosion and deterioration from exposure to harsh elements. Unplug the fountain when not in use.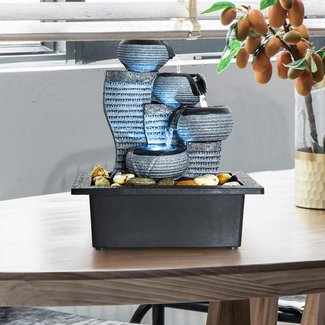 Resin Desktop Waterfall Fountain Decor Indoor Portable Tabletop Fountain with Light
Create Zen atmosphere in your living room or office with this electric powered tabletop fountain. Weighs 3.1 pounds, making it lightweight for more comfortable moving around between rooms, whereas its 11-inch height allows it to fit into tiny spaces seamlessly. The gentle sounds of trickling water pouring into the four tiers calms and relieves stress when sleeping, working, or watching a movie. Clean your fountain once each month to prevent dirt and algae buildup.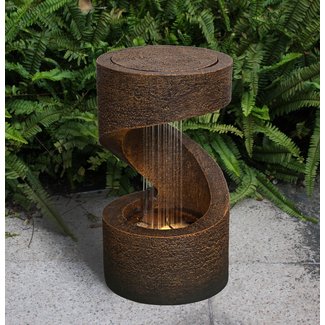 Resin Fountain with Light
Manufactured from sturdy and lightweight polyresin material, this well-crafted tabletop fountain adds allure and beauty to any space. Trickling water from the top to base is reminiscent of calming rain sounds sure to bring serenity to its surrounding. It showcases an exquisite S design in a bronze finish that's both graceful and modern. This electric-powered fountain is perfect for a small area due to its size.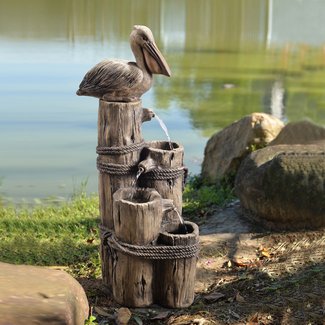 Cronan Resin Trunk Fountain
Make your garden even more inviting with this electric powered floor fountain. Features a trunk tier design in distressed brown finish for that lived-in, rugged appearance. Movable pelican head that sits at the top adds flair and piques charm. It can accommodate seven gallons of water, which allows for sporadic topping up, roughly twice a week. Paint the pelican head to add splashes of color and increase aesthetic appeal.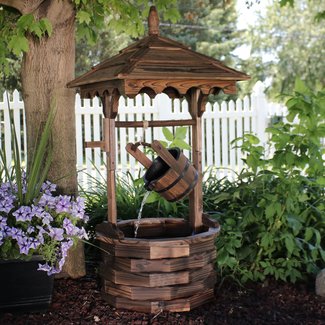 Belew Wood Wishing Well Fountain
Recreate a realistic well look in your compound with this appealing floor fountain. Firwood material is durable and weather-resistant for guaranteed longevity. Ornamental finial, scalloped trimming, and the bucket creates an awe-inspiring look hard to replicate. The bucket and well are double-lined with plastic to protect the wood from decaying. When moving this fountain, lift from the bottom to avoid breaking of wood.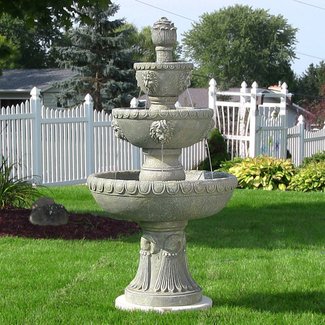 Dunaway Fiberglass 4 Tier Lion Head Water Fountain
Classic and traditional, this grandiose floor fountain is sure to create a dramatic visual statement. Fiberglass material in gray stone color resembles real stone to blend perfectly with the natural landscape. Majestic lion heads and scalloped edges enhances its charm. Soothing cascade sounds produced as water trickles down the four tiers makes for a sensorial environment. It is recommended to store this fountain throughout freezing temperature, or drain and cover it to inhibit destruction.