Our Choice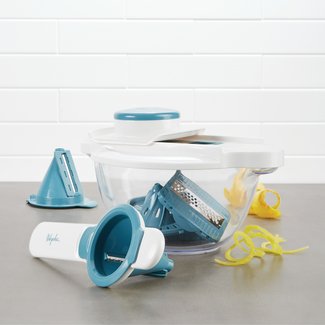 Ayesha Curry Ayesha Mandoline and Spiralizer Twilight Teal
For a kitchen tool that does it all, this versatile mandolin and spiralizer allows you to spiral, slice, grate, and julienne fruits, vegetables, and cheeses. It even includes an attachment for squeezing citrus, making it a great all in one tool for your busy kitchen.
It uses high-quality plastic and a steel blade for long-lasting use. This set includes a mandoline frame with ribbon and julienne spiralizer inserts, slicer, grater, juicer, cleaning brush, and a plastic bowl.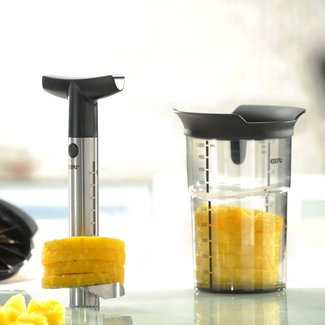 Gefu by Unimet Professional Plus Pineapple Slicer with Container
Avoid a messy kitchen with this pineapple preparation system that will allow you to easily cut slices and bite-size pieces of pineapple with an easy ergonomic grip.
Featuring a sharp stainless-steel blade, this tool cuts pieces directly into its included 1,000 ml storage container, which features etched two-scale measurements along each side. Cut and slice up to two pineapples with no spills or drips and store safely with the Aroma lid to enjoy later.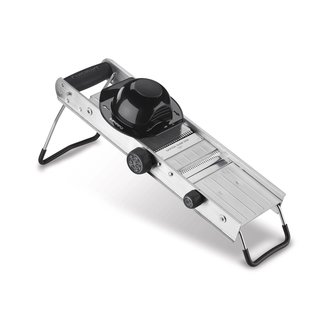 Cuisinart Stainless Steel Mandoline
This mandolin slicer is made using a sharp stainless-steel blade crafted from precision technology. This commercial-grade kitchen tool gives your four slicing options, letting you slice fruits and vegetables to the desired thickness.
It features non-skid feet and a hand pusher that protects your hands as you glide and slice and even includes an extra cut-resistant safety glove for added peace of mind.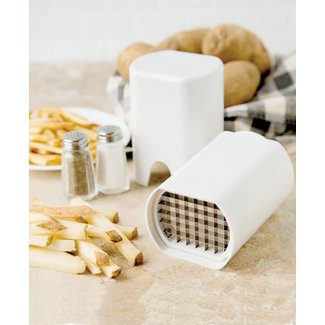 Fox Run Brands Potato Cutter
Make delicious homemade french fries with this simple potato cutter. It features stainless steel crossed blades that slide through raw potatoes easily and quickly, leaving you with perfectly sized french fries every time.
The tool also works with carrots, squash, and other hard fruits and vegetables. This potato cutter is made out of high-quality white plastic and steel to improve durability but should be hand washed to maintain the edge on the blades.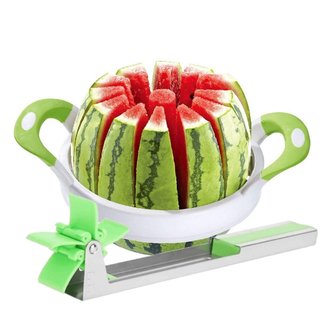 Homeries Watermelon 2 Piece Slicer Set
Get delicious watermelon wedges or cubes with a push of this 2-piece slicer set. Safe and easy to use, these blades are made from rustproof stainless steel that will slice and core your watermelon with no mess or fuss, and the plastic handles are designed to create even pressure.
It also features a wheel slicer and a windmill cutter for different ways to prepare your fruit. This can also work with other types of melons so you can create a refreshing fruit salad in a snap.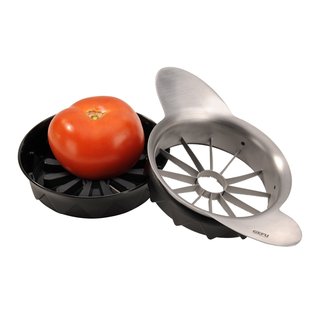 Gefu by Unimet Pomo Tomato and Apple Slicer
This tabletop fruit slicer is great for apples, tomatoes, pineapples, pears, and other fruits with a core.
It is made out of BPA-free plastic and serrated stainless-steel blades. It is straightforward to use, coring, and slicing your fruits with one easy step, leaving you with perfectly cut fruit every time, while the plastic base prevents juice from spilling onto your counter. It is dishwasher safe for simple and hassle-free cleaning.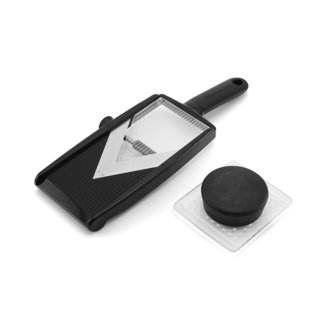 KitchenAid V Slicer
Create uniform slices as thick or thin as you like with this V-shaped slicer. It uses a stainless-steel blade to slice through and julienne all kinds of foods at adjustable thicknesses and works well with soft or hard vegetables.
It has an ergonomic soft-grip handle for added comfort and a handguard for security while slicing, letting you cut with extreme precision, and no risk of cutting yourself.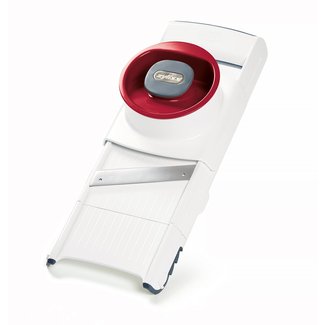 Zyliss 4 in 1 Slicer, Grater, and Vegetable Cutter
This combination mandolin and slicer provide maximum functionality, letting you quickly prepare fruits and vegetables; however, you need them. With options to slice, grate, and cut, this kitchen tool features a 1 mm and 3 mm micro-serrated slicing blades.
It uses a smooth glide pusher to keep food securely in place while you are cutting it, and a feeder tube for longer vegetables. It is easy to clean and packs down compactly for easy storage.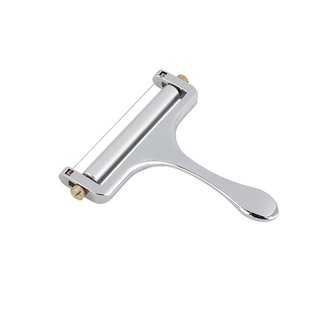 True Brands Divvy™ Adjustable Cheese Slicer
This classic cheese slicer with you cut soft or hard cheese with perfect precision, making it a great tool to serve your cheese and wine platter.
Made out of a high-quality zinc alloy, the handheld tool has an adjustable roller that allows you to adjust the thickness of each cheese slice. This works with cheese blocks up to 3.5 inches wide.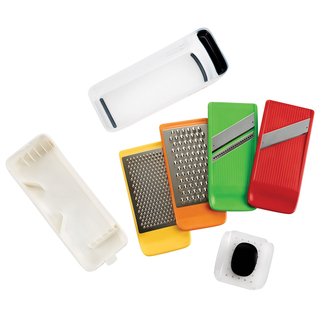 OXO Good Grips Complete Grate & Slice Set
For a convenient all-in-one solution for grating, slicing, julienning, and cutting, this mandoline set offers you a multifunctional tool for your kitchen.
It comes with a high-grade BPA-free plastic receptacle for cutting into, and color-coded slicing tops for different thicknesses. These tops also double as storage lids or used over bowls or plates for quick grating or slicing. The container's handle is comfortable and non-slip, making it easy to cut and slice fruits, vegetables, and cheese.