Our Choice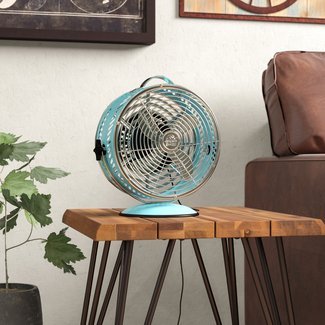 Becky Breeze 8" Table Fan
Crafted in a beautiful blue-colored metal, these fans add a touch of retro aesthetics and trendy ambiance to any room in the home. They are durable and made to last while being light in weight and easily transferable from one place to the next. Not only do they fully function as a fan, but they add a touch of decor to every single room thanks to the unusual and evocative design. This high quality two-speed design table fan is perfect for gifting to friends and family members.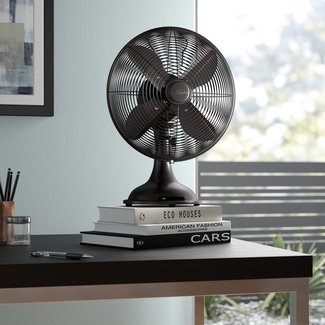 Retro 12" Oscillating Table Fan
If you are trying to keep cool this summer like most people, why not do it in style. Thanks to quality craftsmanship and impeccable performance, this escalating table fan is a must-have for every home. The three-speed settings are powerful, as the motor delivers maximum air flow allowing you to enjoy all levels of comfort. The full metal construction is also rugged and robust enough to last for years to come.
Turbo 8" Oscillating Table Fan
This oscillating table fan may be small in size, but it really packs a punch. Featuring 90 degree oscillation, whisper-quiet fan blades, and three adjustable speed settings, you'll be able to enjoy various levels of comfort. The tough break-resistant ABS plastic blades ensure the longevity of the fan. It is ideal for floors, tables, and desks, as well as mounting onto a wall.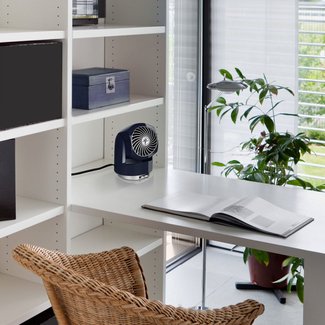 Flippi 3" Table Fan
Enhance the cool factor in your home with this vibrant and ultra-modern oscillating table fan. Energize your space with the two speeds and create a quiet breeze in style. Using a signature vortex technology, it moves air up to 20 feet, which makes it a great desk fan for the dorm room or office. Also, feel free to use it in the kitchen or the bedroom thanks to its stylish personal circulation and multidirectional airflow.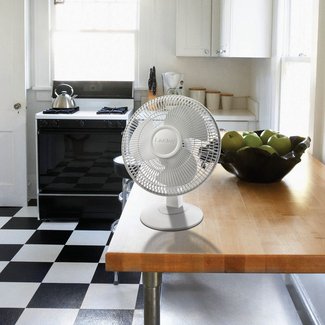 12" Oscillating Table Fan
If you live in an apartment or have a living space that is restricted, then this 12-inch oscillating table fan will make a practical and functional addition to your assess the Diaz Canal. It contains wide-area oscillation, adjustable tilt-back, and compact head as well asthma three speed, which will allow you to take your pick. When the weather heats up, this oscillating table fan will be your trusted and reliable friend bringing in the cool air and helping you to relax.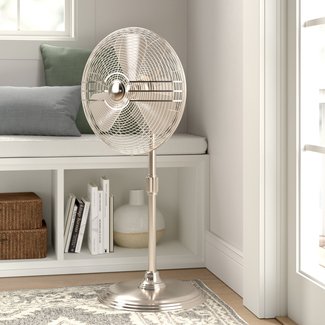 Retro 16" Oscillating Floor Fan
Bring some retro charm into your home with this 16-inch pedestal fan. Thanks to the excellent craftsmanship and incredible performance, this portable sized fan is ideal for each and every room inside the home. The three-speed hunter, maximum airflow, and limited noise all turn this fan into an absolute pleasure. The metal construction and 85° of smooth oscillation make this pedestal fan a premium choice. Keep your home airy and breezy with this incredible pedestal fan.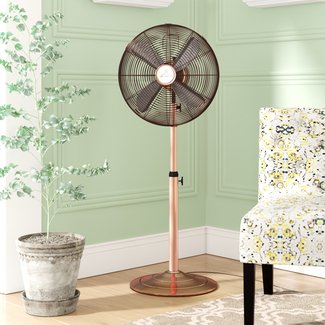 Creager 16" Oscillating Floor Fan
Keeping cool has never looked as good thanks to this pedestal oscillating fan. The four blades upstaged by admission, are durable and long-lasting. The adjustable stand allows you to tailor the suitable height heights while it can be programmed to be quiet. The four blades are durable and the total number of 3 speed settings are powerful.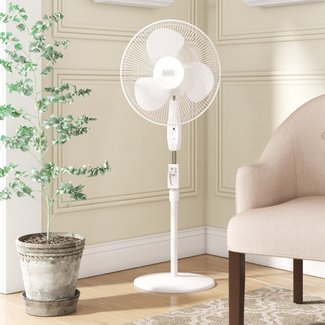 Stand 16" Oscillating Floor Fan
This remote-controlled pedestal fan is built for performance. The functional remote control makes it even easier to operate your fan without leaving your seat. The adjustable height and tilt angles enable air circulation to the spot where it is needed the most. When it comes to wide-angle oscillation, this pedestal fan has you covered. For the ultimate cooling experience, set the pedestal fan in quiet mode and allow it to gently cool down the room.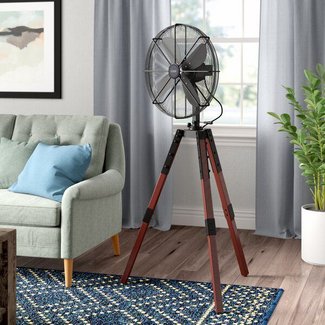 16" Oscillating Floor Fan
This oscillating fan has an industrial detailed design and powerful air movement to match. Unlike pedestal fans, this one features a tripod stand that is built using high-quality material and excellent craftsmanship. The 16-inch oscillating fan will add an artistic and inspiring style to any space inside your home. Allow it to cool you down using the variety of 3 fan speed settings.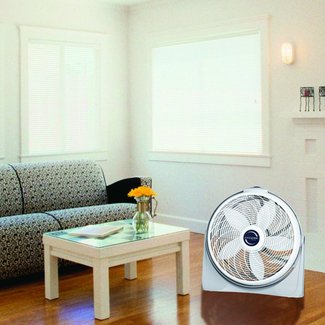 20" Floor Fan
This oscillating fan has three quiet speeds for high volume and movement. Thanks to the rounded corners that provide safety and the slim design, this box fan is both aesthetically appealing and highly functional. Irrespective of whether you choose to place it in a window, on the floor, in your bedroom, living room, or in your office, this box fan is designed to be versatile and compact enough to fit absolutely anywhere. Running this fan will save you money thanks to the energy-efficient save-smart design.