Our Choice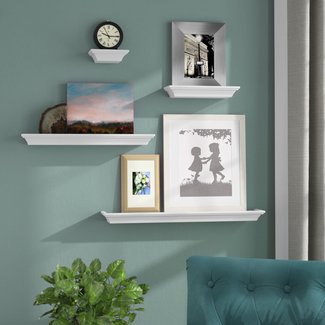 Kellems 4 Piece Wall Shelf Set
Elevate your home's aesthetic with this simple yet sophisticated 4 piece floating shelf. It's easy to hang, the color easily blends well with other decors, and can be used to hold precious souvenirs, accessories, and even books.
Made from wood with a neutral solid finish along with a molded trim, this floating shelf set comes in 6", 12", 20", and 24" from side to side. Group these shelves to elegantly display your souvenirs and memorabilia.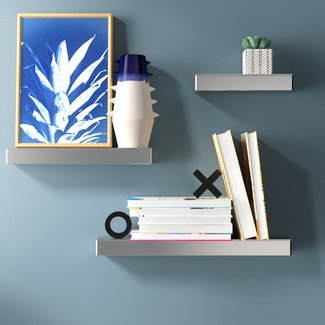 Dasher 3 Piece Wall Shelf Set
Modern and chic, this 3 piece wall shelf is favorable for contemporary and transitional spaces. Its mirror paneled design makes a dainty focal point while highlighting all sorts of modern decor.
This floating shelf is the perfect addition to various rooms, including the bedroom, bathroom, entryway, and living room and hangs securely on the wall without exposing the screws and brackets. Place a few decor pieces with silver or glass accents such as candles for a glamorous setting.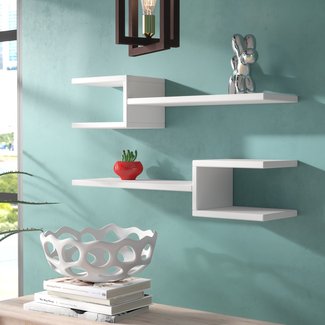 Kyle Modern Wall Shelf (Set of 2)
The clean and novelty design of this floating shelf makes it a perfect choice for contemporary spaces. It adds a modern twist to the room and suits a variety of wall colors. Available in burgundy, mustard, and turquoise, you can easily add a pop of color to a plain wall or tone it down with the white or anthracite finish.
This engineered wood floating shelf has a weight capacity of 20lbs to store your precious items, books, and decor.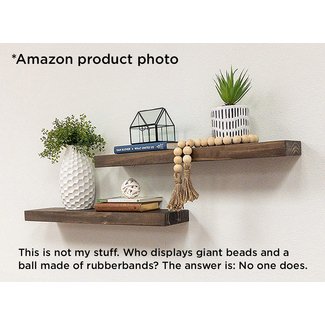 Evonne 2 Piece Solid Wood Pine Floating Shelf (Set of 2)
This 2 piece floating shelf has a traditional design with a rustic touch. Keep your kitchen, bathroom, or bedroom cozy with this solid wood floating shelf.
It's sturdy, easy to install, adds a decorative touch to the wall, and blends well with vintage and simple decors. Perfect for farmhouse, rustic, traditional, and shabby chic homes, this floating shelf looks best paired with white walls along with small potted plants.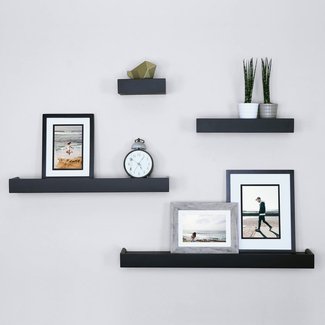 Modern 4 Piece Floating Shelf Set
The contemporary design of this 4 piece floating shelf makes it a versatile piece for a variety of home styles. The shelves are simple and sophisticated and keep your items well organized while adding a modern touch to the room.
This floating shelf is made of solid and manufactured wood with a coated finish that suits most decors and adds interest to plain walls. Combine frames, pots, and other decors in specific colors to highlight the room's color scheme.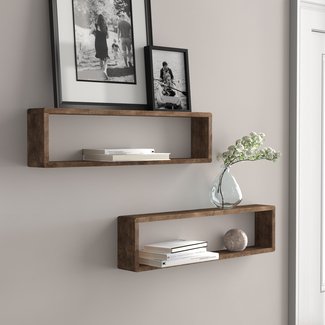 Hampden Stackable Long Box 2 Piece Wall Shelf Set (Set of 2)
This 2 piece wall shelf that can support up to 10 lbs has a rustic look with a contemporary design that fits most home styles. Showcase your souvenirs, books, and plants in style with this wooden floating shelf perfect for small spaces.
Its clean-lined design elegantly complements its surrounding decors while highlighting the showcased items with a traditional touch. Made from solid alder wood, its light walnut finish matches well with both vintage and modern decor.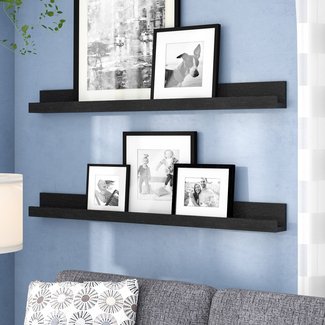 Dulin Photo Ledge Picture Display Floating Shelf
Keep your space neat with this 2 piece floating shelf available in espresso and white. Its matte painted finish adds a sophisticated touch to neutral and colorful rooms while its rectangular shape provides a modern look.
With a weight capacity of 25 lbs, this floating shelf is space-saving while allowing you to store multiple items such as books, picture frames, and even skincare products. Those running out of kitchen space can use this to store their spice and herb sets.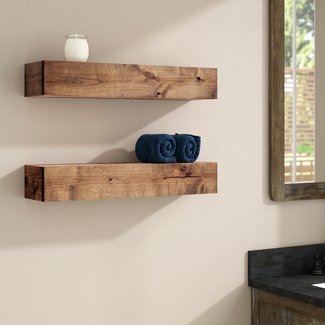 Samara 2 Piece Wall Shelf Set (Set of 2)
This modern floating shelf set with an added touch of rustic style can make any home appear more cozy and relaxing. The natural markings enhance the showcased items while keeping the setting neat and organized.
Its sturdy handmade structure made from knotty alder is perfect for complementing bathroom vanity mirrors. Pair with a small potted plant to give your bathroom a homey look.
Oldbury Naite Floating Shelf in Shabby White/Gray Solid Wood Handmade Rustic Style Wall Shelf
The sophisticated and artsy design of this floating shelf makes it a perfect addition to various home styles. This handmade floating shelf gives a distressed and shabby rustic look with its scraped off paint and can be placed anywhere in the house.
It can hold up to 50lbs, giving you the option to showcase a wide variety of items. Place above your couch and pair with a gray slipcover or decors with gray and white accents for a homey interior.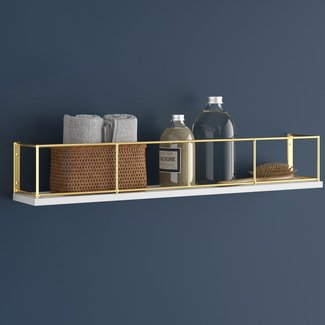 Premont 2 Piece Floating Shelf Set
If you're looking for an elegant floating shelf with a simple design, this 2 piece floating shelf is a perfect choice. Its clean-lined rectangular silhouette and neutral finish fit well in contemporary and transitional spaces.
It can be used to store your office supplies, cleaning products, and bathroom accessories in a sophisticated way. Pair the floating shelf with a mirror with a golden frame for a fancy look.