Our Choice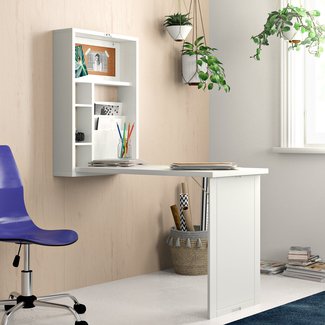 Andersonville Solid Wood Floating Desk
Small living spaces are no longer a problem with this creative solution of a wall-mounted floating desk. When not in use, the desk folds up from 36" to 6". It looks like an attractive cabinet that measures 22" wide by 32" long.  What lies inside is more amazing with a corkboard for tacking notes, an organizer for mail and 3 cubbies for supplies. The modern straight-line white appearance makes this unit fit into any room in the house. This is a great idea for young professionals on the move, college students in a dorm, or those living in an efficiency apartment.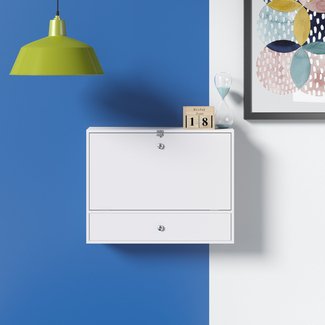 Ardilla Floating Desk
Mystifying, slim and neat, this lovely cabinet gives you unlimited opportunities. Available in black, gray, white or mahogany, the unit seems to float along the wall, matching your artful decor. Silver knobs are eye-catching and once opened, the space is arranged for organization.  Large enough to keep office supplies, small personal collections or electronic supplies, there are hinges that drop the front to a desk for your lap top. You can even store a 10"x 15" lap top inside with the door closed.  A drawer measuring 6"x 26" is located below the desk top pull-out to hold paperwork or additional items.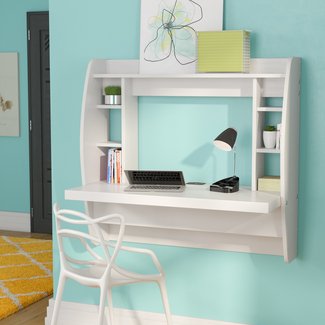 Cushing Floating Desk
Legless and modern, by readjusting the form of this floating desk, a space-saving alternative has been created.  Poised as an artistic silhouette of a wall sculpture, this slim-lined white, espresso or black unit will compliment any wall that has a 39 1/2" long and 42 1/4" wide area to spare. 6 open cubbies can be used for work-related supplies or to show off colorful decorative items like a glass paperweight, miniature collectibles and more. The laptop desk area extends less than 20" from the wall. Set your favorite picture on the long top shelf to bring a great sophisticated look. A small chair or stool will fit comfortably under the desk area.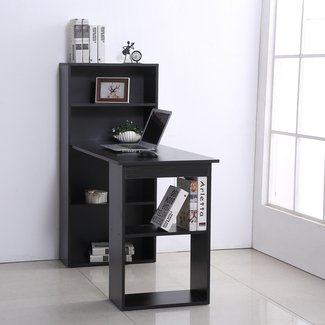 Wilclay Computer Floating Desk with Bookcase
This black wood grained book case with attached desk only needs a small space to be convenient and attractive. From modern to traditional, many styles accept the straight lines and simplicity of this unit. The book case stands 47.25" high with a built-in desk extending the same area horizontally. 2 additional shelves support the end for even more storage. Easy to clean laminate makes this piece nearly maintenance-free for a teen's bedroom or a dorm. The desk and hutch are less than 2' wide, giving you plenty of options for placement.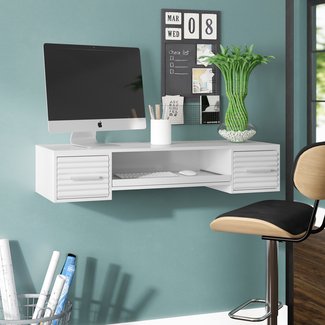 Bennie 2 Drawer Floating Desk
Some accessories and furniture just look right when designed with the right amount of balance and texture. Take this 2-drawer floating desk, for example. It is suspended by quality metal hardware that is hidden so the modern Euro-style is all you see. Perfect for a bedroom, bath or living area, it blends in with modern, eclectic, or contemporary styles. White manufactured wood with brushed nickel makes this item durable. The crinkled drawers add a dramatic, but serene touch that is never boring. Drawers measuring 7.75" wide x 11.5" deep give you extra storage for keys, jewelry or other items. Place a rectangular mirror, chalkboard or corkboard to create an even more creative look.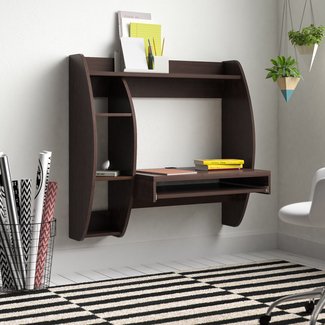 Dowlen Floating Desk with Storage
Use this stylish walnut floating desk to bring a Craftsman or Mission decor feel inside your home. The sweet bowed curves will accent any wall that needs refreshing. Not only beautiful, but practical, the unit provides everything necessary to set up office. A keyboard tray is tucked under the desk top area and wire-sorting grommets keep pesky wires from turning into clutter. 3 side shelves let you add your own finishing touches to this wall unit.  This floating desk also comes in modern white to match other types of decor. The manufacturer offers a 5-year warranty so you know the quality of materials is above average and durable.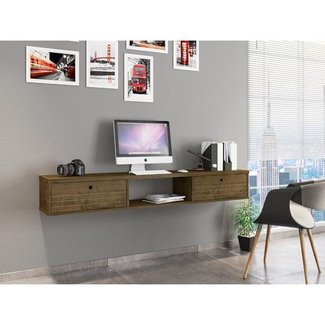 Hayward Solid Wood Floating Desk
This floating desk could easily become your answer to an easy TV installation. At 63" long and 9" deep, a 60" flat screen can sit perfectly on the top shelf without adding more holes to your wall. In addition, 2 hefty compartments open to store electronic parts and wiring. The pull-down door suspends at a 90-degree angle, magically turning this unit into a desk top area. Rectangular, sleek and modern, everyone in your household will want this unusual and convenient item to be added to their bedroom. Functional and modern, this item has the potential of becoming very popular.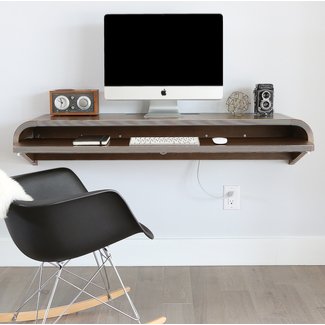 Minimal Floating Desk
Minimal and functional are the characteristics of this artistic bent-wood approach to floating desks. Advanced engineering techniques create a green environment feel to a modern day work-at-home society. Oak and walnut are the base wood beginnings of this 36" long x 16" deep raw natural creation. Wrapping the edges to meet the keyboard indicate warmth while a long sharp v runs down the wall to add a mixture of styles. The full effect is mesmerizing to the eye. Ball bearing glides allow easy movement of the keyboard tray. This floating desk is a beauty to any minimalist decor, as well as modern or eclectic. Place wherever the concept can be enjoyed.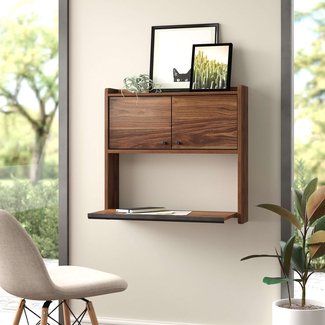 Posner Wall Floating Desk
Simple and contemporary will help you keep your small living space in order. There are no dramatic curves, just straight solid lines in a walnut wood grain. At 26.69'' H x 28.11'' W x 6.29'' D, this lovely floating office requires no special care and can be as noticeable or as nonchalant as you wish. When it's time to work, simple pull down the lip beneath the top closed doors and discover a flat surface for your laptop. One of the chambers above has a cork board for pinning up notes. The other side can be filled with office supplies and paper. Mounting to a wall that is close to a window will give you natural light.