Our Choice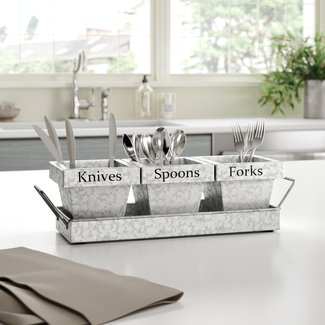 Burgoyne Rustic 4-Piece Caddy
Add a touch of country-chic to your industrial kitchen or tablescape with this charming silverware holder.
Three square-shaped galvanized metal buckets are nestled comfortably in a rectangular tray measuring 4.25'' H x 14.25'' W x 4.25'' D. All three are labeled to hold knives, spoons, and forks. They are all hand-washable, so any mess is easy to wipe off.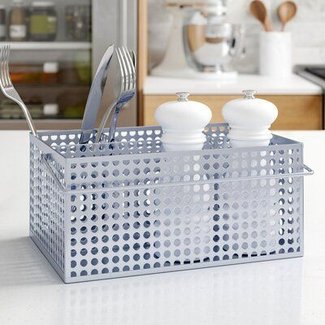 Jon Condiment Caddy
This 10.2'' H x 7.3'' W x 4.5'' D rectangular condiment basket features a punched metal design that puts a modern twist on mid-century style. The silver metal handle attaches to the basket to carry your items to the pool, grill, or kitchen.
It includes dividers so silverware, napkins, and seasoning can be kept tidy and orderly or remove the divider and keep your needles and yarn stored neatly in a portable spot.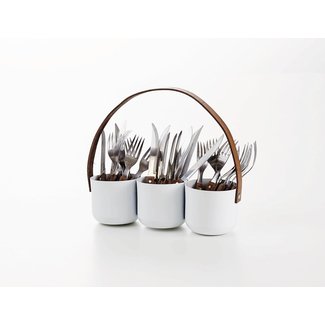 Flatware Caddy
Make only one trip from your kitchen to your deck with this mid-century modern silverware holder with a stylish handmade leather strap. Just throw it over your arm and grab your dishes and you're ready to go.
The body is made of aluminum with a protective coating that resists scratches. At 3.15'' H x 3.74'' W x 11.42'' D and under 1 lb., it is lightweight and portable enough to go anywhere.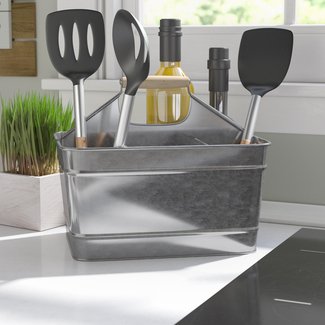 Gustave Carry All Flatware Caddy
Store your cutlery or craft supplies in this adorable galvanized metal bucket. The wooden handle is well constructed for comfort when carrying the bucket from place to place.
On one side you'll find three compartments to hold your flatware, the other side is open allowing room for condiments, napkins, or brushes.
At 9'' H x 11'' W x 8'' D it is small enough to fit on the dining table or counter but large enough to carry everything you need.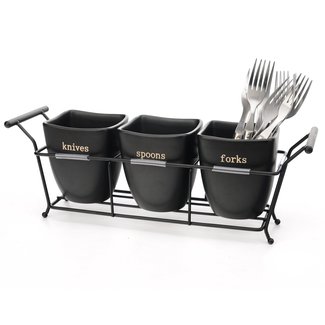 Expressions Flatware Caddy
This set of three stoneware canisters are nestled together in a black wire basket with comfort handles. Weighing only 5lbs, it is sturdy and durable set that measures 4.5'' H x 16'' W x 4.5'' D. The canisters are engraved with the words "knife", "spoons", and "forks" to keep your garden spread organized and stylish.
It is small enough to use every day or store away until a holiday or other special occasion.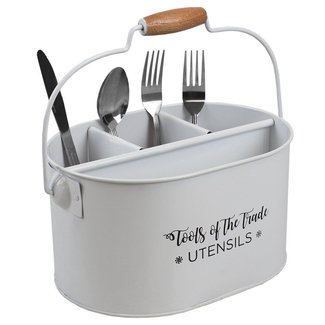 Garrin Tin Flatware Caddy
Organize the countertop of your farmhouse kitchen with this adorable utensil bucket. The bucket is painted white with black lettering stenciled on the side. A metal handle with a wooden comfort grip can be flipped to either side depending on your styling tastes.
The oval shape measures 5.32'' H x 6.95'' W x 9.92'' D making it perfect for larger cooking utensils. It's hand wash only so splatters or messes can be cleaned off easily.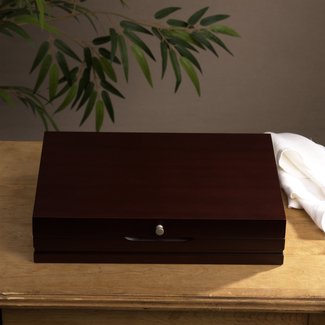 Single Drawer Flatware Chest
Store and organize your cherished, heirloom silverware in this dark walnut cutlery box. This hand-etched box is rectangular in shape and measures 5.75'' H x 14.75'' W x 11'' D making it perfect to store in a credenza or curio cabinet.
The overall weight of the box is only 3 lbs. and it stores up to 12 settings inside the felt-lined interior.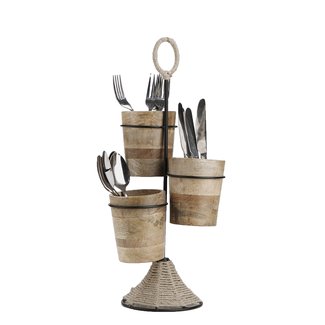 Wood and Rope Utensil Flatware Caddy
Save table space on your summer holiday table by storing your flatware vertically in these rustic wooden canisters mounted on a wire organizer. It features twine wrapping at the base and loop handle, adding a touch of provincial charm to your tablescape.
It measures 19.25'' H x 7'' W x 7'' D and weighs only 2.53lbs so it is ideal for compact spaces.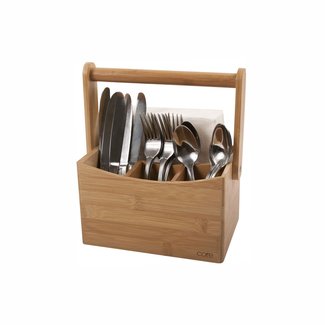 Cutlery Caddy
Add some decorative appeal to your rustic or industrial kitchen with this 6.5'' H x 9'' W x 4.8'' D cutlery carrier. Made of FSC certified sustainable bamboo, the carrier has three compartments on one side and one large compartment on the other offering spaces to organize knives, forks, spoons, and napkins all in one.
Weighing under 2 lbs., it is lightweight and comfortable to carry to outdoor entertaining areas or to take camping or tailgating.
Utensil Buffet Organizer Flatware Caddy
Organize your pool-side potluck or holiday table with this durable metal buffet organizer. It has compartments for forks, knives, spoons, straws, and napkins to keep cutlery safely separated.
It weighs 5 lbs. and is sturdy enough to hold up to twelve 9"-11" diameter ceramic plates. It is available in matte black, wicker, or rose gold to suit your special occasion or day-to-day needs.