Our Choice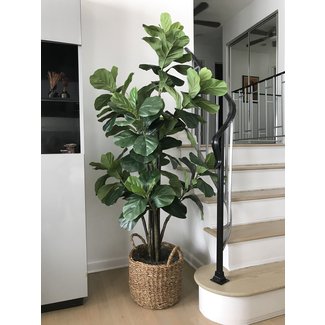 Fiddle Leaf Fig Tree with Basket
Evoke a slower-paced Mediterranean life with this stunning faux Fiddle leaf fig tree. Lifelike and lush with variegated leaves and a textured molded plastic trunk, this tree comes with a stylish contemporary basket pot to complete the look.
Best of all? You don't have to worry about placing it in a sunny window, and it's realistic leaves stay green without any watering and are easy to keep clean with a damp cloth. At 68" tall, this stylish accent piece is perfect for brightening up a foyer or a living room.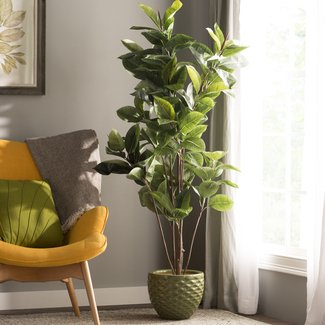 Rubber Foliage Tree in Pot
This tree will garner compliments for your green thumb without any indoor gardening upkeep! Luxuriant and hyper-realistic, this 60" tall faux rubberwood tree features natural wood branches and delicate greenery.
When it arrives at your door, fluff the branches for a natural look and arrange the leaves to fill out your space. Style with a textured ceramic pot or woven basket and use it to add a botanical touch to your office corner or place by your favorite reading spot.
Tall High End Realistic Silk Bamboo Tree in Basket
Create a peaceful Zen space in your home with this lifelike bamboo tree. With trunks crafted from real bamboo and vibrant silk leaves, this tree is perfect for decorating the corner of your family room or your foyer.
Very little shaping is necessary when this tree arrives at your door. True-to-life Spanish moss surrounds the base of the bamboo trunks and decorates the top of the woven basket pot to complete the look.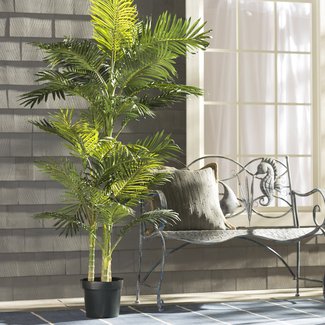 Brookings Floor Palm in Pot
Islands breezes and a beachy cocktail won't seem too far away with this realistic palm tree in your home. At 78" tall, 45" wide, and 40" deep, this tree is large enough to impress your guests but compact enough to be a versatile accent piece.
This tree features 333 vibrant palm leaves and is perfect for adorning that narrow bedroom corner or to place behind your sofa. Alternatively, place one on each side of a television display or fireplace for laid-back, coastal style.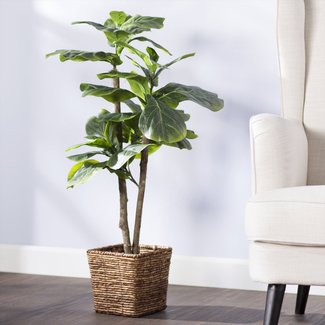 Foliage Tree in Basket
Tuscan charm meets modern practicality with this miniature fig tree. Striking, true-to-life plastic leaves are easy to clean and don't wither or fade.
This tree won't add to your list of plants to water, but it's perfect for adding a spot of color to your home library, decorating an office waiting room, or to make an impression on guests as they enter your home. Sturdy and durable, this tree fluffs up easily upon arrival at your door and will yield years of enjoyment.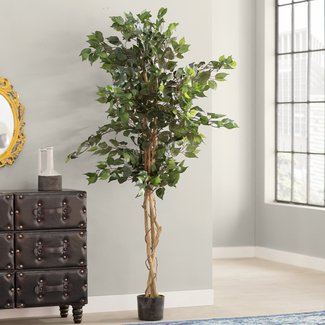 Ficus Silk Tree in Planter
Ideal for complementing a dresser or a long, leather sofa, this Ficus tree stays evergreen all year round, no matter the light conditions. Bring the best of the great outdoors inside with these realistic, sturdy leaves and graceful, twining trunks.
Available in six different sizes between 36" and 96" tall, you can choose exactly what you need for your space. Mix and match several tree sizes for lush, boho botanical décor or enjoy one tree on its own as a stylish accent.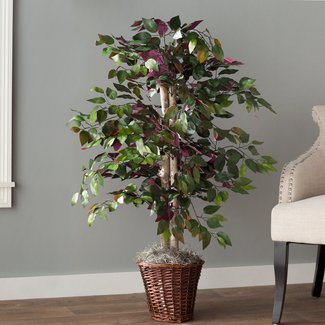 Oberham Capensia Tree in Basket
With realistic looks to charm even the most die-hard devotees of real indoor plants, this lifelike Capensia tree will win you countless compliments and enliven your living room for years to come. Dark green leaves shimmer with hues of burgundy woven throughout.
Pair with an antique mirror and a graceful, white ottoman for a stunning shabby chic corner display. Spanish moss and a basket pot complete this perfect botanical style accessory.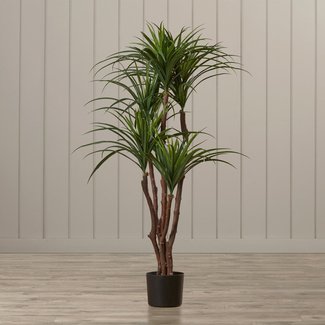 Tropical Yucca Tree in Pot
Take your coastal décor to the next level with this eye-catching yucca tree. Unlike its real-life cousin, this tropical tree doesn't need any water to remain lush and luxuriant. Weatherproof and UV-fade-resistant, this tree can thrive indoors or outdoors.
At 51" tall, this topiary tree is perfect on its own or paired with a twin. Arrange either side of your French window or next to your entertainment unit. Or add pizzazz to your patio area with a single tree in an oversized statement planter.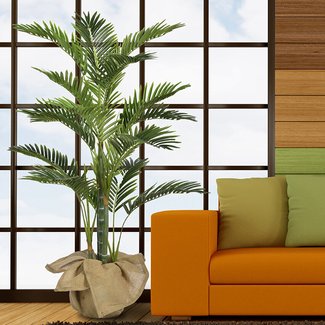 Palm Tree Plant
If you want to harmonize your indoor space with relaxed, outdoor vibes, this gorgeous, no-maintenance palm tree can help you create a tranquil space anywhere in your home. Cool, crisp leaves and slim trunks bring the perfect combination of balance and calm to your office or library.
Available in four different heights ranging from 48" to 72", you can find the perfect size for your décor needs to enjoy years of fuss-free greenery.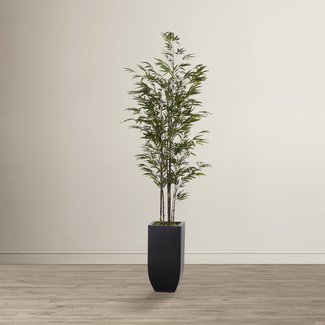 Artificial Bamboo Tree in Planter
A sophisticated square planter is paired with a graceful bamboo tree that will stay evergreen and lush regardless of the environment. Designed with meticulous attention to detail, this lifelike silk perennial features veins in its slender leaves and realistic variation in the trunk texture.
This realism lends a welcoming touch to a neglected office corner or that empty living room nook. Planter color options include dark copper and black, so you won't have trouble matching this botanical adornment with your current contemporary color palette.