Vinyl Flooring
Vinyl flooring is a highly durable, waterproof, and easy to clean flooring material that can be used in any space. Vinyl is also incredibly versatile. Available in different shapes, colors, and patterns, you can easily pick a design that compliments your décor and overall style at home. Whether you are looking for vinyl flooring designed to resemble elegant hardwood floors or floors that come with a delicate touch of marble, there are several design options in the market to go for. Vinyl floors are also relatively affordable and easier to install. Their excellent durability makes them an ideal fit even for high traffic areas.
Our choice Best vinyl flooring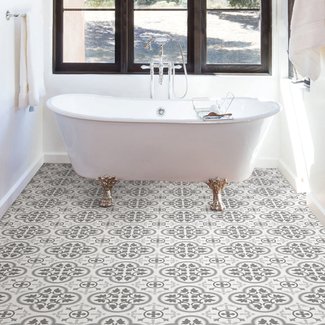 Remy 12" x 12" x 0.1mm Vinyl Tile
Brighten up dull and boring kitchen and bathroom floors with these easy to install peel and stick tiles. Featuring a gray-gothic style motif, it complements a crisp black or white background. The pack contains 10 pieces of 10 sheets that measure 12 x 12 inches. These timeless gray floor tiles do not require any grout or special tools so they can be quickly and easily installed while the low luster finish and permanent adhesive make them durable and long-lasting.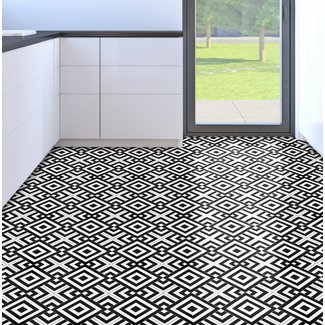 Retro Self Adhesive 12" x 12" x 1.5mm Vinyl Tile
Imitate hand-painted retro tiles but without the exorbitant cost and mess with these peel and stick vinyl floor tiles. Give any room inside your home an instant facelift with these beautifully designed black and white floor covering that compliments any living space inside a home. Create a brand-new look inside your living room, kitchen, or bedroom with these waterproof, retro self-adhesive vinyl floor tiles that are completely DIY.
Sienna 12" x 12" x 0.6 mm Tile Vinyl Tile
Lend a modern Bohemian flair to your floors with these beautiful Suzani patterned floor tiles. The peel and stick tiles are water-resistant and suitable for concrete, vinyl, and plywood subfloors. The gray, blue, navy and white colors effortlessly complement a crisp white background while the square shape makes it easy to lay down. Ideal for your kitchen, living room, or mudroom areas, these texted tiles bring a touch of elegance to your interior decor.
Kikko 12" x 12" x 1mm Vinyl Tile
Give the appearance of an intricately tiled floor with these geometrically designed floor tiles. The crisscrossing lines motif in gray and white add modern detail to any living space inside your home. The permanent adhesive makes these tile durable while they are easy to install since you do not require any special tools. The pack consists of 10 tiles, each measuring .06 inches in-depth and suitable for a range of sub-floor types.
Woodlands 6" x 36" x 2mm Luxury Vinyl Plank
Have you ever wanted to have beautiful reclaimed wooden floors, but without the cost and hassle? Then you are in luck. These easy to clean, durable, and easy to install tiles are ideal for the rustic homeowner. They are best suited to kitchens, bathrooms, basements, and any high moisture areas indoors. Cleaning them is a breeze thanks to the stain and scratch-resistant surface.
Nexus 12" x 12" x 1.2mm Vinyl Tile
Are you looking for a way to give your floors an instant pick me up but at an affordable price? Then look no further than this assortment of tiles. These vinyl tiles can be used in any room of the home with no glue or messy adhesives needed. Simply peel and stick each tile to a flat and dry surface so you can show it up to your friends in no time at all. The high gloss finish is low-maintenance, and the water-resistant properties make it safe to sweep, mop, and vacuum on a regular basis.
Triversa 18" x 48" x 8mm Luxury Vinyl Plank
The set of vinyl planks is the new generation of waterproof luxury. To ensure longevity, it contains a high-density core that is thick and strong. The 20-mil wear layer with urethane is a dream to clean while the natural cork base alleviates any hollow tap noise that can arise with laminate flooring. Thanks to the Smartlock click profiling, there's minimum preparation, and installation is quick and easy. If you're looking for a thick and quiet floor with waterproof capabilities, this highly rugged set is the one for you.
Nexus Self Adhesive 12" x 12" x 1mm Vinyl Tile
What better way to make your floors pop than with this set of black and white tiles? The checkered design gives the tiles a 3-D effect that will immediately draw the attention of anyone that walks into your home. With no messy glue or adhesive, it is easy to install, and the waterproof properties ensure that it is easy to maintain as well. Simply peel and stick them onto a flat and dry surface, and your floors are ready to show off to family and friends.
Anders 7" x 48" x 8.5mm Maple Luxury Vinyl Plank
These vinyl plank tiles are the epitome of elegance and luxury. Developed with homeowners in mind, they are 100% waterproof and tenacious under radiant heating. The easy click-lock installation ensures that you can get them laid down effortlessly while these WPC tiles have a smooth, embossed surface with beveled edges for an extravagant look and feel. Suitable for basements, bathrooms, kitchens, and garages, these luxury floor tiles in Caribbean sand color will become the focal point in any modern home.
Opus Click Lock 9.65" x 60.63" x 8mm Luxury Vinyl Plank
There's nothing easier than upgrading your floors than with these click-lock and affluent vinyl planks. They are reliable and contain a revolutionary technology that deters water and moisture. These practical tiles are also scratch-resistant and aesthetically appealing. The authentic finishes are complemented with a wood-plastic composite that makes it the conceptual alternative to hardwood. Lay them down in laundry rooms, bathrooms, and kitchens for a handsome and long-lasting floor.