Vanity Stools
Bathroom vanity stools are usually simple seats that allow the user to sit at the bathroom vanity or create a place other than the toilet seat for sitting down while toweling off or getting dressed. They can be simple, backless stools, or they can be more decorative. Usually, the style will be matched to the rest of the bathroom furnishings and fixtures. So, a bathroom with a seaside theme might have a rattan stool, while one that is more art nouveau might be a cushion supported by a gold-colored metal frame. Sturdy and water-resistant are preferred.
Our choice Best vanity stools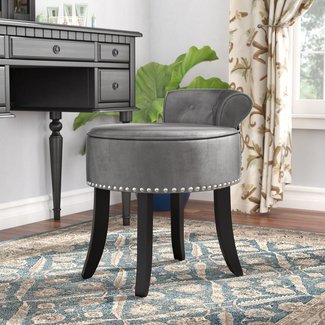 Emest Vanity Stool
Perch on this elegant stool while you enjoy your daily beauty regime. Its frame and legs are crafted from solid birch while studded trim and chic button tucks adorn the velvety, 100% linen upholstery. A low backrest provides sacral support, and the overall stool height of 18.5" means you can rest your feet comfortably on the floor, minimizing any back or knee strain. Available in ten colors, this affordable vanity stool can blend well with bohemian, shabby chic, and traditional bedroom décor.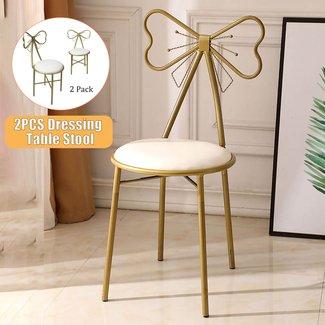 Bunceton Butterfly Backrest Vanity Stool
Whimsical and feminine, this butterfly-backed stool is built for the glamorous princesses. Combining quality construction with novel design, this gorgeous stool features high-density foam padding and a lacquered iron pipe frame. Stable, durable, and lightweight, this chair can be used inside or outside, and its slim frame makes for easy, compact storage. Create a butterfly garden reading nook or add a touch of playfulness to your teenage daughter's bedroom. Pair with a dark lacquered vanity and white shag rug to create a Hollywood regency dressing room worthy of a Golden Age starlet.

Nicarete Vanity Stool
A clean, minimal silhouette defines this vanity stool. Its sturdy, MDF frame and gracefully curved legs support a cushioned seat upholstered with faux leather. Available in white, black, and ebony, this is sure to become a staple in your beauty routine. The lightweight frame can support up to 266 lbs. due to the low 18" profile and wide-set legs. Sturdy and long-lasting, this budget-friendly stool brings upscale aesthetics to the modern boudoir.
Crebilly Wood Vanity Stool
A gently curved seat, linen upholstery, and slanting legs bring a nautical touch to your daily beauty and wellness routine. This vanity stool will look wonderful next to seashells, succulents, and your favorite natural beauty products. The wide concave seat forms to your body, and the high-density foam cushion offer long-lasting comfort. It's also available in two different frame colors, so it's easy to match your interior-design color palette. Pair a white stool with a natural fiber rug and coastal style vanity or try the dark-stained wood stool as a chic and comfortable piano stool.
Crofton Swivel Vanity Stool
Perfect for the glamorous beauty queen in your life, this swivel-top vanity stool is ideal for pivoting between hair and makeup stations and checking your angles in the mirror. Golden-colored metal trim and a diamond button tuft pattern accent luxurious, velvet upholstery. Compatible with shabby chic, bohemian, and traditional interior design styles, this opulent vanity stool complements your refined aesthetic. Use the plush stool to add glamor to a minimal vanity and pair with sprawling indoor plants to make the powder pink color pop. It also comes in white, black, blue, and gray.
Louella Vanity Stool
Evocative of Tuscan charm, this vanity stool features open scrollwork across the round backrest and a graceful slant to the chair's legs. The high-density foam makes the round, stain-resistant polyester cushion comfortable and long-lasting. While the sturdy metal frame and back provide durable support. With a seat height of 19.5" and an overall height of 33.25", this chair brings practical and romantic adornment to your daily beauty rituals. Ideal for home use but durable enough for use at beauty salons and hairdressers studios.
Galasso Vanity Stool
Whether you're prepping for a date night or getting ready for another day at the office, you'll appreciate this stool's perfect balance of comfort and style. A chrome-finished metal frame features backrest scrollwork inspired by the art deco era. Strong, graceful curves make for a sleek silhouette, and a white, foam-filled, polyester-upholstered cushion keeps you comfortable during even the most comprehensive beauty regimes. Pair with a French country style vanity to create a romantic makeup station or add a touch of whimsy to your home office with a chair that is the perfect height for your desk.
Scates Vanity Stool
Combining art deco and mid-century modern, this striking vanity stool features a geometric pattern of linked ellipses adorning the backrest. Tapering legs meet rounded feet for a firm, balanced base. Arched crossbars support the legs three-quarters of the way down their length, and the rounded-edge square cushion boasts charming, cream-colored upholstery. Available in a variety of metallic finishes, this chair coordinates well with both traditional and contemporary décor.
Stults Swivel Solid Wood Vanity Stool
Contemporary and sleek, this comfortable stool is the perfect companion to a traditional wood vanity or a low desk. It's also an excellent way to accent your living room and provide extra guest seating. A solid, cherry-finish wooden frame with an X-base supports a swivel-top seat. Topped with a beige, microsuede-upholstered cushion, this 23" tall vanity stool slides beneath a vanity counter or desk for easy, out-of-the-way storage.
Treport Vanity Stool
Charming with antique-style features, this vanity stool is inspired by classic European interior design. Perfect for shabby chic and bohemian décor, the four wooden legs feature ornate woodwork while the distressed cream finish complements the ivory tweed chenille upholstery. At 18" tall, this plush cushioned vanity stool is perfect next to your antique vanity counter and works as accent seating in coastal and nautical style living rooms.