Travel Duffels
Travel duffels are an excellent choice for overnighters or for those who like to travel light. The oblong shape makes it easy to fit into an overhead airplane compartment, or even under a seat. They are perfect for hauling equipment to the gym or keeping in the trunk of a vehicle to use in an emergency. As long as the contents are not breakable and don't need to arrive at the destination wrinkle free and ready to wear, a duffel is an excellent choice. It can be used to carry a bed roll. When stuffed with clothing, can double as a pillow.
Our choice Best Travel Duffels
Stand Alone 35" 2 Wheeled Travel Duffel
Made from a polyurethane stabilized frame system and water-resistant nylon material, this duffel bag is the ultimate travel companion. Containing a heavy-duty telescope handle and gripped webbing handle, you can effortlessly carry this back around as the rollerblade skates ball-bearing wheels allow it to glide with you. It contains one main compartment and four side pockets for additional storage space.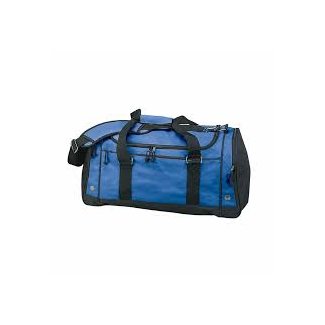 26" Deluxe Sports Travel Duffel
Looking for the ultimate weekend bag? Well, you've just found it. This sports travel duffel is ideal for athletes and individuals planning a weekend away. With a spacious main compartment and additional side zippered compartments, this sports duffel provides all the space that you need to pack everything you want. The shoulder strap is detachable for when you want to carry the bag in your hands and the "Red Bull" logo is printed on the side of the bag.
Classic Sports Valise 18" Travel Duffel
Carrying around a sports bag has never looked so good. This lightweight and top-grain cowhide sports bag qualifies as carry-on luggage on an airplane and contains double zippered opening across the top for easy access to stuff you need most frequently. The bag contains antique brass finishing which gives it a touch of opulence while the four zippered compartments are wet-lined and provide additional space for throwing in last-minute items. The shoulder strap is adjustable and comfortable while the entire bag is constructed of durable leather, ensuring it lasts for years to come.
19" Travel Duffel
This travel duffel bag easily combines style and functionality in one practical and trendy travel duffel. It contains a main compartment to store most of your items while the front zippered pocket is ideal for storing items that you need to reach in a hurry. The polyester material is also resistant and durable, while the bag contains a detachable shoulder strap for when you need to carry your bag around on your hand.
Canvas 21" Travel Duffel
This café leather accented bag is so much more than just an overnight duffel. It's large enough to allow you to travel with clothes and your toiletries bag in the main body while the carry handles are doubled and padded for extra support. The detachable shoulder strap allows you to carry the bags in your hand or throw it over your shoulder while on the move. The leather flap over the top contains a hidden snap closure, and it comes fully equipped with a luggage tag. That rubber feet at the bottom of the bag protects it from wear and tear, making this bag elegant and functional.
Paws 22" Travel Duffel
Make a statement with this one-of-a-kind travel duffel. With its cute and adorable paw motif and spacious main compartment, this lightweight luggage is ideal for jet setters or a nearby weekend excursion to your favorite venue. The on-trend and fashion-forward design make it a suitable choice for dance teams, cheer squads and individuals who love animals. Containing two zippered pockets and two side pockets, you'll have all the space you need to bring your gadgets and trinkets. The silver pewter hardware adds a touch of elegance, while the 600 D polyester material makes it rugged and robust.
18" Travel Duffel Digital Camo Overnighter
Are you planning a weekend away or an overnight trip? Then this tenacious travel bag is exactly what you need. The double exterior makes the bag versatile, while the roomy interior gives you all the space you need to pack all your favorite things. The digital camo motif gives this bag a futuristic yet stylish appearance while the water-resistant nylon underlining protects your bag from accidental spills. These bags can be used by children ages three and up or by discerning adults too. The detachable shoulder strap means that you can carry it in your hand as and when you need.
Piana 18" Travel Duffel with Leather Trim
If you're planning a long weekend away, then this handmade in Tuscany tote bag is the ideal travel companion. Impressive and stylish, the bag features brown Italian leather trim and is made from premium quality materials. This elegant bag looks a whole lot tougher than it really is thanks to the double-stitched seams and reinforced handles. The wide opening at the top makes packing and unpacking items easy and effortless. Lined with cotton and denim, the interior is strong enough to hold a large amount of items.
Crossover 20" Travel Duffel
Whether you are heading off to the gym or staying over at a friends place, this large bag with spacious compartments is convenient enough to take all your essentials. The spacious main compartment has a U-shaped zipper opening and zippered inside compartments and front pockets provide additional space to organize your belongings and keep them exactly where you can find them. The padded shoulder straps make carrying the bag effortless even when it's heavy while the polyester material ensures durability and longevity.
Carina 18" Travel Duffel
This travel duffel combines elegance and functionality in one convenient weekend bag. The exterior canvas material gives the bag a sophisticated look while the nylon lining on the inside ensures your bag is protected from spills. While it may not be as large as other travel duffels, it's big enough to take your most essential items and toiletry bags along in style. The antique brass finishes further accentuate this travel bag oozes with charm.