Toilet Paper Holders
The toilet paper is the most important bathroom supply and getting the best toilet paper holders to keep it accessible is always recommended. The holders can also be an incredible accent piece for your bathroom. There are two major categories of toilet paper holders out there. While wall-mounted holders are often the most popular choices for homeowners, you can also choose free standing toilet paper holders if you don't mind eating up a little extra floor space in the bathroom. Toilet paper holders are designed to match up to any bathroom décor scheme too and should offer great value for money.
Our choice Best Toilet Paper Holders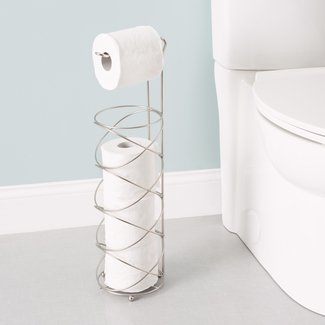 Alfonsina Free Standing Swirl Toilet Paper Holder
Add a modern feel to your bathroom with this free-standing toilet paper holder. Its interesting yet simple design complements contemporary decor, adding a touch of elegance which makes it the perfect bathroom addition.
With its stainless steel frame, this toilet paper holder is rust-resistant, easy to reach, and can hold up to 3 rolls to make sure you never run out of toilet paper. Pair this with a gray basket to give your bathroom an understated elegance.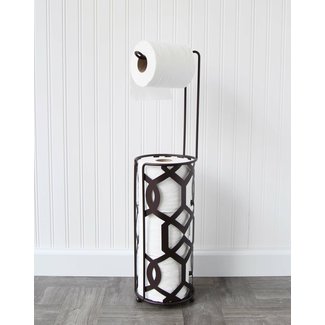 Beekman Reserve Freestanding Toilet Paper Holder
This free-standing toilet paper holder is both practical and functional, allowing you to store up to 4 rolls while it fits perfectly in small spaces. It's sturdy, has an elegant oil rubbed bronze finish that blends well with different bathroom decor, and gives the room a classy look.
Pair this toilet paper holder with an oil rubbed bronze fixture, shower caddy, and toilet brush to create a harmonious and classy scene.
Free Standing Toilet Paper Holder
Available in copper, dark bronze, and silver, you can easily match this toilet paper holder with your bathroom fixtures for a modern and classic space.
This steel free-standing toilet paper holder features a top shelf to hold your phone or other essentials such as hand sanitizer and cleansing wipes while being spacious enough to hold 2 additional rolls. This is the perfect bathroom addition for tight spaces where storage is limited.
Freestanding Toilet Paper Holder with Storage And Drawer
If you're looking for a toilet paper holder that doesn't tip over when being used, this wooden toilet paper holder is a great solution. Simple yet modern, it has natural textures, making it a unique addition to both traditional and contemporary bathrooms.
This toilet paper stand can store 2 or more rolls, offers an easy way to grab a roll, and can be used to store magazines and phones. Match its color with your bathroom cabinets for a cozy bathroom.
Freestanding Toilet Paper Holder
Its minimal and practical design makes this toilet paper holder an ideal choice for those who like simple yet sophisticated decors. This elegant free-standing toilet paper holder adds a classic touch to modern and transitional bathrooms, is made of high-quality metal, and has a circular and sturdy base to ensure it doesn't tip over when being used.
Coordinate with a matching towel ring or bar for a modern bathroom with a Victorian style.
Portaloo Freestanding Toilet Paper Stand
Complement your contemporary decor with this versatile and modern free-standing toilet paper stand with a built-in tray for personal items.
The toilet paper holder stores 3 rolls, remains stable when being used, is easy to move around, and compact in size which is ideal for smaller bathrooms. Its white matte body goes well with any color palette and decor. Pair this toilet paper holder with a house plant in a small white pot for a relaxed look.
Double Roll Stainless Steel Wall Mount Toilet Paper Holder with Phone Shelf
With a minimalistic style and innovative design, this wall mount toilet paper holder with double rolls is the perfect addition if you want a chic and simple contemporary bathroom. Its top shelf is ideal for storing your phone, wet wipes, and other personal belongings.
The brush steel body ensures that the toilet paper holder remains sturdy while providing a sleek touch to your space. Place a stylish air freshener on the top shelf for a fresh and elegant decor.
Espana Wall Mounted Toilet Paper Holder
Take your bathroom's decor to the next level with this charming wall mounted toilet paper holder. Its bronze finish adds a touch of industrial and fits a wide variety of settings, including modern, shabby chic, and farmhouse.
Crafted from steel, this toilet paper holder has a hook to keep the roll in place and a wire shelf for storing wet wipes and other bathroom accessories. Pair with a wooden shelf with bronze frames for a sophisticated setting.
Wire Towel Bar Farmhouse Wall mount Toilet Paper Holder
This wire wall mount toilet paper holder along with its storage basket is perfect for storing your toilet paper and bathroom essentials in style. Its rustic design suits modern farmhouse decor and provides enough space to store an extra roll without taking a lot of space on the wall.
This toilet paper can also look good in contemporary bathrooms, adding a vintage charm to your modern space. Place a small potted plant in the basket to create a homey atmosphere.
Bathroom Wall Mount Toilet Paper Holder
Simple yet fancy, this wall mount paper holder comes in brushed nickel, black, polished chrome, and brushed gold. You can easily match it with your faucet and cabinet pulls for a well put theme.
Made of stainless steel, this toilet paper holder is durable, rustproof, scratch-resistant, and has a modern cylindrical design to prevent the roll from dropping. You can now easily change your toilet paper with its practical structure.