Tabletop Fireplaces
You can spruce up your patio, front porch, or even backyard with the amazing selection of quality tabletop fireplaces. Tabletop fireplaces are usually smaller and more compact than traditional ones. However, they are powerful enough to release soothing flames that will keep you and your family warm during chilly nights. These fireplaces also have incredible decorative value. They can be used as the perfect anchor for your overall patio décor. The fireplaces are available in many different designs, styles, and sizes. They are a must-have for any homeowner looking to enhance his or her outdoor living experience.
Our choice Best Tabletop Fireplaces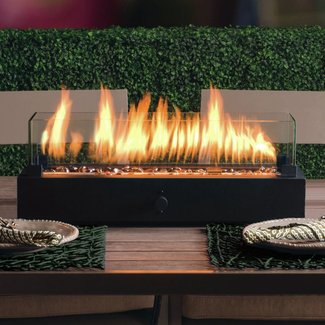 Lara Steel Propane Tabletop Fireplace
Crafted from stainless steel for exceptional durability, this tabletop fireplace can be used to create a truly heartwarming ambience in your garden.
Specifically manufactured for outdoor use, the appliance features a fireplace, hoses and adapters.
The fireplace which relies on propane, also possesses an output of 33,000 BTUs.
Add a touch of sophistication and glamour to your gatherings at night with its burnished bronze appeal which will perfectly complement traditional or rustic design themes.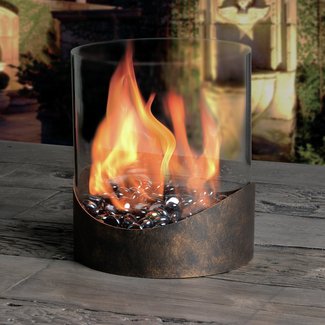 Roxbury Steel Propane Tabletop Fireplace
Especially designed for wooden tables, this tabletop fireplace in bronze and glass features decorative pebbles for a natural touch.
In addition to having been manufactured from stainless steel for improved durability, the appliance has also been distressed to enhance its classical appeal.
Take advantage of its compact geometrical design to create an intimate, cozy ambience on your patio.
Circum Ventless Bio-Ethanol Tabletop Fireplace
Consisting of a polished base of stainless steel and a clear glass flame guard, this cylindrical tabletop fireplace is ideal for illuminating and warming compact spaces.
In addition to possessing a capacity of half a liter, duration of two hours and an output of 2,000 BTUs, this appliance also relies on bio-ethanol.
Make use of its understated elegance to enliven a modern outdoor table setting in pristine white to create a magical atmosphere.
Craddock Bio-Ethanol Tabletop Fireplace
The very image of sleek sophistication, this oval table top fireplace with a gleaming stainless steel base and a glass flame guard is ideal for elevating a contemporary or modern space.
The appliance which has been designed for indoor use not only relies on bio-ethanol, but also possesses an output of 8,000 BTUs and an ability to warm an area of 375 square feet.
Place on a coffee table in a lounge decorated with the perfect balance of light and dark colors and accent pieces.
Mika Ventless Bio-Ethanol Tabletop Fireplace
A flame-shaped form in pristine black grants this fireplace a unique shape which will instantly add a personal touch to a minimalist space.
The ceramic appliance relies on bio-ethanol and will provide illumination and warmth without any smoke, soot or ash.
It is also especially versatile and in addition to being both portable and ventless, is suitable for indoor and outdoor use.
Set on an accent table with a gleaming finish accessorized with potted floor plants to create a truly enchanting effect.
Bruno Ventless Portable Bio Ethanol Tabletop Fireplace
Featuring a square dark base and a flame guard in an asymmetrical grid design, this miniature tabletop fireplace is ideal for compact spaces.
The stainless steel appliance which is capable of burning for a maximum of two or three hours, also relies on bio-ethanol. As a result, it will provide light and heat without any smoke, soot or lingering odors.
Place on a wooden table against a backdrop in white or red brick decorated with ivy, to create a magical rustic ambience.
Sag Harbor Teak Gel Tabletop Fireplace
Brought to you in polished teak and gleaming stainless steel, this fireplace will elevate your surroundings, bestowing them with a sophisticated, natural allure.
Possessing an output of 3,000 BTUs, this appliance which is suitable for outdoor use, also relies on gel fuel. Hence, it will illuminate your patio or garden without giving off any ash, soot or smoke.
Take advantage of its natural allure to bring your modern or traditional garden alive with a welcoming night time glow.
Cox Gel Tabletop Fireplace
A gleaming, silvery facade and a geometric outline instantly set this tabletop fireplace apart and will make it fit right in within a modern or minimalist setting.
Manufactured from stainless steel with an output of 8,000 BTUs, it also features a grooved surface for additional decorative options.
It also relies on gel making it an excellent choice for providing heat and light indoors and is also light and portable.
Use to complement a dining room decorated in dark colors with silvery accent tones to create a harmonious balance of light and dark hues.
Heathcote Botanical Gel Fuel Tabletop Fireplace
An especially innovative foliage-inspired design makes this bronze-hued tabletop fireplace suitable for a particularly luxurious Hollywood Regency-themed setting.
Manufactured from aluminum, this appliance comes with a fuel capacity of 13 oz and an output of 3,000 BTUs.
It is also especially corrosion resistant and versatile and is suitable for both indoor and outdoor use.

Take advantage of its ability to burn without releasing any soot or toxicity to light the favorite parts of your home.
Harbor Ventless Bio-Ethanol Tabletop Fireplace
Clear bold lines, an eclectic design and boldly contrasting colors mean this tabletop fireplace will instantly stand out in any modern setting.
Manufactured from glass and stainless steel, this appliance which possesses a capacity of 0.4 liters relies on bio-ethanol, comes with an output of 2,000 BTUs and is capable of burning for duration of two hours.
Its pristine glow can be used to enhance the uncluttered appeal of an ultra-modern theme by adding illumination to its spacious allure.