Speaker Stands
Speaker stands are perfectly suited to help you organize your sound system at home. The stands can be paired with normal TV stands for the best look. Designed to hold a wide range of speakers, these handy pieces offer innovative cable management and come with stylish designs that will help update your entire living room. However, certain stands are specially designed for certain types of speakers. The size of your stand also matters. You want to pick a stand that can safely hold your speaker and leave enough room to ensure it doesn't fall over.
Our choice Best Speaker Stands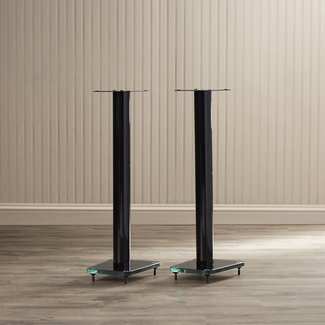 32" Fixed Height Speaker Stand (Set of 2)
Unobtrusive fixed height black speaker stands, 32 inches tall, are perfect for supporting speakers of most sizes. They have built-in wire systems, and are made of tempered glass and steel. The square base has adjustable feet to quickly compensate for uneven floors. They are sold as a pair, some assembly required. Whether you are decorating your living room or setting up a show, they can support your speakers with style.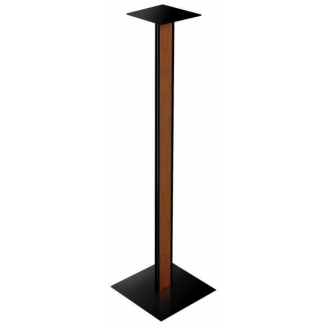 30" Fixed Height Speaker Stand (Set of 2)
Neutral finishes of dark oak, steel, and tempered glass make this 30-inch fixed height speaker set of two uniquely elegant. The dark tones of the design will not attract undue attention, yet will make a quiet statement while holding up your speakers. Hook and loop fastener strips are used to keep wires in place. Thirty-day return policy, some assembly, and setup required before the stands are fully useable.
24" Speaker Stand (Set of 2)
Twenty-four-inch black speaker stands, constructed out of steel, will do a great job holding up your speakers. The glossy black and tempered glass finish will do justice to even your most sophisticated speakers. The lower pedestal will go well with some credenzas or set-ups. Sturdy, yet economical, these stands are the kind of furnishing you can count on. Whether you are furnishing a home or making a place for performance speakers, these stands will do the job.
Adjustable Height Speaker Stands (Set of 2)
Sometimes you don't need a large stand. Some sets of speakers are rather small, and could easily be knocked off a big stand. These adjustable height, slender pole speaker stands can securely hold up your smaller speakers, giving you the ability to adjust them to the best height. The tempered glass base of each stand makes an attractive statement. Excellent for places where chunky stands would consume too much space.
Black 36 Fixed Height Speaker Stands
Black 36-inch fixed height pair of speaker stands to stylishly hold up your carefully selected speakers. Different kinds of feet are available. Rubber pads can be used to protect tile, wood or vinyl flooring, while carpet spikes can lend stability in carpeted areas. Set includes brass speaker studs and isolation pads for better sound quality. Stylish and functional, perfect for spare decorating themes these speakers do their job without intruding.
24 Fixed Height Speaker Stand (Set of 2)
Black fixed-height speaker stands, sold as a pair. Twenty-four inches tall, these hardwood speaker stands will do an excellent job of holding your speakers. The top plates measure 7.5 inches by 7.5 inches. They have brass studs and neoprene pads to act as resonance dampeners and to improve sound quality. It also has wire management channels to control and protect wires. Overall, both practical and attractive units for your speakers.
Desktop Fixed Height Speaker Stand
Enjoy quality sound your way with desktop speaker stands that tilt your speakers so that the sound is pointed toward your ears. In addition, the speaker stands have padding that reduces vibration when you have your speakers turned up while you are grooving with your favorites. The minimalist design is structured to be functional without adding a larger footprint to your speakers. Stands can be bolted in place for added security.
Satellite Adjustable Height Speaker Stand
Make the most of small to medium-sized speakers by placing them at ear level. Adjustable height, ear level speaker stands can support up to 9.9 pounds. This makes them ideal for use with surround-sound speakers that need to be positioned at intervals around the room. Unlike many speaker stands, these are sold individually, rather than as pairs. They are spare in design and take up little room wherever they are set up.
Glass and Aluminum Bookshelf 23" Fixed Height Speaker Stand
Modern bookshelf speaker stands made of glass and aluminum create a striking accent in any room. The glass top minimizes vibration and is supported by an aluminum column that hides the wiring. Rubber decoupling feet beneath the stand lend stability and further reduce vibration, increasing the quality of sound. For carpeted rooms, floor spikes can be substituted for the decoupling feet. The unit weighs 22 pounds, making it substantially lighter than comparable steel units.
Steel 30" Fixed Height Speaker Stand (Set of 2)
Pair of steel fixed-height speaker stands, 30 inches in height. They have a load-bearing capacity of 25 pounds each and are perfect for teaming up with your big screen TV and your favorite sound-enhancing speakers. The wide feet and rubber stabilizers help prevent toppling and unwanted vibration. The glossy, black finish and simplistic, elegant design makes these speaker stands a classy addition to any décor. In addition, they are easy to set up, requiring little mechanical skill.