Space Heaters
Space heaters are designed to give you extra heating if and when you need it. It doesn't even have to be a cold winter. Sometimes it can be an unusually chilly morning or a sudden drop in temperature during fall. When that happens, you can always count on your space heaters to keep your home warm and comfortable for you and your family. The variety of space heaters available in the market is incredible. From stylish designs that add excellent decor value to your living rooms to minimalist units with high BTU to get the job done, there's always something for everyone.
Our choice Best Space Heaters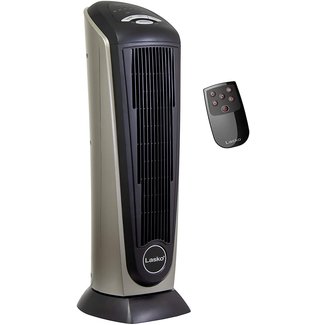 Ceramic 1,500 Watt Portable Electric Tower Heater with Remote Control
Add targeted warmth to your space with this electrical tower space heater. Fan forced air will circulate warm air throughout the entire room. Auto-shutoff feature automatically switches off in case of overheating, while the cool-to-touch ceramic eliminates the risk of burn injuries to guarantee your safety. Digital adjustable thermostat regulates heat flow to maintain desired temperatures. It is advisable to plug the unit directly into a 120V wall electric outlet.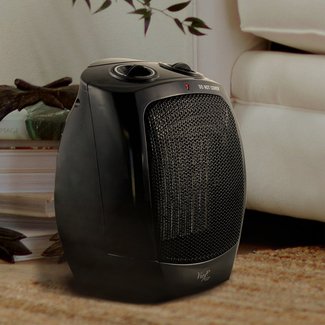 Portable 2 Settings Ceramic Office 1,500 Watt Electric Fan Compact Heater with Adjustable Thermostat
Get cozy this coming winter with this 120V electric heater in an all-black finish. Convectional heating is energy efficient and creates overall warmth in your interior, whereas the ceramic heaters are generally safe to use and last long. The internal fan helps further circulate warm air around the room to keep the chilly air at bay. Ideal for small spaces as it takes up little floor space.
1,500 Watt Electric Infrared Cabinet Heater
Crafted from manufactured wood, this stunning cabinet heater bestows style and charm to any space. Four wheels make transportation a breeze, whereas remote control enables you adjust settings from anywhere in the room. At 1,500 watts, it can efficiently heat a 300 square feet in two hours. 72" cord length allows it to be easily placed and moved within the room. Keep combustible materials 3 feet away from the front, sides, and rear to avert burning.
1,500 Watt Electric Radiant Ceiling Mounted Heater
A huge advantage of this space heater is it comes fully assembled with only installation required. Dual quartz bulb heaters offer focused warmth to specific objects, but overtime warms up the entire room. It is ceiling/wall-mounted to help conserve valuable floor space. The bright halogen light provides illumination, especially in garages or storage rooms, with the bladeless design guaranteeing whisper-quiet operation. It's recommended to be used in both residential and non-residential indoor spaces.
Electric Fan Utility Heater
Warm-up a cold room with this sturdy electric heater. Comes in two electrical power of 1,500 and 3,000 kilowatts. The 1,500kilowatts heats 165sq ft room per hour and is suitable for residential use only, with the 3,000kilowatts heating 320sq ft per hour and ideal for both residential and non-residential use. Easy to locate and use knob controls are convenient. Durable stainless-steel coil heater puts out decent amount of heat and warrants longevity. For indoor use only.
Deluxe 1,000 Watts Electric Infrared Wall Mounted Heater
Stylishly heat your room with this weather-resistant electric heater. It has two power modes; the red leaf, which consumes the entire 1,000kilowatts, and the green leaf utilizing 500kilowatts. Quartz heater temperature ranges between 40°F and 99°F. Convectional technology heats up surrounding air to ensure overall warmth within the entire room. Removable and washable air filter purifies the air, inhibiting circulation of dust-filled air. Can be used in humid bathrooms as it is weather- resistant.
5,000 Watt Electric Fan Ceiling Mounted Heater
Make your home feel comfortable with this 1500 watts ceiling-mounted heater. The three temperature settings of fan, high heat, and low heat let you fine-tune the temperature to fit your desires. Ribbon coil heater warms up to 2,000 square feet in one hour. The tip-over switch automatically shuts down in case of accidental knocking, perfect for households with playful children and pets. Recommended to use a 208-240V 60Hz 1-Phase hardwired connection for the fuse.
1,500 Watt Electric Infrared Cabinet Heater with Digital Thermostat
Stay warm during the chilly winters thanks to this stunning 15" H electric space heater. Internal fan disperses warm air around the room, whereas optional casters allow for easy mobility. Its sleek, modern silhouette adds flair, with LED thermostat display amping up the ambiance. Consumes 1,500 watts and heats a 1,000 square room per hour, perfect for medium-large rooms. An Eco setting reduces power consumption to 750 watts to conserve energy. Do not use this heater outdoors.
1,500 Watt Oil-Filled Radiator Space Heater
Keep toasty and comfortable with this 26" electric space heater. The oil/water-filled heating elements are energy efficient, don't dry out air, and are 100% safe to use as it's a closed system. Safety overheat protection turns off when internal components reach an unsafe temperature, while tip-over switch shuts it down when toppled, eliminating fire risks. 1,500 watts heat a 300 square feet room in two hours. Use with a two-prong US plug.
Personal 1500 Watt Electric Fan Utility Heater
Increase warmness in rooms with this 120V bladeless electric space heater. Four-position rotary switch is clearly labeled for simplified operation. Easy to grip carry handle and its 3lb light weight permits effortless transportation between rooms. Durable gray metal housing stays cool during use to reduce burn accidents. Two heat settings of low and high heat offer varying choices to meet different temperature needs. Recommended to use in residential spaces.