Sofa Slipcovers
Is your favorite sofa looking a little dated or old? Well, no need to buy a new one because with quality sofa slipcovers, you can give your furniture an updated new look without having to spend a lot of money. Sofa slipcovers are designed in many different styles to meet the construction and shapes of a wide variety of sofas. These covers will also add another durable layer of protection to your sofa. They will slow down the sofa's aging process and protect it from everyday stains as well. Although the covers come in many different sizes, it's always advisable to pick something that fits perfectly with your specific sofa.
Our choice Best Sofa Slipcovers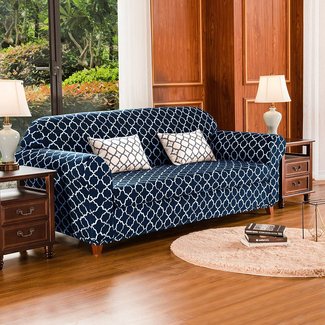 Cloud Printed Box Cushion Sofa Slipcover
Elevate the style of your living room and protect your sofa with this cloud print sofa slipcover. The two-piece design allows you to cover the frame and sofa cushion separately to eliminate bunching and provides the appearance of real upholstery. The polyester-spandex blend fabric fits snuggly around sofas up to 47-inches and doesn't wrinkle or fade. The contemporary pattern and neutral print blend seamlessly into a wide variety of décors, and you can make your living room pop by styling the cover with bold throw cushions and a high pile rug.

Dlerfeut Box Cushion Sofa Slipcover
Give your sofa a new lease on life with a box sofa slipcover. Made from soft brushed stretch fabric with a modern Jacquard texture, this cover offers you the best in style and comfort. Able to fit a variety of sofa styles from T-cushions, Lawson sofas, and rolled-arm designs, this cover protects your sofa from stains, pet hair, and scuffing, as well as offering a way to rejuvenate old sofas instantly. Available in a variety of stunning colors, you can transform the look of your living room to suit your mood.

Solid Stretch T-Cushion Sofa Slipcover
Improve the longevity of your sofa with a stretch slipcover. Ideal for homes with children and pets, this sofa cover is machine washable and stain-resistant. The strapless design features a tough elasticized bottom to keep the cover in place, providing 360-degree protection for your sofa. The cover comes in a range of vibrant solid colors perfect for pairing with a statement accent chair or bold patterned rug.

Box Cushion Sofa Slipcover
The reversible design allows you to change the look of your living room with ease, and the soft quilted texture gives you the most comfortable seat in the house. The cover is attached with elastic straps to prevent sliding but can be easily removed, and machine washed when necessary. It is designed to fit a wide variety of sofas up to 90-inches wide, this cover is an affordable way to reduce wear and tear on your sofa.
Ruffle Skirt Country Style Box Cushion Sofa Slipcover
For a charming way to inject some farmhouse style into your living area, try this ruffled sofa slipcover. The elegant lotus-style skirt protects the legs of your sofa from scratches and dents and minimizes dust build-up under your furniture. Stretch seersucker fabric covers the frame and cushions of your sofa to add texture to your living space with elastic edges to prevent the slipcover from untucking. Style the cover with throw pillows in a contrasting color and metallic accent pieces to create a luxurious and inviting living space.

Box Cushion Sofa Slipcover
Give your living area a well-kept appearance with the clean lines of this skirted slipcover. Made from 100% cotton twill that is heavy-duty and breathable, this machine washable cover is made to stand up to the stresses of everyday life, making it ideal for families with small children and pets. The stylish striped pattern blends perfectly with coastal and nautical home décor but looks equally chic in transitional and country style living rooms. Pair with a jute or leather ottoman, and solid-colored throw pillows to create a cohesive look.

Microsuede Box Cushion Sofa Slipcover
Quilted for comfort and available in a wide variety of bold colors, this microsuede sofa slipcover is stain resistant. It features 5-inch tuck drops to prevent it from sliding while you relax. It is ideal for pets as the thick texture of the fabric prevents damage to sofas from claws, and the machine-washable fabric makes pet hair removal a breeze. The simple textured fabric makes it suitable for all types of décor, but the non-skirted design showcases sofa legs making it the perfect choice for mid-century modern and antique sofas.

Cotton Duck T-Cushion Sofa Slipcover
Extend the life of your sofa with this soft cotton sofa slipcover. Hardwearing cotton duck fabric is ideally suited to heavy use areas such as living rooms and dens. With adjustable ties and form-fitting design, this cover is easy to install and is suitable for T-cushion sofas up to 88-inches long. Match the neutral fabric color with a vibrant print throw rug or textured pillows.

Flower Printed Stretch Box Cushion Sofa Slipcover
For an instant style update for your home, cover your sofa with this elegant floral print slipcover. The stretch fabric cover comes in a 2-piece design allowing you to protect the frame and cushion separately and create a seamless look that won't shift when you sit. The cover can be removed easily, and machine washed for effortless upkeep and is created to resist wear and wrinkles to keep your living areas immaculately styled.
Cotton Duck Box Cushion Sofa Slipcover
Protect your sofa and keep your living area well-styled with this box sofa slipcover. Specifically designed to fit box sofas up to 88-inches, this cover slips easily over the sofa frame and secures at the corners using heavy-duty fabric ties. Suitable for covering rolled and track arms, the cotton duck fabric features a thick weave that disguises the upholstery fabric underneath to transform the look of your space, whether it is your den, man cave, or recreation room.