Smoking Urns & Ashtrays
Although smoking isn't as prevalent a habit as it once was, your home, building or grounds will remain cleaner if the smokers in your life are provided with smoking urns & ashtrays as an appropriate place for ashes and cigarette butts. Urns are handy for out-of-door smokers, providing a fire-safe disposal location for recent smokes. Picnic areas and similar locations can benefit from table-top ashtrays. For non-smoking households and locations, urns and ashtrays can often be repurposed for other uses. For example, a clean, unused ashtray makes a good place to put keys and other small items.
Our choice Best Smoking Urns & Ashtrays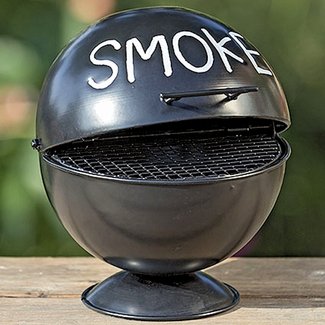 Grill Head Smoke Ashtray
If you are planning to host a party at home, make sure to have this smoke ashtray close by. It is a cute little ashtray that looks like a tabletop barbecue. It even comes with an inside grill and a hinged lid too. Don't let your guests who smoke ruin your floors. Get them this nifty ashtray to catch the ashes in an elegant style. It's a cute and functional addition to your porch as well.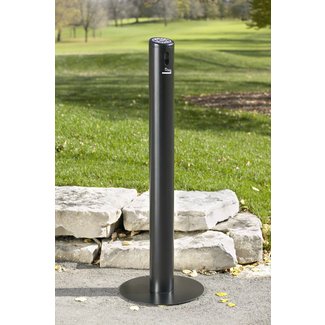 Smokers' Outpost Smoke Stand Cigarette Receptacle
This smoke stand ashtray is the perfect cigarette receptacle to help you keep cigarette litter away from view and maintain your smoking zone or entrance clean and neat at all times. It's a compact streamlined smoke stand that adds a touch of class to your home or workplace's décor. The smoke stand comes with oxygen-restricting technology that instantly extinguishes cigarettes without the need for sand. It's also fireproof and made of aluminum with a powder-coated finish.
Smokers' Outpost Seated Cigarette Receptacle
This is a beige-colored cigarette receptacle for your patio, entrance, area, or smoking zone at our workplace. It has a neat compact and perfectly streamlined design. It has a low height which makes it a good option for use in seated areas such as the patio, deck, and porch. The cigarette ash urn comes with oxygen-restricting extinguishing technology that instantly extinguishes cigarettes without the need for sand. It's perfect for table or bench use.
Leafview Cigarette Receptacle
This is another cigarette ash urn designed to keep cigarette butts out of sight and maintain your smoking break zone and entrance clean at all times. It has a compact space-saving streamlined design suitable for wall placement. The smoking urn has an oxygen-restricting design that puts out cigarettes without the use of sand. It's made for outdoor use too. It's the perfect cigarette litter and ash solution for homes and offices.
Butts Ashtray
If you are looking for a perfect solution to cigarette ash at home, this stylish ashtray is a great option. It makes a great porch accessory and can be used for other purposes as well such as trinket and coin holder. It makes a perfect birthday gift for a friend or adult family member. It's made of ceramic with a black outdoor vinyl finish that ensures that the ashtray will last for many years whether used indoors or outdoors.
Patio Smokers' Outpost Cigarette Receptacle
Here's another compact and streamlined cigarette ash receptacle to help you keep your entrance and smoking areas clean and tidy. It has a removable table top which makes it ideal for use in outdoor areas such as your patio, deck, pool area, and porch. It also features an oxygen-restricting extinguishing mechanism which helps to extinguish cigarettes fast without the need for sand or water. It also comes with a 5-quart galvanized pail to collect cigarette litter.
Smokers' Outpost Cigarette Receptacle
Are you looking for a highly-durable and sturdy cigarette ash urn for both commercial and residential use? Look no further than this beautifully designed cigarette receptacle that combines function with style. It has a clean sleek design that enhances and complements your facility's décor. You won't need sand or water with this ash urn because it comes with oxygen-restricting technology for extinguishing cigarettes fast. It also features a large 16-quart pail to collect and empty litter.
Cylinder Trash Bin Smoking Urn with Metal Ashtray Top
This is an elegant looking smoking urn that comes with a metal ashtray top and an iron barrel to collect and empty ash and cigarette butts. It's made of stainless steel with a sleek chrome finish to ensure that it's both weatherproof and rust-resistant. This smoking urn is ideal for smoking zones in public places such as hotels, theatres, museums, airports, and casinos. Its trash bin can hold up to 12 gallons and is also weatherproof.
Smokers' Outpost® Cigarette Receptacle
This is a wall or column mounted space-saving smoking urn designed to maintain your entrance or smoking zone area clean at all times. It has a stylish design to match your décor. The cigarette receptacle also comes with an oxygen restricting design to extinguish cigarettes fast and safely without the use of water or sand. It also features wall mounting brackets. The fireproof ash urn is made of aluminum with a sleek powder-coated finish.
Metal Series Black Sand Urn
This is a black sand urn designed to keep your spaces clean and free from cigarette ash and butts. It has a durable construction made of heavy-gauge steel and a non-mar anodized aluminum top. It works as both an ash urn and cigarette waste receptacle as well. It even features a galvanized liner for extended durability. The sand urn is designed for outdoor use and is fire-safe. Keep in mind that it doesn't come with sand.