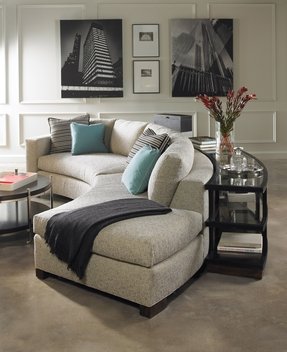 Michele Tayl
Curved Sofa
The Michael Weiss curved sectional is an inviting piece of furniture. This shape and gray upholstery are very modern. the cushioned back and padded seat provides the excellent seating comfort.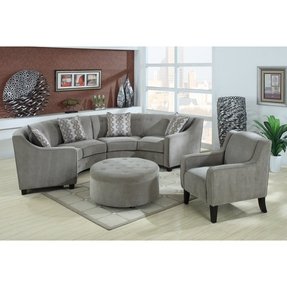 SuperOliviaJackson
Curved Couch
Modern C-shaped sofa for small rooms. It has a wooden frame, low black legs, sloped arms, seats with pocketed springs, a rather low backrest. All sections are covered in silvery-grey polyester with greenish tones and button tufting on a base.
jasminedavies1000
Curved Sectional Sofa
This sectional sofa offers a modern curvature design, especially suitable for larger living rooms. The sofa is upholstered in a nice-to-touch material, and resting on metal feet, able to accommodate up to 6 people.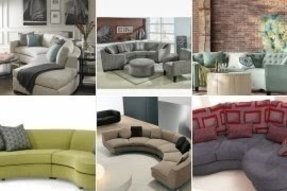 MadisonHernandez11
Curved Couches
If you're looking for a piece that will complete your living room design then this curved and beautifully tufted sectional surely is the way to go, especially with the beautiful color of the finish and the durable structure that will make it for years.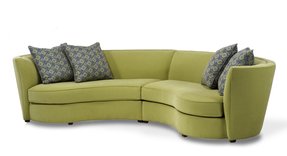 Susan Mur
Round Sectional Sofa
Sectional sofa upholstered with pleasant to the touch fabric and finished with solid seams. It is fitted with extra pillows for added comfort. Application in the living room and others interiors according to taste and need.
Craven Rachel
Rounded Couch
A touch of retro style in a living room or office. This rounded sectional has got a solid frame and durable oak wood legs that provide stability. The overall size of this product is 117.6"w x 83"d x 33"h.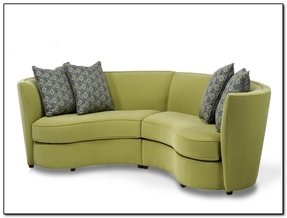 LilyWright1
This sectional sofa offers a curvy design, thanks to which your contemporary space will be fully enhanced. Upholstered in greenish material, the sofa has well-padded seat cushions, and rests on sturdy wood legs.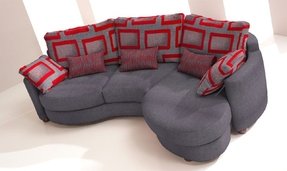 Erin Youn
Curved sofa for original interiors. Together with a set of nice pillows, covered with geometric patterns, it's a very modern set, perfect for contemporary houses. Additional storage space in the chaise can come in handy.
Dana Perez
Sectional semicircular sofa covered with green plush and decorated with gold patterned cushions. This type of couch will be fit to your living room, but it is perfect to home theatre! It makes your interior more cozy!
aaliyahthomas1
This set includes a 2-piece sectional sofa and an attractive ottoman. These elements are available in colors that look attractive in any indoor stylization. The sectional is 35 inches high x 42 inches wide x 136 inches long and the ottoman is 18 inches high x 35 inches wide x 33 inches long.
Catherine Barnes
This is a sectional sofa that provides a simple, but very attractive style. It features removable, fire resistant and very soft cushions responsible for providing the best level of comfort. This piece of furniture measures 99" w x 83" d x 39" d x 36.5" h.
RaquelStone1
Small sectional sofa with a rounded construction. It is suitable for classic and modern indoors. The sofa offers a very comfortable and soft seat that is paired with a padded and button tufted backrest. Blue finish is very attractive in any decor.
Peyton Marthy
This small sectional features a compact profile that provides small sitting space finished in neutral color. Cushioned seats provide good comfort with backrest cushions. A central, brown ottoman also serves as a coffee table.
Natalie Tayl
A chic contemporary sofa composed of 2 units with gently curved wooden frames and low black angular tapered legs. Subtly sloped arms, thick seats and pillows are upholstered in elegant plain beige fabric but rounded backrests are button tufted.
MrMackenzieGarcia
Small Curved Sectional Sofa for Small Living Room
Monica Patt
A sectional piece that consists of 3 pieces. Its white, neutral colour looks very interesting and attractive in any type of decor. The size of this piece of furniture (99" w x 83" d x 39" d x 36.5" h) is ideal for many adult users.
ElizaReid1
Bundle 2 Pieces Small Curved Sectional Sofa
evanspaige1
A very attractive and comfortable sectional sofa upholstered with green fabric. It includes soft cushions and pillows that provide additional comfort. Curved lines of this sofa look very attractive in many rooms.
Kathleen Gray
Contemporary setup for a large and spacious living room with a curved sectional sofa with two additional matching armchairs. The sofa is upholstered in a microfiber material in a beige color, providing a modern vibe to the room.
morganmarthy
Curvatures appear in our lives at every step - even gravity is one of those curves. Gravity can also hold this slightly pink small curved sectional sofa with a more delicate light pink-purple fabric and oak hardwood construction with dark legs.
isabellepotter1
15 Curved Modular and Sectional Sofa Designs
Price Stephanie
Original sectional sofa upholstered with pleasant to the touch fabric and finished with decorative stitching. Frame is made of wood and reinforced with solid supports. Elegant design for each home.
AmyMorgan
Modern setup for a futuristic living room setup with a round, curved sofa sectional in a chic style. The sofa is upholstered with faux leather in white colour and nicely fits in with the white carpet and grey accent chair.
Sara Cole
This small curved sectional sofa constitutes a self-contained leisure spot, ideal for a small family. Its soft toned upholstery creates a versatile proposition, that shall fit well into many decors.
emmahhansson
Sectional sofa for the living room and others interiors according to taste and need. It is mounted on wooden frame and upholstered with nice touch fabric. Includes extra pillows for added comfort.
Lambert Abbey
Eternal Dreamer curved section. Featuring upholstered beech frame with webbing, polished stainless steel or blackened steel (USA) legs seat and back cushions. Colours available: gazelle with pink braid, rusty red with orange braid, elephant grey with gree
MegaMiaJones
Decoration~ : Attractive Curved Blue Sofa Velvet Sectional With Nail Button Backseat And Round Blue Coffee Desk For Inspiring Small Space Living Room Furnishing Ideas
Brittany Tho
Curved Sectional Sofa For Outdoor And Indoor
Liliana Gadjus
This sectional includes three elements that are filled with soft material for enhancing comfort and relaxation. The size of the whole set (99" w x 83" d x 39" d x 36.5" h) allows for accommodating the whole families.
Kristen Sand
Curved Sofas for Your Happy Live: Gorgeous White Curved Leather Sofa With Small Round Table Also Small Potted Trees And Simple Window Dressing Ideas ~ Sofa Inspiration
Yulia Thompson
Lawrence Sectional
Sectional sofa featuring high quality polyester and granite upholstery in granite color. The furniture is armless and features pillow backs. The frame of the sofa is made of solid wood. It's perfect for large living rooms.
Aloma Garcia
Modern White Leather Sectional Sofa $2400
Mega Leahbrown
This charmingly curved sofa is a great solution for the stylish interior. A stable base of wood and a beautiful upholstered seat and cushions create an elegant allure of the charm add buttons and quilting.
Roberts Isabelle
Sectional Sofas - Configuration: Curved Sectionals-Custom Configurations Sectionals-Small Scale Sectionals | Wayfair
RileyThompson1
Who said that big sectional sofas are not fit for smaller rooms? This L shaped beige fabric padded corner sofa proves that even a space-challenged apartment can benefit from bigger sectionals while perfectly avoiding the feel of clutter.
Kathleen Coop
pictures of rugs under sectionals | Small Living Area With Small Sectional Sofa Ideas: Corner Sectional ...
Hilton Emily
Donatella Sectional
The truly lavish and sophisticated addition for your living room, this sectional sofa will prove utmost comfortable and convenient, if you're going for an option to seat your whole family or friends. The light upholstery blends well with the darker wood accents of the frame.
Taylor Courtney
Curved Sectional Sofas For Small Spaces
TheDianaBanks
Tousley Sofa Norwalk
Alison Walker
Curved Corner Sectional #bassettfurniture - love the color, shape,small legs, and arms of couch.
Peyton Marthy
Small Curved Sectional
Weber Lily
Love this look for a living room, but maybe in a different color?
MadisonHernandez11
It is a reclining sectional sofa that has got a pillow top arms, bustle back design, dual recliners and handy storage console. Everyone will be impressed how elegant and comfortable this sectional sofa is.
Martin Holly
Grecian Small Scale Sectional
Chic sectional sofa with rolled arms. Its seating capacity is four adults. It is not as big as typical corner sectionals, so it's appropriate for smaller rooms. It is padded with taupe microfiber resembling velvet.
Tara Zucker
Upholstery : Sofas & Loveseats : 2233-30
cyntiagracia
sofas design corner curved sofa bedroom curved sofa lounge curved sofa ...
Jones Jasmine
Sectional sofa upholstered with high quality leather and finished with decorative nail heads. It is fitted with extra pillows for added comfort. Application in all kinds of interiors according to taste.
Thomson Marisa
Clip Curved Sofa Image
Lucy1Reid
Sectional sofa in classic form. It is upholstered with fabric and finished with decorative quilting on the seat. Legs are made of metal. Great solution for small spaces.
isabellepotter1
Curved Sectional Sofa for Small Room
I am looking for furniture that is not only comfortable but also versatile. Is a sectional sofa a good choice?
Certainly. The ability to almost freely change the shape and size of your sofa is a real lifesaver for anyone who deals with limited or difficult space. The number of sections used for your sectional will also directly affect the price, which means you can settle for fewer pieces at first, and buy more sections when you can afford it!

What to consider before buying a sectional sofa?
Do not buy a sectional sofa before planning out your space. It is best to draw a floor plan in order to be sure how many sections and what shape your room can accommodate. Then, decide on the colour, material and style, accordingly to the design of your house.

What are the most popular types of sectional sofas?
Depending on the layout of your room, you might want to look into Curved sectionals, L-shaped sectionals and U-shaped sectionals.

I have to work with demanding space. Do sectional sofas come in different shapes?
Yes. Pay attention to abbreviations – RAF stands for Right Arm Facing, and LAF for Left Arm Facing. This indicates the side on which the arm is located. This is crucial, as it determines the side on which you will be able to add more sections.

Do I need a large room to make a sectional work?
Not at all. As previously mentioned, sectionals are one of the most versatile pieces of furniture. As such, they fit just about any space, as long as you pick the correct number and shape of sections!

Is it a good idea to add a chaise to my sectional sofa?
Chaise is a solution that is most often incorporated when the sofa's primary function is for relaxing, watching TV, etc. However, if you're designing a more formal room, where you might be receiving business partners, then it may be better to skip the chaise.

What are the upholstery options?
Sectionals are usually upholstered in leather, polyester, faux leather, microfiber or chenille. If you have a hard time deciding on a certain material, it's best to do some research, as well as to pay a visit to your local furniture store and try out the different materials.

What if I have pets…?
Having pets or kids (or both) means that it may be wise to look at some of the more heavy-duty materials, which are durable and easy to clean. If that's the case, then leather could be a good idea. For a formal area, linen or velvet are also a good choice.

So which fabric is the best?
There is no one "best" material to be used for a sectional. When choosing one, consider not only the price but also the style of your house. While leather has a certain luxury vibe to it, is pleasant in touch and durable, it may not be the best idea for a cozy, cottage-like house.

How to choose the colour of my sectional?
There is a lot of freedom when it comes to the colour of your sectional because they make for great focal points. As such, they can be either subtle, cohesive with the rest of the room, or made to stand out and add a strong accent. Look at bright colours such as red or orange if you want to add some design weight to your sofa, or at gentle whites and beiges if you want it to blend with the room.

What is better – a pillow back or a tight back sofa?
It mostly comes down to personal preference, but it also affects the character of your sofa. Pillow back sectionals are generally more casual, while tight back sectional may be more appropriate when you want to create a room that's elegant, maybe even formal.
SUPPLEMENTAL RESULTS FROM USERS AND STORES