Shower Heads
Shower heads are important bathroom accessories. They deliver that warming and cleansing shower. Showerheads are available in many different designs. Whether you are looking for the stylish dual shower heads, rain showerheads, or the water-saving low flow heads, there is a great selection of products out there to cater to your needs. The pricing also varies a lot from one product to the other. Even if you are on a tight budget, you can always get a reasonably good quality head that won't cost too much money.
Our choice Best shower heads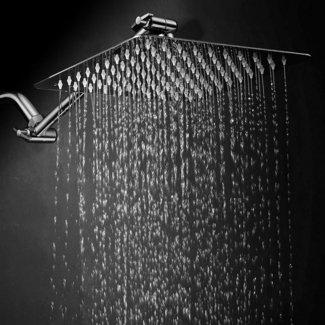 Giant Rain Adjustable Shower Head
Create a maritime sanctuary in your bathroom with this gigantic square shower head. Highly fashionable and ergonomic, the slimline design adds elegance to any shower in your home. The adjustable plastic shower head is finished in chrome and has a swivel mechanism for customized usage. The adjustable water flow function allows you to experience the "rain" like sensation while having a shower.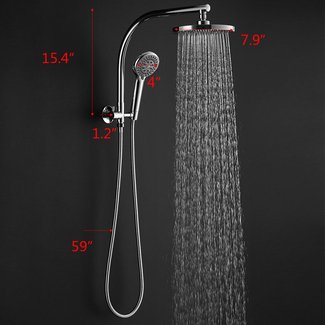 Standard Dual Shower Head
If you're looking for a unique shower system, then look no further. This shower system contains a clean and streamlined design, which is modern and will complement any bathroom in a fashionable way. Made from low-lead copper material, it's not just safe but solid and robust as well. The shower handle is also anti-scalding making it safer than others. Thanks to the combination of an overhead shower and a hand-held shower, you'll enjoy full water coverage and have a luxury showering experience. The state-of-the-art showerhead system brings an instant facelift to your present-day bathroom.
Standard Dual Shower Head
Create an extravagant look inside your bathroom with this durable and high-quality stainless steel showerhead. Assembly is easy thanks to the included accessories and clear instructions, while the silver finish gives the entire shower system a clean and polished character. For a relaxing, spa-like experience inside your very own shower, choose this beautifully designed shower system that offers a wide range of sprays and is also water-saving.
7-Color LED Combo Multi Function Dual Shower Head
If you're shopping for something exclusive in the shower system department, then look no further than this multifunctional dual shower head. Each shower head has the same functions, including Hydro supercharged turbine LED, Air jet design, which maximizes your water pressure output performance by injecting oxygen into water flow through 48 elastic rub-clean nozzles that are designed to prevent clogging. Feel free to use each shower head separately or together to enjoy a myriad of functionality.
Moen® 2 GPM Shower Head
Give your shower an instant pick me up with this innovative, reliable, and highly fashionable stainless steel showerhead. The highly reflective mirror finish will complement any bathroom decor while the eco-performance on this device conserves water without sacrificing performance. The one-function full rain shower comes equipped with shower arm and head and is an EPA WaterSense certified product. It is also ADA compliant, making it suitable for disabled individuals.
Shower Head
Looking to create a mini spa in your bathroom? Well, this heavy-duty chrome-plated steel shower system is sure to do the trick. It contains a multifunctional shower massager to get rid of pain and tension after a long day at work. Thanks to the three water patterns and types, you will be able to enjoy a unique shower experience each and every time. The chrome finish gives it a snazzy appearance that will add taste to a traditional or contemporary shower room.
Maryann Massage Handheld Shower Head
This multifunctional shower head is finished in chrome to seamlessly blend in with your existing bathroom decor. It contains a selection of six spray patterns so you can enjoy plenty of different shower experiences. The jet function on the shower system will make you feel like you've just stepped out of a spa while the flexible hose is easy to maneuver and customize.
Spectrum Multi Function Handheld Shower Head with Temperature-based LED
Possibly the world's most advanced shower head, this overhead or hand-held shower comes with a range of features and functionality to enhance your bathtime experience. The device is completely powered by running water and does not require batteries. The fun thing about this shower head is that it contains LED lights that change color automatically every few seconds and softly blend into each other. The overhead is angle adjustable, and the hose is quite flexible with a dual conical brass hose, which makes hand tightening easier. The chrome-finished shower head with 7 spray patterns will bring an instant boost of glam to any bathroom.
Lorin 5 Function Sleek Massager Rain Shower Head
Transform an ordinary shower into a relaxing retreat with this elegant shower head in a rose gold finish. It adds a touch of elegance while the minimalist silhouette allows it to fit in with most bathroom decor. Thanks to the five different shower patterns, you can enjoy a custom bathing experience each and every time. Feel like you've just stepped out of a luxury spa every time you have a shower with this powerful and rejuvenating pulsing shower head.
Rainfall Massage/Jet Dual Shower Head
Relax and unwind every time you step into the shower with this rainfall massage jet shower head shower head. Each of the shower heads can be used separately or together for a powerful experience. The stainless steel hose is also removable, allowing you to hold it in your hand and concentrate on the parts of your body that need more relaxation. With three display patterns, the rust-resistant dual shower head will make you feel like a brand new person each and every time you step out of the shower.