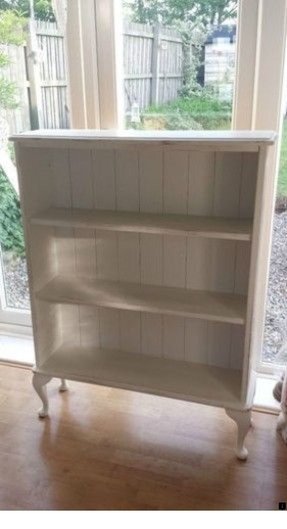 Yulia Thompson
It's a shabby chic painted pine bookcase with the queen Anne style, old white finish and wooden structure. It will transform your home into the romantic and classic space. Three shelves and 44 inches of high are excellent for bedroom and drawing room.
Alexis Milani
Offering a distressed finish of the white paint this handmade bookcase is a perfect choice for any hallway, while its salvaged wood and glass structure adds plenty of visual appeal to your home and will provide you with a significant boost of space.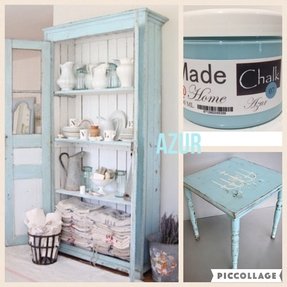 Elizabeth Lee
Want to sprinkle your kitchen or living room with a rustic and colorful flavor? With this stylish piece of a light-blue bookcase with a white interior, you can set your decorations on 4 open shelves. The bookcase is secured by a pair of doors with reticular panels.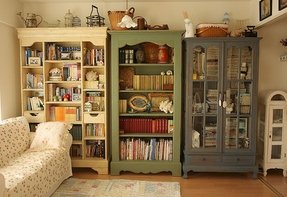 Bianca Weberable
Never thought that a mix of finishes can look so good in a front room decor. This indoor area comprises three different bookcases of totally varied styles, but they still look good with each other. Must try that at my home.
alexsandrawilson
The elegant bookcase in French shabby chick style. The bookcase back was prepared in the decoupage techique and covered with the romantic rose pattern. This style will be perfect for the French restaurant or the young lady's bedroom.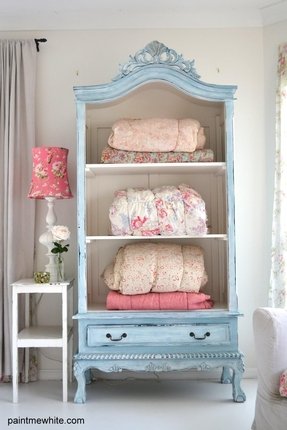 Richardson Krystle
High rack made of wood with antique finish. It consists of drawer and 3 open shelves arranged vertically. Suitable for storing beddings and other necessary things. Application in all kinds of interiors according to taste.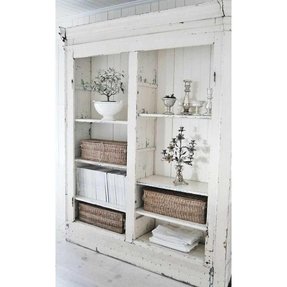 Chloe Hughesful
Wooden bookcase with a very solid construction. This piece of furniture offers practical storage shelves. Old-styled white color of this bookcase matches any type of interior design. Classic shape is also very stylish.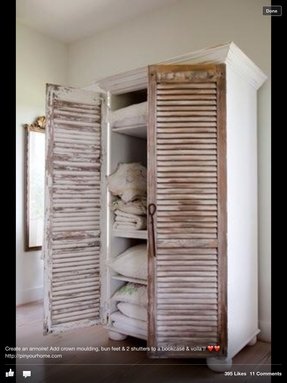 1BanksKate
Rustic approach to a vintage refurbished linen cabinet made out of an old bookcase with added shutters. The handmade linen cabinet is painted in a distressed and highly weathered coat of white paint.
Laetitia Zernike
This piece is going to bring Mid-century accents straight into your living room. The display cabinet is crafted from Perillo solids and Alder veneer, with 3 adjustable shelves, plate-grooved glass inserts, and rheostat controlled interior lighting.
SuperOliviaJackson
Charming open shelving unit converted from a traditional door cabinet. It's made of wooden materials finished in white both outside and inside. It has gently curved legs, bottom and top aprons, 3 shelves.
Stephanie Rod
This sleek and very eye-catching shabby chic decor is the perfect solution for the office or home office. Lovely details, beautiful finishes of furniture, sculptures, beautiful lamp and large cabinet create a pleasant workplace.
Cassandra All
You could find such a shabby chic bookcase in an idyllic country estate, on the outskirts of Provence. The bookcase has been renovated, and the maritime color is emphasized by its unique carved columns and solid shelves as well as a drawer with crystal knobs.
1BanksKate
Dreamlike bookcase in elegant form. Construction is made of wood and finished with carefully made carvings. Includes 2 drawers and 4 open shelves in various sizes. Perfect for storing books, display decorations and more.
AmandaDonaldson1
This project is very original and unique. It includes a very nice bookshelf with the front made of old doors. All shelves are solid and the whole construction looks very nice with colorful flowers, books and decorations.
Wilson Alexis
A solution for organizing home office when you have scant space at your disposal. This interior is perfectly work-friendly, yet eye-pleasing too; it utilizes white furniture, wooden surfaces and light blue accessories.
Sanders Krystle
How to turn a plain, wooden bookcase into an interesting piece of art? That's simple! Shabby it with intriguing wallpaper and there you are – all set to conquer the world of furniture fashion. The vintage appeal of this bookcase is truly timeless.
Weber Lily
Vanity take on a shabby chic bookcase, made out of oak wood with a weathered and distressed coat of white paint. The bookcase has three large shelves, which provide a lot of space for books and curio display.
Craven Zoe
Bring some country flavor into your home with this cute bookcase. Made of wood and painted in white, this bookcase features 4 open shelves, a lovely heart symbol on top, and a chicken wire back panel.
Anderson Marisa
A lovely, farmhouse bookcase that is going to fit any room with a little space to spare. The piece includes wooden construction, a square base, an arched top, and 5 open shelves for your rectangle masterpieces.
LilyWright1
This vintage hand painted bookcase will be a great proposition for all shabby chic lovers. It enchants with its intricate silhouette, full or adorned accents. Back, made from white wooden bars only emphasizes the warm, cottage appeal.
Anderson Marisa
This unique bookcase it's a good solution to bring some roughness and vintage accents into your decor. The whole frame is crafted from durable wood, along with its 5 open shelves. The back panel is made of a cardboard, and it suits the whole, quite nicely.
Natalie Edwards
Tall bookcase consisting of 2 drawers and 3 open shelves in various sizes. Construction is made of wood. Suitable for storing books, display decorations and more. Application in all kinds of interiors as needed.
Melanie Moore
A pretty though simple vintage open front bookcase crafted of solid wood with a slightly aged pale blue painted finish. It has a rectilinear frame, a rectangular top, a full base, 3 rectangular shelves.
Thompson Alyssa
nice way to dress up a plain bookcase with some decorative moldings
Kristina Gon
Shabby's style was born in the 90s on the USA west coast and quickly became one of the most popular design trends. It is shown in two twin shabby chic bookcases of oak wood and recovered boards that form the back of the bookcase painted in a green shade.
Elizabeth Mar
This pretty shabby chic bookcase constitutes a good spot to display your most cherished belongings, i.e. a dinnerware or collection of vases. Its 5-tiered construction offers an impressive storage space.
Martinez Marisa
Shabby Chic Bookcase with some of my Furniture appliques / mouldings added.
Michele Mitc
shabby chic room filled with flea market style. I so love to THRIFT and FLEA MARKET - to heck with the malls and all that "new stuff"....give me classical retro anyday!
SuperCarolineWalker
Preloved | shabby so chic bookcase, armoire, display shelves + drawer for sale in Leicester, Leicestershire
Davis Courtney
You are here: Home Chateroux Shabby Chic Small President Bookcase
Cintia Kowalski
Small Shabby Chic Bookcase.
Lisa Ramirez
This interior decor is very attractive. It includes many functional and decorative elements finished in neutral white color. A bookcase includes many solid shelves for books, decorations and other items.
Julie Rodr
ShabbyChicGallery: Some Shabby Chic DIY Ideas For Your Home!
MrKeiraWhite
A nice element of furniture for people who are looking for functional and antique stylizations. This one includes many drawers and storage compartments. Its white color and sole decorative elements look nice in any stylization.
Adriana Andersson
Resultado de imágenes de Google para
Dana Joh
Vintage teacups on a shabby chic bookcase
MultiKateAnderson
This is a very original bookcase that features a very interesting color and stylization. This construction includes plenty of space on shelves. What is more, the product has also got a spacious storage drawer.
AmandaThomson100
Computer and files completely out of site.
Mendes Natasha
fantastic shabby chic bookcase solid oak
Lisa Pete
A small antique bookcase, which thanks to its charming, vintage character can smoothly be a shabby chic kitchen or dining room cabinet. Ideal to store glasses or dinnerware, it will enchant with its ornate finish.
AlyssaCole100
Maison Decor: pretty chintz fabric in bookcases
Angela Hay
Timeless 42" Folding Bookcase
Stable bookcase made from combining rattan and bamboo. It is resistant to water and mold. It offers 3 shelves for display decoration, store books and other. Neutral accent to any interior in the Asian style.
Mackenzie Milani
Hey, I found this really awesome Etsy listing at
AmandaThomson100
Beautiful White Antique Bookcase with Glass Doors and Fretwork
Peyton Marthy
So going to paint a bookcase like this...I think we already have one ready to paint! DIY::Shabby Chic Spare Bedroom Makeover
jasminedavies1000
... Furniture Range > Hand Painted Shabby Chic Distressed Pine Furniture
Kelly Shannon
Book Case that I Love
Griffin Natasha
Shabby Chic style bookcase with cabinet at the base in a distressed ...
AmyWood
, beautiful bookcase and picture above it
cyntiagracia
until tomorrow: BHG - Almost shabby chic. white desk, black turned legs, slipcovered chair, bookcase and ...
I would love to get myself a shabby chick bookcase, but are there different types to choose from?
Bookcases, both the shabby chic ones and other, come in several types. The most popular styles are standard, Étagere, ladder and leaning, Scaffold, corner, cube and built-in bookcases. Each style does not only look a bit different but also utilises the space in a different manner.
How high is a standard bookcase?
The height depends on the style and type of your bookcase, but most of them range from three to eight feet tall. Keep in mind that when considering which bookcase to buy, height is both about the aesthetic and practical aspect. While tall bookcases are generally more formal, smaller ones can be more practical, as you can use the top surface.
But how to choose the width?
Consider the width of your bookcase in relation to the height. For example, if you want to purchase a tall bookcase, it might be a good idea to get yourself a couple narrow units, instead of a one wide unit – this gives you flexibility. In the case of a shorter bookcase, it's better if it's wide, as this makes it more noticeable and substantial.
What's the usual depth of a bookcase?
Standard shelves are at least 12 inches deep. This provides enough storage space. However, some bookcases can be narrower – ladder or leaning types are a good example. That's why it's important to plan what your bookcase will hold pre-purchase.
Anything else to know about the size of my bookcase?
Remember to make precise measurements of the space between shelves in correlation to the items you plan on keeping there – for example, the height of your books.
Is there any extra functionality I should pay attention to when choosing a bookcase?
There are three options which may be good to consider – adjustable-height shelves, room dividing bookcases and wheels. While wheels and the option to adjust the height of the shelves are pretty straightforward, the option of using a bookcase as a room divider is both original and practical!
What are the most popular materials from which bookcases are crafted?
Bookcases are usually crafted from wood, particle board or metal. The choice mostly boils down to the aesthetics, but naturally, a metal bookcase will be the most durable. Still, it's really rare for a bookcase to break under the weight.

SUPPLEMENTAL RESULTS FROM USERS AND STORES