Roasting Pans
Roasting pans are some of the most important cookware sets for your kitchen. They are often used for special events and holidays to roast meat and root vegetables as well. Roasting pans are often sold with racks and lids as well. The rack simply creates a small space between the food and the pan, leading to proper air circulation and better cooking. Lids, on the other hand, lock in all the flavors as the food cooks, making sure that it tastes great. Roasting pans are also available in an excellent variety of styles, shapes, and sizes too. Some may also come with additional accessories like spatulas.
Our choice Best Roasting Pans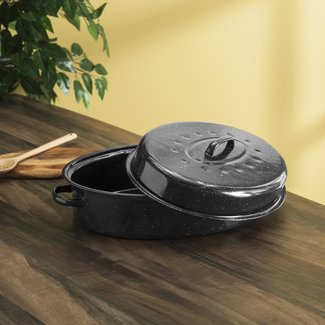 Rena 18" Non-Stick Carbon Steel Roaster Pan with Lid
Manufactured from carbon steel, this roasting pan is especially durable and possesses an extraordinary resistance to high temperatures.
The oval shaped ovenware item is also compatible with electric coil, electric smooth and gas stove tops. The unit which also comes with a lid, is especially efficient  at distributing heat evenly.
Make use of its impressive versatility to try out recipes which require both sautéing and baking.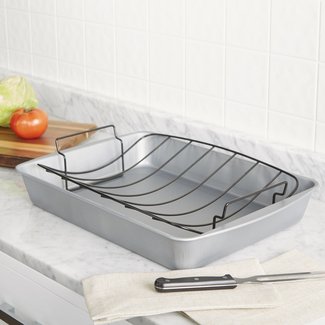 Wayfair Basics 12.7" Non-Stick Steel Roasting Pan with Rack
Crafted to provide maximum convenience, this rectangular  pan comes with its own roasting rack which is suitable for handling contents of up to 12lbs in weight.
In addition to both components being non-stick and manufactured from robust steel, they are also dishwasher safe.
Take advantage of their ability to withstand high temperatures of 500 degrees to create your favorite dishes which require the constant application of high heat.
Camerons 17.75 in. Stainless Steel Roasting Pan
A silvery allure and a deep dish, oval design which invokes a hint of traditional nostalgia make this roasting pan an excellent addition to any kitchen.
The ovenware item also comes with a number of helpful accessories such as a top, bottom, poaching plate and a drain rack. It has also been manufactured from stainless steel and features triple-ply sandwich construction for even heat distribution.
Avail yourself of its impressive versatility which will enable you to bake, roast, poach or sauté your favorite foods.
Oneida 16 in. Non-Stick Stainless Steel Roasting Pan
Specifically designed for large poultry and cuts of meat, this non-stick roasting pan also comes with a gleaming silvery appeal which will enable you to entertain your guests in style.
The ovenware unit also features a selection of necessary accessories including a cleaning brush and stainless steel turkey lifters. It is also dishwasher safe and PFOA free.
Its manufacturers have also provided a stainless steel roasting rack with riveted handles which will ensure  additional convenience and  safety when preparing oven baked dishes.
Eternal 17" in. Non-Stick Carbon Steel Roaster Pan
Brought to you in a delightful coppery hue with a complementary tray in the same color, offset by silvery handles, this roasting pan has been designed to evenly bake its contents and to release them  effortlessly as well.
The nonstick, carbon steel ovenware piece has also been equipped with chrome handles for ease of lifting. It is also dishwasher safe providing you with an added level of convenience when using it.
Take advantage of its large capacity of 20lbs  to prepare your favorite roasts of choice to perfection.
Chicago Metallic 10" Non-Stick Carbon Steel Petite Roast Pan
Featuring a traditional rectangular design and a rack, this nonstick roasting pan comes with a 12lbs capacity and is an excellent choice for cooks who prefer to prepare smaller portions or have to cater to a few guests.
Owing to the carbon steel used in its manufacture, this ovenware unit is particularly durable, suitable for high temperatures and capable of providing even heat distribution.
The charming compact roasting pan and its rack are also dishwasher safe and will ensure an extra dimension of convenience as a result.
Anolon 16" Non-Stick Hard Anodized Aluminum 5 Piece Advanced Roaster Set
Complementary tones of grey, black, brown and silver, ensure this retro-styled five-piece set will bring out the best in your kitchen's color scheme while also providing exceptional functionality.
Due to the hard anodized aluminum used in its manufacture, you will be able to expect impressive durability and an ability to withstand high temperatures; its triple-layer premium nonstick interior will ensure you are able to remove its contents with ease.
Its silicone hand grips as well as its stainless steel utensils will also provide additional levels of convenience and safety.
Imbue your kitchen with its delicate retro appeal while making use of its exceptional qualities to create delectable dishes.
Tramontina 14" Non-Stick Ceramic Roasting Pan
The first feature of this ceramic roasting pan which is immediately noticeable, is the appeal of its deep copper exterior complemented by its white interior.
The non stick ovenware item which is dishwasher safe and PFOA free, may also be used with gas, electric and ceramic glass. It is also easy to clean and comes with a maximum weight capacity of  12 lbs.
Take advantage of its special appeal and versatility to create your favorite vegetable, meat, or poultry dishes  and also serve them in style.
Ayesha Curry 17.75" Non-Stick Stainless Steel Roaster
Brought to you a delicate caramel with a rack in a matching color and silvery handles,  this non stick roasting pan is capable of withstanding temperatures of up to 450 Fahrenheit.
The pan is also resistant to warping and bending owing to the heavy-duty, high-performance steel used in its manufacture.
Its non stick rack is also especially suitable for baking roasts of various sizes and due to its central spire, you will be able to experience new levels of convenience when cooking your preferred poultry for guests. 
Vinotemp Epicureanist 3" Ceramic Chicken Roaster
A circular jug like shape and a central spire, grant this roasting pan an eclectic appeal which is further enhanced by its gleaming red hue.
The vertical roaster which is PFOA free and comes with a weight capacity of 12 lbs has been manufactured using safe ceramic stoneware clay.
Take advantage of its unique design to keep your cuts especially moist and filled with flavor by placing your wine or stock of choice in its central spout.