Rice Cookers & Food Steamers
Steaming is one of the easiest and healthier ways to make meals and with the right rice cookers & food steamers, you can do this anytime you want. These small appliances are also easy to use. You can preprogram them to steam or cook rice in a matter of minutes. They are also available in a variety of sizes to suit different families. These appliances are very convenient to use as well. You just need to put in your ingredients, set the timer, and let them do the rest. Some cookers come with a few recipes that you can try out with your family.
Our choice Best Rice Cookers & Food Steamers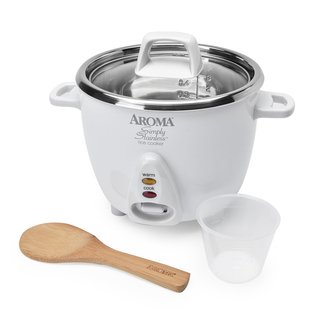 Aroma Rice Cooker
Rice for your favorite dishes will be ready in a snap with this portable rice maker that is available in white or stainless steel to match the rest of your kitchen décor with ease. Two sizes, 6 cups or 14 cups, makes it easy to tailor the product for your specific needs.
The inner pot's number markings make it simple to measure out the amount of water you need. All you have to do is measure the amount of rice with the included measuring cup, plug it in, and flip the switch to cook.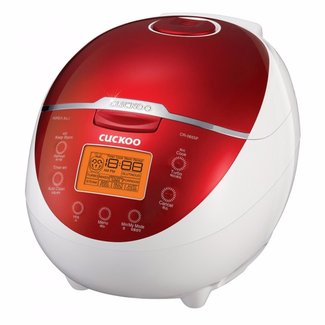 Cuckoo Electronics 6-Cup Electric Heating Rice Cooker
Cook your sticky rice and keep it warm with this adorable egg-shaped 6 cup rice maker. The red and white finish houses the aluminum cooking pot insert stylishly. It is portable with keep warm and nonstick features, including a locking lid.
Make your own baby food with the baby food programmable setting or your own muesli with the porridge/cereal feature. It also steams veggies and auto cleans. Most parts are dishwasher safe including the steaming tray, measuring cup, scooper, and paddle.
Zojirushi 6 Cup Induction Heating Pressure Rice Cooker & Warmer, Stainless Brown, Made in Japan
The brushed stainless brown finish of this induction heating pressure cooker makes it stylish and functional addition to your kitchen. The programmable white rice, brown rice, and porridge settings let you set-and-forget so you can get on with the rest of your tasks while your meal cooks.
Available in 5.5 cup or 10 cup sizes, the locking lid is removable for easy serving and cleaning. It will keep your rice warm in its nonstick cooking pot. With the dedicated measuring cups, spatula, and spatula holder you have everything you need to serve your favorite cuisine.
Aroma 14-Cup Pot Style Rice Cooker and Food Steamer Set
Enjoy healthier home cooking with this rice and vegetable steamer set. Cook up to 7 cups of uncooked rice this 14 cup steamer which is available in red or white and includes an auto shut off feature so your food never burns.
The durable nonstick surface is made of full grade aluminum with a non-stick coating that is PFOA free. At under 5 lbs., it is portable enough to take anywhere and uses just 500 watts to cook. The removable lid and pot make clean up easy.
Classic Cuisine 6.3 Qt. Food Steamer
Watch as your fish and veggies steam to perfection in this 6.3 qt food cooker. Perfect for camping or compact kitchens, the cooking pot, inserts, and removable lid are all dishwasher safe for a quick and easy cleanup.
The plastic unit includes a cooking guide, clear water gauge, and onboard timer for a user-friendly kitchen gadget that is sure to become a staple in your kitchen.
Zojirushi Micom Rice Cooker & Warmer, Beige, Made in Japan
This versatile electric steamer offers multiple preset programs so you can enjoy a variety of healthy dishes from fluffy rice to tender vegetables.
Available in 2 sizes, 5.5 cups, or 10 cups, the delay timer allows you to set ingredients inside to cook overnight and enjoy hot food as soon as you wake up. It also features warming and reheating functions for quick and easy midweek meals.
The plastic enclosed nonstick cooking surface and removable lid are both hand washable. The cooker includes a spatula, steaming basket, and measuring cup so you don't have to purchase separate accessories.
Zojirushi Induction Heating Rice Cooker
For perfect rice every time, choose this outstanding induction heating cooking system. The induction system heats the entire cooking surface for faster and more consistent steaming.
Available two different sizes, it is finished in gray stainless steel to match your modern kitchen appliances. The user-friendly LCD display allows you to programs including a delayed start, keep warm function, and porridge/cereal program. The auto shut off and nonstick cooking surface make for a safe and convenient appliance to take the stress out of meal preparation.
Cuckoo Electronics 1.5-Quart Electric Rice Cooker
The small profile of this sleek black rice maker is perfect for kitchen counters with limited space. The 3-language voice navigation comes with English, Korean, and Chinese instructions to ensure straightforward efficiency as you cook.
The aluminum cooking insert and removable lid are hand washable, and the unit also features a self-cleaning program for easy maintenance.
The overall weight is 18 lbs. making it very sturdy and dependable. The unit is fully programmable for a range of dishes and features a heat-resistant handle and lockable lid for enhanced safety for your family.
Cuckoo Electronics 6-Cup Induction Heating Pressure Rice Cooker
Add to the convenience of your modern kitchen with this induction heating stainless steel pressure cooker and its nonstick inner pot.
Requiring 120 volts of electricity to cook up to 6 cups or 3.2 quarts, this portable unit weighs only 13 lbs. making it easy to store when not in use, or to take RV camping.
The programmable features include rice or bread baking and you can keep the contents warm after it shuts off automatically to serve your dishes right out of the inner pot.
Cuckoo Electronics 6-Cup Induction Heating Pressure Rice Cooker
This sleek red induction pressure cooker offers a faster way to prepare your favorite meals and side dishes. The nonstick, stainless steel inner pot and the removable lid make serving easy while the automatic shut off feature keeps cooking worry-free.
The 3.2-quart capacity yields up to 6 cups of food, and the programmable LCD screen offers a turbo feature to you can enjoy piping hot food in minutes.