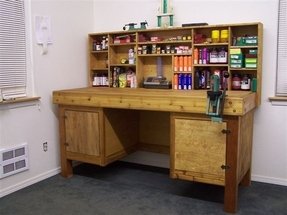 Jenna Daviesful
Reloading Bench
This reloading bench offers plenty of space for your items and will keep you comfortable in your garage or in practically any space of your home. It comes with two ample cabinets and plenty of shelves.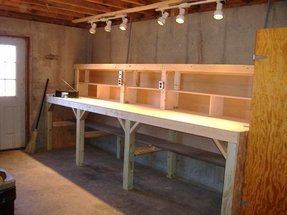 Patterson Gracie
Reloading Benches for Sale
If you need some fresh ideas to build something interesting, we suggest the simple workbench with plywood construction. It help you to make a smooth and sturdy surface. Excellent product for garage or basement.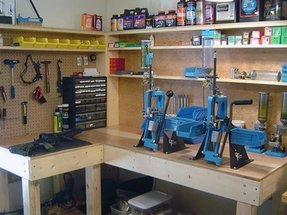 Renee Butl
Reloading Table
Work table for garage, workshop and more. It is made of wood and fitted with a lot of open shelves for storing tools and other necessary accessories.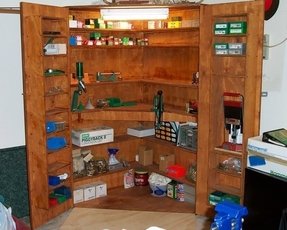 TheStacyGosselin
Portable Reloading Bench
Be it a reloading bench or a sports bench you need, this big, spacious one right here is sure to meet your needs. Made from high-quality wood, it's capacious enough to take whatever you throw at it. With this bench, you won't ever have to worry about garage storage space!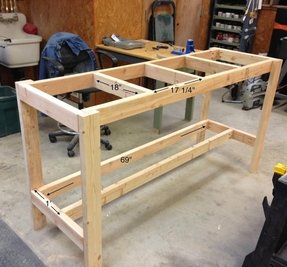 Julie Gonz
This efficient workbench uses a simple design, yet it still is quite effective. The whole is crafted of wood, and features a large top, an open shelf, and fixed stretchers to hold all the pieces firmly together.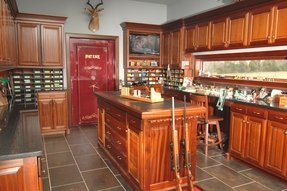 carolinepatterson1
This gun room is spacious enough to serve as a workshop. It provides ample of storage area with its wall cabinets, a reloading bench and plenty of working surfaces; the floor is tiled for easy maintenance.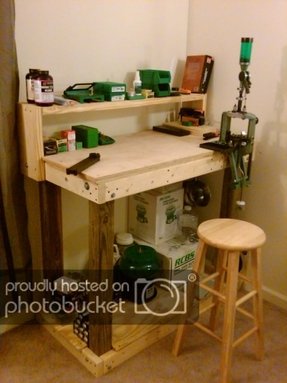 Brittany Par
This reloading/work bench is very solid, and it doesn't take a talented handyman to set it up. The 2x4 foot 3-layer bench is designed to work with a 29" bar stool, and can be a great addition for workshops, kitchens, basements, and garages.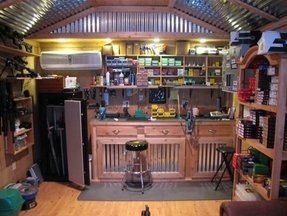 Patricia Simmons
A very original stylization of a room for passionates of weapon. This gun room includes shelves for ammunition and different types of weapon. It also includes a bench for reloading and mainteance of different guns.
Sara Hill
A functional piece for workshops, basements, and garages. This reloading bench is made of wood, and offers many space for storage that is hidden behind a pair of doors. It also has a large top, and 2 capacious drawers for additional storing.
paigewalkerpaige
A contemporary workbench with a sturdy frame finished in grey and a thick rectangular brown top. It has a narrower bottom shelf and is equipped with an upper unit which rests on 4 supports on the tabletop. It has a shelf with built-in lighting.
Mackenzie Poly
This type of bench is must-have in every workshop. This simple piece of furniture is made of oak wood. Bench has desktop (it can be work area), big shelf and three cases with little shelves to storage tools.
MrKeiraWhite
This solid wood bench is a great combination of functionality, simplicity and a beautiful look. Practical shelf under the seat will check as a storage of shoes, and comfortable seat allows you to rest.
Michele Phillips
Very practical and durable workbench made of wood. It includes a functional top and a lower shelf for storage tasks. It also includes a special rack for hanging different tools, elements and accessories.
Holly Cook
Interesting and creative DIY setup for a homemade shooting range, made with the use of plywood and a vice to hold the gun in place. Perfect for shooting enthusiasts provides a safe and fun way to entertain your guests.
Dominique Alex
Lets see your workbench - Page 17 - The Garage Journal Board
Aloma Garcia
With this reloading bench, your workshop is going to look as professional as it can get. The bench comes with its own lighting, a large top for installing power tools, and an open space for storage situated under the tabletop.
Jenna Daviesful
Small but neat bench
Abbey Kowalski
This reloading bench will be a real hit in your workshop, basement, or garage. The while is crafted of solid wood, with a large top, where you can easily place your blueprints, and 1 open shelf underneath the top, for storing tools, screws, etc.
TheVanessaWeber
Table for workshop, garage and more. Construction is made of wood and mounted on wheels for easy movement. Includes drawers and open shelves in various sizes for storing tools and others needed accessories.
Jacqueline Tho
Antique-looking design for an old-fashioned workbench made to replace a reloading bench for gun fanatics. The workbench is made out of dark oak wood with a birch top surface and has a handy shelf on the top.
Carter Diana
Reloading Bench Options - The Firing Line Forums
Sara Butl
Work table made of wood. Includes a lot of open shelves and compartments in various sizes for storing needed stuff. Great solution for workshop, garage and more.
Tara Gosselin
Practical garage workbenches made of sturdy wooden and metal materials finished in warm browns and greys. A workbench has a profiled top (with a recessed central part) and is equipped with drawers (with long bar pulls) on sides as well as outlets.
SuperAlexLambert
Just finished my reloading bench..... - Firearms
Zernike Laetitia
Reloading Bench; Lee 3 hole Turret, 2 Hornady Projectors, Lee 1000 dedicated to 45ACP. Giraud trimmer, Dillon SS 600, Lyman 1200 and 2500 tumblers. Cans under the left bench are loaded ammo, cans under the right bench are some of my brass and projectiles.
Renee Coo
This reloading bench would be a functional addition to any workshop, both the professional and a domestic one. It gathers all the screws and bolts in one place. If you have a soul of a craftsman, you shall appreciate its practical value.
KellyKellAshley
Let's See Your Reloading Bench -
Tara Gosselin
Work bench. I think I need to build a bench for the shed at our new house. I'm thinking about something like this across the whole back wall
Allison Evans
Post Your Reloading Bench Pictures - Page 7 - LongRangeHunting Online Magazine
Roberts Isabelle
A brief but essential DIY instruction how to construct a reloading bench so that the final piece would be highly portable yet sturdy. This one sports plywood top and heavy duty metal foundation in black.
morgranjohson
This kind of element is a simple, solid and functional bench that can serve as a working station or reloading bench (weapons). Its wooden construction looks very simple and provides plenty of storage space.
TheVanessaWeber
Official Reloading Bench Picture Thread - Now with 100% more Pictures! - Mobile
ElizaReid1
SecureIT Tactical Work, Weapons Teardown and Reloading Benches|As guns are as diverse as the people who own them, it is not uncommon for a gunsmith to specialize in a particular type of weapon, or to work with specific types of clients. A high degree of
Isabella Martinable
Reloading Bench Strength -- The different tools can be removed from bench and stored on shelf below.
RileyThompson1
Just finished reloading bench..... - The Michigan Sportsman Forums
Torres Veronica
A very functional and reliable reloading bench that is solid. Its metal frame is durable and finished in black color. Wooden working top of this bench provides sufficient space and very functional tools.
Latoya Alex
Official Reloading Bench Picture Thread - Now with 100% more Pictures! - Mobile
Jenna Delicata
Official Reloading Bench Picture Thread - Now with 100% more Pictures! - Mobile
Denise Barnes
Official Reloading Bench Picture Thread - Now with 100% more Pictures! - Page 66 -
Jennifer Mor
great bench, love the cubbies
Emily Mart
Image detail for -Reclaimed Barnwood Furniture – ASR Custom Woodworking
Wright Stacy
Workbench
Tara Zucker
Posts: 23
alexsandrawilson
This element can play the role of a small kitchen island or work table. Its wooden construction holds the weight of tools, accessories and other items. Lower part of this bench features a practical open shelf.
TheDianaBanks
How To Build A Workbench For Your Garage To Get Organized » The Homestead Survival
Maria Anderson
Reloading Benches
Melanie Gra
The Gun Room Picture Thread - Page 17 -
KellyKellAshley
Offical Reloading Bench Picture Thread
Kristen Broo
Official Reloading Bench Picture Thread - Now with 100% more Pictures! - Page 24 -
SuperLaurenPotter
... is one of the better spaces from that 36 pages of reloading rooms
Does a reloading bench need a lot of space?
Depends what you need one for – do you want to make a design statement in an industrial interior, or are you actually in need of a place for reloading ammunition? Some smaller reloading benches can measure 3x3 feet, while fully equipped, spacious reloading benches can take much more space. Plate system is a great option to cut on the required space.
What if my space can't accommodate a standard reloading bench?
Consider a smaller alternative. Lee Precision Reloading Stand is a great example – it doesn't take much space, can be placed in a corner and measures only 39 by 26 by 24 inches. Look up other creative alternatives to reloading benches and we're sure you will find something appropriate!
What to pay attention to when buying myself a reloading bench?
Functionality is the prime concern when talking about a reloading bench. Consider the amount of storage space, as it's crucial – you need enough of it to accommodate all utensils without cluttering the working surface. The amount of drawers and special compartments is the most important.
What can I do to use the space to its full potential?
Vertical boards above reloading benches are a great solution – some come with a special panel pre-installed, but if the one that you want to get does not, nothing simpler than to make one yourself. It can be a simple pegboard, just install your reloading bench under the wall and then hang the board perpendicularly. Now you don't have to look all around the workshop for your guns!
Which is the best material for a reloading bench?
They usually come crafted from wood, for various reasons. It's a good compromise between durability and weight – wood allows you to move your bench when needed, but also provides enough stability. Additionally, it's pleasant to work on, as it's softer than metal and working on it generates less noise.
SUPPLEMENTAL RESULTS FROM USERS AND STORES