Placemats
Placemats are a beautiful way to define a place setting area, to protect tabletops and to decorate for special occasions or for the season. They can be made from a variety of materials, ranging from silicon coated themed pictures to lovely, woven rattan. They can also be made from washable materials, such as quilted fabric or even crocheted, knit, tatted string materials. They can be part of a tablecloth/placemat or runner/placemat set. Or they can be mixed and matched with other table treatments. Placemats can be color-coordinated with napkins, plates, or coasters for a pleasing effect.
Our choice Best placemats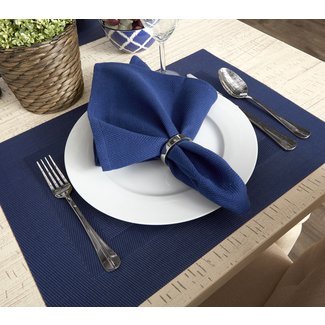 Zapata Double Frame Kitchen 18" Placemat (Set of 6)
Give your dining room table a boost of style with this classic placemat set. The clean-lined, rectangular shape works well with the tablescape, and cleaning up after meals is a breeze thanks to the vinyl material which is machine washable. Festive family gatherings and dinner parties will be a pleasure with this set of 6 placemats adding glamour and pizzazz to your meals. It's water-resistant, reversible, and lead-free, lessening your carbon footprint on the environment.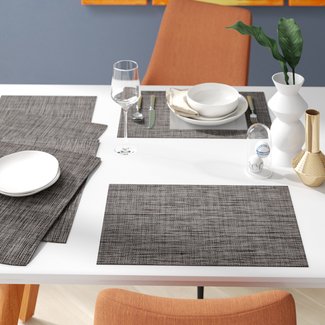 Noa Tonal Tweed 19" Placemat (Set of 6)
Sunday barbecues will never be the same thanks to these practical placemats that are ideal for eating outdoors or dining in. These functional, yet elegantly understated placemats shield your table against drink and food spills as well as occasional scratches from dinnerware. The polyester material is also water-resistant and easy to clean so you can keep these set of 6 placemats in tip-top shape for as long as possible.
Kugler Kitchen 15" Placemat (Set of 4)
Combine sophistication and functionality with this charming set of placemats. The polyester material is durable, and this set of four placemats can be cleaned by simply popping them in the washing machine. They are reversible, making them long-lasting, and the soft, yet thick fabric protects your table from scratches and stains. Place them on our dinner table as practical pieces of contemporary decor that will impress your guests.
Gurganus Recycled Teak 17.7" Placemat (Set of 2)
If you are looking for a truly rare and appealing placemat set for your dinner table, then you are in luck. These handcrafted placemats are made from re-purposed bamboo wood and carefully shaped and sanded to provide a meticulous look. The natural wood in this set of two placemats makes it extremely durable and functional for both indoor and outdoor dining arrangements. To clean, simply wipe with a damp cloth and allow to air dry.
Morency Placement Set (Set of 6)
Perfect for any occasion, these beautifully woven round placemats will give your tabletop a contemporary look. Not only will they give any dining room table a facelift, but they are effective at protecting your tabletop from stains and scratches. This makes them ideal for family gatherings, parties, and other locations. These set of six placemats are ideal for indoor and outdoor use since they are easy to clean.
Lewis Kitchen 15" Cotton Placemat (Set of 6)
Bring some unconventional and practical decor to your dinner table with this quirky placemat set. Not only will this set of six placemats add some distinction to your living room interior design, but they are practical enough to protect your table from hot plates and scratches. Crafted from cotton into a woven design, these placements are the epitome of tenuous charm. Spot clean or hand wash to keep them looking as good as new.
Hadrian Stripe 17" Placemat (Set of 4)
Simple and understated, these placemats still manage to remain exquisite when arranged on your dining room table or kitchen counter. Made from 100% PVC material, they are wrinkle and stain-resistant as well. Feel free to spot clean or hand wash the set of four placemats to keep them looking great. Whether you are protecting your kitchen countertop from drink and sauce spills or hosting a fancy dinner party, these placemats will do an exquisite job of adding understated charm to your eating area.
Wooten 19" Cotton Placemat (Set of 4)
Go big or go home this chic and daring placement set. If bold and out there is more your style, then this audacious placemat set will deliver a splash of color into your dining area. Thanks to the 100% cotton material, they are machine washable and dryable and to keep them looking as good as new, wash with cold water and lay flat to dry. Feel free to accessorize these set of four placemats with matching napkins for an eye-catching tablescape.
Casimir Marble Cork 15" Placemat (Set of 2)
Show off your best dinnerware with this set of two conspicuous placemats. Crafted from cork, they are thick enough to shield your table from spills and scratches while enhancing the appeal of your table accessories. Turn any meal into a presentation with this metallic print detail placemat set that delivers fun, elegant, and functional style to your dining area. Spot clean the round cork placemats to use over and over again.
Armstrong Embroidered Design 14" Linen Placemat (Set of 4)
If you're looking for conventional placemats to adorn your kitchen table, then this is the placemat set for you. The elegantly embroidered material is hand-washable, making it ideal for everyday use while the curvy design adds a feminine touch to your kitchen table. Use the set of four placemats to bring an old school charm to any indoor or outdoor eating area.