Patio Ottomans
Patio ottomans can serve more than one purpose. They can be seating or a surface to support a game or snack. They can be a footstool, or serve an impromptu stage for a child to perform a memorized poem or song. But they can also be hollow, and provide storages for outdoor cushions, tools, games and more. Some can even be a secret bar or hidden cooler or refrigerator. They can be constructed of fabric, woven materials of all sorts, or even wood, or metal. An ottoman is an extremely versatile object.
Our choice Best Patio Ottomans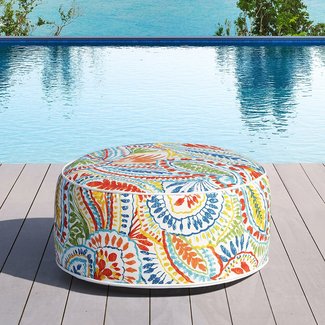 Marlowe Outdoor Ottoman
Add pizzazz to your patio or deck with this round inflatable ottoman. Made of durable poly spun outdoor fabric that's UV and water-resistant to harsh environmental elements. All-round zipper in the white double piping allows access to interior PVC bladder for quick deflating and inflating. Side handle permits easy carrying around whenever you go. Put the inflatable part inside the cover before blowing the ottoman up.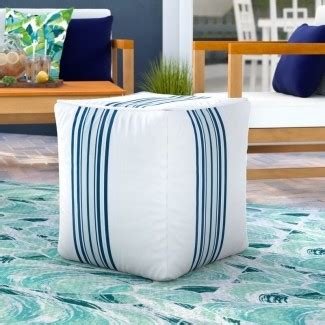 Corbin Ottoman
Prop up your feet on this cube-shaped 18"H outdoor ottoman. Showcases a multi-tone striped pattern on white fabric for a chic, aesthetically pleasing look. Removable, machine washable covers simplify cleaning and maintenance. 100% poly pigment upholstery material with Scotchgard treatment makes it harder for soil, dirt, and other stains to get attached, whereas polyester outer frame material is weather and stain-resistant. This comfy ottoman is compatible with any cushion type.
Halloran Outdoor Ottoman with Sunbrella Cushions
Complement your outdoors with this classic square-shaped patio ottoman. Frame is manufactured with durable and weather-resistant rattan to repel corrosion, with the high-quality resin holding it from unraveling over time. 3.5" thick sunbrella cushion with cozy foam filling ensures maximum comfort through long sitting hours. Is lightweight for easy portability, storage, and rearrangement. Accent with a throw to come in handy during those cold evenings.
Telly Ottoman
Inject a dash of color and vibrancy to your outdoors with this mesmerizing square patio ottoman. Eye-catching white polka dot motif on a solid color background elevates aesthetics and is guaranteed to turn heads. Available in multiple colors so you can choose the one you desire. The polyester outer material is treated to live through extreme moisture and scorching temperatures. Spot clean with mild detergent and air dry frequently to remove accumulated dirt.
Leon Outdoor Striped Bean Bag Ottoman
Modern and extra-comfortable, this rectangular patio ottoman blends aesthetics, functionality, and quality. EPS polystyrene filling material is mildew resistant and conforms to your body during use, warranting a high degree of coziness. Its width measures 26", which is big enough to sit and rest your legs on. Striped pattern adds a pop of color and beauty. Removable, machine washable cover ensures this comfy ottoman maintains its splendor. Place a tray on top to turn this into an end/side table.
Santo Open Weave Outdoor Ottoman with Cushion (Set of 2)
Crafted from woven wicker outer frame with a patterned cushion, this square patio ottoman combines aesthetics and durability. All-weather open-weave wicker construction exudes a light and airy look, while the inner aluminum frame ensures durability and sturdiness. High-performance polyester blend material is UV resistant to withstand fading and degradation from the sun. The striking cushion is 3.95" thick and is detachable for flexibility. Intended to be used in residential spaces only.
Joaquin Folding Outdoor Ottoman
Increase youthful aesthetics to your deck with this rectangular outdoor ottoman. Made with balau hardwood material, hence, incredibly durable and endures harsh climatic conditions. Its brown color exudes warmth and irresistible charm. Comes in three adjustable heights to fine-tune to your ideal altitude and is foldable for easy portability and convenient storing away. Has 225 pounds weight capacity to offer sufficient support. Footrest has a slight slant to it for ergonomic purposes.
Hymel Outdoor Ottoman
Made from extruded aluminum outer frame with a powder-coated finish, this square ottoman features a wine-colored frame and tan seating area with a subtle beautiful pattern. Flat top and smooth curves on the sides infuse some chicness and softness. Weighs 10lbs, making it extremely lightweight for ease in mobility and carrying around. 200 lbs weight capacity, and aluminum material lends stability and robustness. Guaranteed to complement existing outdoor furniture due to its neutral colors and design.
Gosnold Outdoor Ottoman with Cushion (Set of 2)
Comfortably rest your feet after a long day on this rectangular 15.25" H patio ottoman. Thin angled legs reminiscent of mid-century style affords a minimalistic feel. Faux rattan outer frame and steel inner frame provide durability and high strength required of outdoor furniture. Polyester blend cushion upholstery is water-resistant to withstand prolonged moisture exposure. Removable cushion cover allows for cleaning of build-up dirt. Frequently wipe with mild soap and clean cloth.
Hinkel Outdoor Pouf Ottoman
Take your deck to the next level with this unique, cylindrical outdoor ottoman. Made with 100% polyester fabric that doesn't wear out quickly to endure everyday use. Handcrafted details guarantee excellent quality and offer uniqueness and exclusivity. Polystyrene beads filling provide optimum comfort levels. Weighs 4 pounds for ease in mobility. It's not recommended to expose this pouf directly to the sun and rain to prolong its life.