Outdoor Wall Décor
Outdoor wall décor can range from non-representational wall treatments to trellised vines, wall sculptures, hanging pots or even small fountains. It can be built into the wall's exterior finish or it can be added on after the wall and siding is complete. If the wall décor includes water or earth, care should be taken not to allow it to cause the building siding to decay. This can be done by creating a water-resistant backing to the décor, protecting the siding from moisture. Painted murals could also be considered wall décor.
Our choice Best Outdoor Wall Décor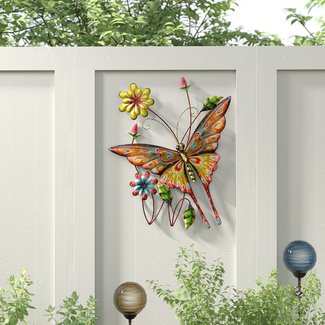 Wall Décor
Give up any wall outside your home an instant facelift with this cheerful and colorful butterfly wall decor. Thanks to the screw hangers, it's easy to install on any surface while the hand-painted metal piece is perfect for nature lovers. This charming butterfly wall decor will instantly bring style and personality to any area outside your home.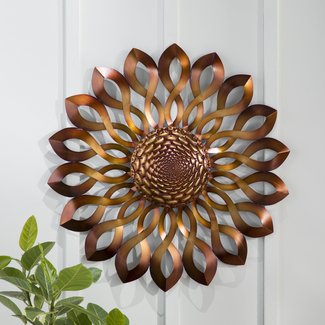 Infinity Sun Wall Décor
Transform a dull and boring wall inside your home into a timeless wall of art with this endless and limitless infinity sun wall decor. It captivates you with its symbolism while the study metal is powder coated and great for both indoor and outdoor use. Crafted with exceptional detail and featuring hand-painted colors over a brilliant metal finish, this piece of wall decor is perfect for a modern and trendy home.
Deadly Octopus of the Coral Reef Wall Décor
Find a small or large space inside your home and give it an aquatic wonderland theme with this seaside coral reef octopus. Hand-painted in watery tones of blue, it contains intricate details right down to each and every tentacle and soft pearlized eyes. This blue octopus makes the ideal interior or exterior decor thanks to its high-quality resin construction.
Bacchus God of Wine Greenman Wall Décor
This Bacchus god of wine wall decor will give your garden a Roman touch. The high-quality resin design gives it a sturdy construction, ensuring it lasts for years to come, while the enameled, rich antique stone finish makes this wall decor ideal for traditional settings. Place it on a wall or store it in your home gallery to impress your guests. Although it is fade and UV resistant, it should be brought indoors during extreme weather conditions. This god of wine and the woods will bring an instant artistic facelift to any exterior or interior wall.
Knothole Gnomes Window Garden Welcome Tree Statue Wall Décor
Bring a bit of a fairytale charm into your garden with this statue gnome wall decor. The statue features a charming little gnome peeping out of a wonderful medieval window. Place it inside the walls of your home to bring instant appeal and charisma to the environment or placed it on any of the trees in your garden to make your gnome feel right at home. It's resistant to harsh UV rays and fading making it ideal for exterior use while the skillfully hand-painted and multi-colored finish allows it to bring color into the home.
Wooden Americana Flag Wall Décor
Celebrate your patriotism with this wooden Americana flag. The solid interpretation off Old glory is crafted from picket fence style boards making it rare and giving it a bit of village-style charm. Decorated with the 50 stars and 13 stripes in shades of blue, red and ecru, it will bring an instant splash of familiar color into your home. Hang it inside or outside your home to show your patriotism in traditional American-style.
Simon Tree Face
Simon is a popular character in the tree people family, and now he is free to grace your garden. Featuring emerald green eyes and weatherproof looks, Simon was made to be placed on trees, barns, piers and fences, while becoming an instant hit with the gardener. Feel free to also set him up at your lake house to bring some tribal charm to the atmosphere.
Flamed Sun Wall Décor
Bring the flaming sun into your home with this stylized metallic rays wall decor. Featuring Mozaic glass in the center and metallic rays that is powder-coated, this piece is ideal for indoor and outdoor use. The domed, concentric patterned center adds a bit of sophisticated geometry that glimmers and shines from certain angles. The handpainted mosaic glass is treated with a clear lacquer to ensure its longevity, and the entire piece is meticulously crafted to instantly bring style and appeal to any setting.
Bicycle and Tree Metal Wall Décor
This delightful wall decor is the perfect depiction of a beautiful summer's day. It is handmade so you can be sure that it contains intricate details from the various shades of green leaves on the tree to the different colors of flowers and a charming bicycle next to the tree. This lighthearted piece of artwork is a dimensional design that contains a back hook so you can hang it on any surface or use it free-standing on a tabletop or garden wall. Use it indoors to bring a little bit of the beautiful outdoors inside.
Welcome Beach Sign
Bring some whimsical and tropical charm into your home with this welcome wall decor. Handcrafted from one-quarter Baltic plywood, it adds a unique touch to your house or holiday home. Feel free to hang it on your door, walls or even over a fireplace for some nostalgic Christmas decoration. It's UV protected so that you can use it outdoors while the bright colors mean you can bring it inside and add a pop of color to any room.