Office Chairs
If you work in an office as most people do, you likely spend most of your time on office chairs. Sometimes you may end up seating for hours and hours. The last thing you want is an uncomfortable chair. Well, office chairs are specially designed to cater for those long office hours. They come with comfy cushioning and can be adjusted to cater for the build or frame of different people. These chairs also offer excellent mobility thanks to their sturdy wheels. You can glide through from one corner of your office to the next without having to stand up.
Our choice Best Office Chairs
Wayfair Basics Mesh Task Chair
This small task chair will fit in your teen's room to take on those computer games or to write that report for school. With a height leverage of 33.5" to 37.5" from floor to seat, there will always be a comfortable spot. The rollers are double wheel and sturdy for gliding from side to side. A 2" padded seat is made with a mesh-like material to promote air flow and temperature. The weight capacity is 250 pounds with the base made of metal with a chrome finish.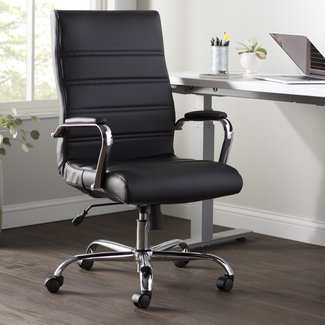 High Back Swivel with Wheels Ergonomic Executive Chair
Sitting at a desk for hours on end can take a toll on your back and muscles. This ergonomic executive chair offers a high back design with special lumbar support for relieving tension. A tilt mechanism puts you in control of just that perfect adjustment to bring about personal comfort. Upholstered with leather and polyuerethane, the soft material will add to your comfort. Made to withstand use up to 8 hours a day, the ergonomic features will be evident immediately.
Billups Mesh Executive Chair
Classy and comfortable, the ergonomic mesh task chair is made to keep your concentration on work instead of sore muscles and cramps. With back angle adjustment and lumbar support, you are in control of cupping this chair to your body. Mesh backing prevents your back from overheating and adjustable arm rests prevent shoulder strain. Make your color selection that blends well with you home office decor or for a desk in a multipurpose area.
Rosenbalm Side Chair
Small spaces and young ages will appreciate this smart-looking chair for a modern area. Simple metal frame with a plastic ladder back design, there will always be a chair to pull out for visiting friends. Sliding easily under any desk type, this no-nonsense chair is lightweight and ready to work when you are. Can also be used as a side chair or easily moved from room to room, wherever an extra seat is needed. Comes with a 90-day warranty.
Eckard Task Chair
When you're looking for beauty as well as comfort, nothing will beat this winged and tufted example of sophistication. Foam padding is encircled by 100% polyester to deliver a cloud-like softness. Your choice of dark walnut or cherry for the base that is set on metal casters and a middle tilt mechanism. A row of gold nail trim puts the finishing touch to this chair that becomes any traditional or contemporary room with style. Upholstery for this desk chair comes in a wide range of warm colors to match your decor.
Jorden Executive Chair
Sassy with French Country trimmings, this executive model has everything you want and need. Class, style and quality are packed into this swivel, high back, button-tufted office chair. Made for heavy usage, the linen lined button tufted back and thick foam seat are ever so ready to roll from one side of the room to the other. The frame is hearty steel with driftwood coverings. Majestic and ready for any business storm, this executive beauty rocks.
Mila Task Chair
A chic modern task chair that can give you many options for a new desk. Versatile and sophisticated with a leather-like covering, it has rounded edges with ergonomic features and adjustable seat height. Perhaps you use your laptop in the living room and are looking to add a secretary desk in the corner. A wooden braced open desk with a glass top would look stunning with this chair. There are many colors of fabric to select from so you could make this modern task chair fit grandly into your decor.
Leaman Ergonomic Executive Chair
This executive chair shows just how far attractive ergonomic furniture has become. Leather and polyurethane are stretched over foam to create a soothing seat. Lumbar support is built into the back for right positioning against strain. Swooping arms are lovely in quality chrome and the arm rests are leather covered. Chrome extends down the past the tilt mechanism, seat adjust and ends at the double wheel casters. Balanced to roll on carpet, tile or concrete, this is the ultimate chair for your work station.
Bret Ergonomic Mesh Task Chair
This is an impressive ergonomic mesh chair that is affordable and handsome. A high back has unique curves to cuddle the form of your back and mess nylon to keep your body from overheating. Adjustable foam covered arm rests give your shoulders relief from tensing up while working. The seat dips and curves to perfection to keep your lower back from waning. The arm rests can be set between 27" to 33.5" from the ground to fit under most desk openings.
Landyn Conference Chair
Good looks and comfort are important when trying to concentrate. Whether it is in a boardroom or your home office, a simple soft task chair with padded arm rests can put your mind in high gear. The back is ergonomically manipulated to give support to low back areas and there is a center tilt that gives you just the right angle for working. The frame is steel and durable. Hooded double wheels provide good movement to swivel and roll across hard surfaces and lower carpeting.