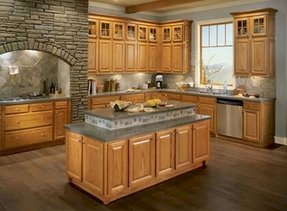 ElizaReid1
What a wonderful, cosy kitchen. Wood and stone finish gives it a cottage look with a modern vibe. Grey colour of countertops plays extremely well with the stone elements, and the gentle, mosaic backsplash is as elegant as they get.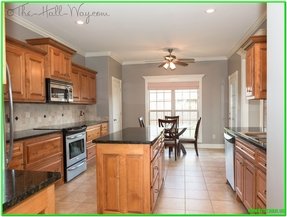 Krystal Mit
Add these stunning maple cabinets to your kitchen with the beautiful cherry stain and mocha glaze. It will ensure maximum amount of space for your utensils and dinnerware and will keep you convenient and functional at all times.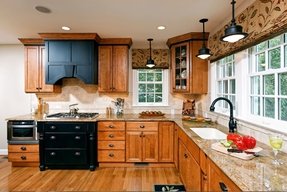 MultiKateAnderson
We looked for inspirations for our new kitchen, and we decide to choose the cabinets with oak finish. It's a warm shade of brown, so it creates the inviting atmosphere with country style.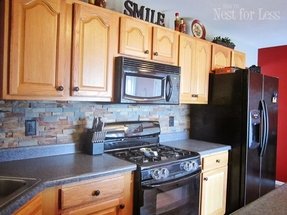 SarahMiller29
Beautiful backsplash for modern kitchens. It consists of stone tiles in prevalent blue hues with orange and brownish accents. It perfectly matches both cabinets with a warm brown finish as well as countertops in grey-bluish tones.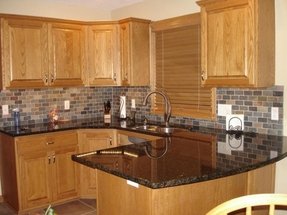 Jaclyn Torr
This kitchen area is very functional and looks attractive in different stylizations. Wooden cabinets feature an attractive oak finish. Lower cabinets include a solid and spacious marble top that also looks very nice.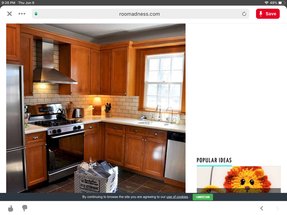 Kathleen Tay
Kitchen | Oak Cabinet | White Subway Tile backsplash | Dark Natural Stone Tile Floor
Meghan Wils
A functional and contemporary stylization of a kitchen. It includes solid and spacious cabinets for kitchen products. Some of them include a durable and attractive marble top. All cabinets include solid metal hardware.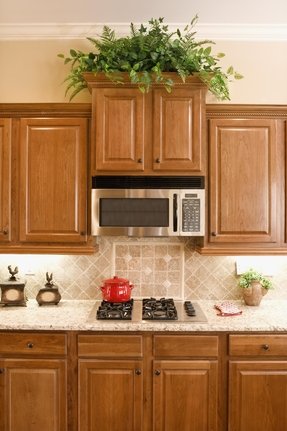 LaetitiaSmith1
Not enough warmth in kitchen area? Try oak wood. Wood finished mid-toned cabinets, contrasting with tile backsplash, bring warm feel indoors while still not overwhelming the decor as heavy-grained dark wood could do.
Julia Lambertify
This elegant kitchen set, except for the granite tops, is entirely made of solid oak wood. Each cabinet and drawer is equipped with a tasteful handle, and has a lot of free space for storage.
Weber Lily
An amazing set of kitchen furniture crafted from solid oak wood. The set includes well-polished, granite countertops, cupboards with lovely fronts, and plenty of free space to master your culinary skills.
Monica Bro
I do not really like the oldschool dark kitchen cabinets with the solid granite countertops. I know that it is designed to last the years, but it looks so heavyish and make me feel like I came back into the past to the late sixties.
Mendes Natasha
Kitchen cabinets with a very solid wooden construction. They look very attractive and natural thanks to their oak finish. These cabinets include storage compartments and drawers that provide practical storage space for different accessories.
RaquelStone12
Redolent of the mission style, but with a hint of contemporary elegance, this warm dining room decor utilizes wood in varied finishes, from walnut tones to black, and stone walls to create a homey atmosphere.
Peyton Donaldson
This kitchen set can be a great choice for larger interiors. Entirely crafted of solid oak wood, the set offers several cabinets with doors, capacious storage drawers, 1 desk with 4 drawers, and 1 open shelf.
Jasmine Morris
Contemporary setup for a modern kitchen with counters and cabinets made out of light oak wood with granite tops. The kitchen is fitted with modern appliances, which make cooking easy and provide a nice finish.
Evans Liliana
The greatest advantages of oak wood are its nobility and longevity. Oak kitchen furniture, including heavily used oak cabinets, will prove to be resistant to damage. And the warm color presented here with a slight amber shade - it will always be fashionable.
Evans Ashley
Set of kitchen furniture made of high quality oak wood. Includes a lot of cabinets, drawers and open shelves in various sizes for storing pots, dinnerware and others kitchen accessories.
Laetitia Anderson
This elegant kitchen set is consisted of several cabinets with granite tops. Each cabinet is crafted from sturdy wood and covered with a warm cherry finish. There are many adjustable shelves that are hidden behind the closed doors.
morganmarthy
Remodeling oak kitchen cabinet oak kitchen cabinets for aesthetic and ...
Aloma Garcia
Traditional and classic setup for a kitchen corner with counters and cabinets made out of light oak wood. The counters are fitted with a stone countertop and a couple of aluminium utilities on the top, which provide a modern vibe.
Crystal Joh
This kitchen is a perfect example of the charm and warmth of some traditional decors. Oak cabinets correspond perfectly well with the black island and beige granite countertop.
Courtney John
This stylish oak cabinet is a perfect piece of furniture for a spacious kitchen that will fulfill the role of an island with a solid countertop. Large lockers and drawers will hold numerous small things.
paigewalkerpaige
Set of kitchen furniture consisting of a lot of cabinets, drawers and open shelves in various sizes for storing kitchen accessories. Construction is made of high quality oak wood. Elegant design for each home.
Karen Ale
Stylishly finished with oak, this set of kitchen cabinets is designed for those, who like traditional or rustic decors. Corresponding well with the two-toned kitchen island, it will help to create a warm, alluring ambience.
Jenna Edward
Aesthetic traditional kitchen units of wooden materials in light browns. Shelved and drawered cabinets have recessed toe-kicks and spotty brown-beige tops. Wall units feature shelves, crown tops, arched milling cuts on doors. Pulls are dark brown.
Tara Gosselin
Oak Cabinets
Coupe Andrea
pinterest kitchen wall paint colors oak cabinets brazilian cherry floors | kitchen cabinets appear to be maple, the floor oak but as the color ...
Zernike Laetitia
5 Top Wall Colors For Kitchens With Oak Cabinets :: Hometalk
Lucy1Reid
keep oak cabinets... oak floor
AliceHilton1
10x10 Randolph Oak Kitchen
Bush Eliza
Kitchen remodel with oak cabinets and gray wall paint colors and laminate flooring
Margaret Miller
tiled the back splashes with Honey Onyx marble subway tiles,
Craven Zoe
... oak cabinets 4 Steps to Choose Kitchen Paint Colors with Oak Cabinets
Lisa Rivera
kitchen paint color ideas with oak cabinets | Kitchen Paint, Kitchen Painting Ideas, Kitchen Paint Colors
LaetitiaSmith1
Want to make your kitchen classier and brighter? Now you can, using this elegant set of kitchen cabinets, with smoothly-operating doors, and the spacious shelves hidden behind them. Each cabinet is made of solid oak wood, guarantying a long usage and appealing appearance.
Crystal Camp
silver sage paint match at home depot- with golden oak trim
VanessaMartinez74
This kitchen design includes many functional and solid wooden cabinets. Their oak finish perfectly matches their simple style. This decor also includes a functional kitchen island with solid, metal, backless stools.
Rivera Jasmine
oak cabinets, farmhouse sink, stainless steel appliances and black countertop....just needs the green tile backsplash and it would be just what I'm looking for!
evanspaige1
very detailed directions on how to paint your cabinets WITHOUT SANDING them first
Jenna Daviesful
maybe do this color in kitchen???Comfort Gray is by Sherwin Williams
Robinson Layla
oak_cabinets_b.jpg
Mackenzie Poly
DIY Bedroom Organization Ideas | ... kitchen design 2010 10 Luxury Kitchen Ideas For Fraction of the Price
JudyJacob1
wood lower cabinets, white upper cabinets with glass fronts and teal subway tile backsplash
Allison Wri
Kitchen Paint Color Ideas with Oak Cabinets
Jennifer Will
DIY:: Great WAYS TO UPDATE YOUR KITCHEN & OAK CABINETS WITHOUT PAINT
alexsandrawilson
Kitchen Color Ideas with Oak Cabinets Corner Design
Jenna Edw
oak cabinets b oak kitchen cabinets with shanxi black granite oak ...
SuperAliceMartinez
Entire kitchen redo - oak cabinets to white using 3.25 quarts of Annie Sloan chalk paint, no sanding or priming. Shades of Amber: Goodbye OAK Cabinets, Hello Beautiful!
KellyKellAshley
These WERE builder grade oak cabinets. They look amazing!!!
Jackson Jenna
Oak pre-finished kitchen cabinets. Detail of Oak Base Cabinet w/drawer ...
What are the most popular styles for kitchen cabinet fronts?
Look up the shaker, louvred, flat, inset, distressed, beadboard and thermofoil cabinet fronts. However, if you would like to have something truly original, consider custom cabinet fronts.
What about cabinets themselves?
These can be stock, semi-custom and custom. Stock ones are straight out of the store and come in standard sizes and shapes. Semi-custom cabinets allow for some flexibility, while custom cabinets are hand-made precisely for your measurements and taste.
How do kitchen cabinets get shipped?
You can receive your cabinets in one of two ways – ready-to-assemble (RTA) and fully assembled. The first option means they come packed in flat boxes. This typically cuts the shipping cost, as they take less space, but require more installation time. Fully assembled cabinets need a vehicle with enough room to accommodate them but require no work except for mounting them.
I've heard about customized kitchen cabinetry solutions, but what exactly are my options?
Kitchen cabinetry is all about your needs and ergonomy. To make your kitchen life easier, look up pull-out tables and cutting boards, lowered and raised dishwasher cabinetry, "Lazy Susan" cabinetry, different pull-out, pull-up and pull-down shelves as well as elevated toe kicks. Any of these will substantially improve the workflow in your kitchen.
What is the standard size of kitchen cabinets?
Base cabinets are typically 24 inches deep, and upper cabinets are typically 12 inches deep. However, both also come in 12, 15 and 18 inches deep options. When it comes to the height, base cabinets are usually 34 1 inches tall, while upper cabinets can be 12, 15, 18, 24, 30, 36 or 42 inches tall.
Are glass fronts worthy of consideration?
Glass fronts are a bit more demanding than their standard counterparts. While they can be used to make your kitchen seem more spacious, because they add depth, you will have to keep in mind to always keep them clean, and the inside of the cabinet tidy. If you're going for a modern, light style, they can be a great choice.
What's the difference between lay on doors and framed doors for kitchen cabinets?
Lay on doors covers the entire cabinet. This way, only a small gap between neighbouring units is left. Framed doors are installed within a narrow frame, which doesn't hinge with the door. It's a great choice for real wood kitchen cabinets, like oak ones!
SUPPLEMENTAL RESULTS FROM USERS AND STORES