Luggage Racks
Adding luggage racks into your guest room is an excellent idea. The racks are the perfect places to keep a suitcase and will be very helpful to your guests. They are also beautiful furniture accents that will help transform the entire room. Luggage racks are available in many different designs and sizes. Mostly made from wood, they may also feature additional finishing as well. The racks make packing and unpacking your suitcase easy too. But they are not just meant for the guest room. You can consider adding them to your bedroom as well if you want to.
Our choice Best Luggage Racks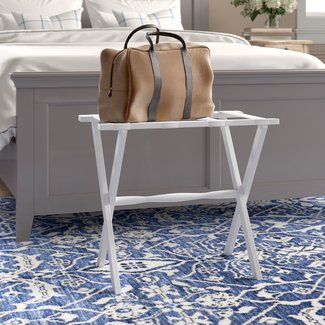 Arreola Folding Wood Luggage Rack
Impress your guests with this simple yet classy luggage rack. Frame is crafted from durable wood and finished with crispy white color for a chic, elegant feel. Four fabric straps come in multiple finishes to provide the freedom to choose the most appropriate one for you. The soft tones, airy vibe, and clean aesthetic silhouette give off the coastal design reminiscent of a breezy beach. Frequently clean with a dry cloth to prevent dirt build-up.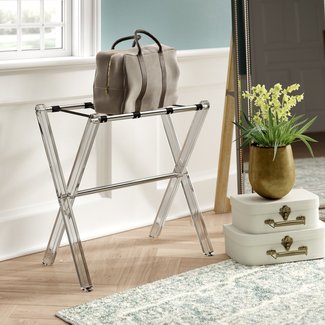 Widcombe Folding Metal Luggage Rack
Modern and functional, this contemporary styled luggage rack bequeaths style and subtle sophistication to any space. Showcases clear, X-framed acrylic legs, shiny chrome-plated metal tube crossbars, and robust black mesh-weaved straps to securely hold up to a 77pound suitcase. It's foldable to be neatly stored out of the way when not in use. This outstandingly constructed rack is intended for use in both residential and non-residential spaces.
Caudill Folding Metal Luggage Rack
Free up some floor space with this all-black 20.5" H luggage rack. Metal frame is made of heavy-duty steel tubes for guaranteed reliability and strength, whereas the stunning matte finish evokes a smooth, natural-looking appearance to complement pre-existing décor. Gracefully curved edges lend some softness and fluidity. Weights 4.47lbs, making it incredibly lightweight for effortless carrying around. Avoid using harsh chemicals during cleaning as it may wear out the coating.
Wayfair Basics Chrome Luggage Rack
Stash away extra luggage on this simple but classy 21" H luggage rack. Four, durable reinforced polyvinyl webbing straps are firmly screwed onto the metal frame to bear the weight of your 100lb or below luggage weight. Chrome-finished metal body adds subtle shine to your space. Its height is perfect and eliminates the need to bend a lot when accessing the suitcase. Measures 24" H * 26.5"W *2.5" D when folded, and does not require assembly.
Folding Wood Luggage Rack
A huge advantage of this classic luggage rack is it comes ready to use right off the box. Solid wood constructed body is highly durable and will blend with existing room furniture. Five heavy-duty, elastic, nylon straps safely hold up to 150lbs. The square lower shelf with 50lb weight capacity enhances storage space perfect for storing shoes or any other items. It's better suited for traditional, vintage, or classic themes due to its refined design and wood material used.
Folding Wood Luggage Rack
Offer your guests a place to rest their luggage with this brown-toned luggage rack. Clean lines, crisp angles, and metal construction goes well with modern and contemporary themes. White hamper laundry bag lends additional storage space for holding dirty clothes, while the cloth bag is removable for easy cleaning. Luggage rack folds for conveniently keeping it out of the way. Can be converted to a unique bedside table by simply adding a tray.
Folding Metal Luggage Rack
Add a sophisticated and glamorous look to your bedroom with this 26.5" H luggage rack. Black straps beautifully contrast against the gold-toned metal body, creating captivating interest. Back guard offers support to your suitcase when packing and unpacking. Its 26.5" elevated height provides easy luggage access, whereas 5lb feather-light weight permits effortless mobility and storing away. It matches well with modern and contemporary-styled interior spaces.
Anderson Wood / Metal Luggage Rack
Safely keep your bags off the floor with this high-quality luggage rack. Pipe fitting details on the frame adds an industrial touch, while natural wood in lower shelf introduces warmth and allure. Five fabric woven straps complement the metal frame and can hold up to 100lbs. The wooden lower shelf increases storage space and is ideal for putting small bags or shoes. Intended to be used within residential areas only.
Remy Folding Wood Luggage Rack
Crafted from sturdy solid wood with a rich cappuccino finish, this beautiful luggage rack bestows grace and subdued elegance to any space. Lower slated shelf maximizes floor space and provides bonus storage space. Metal click buttons help secure the lower shelf in place when folded. Black thick nylon straps have a 75lb weight capacity. It will seamlessly blend with most existing décor due to its neutral tone. Keep suitcase on the luggage racks and shoes or personal effects on the lower shelf.
Folding Wood Luggage Rack
Make your guests feel at home with this folding 20"H luggage rack. Smoothly curved X-shaped legs exude an understated elegance. Gorgeous petit point straps afford functionality and elevate visual appeal. Made from high-quality wood to warrant durability, longevity, and strength. This exquisite piece of work can hold an impressive 200 lbs, to accommodate those suitcases falling on the heavier side. Comes in a variety of finishes to let you choose one best suiting your interior space.