Light Shades
Light shades are used to deliver ambient lighting in any space. These little décor accessories can be used anywhere including in the dining room, hallway, or even the kitchen island. The collection of light shades is quite diverse. They come in different shapes, colors, and designs. Whether you are looking for something playful to spruce up the kids' room or a romantic shade to add a cozy and romantic feel to your bedroom, there's something for you. These shades are incredibly stylish too. They feature a sturdy construction as well to ensure you get full value for your money.
Our choice Best light shades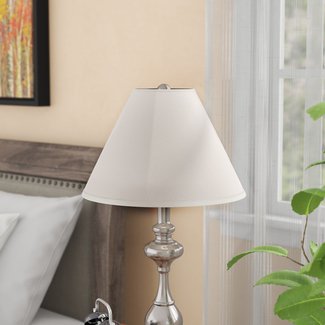 12" Fabric Empire Lamp Shade
Brought to you in a neutral off-white and a classic empire design, this lamp shade comes with clear, clean lines and a subdued elegance. The fixture which also features a spider attachment and a hardback skeleton, has been manufactured to be specially durable.
Place on a small slender lamp and set on a bedside table or corner lounge table against a darker backdrop to add a touch of lightness to the ambience.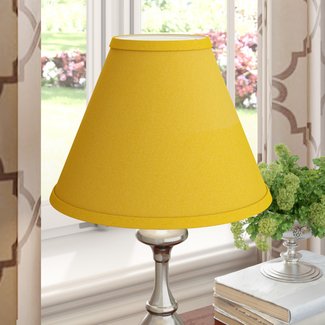 12" Linen Empire Lamp Shade
Featuring an upper and a lower rim, this lamp shade possesses the subtle allure which is the hallmark of empire shades. The linen fixture which comes with  a washer and a spider attachment in a nickel finish is suitable for a variety of lamp designs. Set on a lamp with a lengthy golden or copper stem to offset its warm ivory and place it against a beige background to create a harmonious blend of color.
French 16" Silk/Shantung Drum Lamp Shade
Manufactured from silk and shantung, this drum-shaped lampshade features the bold outlines which are emblematic of modern and contemporary design schemes. The accessory which also features a spider attachment, comes with a maximum recommended wattage of 100 watts. Fasten on a silver or bronze floor lamp against pale blue curtains and a darker background of blue or brown, to achieve an exquisite balance of varying hues and tones.
12" Fabric Bell Lamp Shade
A hexagonal tapered top which gently spreads out into a skirted base lends this bell-shaped lamp shade a hint of subtle glamour which makes it suitable for traditional, French country and bohemian-inspired themes. Manufactured from tencel and featuring a spider attachment, the fixture has also been provided with a fitter. Set on a table lamp with a straight or bulb shaped stem and place on a side or coffee table and accessorize with books and miniature sculptures.
Sheffield 5.5" Fabric Drum Lamp Shade
Specifically designed for candelabra bulbs, this drum-shaped lamp shade will bestow an ambience reminiscent of the regal opulence of Hollywood regency or art deco design themes, on its surroundings. Featuring clip-on attachments, the accessory has been manufactured from fabric which is also lightly textured, lending it an extra dimension of subtle refinement. Make use of it to adorn your favorite chandelier in silver or bronze to add brightness to a room with a background in rich shades.
9" Linen Rectangular Lamp Shade
Impressively durable, this rectangular fixture consists of a line fabric covering on a heavy grade, rust-resistant metal frame. The lamp shade which has also been provided with a brass-finished spider fitter comes in a neutral black making it ideal for any color scheme.
Take advantage of its bold, symmetrical silhouette to adorn a mahogany sideboard against a white or pale grey background decorated with geometric frames to create the charming, spare allure of a modern urban theme.
13" Linen Drum Lamp Shade
Crafted with a styrene interior and  a linen exterior, this drum lamp shade has also been equipped with a washer fitter. It also comes with a spider attachment as well as trim and covering of the same color. The fixture's bold outlines and neutral white make it the perfect choice for setting on a floor lamp and balancing out the heavier hues and rich wood tones of a mid-century modern room.
Downing 12" Metal Drum Pendant Shade
A shimmering ornate facade inspired by the delicate decorative styles emblematic of Moroccan themes imbues this accessory with an allure which is both enchanting and luxuriant. The lamp shade has been manufactured from chrome and features acrylic beaded pendants. It is also especially versatile and has been designed to fit with an extensive range of fixtures. Place on a floor lamp with a dark stem against a background of textured wallpaper in burnished rich brown and accessorize with indoor palms in ornate darker colored ceramic pots to create a truly luxurious ambience.
16" Shantung Empire Lamp Shade
Possessing a pleated simplistic outline with a spider attachment, this lamp shade also comes with an impressive versatility owing to its design and pristine white tones. Manufactured from silk and shantung, the fixture may be used to elevate the ambiance of hallways, lounges or bedrooms in your home. Use to adorn a table lamp with an ornate stem and place on a coffee  table in a rich brown natural wood finish and decorate with scented candles which also correspond to your lounge's color scheme.
15" Paper Empire Lamp Shade
Featuring a washer fitter and a spider attachment, this empire lamp shade which has been manufactured from paper will elevate its surroundings with its muted colors. The fixture which has been designed with leaf prints, has also been manufactured with a unique, textured appearance. Upgrade a shabby chic setting by fitting the lamp shade on to a floor lamp in the same white or cool colors against a pink or blue background with a floral patterned mural behind it.