Lazy Susans
Lazy Susans are basic turntables designed to distribute food easily during gatherings and house parties. Often set at the center of the table, Lazy Susans have become a must-have for people who love to host guests over or hold gatherings. They offer an easy way to share your culinary creations with everyone in the room without having to move across the dining table. Lazy Susans are an extremely versatile tool when it comes to style, color, and sizes. However, it is always advisable to select microwave and dishwasher safe products. Eco-friendly and chip-resistant designs are highly recommended.
Our choice Best Lazy Susans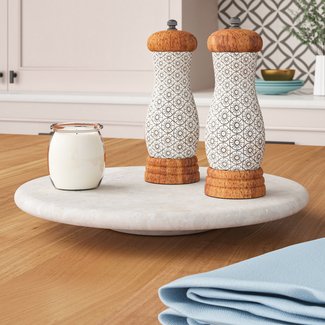 Maxwell Lazy Susan
Brought to you in a cool white marble, this lazy susan combines aesthetic appeal with versatility. Its compact size and spinning top make it ideal for providing you with easy access to your favorite herbs and spices in your kitchen cupboard or for serving your favorite dishes at the dining table. It can also be used in your bathroom cabinet to ensure you are able to keep your beauty products within reach. Use its white marble to create a cooling, alluring contrast by coupling it with chinaware in pristine white or pale blue, against the rich brown hues of a natural wood dining table.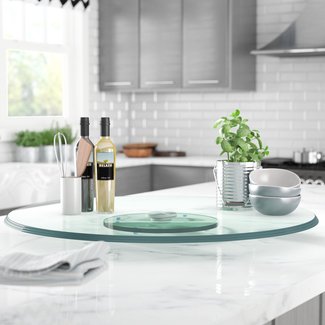 Fenley Lazy Susan
Shatter-resistant, tempered glass, grants this lazy susan a durability which makes it suitable for long term use. Its 360-degree rotation means you will be able to access your dishes with ease, while its weight system will keep them perfectly balanced, eliminating the risk of them tilting over. Take advantage of its clear, transparent design to add a hint of sophistication to your table setting by pairing it with tableware in cool, neutral colors such as silver.
Cohutta Lazy Susan
Made from hand carved marble, this lazy susan will make it especially easy to serve food during meal times due to its swivel base.The 15-inch dining accessory can also be cleaned regularly by hand washing. Pair its cool neutral tones with chinaware in bright bold colors, or simply those which come in more sedate hues.
Gessner Lazy Susan
Double-tiered, and highly polished, this lazy susan will enable you to serve not just one set of dishes but two. Manufactured using stainless steel, it can also be used to organize condiments so that they can be used with ease during cooking or baking. Take advantage of its gleaming appeal and pair with a minimalist design setting to create order and reduce clutter in your kitchen.
Woodbine Lazy Susan
Its natural wood grain and rich brown hue means this lazy susan will provide a heartwarming rustic touch to its surroundings. As a result, it is ideal for placing on a coffee table of lighter colored wood with darker colored carved tableware to create an enchanting contrast of natural tones. Impressively versatile, this tray may be used for providing access to your spices, herbs, condiments or even your jewellery making it an excellent addition to your household accessory collection.
Camillus Lazy Susan
Brought to you in metallic grey, and a grid-like form, this lazy susan comes with an understated, contemporary appeal which makes it suitable for a range of color schemes and design themes including modern farmhouse or industrial settings. The tray also comes with a removable umbrella hole cover and can be used on a glass table. It has also been powder-coated with an elegant multi-step hand finish. The aluminum accessory can also be painted meaning you will be able to incorporate it into your color scheme of choice and lend it an extra dimension of flexibility, as a result.
Dowsett Lazy Susan
The first thing which is immediately noticeable about this accessory is its dark and smooth sheen which makes it ideal for any place setting. This wooden tray also comes with five additional ceramic dishes which are dishwasher and oven safe and can be used with the tray or on their own. Place as part of a table setting with dark and light chinaware to provide a balance of color and versatility.
Phil Lazy Susan
This lazy susan has been designed with metal hardware to enable it to revolve with an impressive smoothness. The miniature tray also possesses an improved degree of stability due to the presence of silicone droplets. The accessory which has been made from solid pine wood also features paint distressing which enhances its natural allure. Make use of its graceful antique design to complement the timeless elegance of a traditional dining room setting.
Middlebrooks Lazy Susan
With a capacity of 10lbs and a width of 21 inches, this lazy susan has been perfectly designed to serve your favorite drinks, dips and sauces. The tray has also been designed with ball bearings which will also turn smoothly enabling you to be able to retrieve glasses of wine or small dishes with ease. Take advantage of its rich mahogany tones to add a hint of bold color to balance a table decorated with lighter colored place settings.
Fenley Lazy Susan
Created from tempered glass, this lazy susan will provide a sedate touch of smooth sophistication to both neutral, light or warm colored dining themes. It is also easy to clean too and may be wiped with a clean cloth or gently washed by hand in order to maintain it in a pristine state. Use it to add a hint of opulence by adding it to a table set with crystals, pristine white linen and vivid red roses in the summer sunshine.