Kids Desks
Just like adults have desks at the office, children also need kids desks for their school and recreational work. If your children are already in school then they have lots of school work that has to be done and completed on a comfortable and spacious desk. If you want them to work efficiently and improve their grades at school, then a child's desk is an absolute must. The desk gives the child a private space to store their work and teaches them the valuable lesson of staying organized. You can choose from a selection of different types, colors, and sizes of kids' desks with all the features that your child needs.
Our choice Best Kids Desks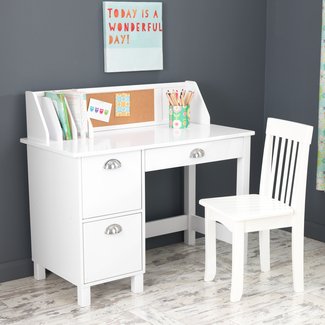 Kids Study Desk with Hutch and Chair Set
Recommended for ages 3 to 10, this easy to assemble matching hutch, chair, and desk set is available in espresso or white. With three drawers, a cork bulletin board, and a paper organizer, this set is perfect for a child's bedroom or study nook for homeschoolers. Two deep drawers store binders, books, and craft supplies. The third drawer provides storage for smaller items. It's made of manufactured wood and laminated for an easy-to-clean, scratch-resistant finish.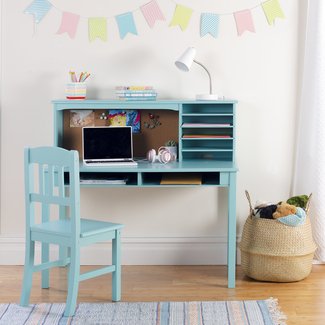 Glaser Kids Writing Desk and Chair Set with Kids Hutch
Help your child pursue their natural curiosity to study, read, or make art all while encouraging a tidy, organized working space. Designed for children ages 5 to 12, this desk, chair, and hutch sets feature a paper organizer, a large cork bulletin board, and a sectioned storage compartment beneath the counter. Made from sturdy wood, this desk comes in grey, lavender, navy, teal, and white finishes and gives your child plenty of knee and elbow room.
Avalon Kids Writing Desk with Hutch and Chair Set
This elegant desk, hutch, and chair set is ideal for elementary school-age children who need a creative space. One gliding drawer immediately below the desk's counter helps organize pens, post-its, and art supplies. Three hutch shelves help to optimize storage space, and one large shelf top shelf accommodates a lamp and other art or homework essentials. Available in white and natural scratch-resistant finishes, this wooden set is crafted from non-toxic materials.
Adalyn Kids Study Desk
Keep your child's room clutter-free with this minimalist desk that also works great as a vanity for young girls. Constructed using manufactured wood with a scratch-resistant melamine veneer, the surface of this desk can withstand years of school projects and assignments while still looking pristine. Smooth gliding drawers provide ample space for storing textbooks, folders, and craft supplies while the 35-inch desktop offers room for a laptop, desk lamp, and other essentials.
Oundle Kids Study Desk
Ample space, a big storage bin, and customizable name tag all work together to help your child stay focused and organized, whether they're doing homework or crafts. Made in the USA from non-toxic materials and coated with a scratch-resistant finish, this desk will stand up to years of crafts and school assignments. One large drawer helps keep your child's room clutter-free. Accessorize with a colored drawer pull and chair to match your child's bedroom décor.
Kids Study Desk and Chair Set
The counter of this natural wood desk lifts to reveal a large storage compartment. Functional, fun, and simply designed, this desk and chair set is perfect for preschoolers.
A scratch-resistant finish allows you to wipe the surface clean of marks, keeping it looking new. With espresso, white, and honey finish options, you can match it with any color palette. Personalize the set by adding a character-themed seat cushion.

Deluxe Art Master Desk
Colorful, easy-to-clean, and full of fun features, this deluxe desk, hutch, and chair set is ready for everything life throws at it. Crafted from molded plastic, you can even wash it with soap and water. The hutch features numerous compartments for markers, paints, and other craft essentials. A built-in light allows your child to illuminate their workspace, and large storage bins on either side of the desk provide ample room for larger materials, like books or drawing pads.
Rehaan Kids Study Desk
A minimal, understated style helps this workstation blend seamlessly with any décor. With enough surface area for a laptop and lamp, a small drawer, and a bookshelf, this desk keeps it simple. Its small frame enables it to fit into tight bedrooms or small apartment spaces. Sturdy wooden construction and a scratch-resistant finish help it stand the triple-threat test of time, art projects, and homework assignments.
Lovejoy 21.5" Writing Desk and Chair Set
This Scandinavian-inspired desk and chair set are easily stowed in a small apartment, bedroom corner, or homeschool study space. The table top opens to reveal an old-fashioned, school desk-style storage compartment. A sturdy, wooden construction and a sleek, scratch-resistant finish will help this desk last through years of art adventures, homework, and crafts. This small set is perfect for elementary-aged children.
Alexa Kids 25" W Writing Desk with Chair
Evoking traditional school rooms of decades past, this natural wood set features a safety-hinge, lift-top desk, and a sturdy chair. Perfect for homes, apartments, or bedrooms with a country-inspired or farmhouse aesthetic, this little set is ideal for helping keep elementary-aged children organized at work and play. Whether they're taking on homework assignments or enjoying crafts, this desk is made to stand up to years of use.