Hall Trees
Hall trees can be placed almost anywhere that is convenient for you. Look for hall trees that have a wide, weighted base for free-standing trees since heavy coats can cause a light-weight tree to topple over. More elaborate, wall mounted hall trees often include places to sit down to pull off outdoor boots or shoes. They often include places to put bags, keys, and even mail. This can go a long way toward keeping things organized, and preventing those frantic, last-minute searches for vital equipment. A place for everything can be a vital time-saver.
Our choice Best hall trees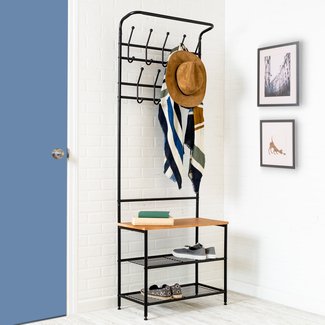 Entryway Storage Bench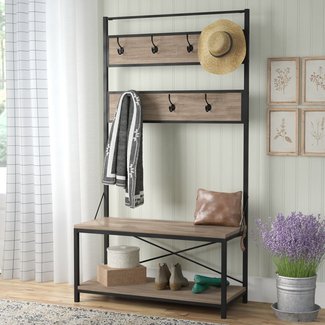 Jannie Hall Tree
A natural scene becomes this metal and driftwood hall tree with clean lines and a balanced charm. Two rows containing 7 hooks can hold up to 20 pounds each for snow and rain drenched coats.Measuring 68'' H x 40'' W x 17'' D, there is plenty of room for the whole family to share. Crossbars hold the upright position in place and there is an extra shelf for storing shoes or wicker baskets for gloves, socks and caps. Ideal for country living where the outdoors has a way of following you inside.
Gracie Hall Tree
Easy care and charming, this driftwood hall tree offers style and function. Three large compartments rest above 6 metal hooks for storage. Over 6' wide, there is plenty of room for kids to share the wooden bench and tuck shoes in one of 24 cubbies found below. Meant to be as aesthetic as productive, this large piece would work well in a large hall, mud room or entry way. Made of composite woods that are non-toxic, it is a great choice for family storage.
Briella Hall Tree
Add a modern touch to an old staple with this sweet ladder hall tree made of metal and manufactured wood. Finished in gray to give it a distressed look, an industrial loft could find just the right spot to display. 5 tapered shelves and 4 hooks let you organize your outdoor gear or hold books and cases.  A mounting kit is also included for securing to your wall. A den or home office could also make use of this nifty storage unit. Chic modern, urban country and rustic would also benefit from this trendy tree.
Roy Hall Tree
Never let lack of space deter you from using an organized solution. This hall tree takes up little depth, but gives you plenty of space. The bottom is angled outward by 17.5" while the top remains flat against the wall. Within this space lies 2 rows of metal pegs for hanging different items. Solid pine is finished in a rich brown that lends warmth to your entry way. Two metal rods crisscross along the back for stability as a freestanding unit. All types of decors will be accepting to this low-key stand that requires little care.
Angelica Hall Tree
This simple crafted hall tree is ideal for people with large storage needs and little space. When the room on your floor is limited, shoes can seem like boulders. This compact cabinet is a little over 2' wide and easy to park. There are 9 single compartments below the bench seat for storing shoes and 3 generous hooks at the top for hanging coats. Available in drifted gray, espresso and white, it fits well with most decors. This lovely unit is freestanding so it can be moved around.
Parke Hall Tree
A sharp and straight hall tree for modern homes, this unit is industrial in nature with dark wood and black-coated metal tubing and strips. Two rows of 5 hangers each provide ample room for parking your jacket or wrap. There are also 2 rows of black metal shelves for storing foot wear directly under a wooden seat. Measuring 72'' H x 27.6'' W x 12.6'' D, this tree will look stately in urban industrial, modern or minimalism decor. 
Halstead Hall Tree
This French Country hall tree brings out the best of the decor with wood scoring on white bead board and crown molding along the top and bottom. A sturdy seat with curved accents hides a large pull out storage unit beneath. Designer hooks and two long cubbies complete the look. A classic beauty for homes that are looking for a sophisticated traditional look while dealing with the daily chores of straightening and storage.
Salina Hall Tree
Straight lines and imbedded panels deliver a traditional look to this soft gray hall tree with brushed chrome hooks. The edges include slight ornate design to add sophistication. Below the bench are four nice-sized open compartments for storing shoes, baskets and other items. Curved legs hold up the unit almost 3". Other decors where this hall tree would look tasteful include contemporary, urban country and chic modern.
Mickelsen Entryway Hall Tree
This hall tree represents quality at its finest. Mimicking fine moldings of a traditional nature, it boasts a few of its own. Two cubbies rest just beneath the top and have interesting hangers inside for smaller items, like hats. Below the cubby shelve are 4 more hooks made with a soft chrome finish. There is storage under the seat for blankets, towels and other larger items. This freestanding unit would look excellent in a hallway lined with chair rails.