Growth Charts
Growth charts are very helpful in tracking your child's non-stop growth. For example, with an interactive chart, you'll not only know if your child is growing normally as his or her height shoots up like a beanstalk but also have fun seeing how fast they grow. Your kids will love seeing the progress they are making too. The growth chart is also a perfect way to preserve the memories of your kids childhood years and how much taller they grew after every year. There is a wide range of colorful and fun growth charts designed for boys and girls. You can choose your growth charts from popular brands including JDS Personalized Gifts and Oopsy Daisy among others.
Our choice Best Growth Charts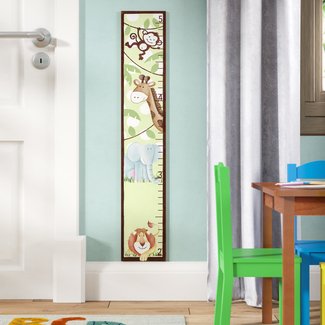 Elektra Jungle Buddies Growth Chart
You no longer have to leave your child's measurements behind after a move, thanks to this growth chart. Made of solid wood, this chart features your little adventurer's favorite furry friends – a giraffe, monkey, lion, and elephant.
At 39'' tall, you can measure your child's growth for years to come. To get the most accurate measurement, hang the chart at the appropriate height as the ruler starts at 2'.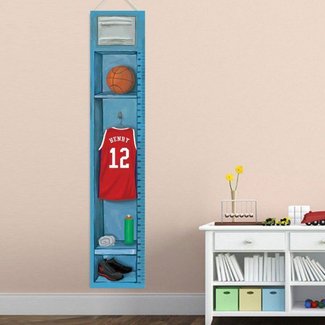 Personalized Gift Growth Chart
Whether you are looking for a gift for an expectant mother or your little princess, this growth chart is a great option. Made of sturdy canvas fabric, its pink details will win over every little fashionista.
The chart features feet and inches to measure even the smallest height changes, which mom and dad are sure to enjoy!
For an extra special touch, personalize the growth chart with the child's name (up to 10 characters) and their year of birth.
Cameron Woodland Buddies Growth Chart
Support local businesses with this woodland-themed growth chart, which was handmade in the United States! Crafted from thick canvas material, this growth chart is 42'' tall and 12'' wide.
Its neutral background will complement any room in the house. But the stacked woodland animals give just a touch of whimsy to make it a great addition to your child's nursery or bedroom.
Kleckner Sports Ball Growth Chart
Got a little sports fan on your hands? They will adore this growth chart featuring all their favorite sports on a green background: baseball, football, soccer, and golf.
Painted by hand, each wooden growth chart is unique and built to last. Measuring 39'' tall, it features a ruler on the right-hand side with tick marks to easily record your child's growth spurts.
Trains, Planes and Trucks Peel and Stick Personalized Growth Chart
Looking to personalize your child's room? Enter your child's name (up to 20 characters) on top of the chart. Your little one will love their colorful automotive-inspired chart, made just for them!
This chart has both the metric and imperial systems so that you can track your child's growth in inches or centimeters!
After they outgrow the chart, you can remove it from your wall easily by peeling it off without leaving behind any sticky residue. Then, store it away as a touching keepsake of their childhood.
Toby Growth Chart
A more sophisticated option, this wooden growth chart features a muted pastel background with delicate, hand-painted floral accents on either side. Its timeless design ensures the chart will fit into nearly every nursery.
Made in the United States, this wooden chart is built to last for years so that you can track your child's growth up to 39''. Delivered with wall-mounting hardware attached to the chart's back side, installation is quick and easy enough for one person!
Krout Fox Tree Growth Chart
This self-adhesive growth chart can be placed on any smooth, even surface. Simply peel the backing and stick to the wall in the bedroom, kitchen, hallway, or den! The chart can be moved and repositioned without leaving any residue behind.
The lovely growth chart decal features a tree (measuring 170 cm) surrounded by friendly woodland critters like owls, foxes, and squirrels. Please note that centimeters are the only unit of measurement on this chart.
Braden Deep Space Solar System Canvas Growth Chart
Does your child dream of becoming an astronaut? Help them realize their dream with this space-themed growth chart. They will love the vibrant illustrations of our solar system, and you will like how easy it is to track their growth patterns!
This chart is Greenguard certified, so you can rest easy knowing it has low chemical emissions, ensuring your child is safe.
Kleckner Ballet New Growth Chart
The aspiring ballerina in the family will love this pink growth chart filled with hand-painted tutus, pointe shoes, and graceful dancers.
The chart's ruler starts at 2 ft., so it shouldn't be placed directly on the ground. However, it is made of wood and weighs around 4 lbs., so you will require wall-mounting equipment to secure it at the proper height.
Juhasz Ruler Wood Wall Décor Growth Chart
Intended for children 12 and younger, this growth chart is full of rustic charm. Measuring 80'' tall, this chart is extra tall to catch all of your child's growth spurts, leading into adulthood.
Inscribed with the text, "You are loved beyond measure," your children will be reminded of your love every single morning. Its touching message and sturdy wooden construction also make it the perfect family heirloom for future generations.