Fireplace Screens
Fireplace screens are designed to protect your home from the sparks and the excess heat coming from your fireplace. The screens are also incredible accent pieces that will transform your fireplace into a stunning centerpiece. Fireplace screens come in several heartwarming designs and styles. Even though metal-based screens are very popular, you can still find products made from heat resistant glass with a touch of metal accents. Check out the intricate patterns on each screen too. You want to pick something beautiful that will be pleasant and appealing to look at once it's installed in your living room.
Our choice Best Fireplace Screens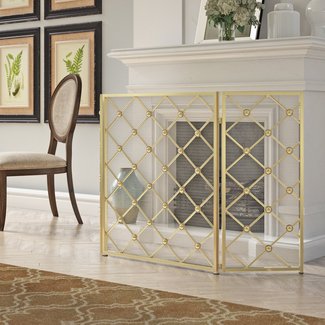 Prater 3 Panel Iron Fireplace Screen
This fireplace screen available in black and gold has a classic design that fits in a variety of living room styles including contemporary, traditional, and rustic without being too ornate. Its three panels with simple lines are enough to make a statement without overpowering the fireplace.
Place gold or black picture frames above the fireplace screen protector to add more elegance to the area.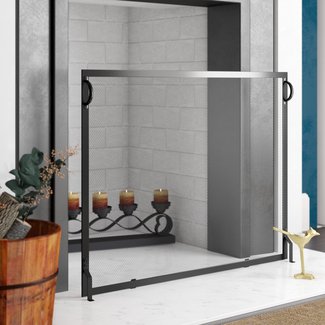 Anja Single Panel Iron Fireplace Screen
Get warm during cold winters with this simple yet sophisticated fireplace screen. Crafted from wrought iron, this flat screen is sturdy, comes in 3 different sizes, has back legs, and doesn't require much space.
Its minimal design doesn't distract from other surrounding decor and fits well in both traditional and modern living rooms. Pair with a large houseplant and rug for a more cozy look with a modern touch.
Tepper Single Panel Iron Fireplace Screen
If you're looking for a posh but not too extravagant fireplace screen, this heat resistant iron fireplace screen is a perfect choice. The black screen has a sleek and classy style while the gold one offers a more luxurious and elegant look.
Protect your home with this single fireplace screen while adding a modern touch to your living room. Coordinate with decor pieces such as picture frames or vases with gold or black accents to make your space thoughtfully styled.
Chaliah Single Panel Steel Fireplace Screen
Versatile and classic, this single fireplace screen with a steel frame is the perfect addition for a variety of home styles such as industrial and transitional.
This fireplace screen keeps your home safe from flames and embers while offering a traditional touch. It has a sleek design with a black finish that blends well with all kinds of decor and color palettes. Place a black firewood log rack nearby to complement the fireplace screen.
Freestanding Guard 3 Panel Glass Fireplace Screen
This modern fireplace screen best suits contemporary and transitional style homes. Made of heavy tempered glass with a stainless steel bracket, you are sure to impress your guests with its luxury design. The 30" inch tall screen comes with side handles that stay firm on the hearth ground.
It's easy to assemble, matches various home decor, and keeps your family and home safe from popping embers. Pair with a stainless steel frame floor lamp for an ultramodern look.
Single Panel Steel Fireplace Screen
With an elegant style and traditional design, this fireplace screen with doors is a great choice for protecting your home while making your living room more classy.
Handcrafted from solid steel, this fireplace screen is sturdy, easy to access, and has legs and handles with delicate details. Its powder-coat finish is long-lasting and blends well with other decors. Complete the look of your traditional style living room by adding a matching log rack and fireplace tool set.
Recio Single Panel Iron Fireplace Screen
Embellish your living area with this detailed and decorative single panel fireplace screen. Its design has curving vines with leaves that provide a garden-inspired ambiance and doesn't overwhelm the room with a heavy design.
The frame is sturdy, stays in place, and fits a wide variety of home decor from rustic to vintage. Place houseplants in simple pots on your fireplace mantel to compliment the screen's relaxed design.
Lurdes Single Panel Iron Fireplace Screen
If you're looking to make a statement, this fireplace screen is the perfect addition to farmhouse, country, and traditional style spaces. Lighten up the entire room with its unique outdoorsy flair.
The sculptural branches' design adds sophistication and interest to the room while making it appear more warm and cozy. Pair with a wall mirror with a gold accent for an elegant final touch.
Kashton 3 Panel Iron Fireplace Screen
This fireplace screen with floral details is a great option for those looking for something lighthearted and decorous. The leaf design is decorative without being overly ornate and does not obstruct the view of the firelight.
Available in black/gold, black/silver, and gold, you can easily match the elegant-looking fireplace screen's accent with other small decors such as candles, vases, and picture frames.
Single Iron Fireplace Screen
This traditional and Victorian-style fireplace screen is ideal for protecting your children or pets from the fire while providing a fancy touch to your living room.
Made of solid wrought iron, the fireplace screen is sturdy, the doors can easily be opened when you want to add wood or stoke the fire, and no burning pieces can escape since the doors close tight. Create a coordinated fireplace setting by pairing it with a matching fireplace tool set or log rack.